Don't let your bathroom space feel underestimated when it comes to decor and furnishing. Keep it fully styled and embellished like other sections of the house and using the pallets for the purpose can make this task really easy for you. Grabbing some free pallets around you can nicely shape up this DIY pallet bathroom vanity and mirror for your bathroom spaces and make it look accomplished and well maintained. Both of the items are the bathroom integrals and thus you can fully regulate your bathing area with the addition of these two. Measure the length and width of your mirror and cut the same size planks from the pallets to give the mirror a rustic wooden boundary.
Using the custom cut pallet plank and slat pieces the feasible and common design of the vanity has been installed with a top shelf, a middle storage section and drawers at base. Towels, soaps, face washes, bath robes etc you can organize them all on this lovely vanity table with the wash basin occupying the space on the top. Keep them natural and rustic like they are or get them matched with your bathroom decor choosing respective stain hues.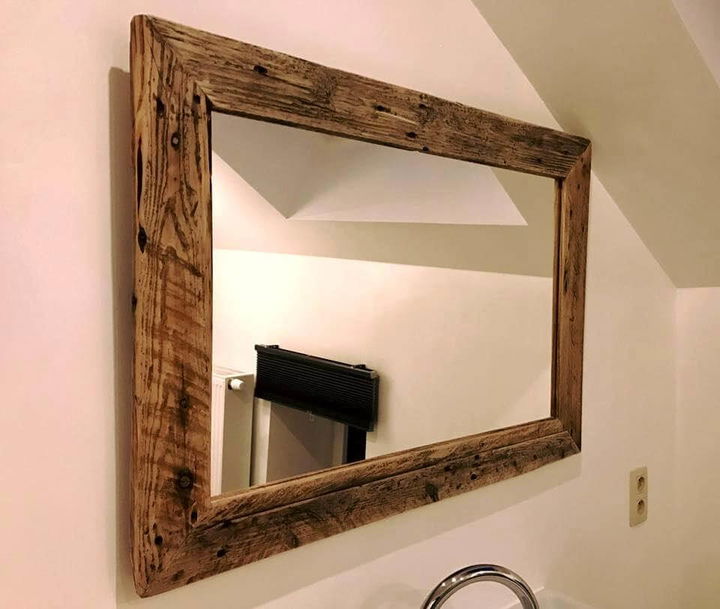 This rustic bathroom mirror can be a part of your bathroom decor and that too so simply cheaply using the recycled pallets.
The mirror is damn easy to install using the four pallet slats pieces as the boundary of your mirror and that is it.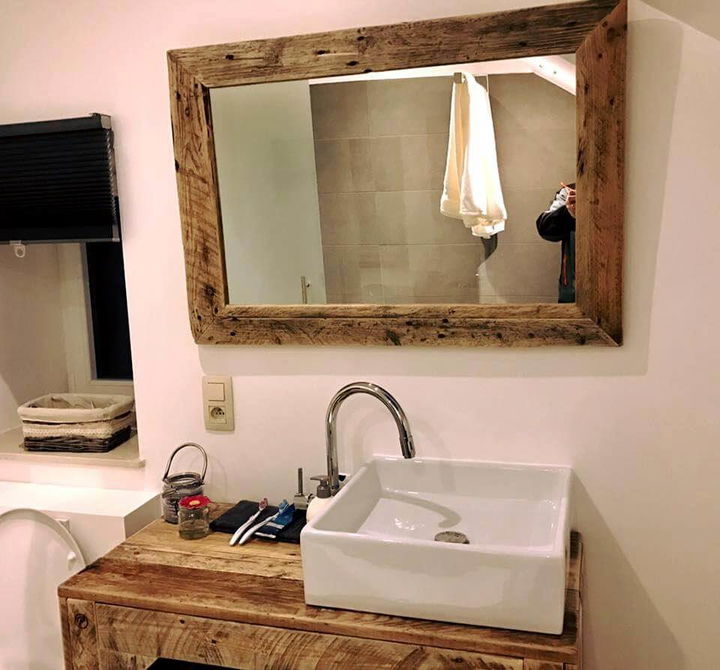 Measure the length and width of your mirror while cutting down the pallet slat pieces for its boundary so that you can make it feasibly.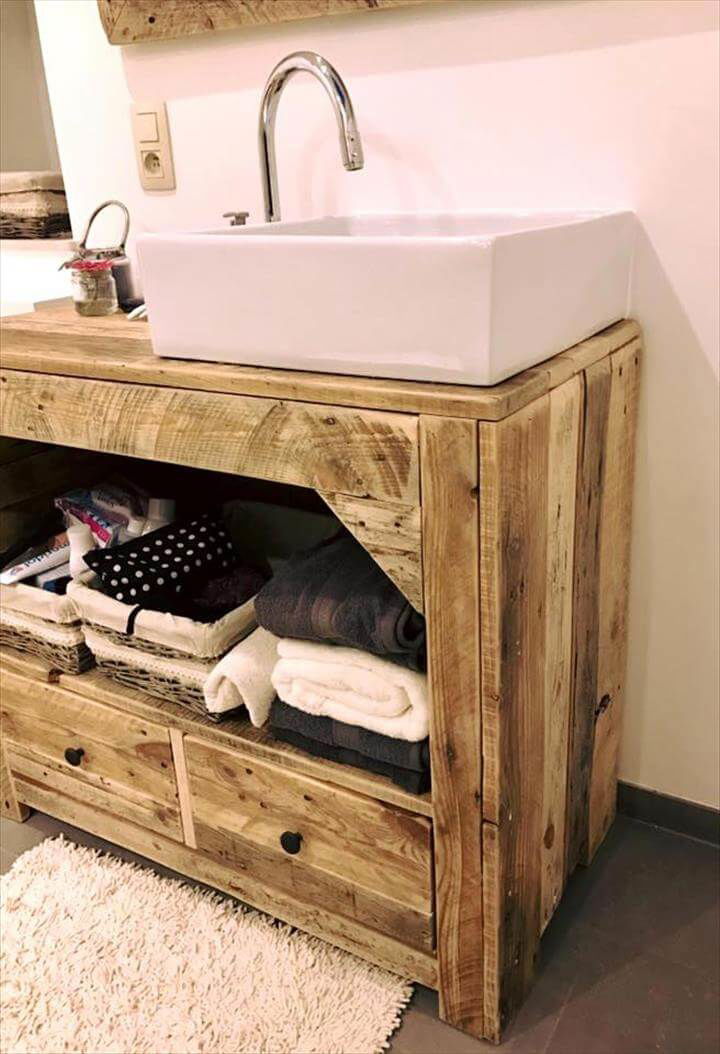 The mirror has been accompanied by the vanity having a common traditional design built feasibly from the pallet separations.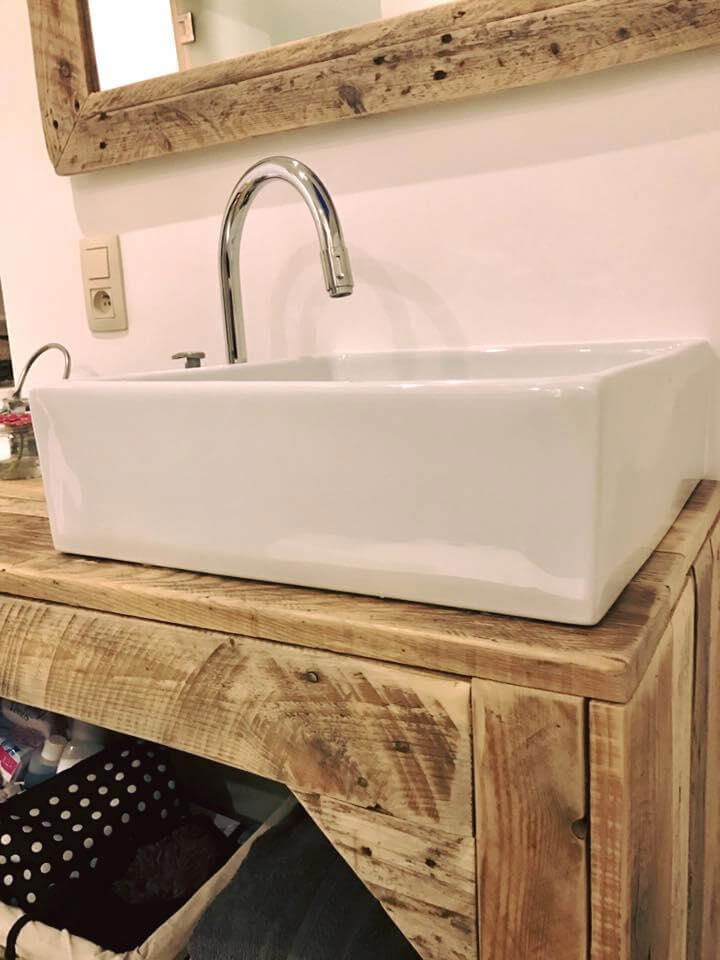 Separating the pallet plank out of the pallets and then stacking them together the top and the remaining structure of the vanity has been created.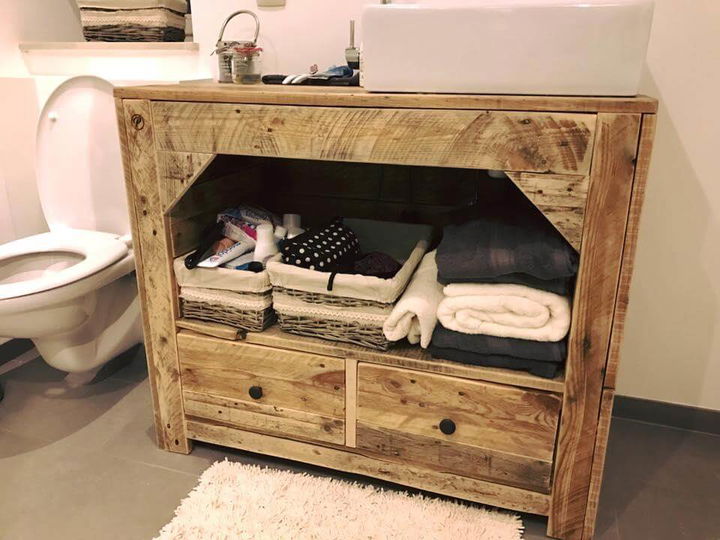 Hold your wash basin on the top of the vanity, put towels and toiletry box on the middle shelf and use the drawers for other storage options.
Here is how rutic the duo of the mirror and the vanity looks to make your bathroom area enjoy some natural vibes there.

Made by Palettophile