Modern science and technology inventions not only a big blessing to whole mankind but they are also a big reason behind to create more genius person in the world as one unique idea may be a step for further more creative inventions! The growth of scientific approaches and everyday new creative thoughts are also making the DIYers insanely clever and hence the DIY department is also having unique achievements everyday!
We would like here to peak into the DIY pallet projects only and have brought these 300+ pallet ideas, all from genius people around the globe and would serve you throughout your life for sure! Grab the legendary suggestions here to yield pallets as functional furniture output, learn the basic techniques here to remodel, modify, alter and restructure the pallets for phenomenal wooden furnishings and also for other functional objects you are to use to operate better your living environments, here we have shared all the most intelligent, genius and extra smart way to recycle, up-cycle or re-purpose the pallets and it is guaranteed that you will yourself a creative person at the end!
Turn the pallets into pieces through a dismantling procedure and achieve your goals with those separated, individual and simple straight wooden slats! First build the vegetable and fruit organizer for your kitchen having multiple inside fixed trays which can even slide in or out when operating it! Pack torn apart straight pallet boards in custom ways to install better foot-boards and patterned headboards! Integrate pallets to build an outdoor bench and make the design rare by giving an arched backrest, also build the art style kitchen hutch given below that comes with an artistic decorative edging along with robust shelving and storage sections!

Modify whole pallet boards to gain splendid camera display units for your photography or electronic shop and also install the multi-tiered pallet planters to add as bewitching beauty station to garden nooks and crannies! Combine pallets with old metal pipes for a lasting toddler bed output and also build the magnificent heart shape pallet mini table as a pure symbol of love! Don't forget to build outdoor pallet kitchens for outdoor parties and also the garden wishing well to create a magical or mysterious character of your green space, kids will just love it!
DIY Pallet Vegetable or Fruit Organizer: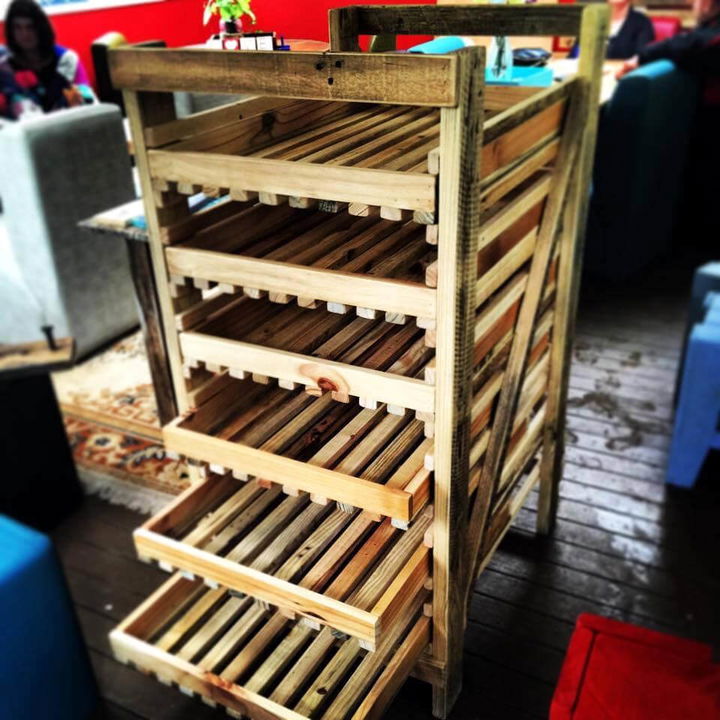 Pallet Headboard and Foot board Set: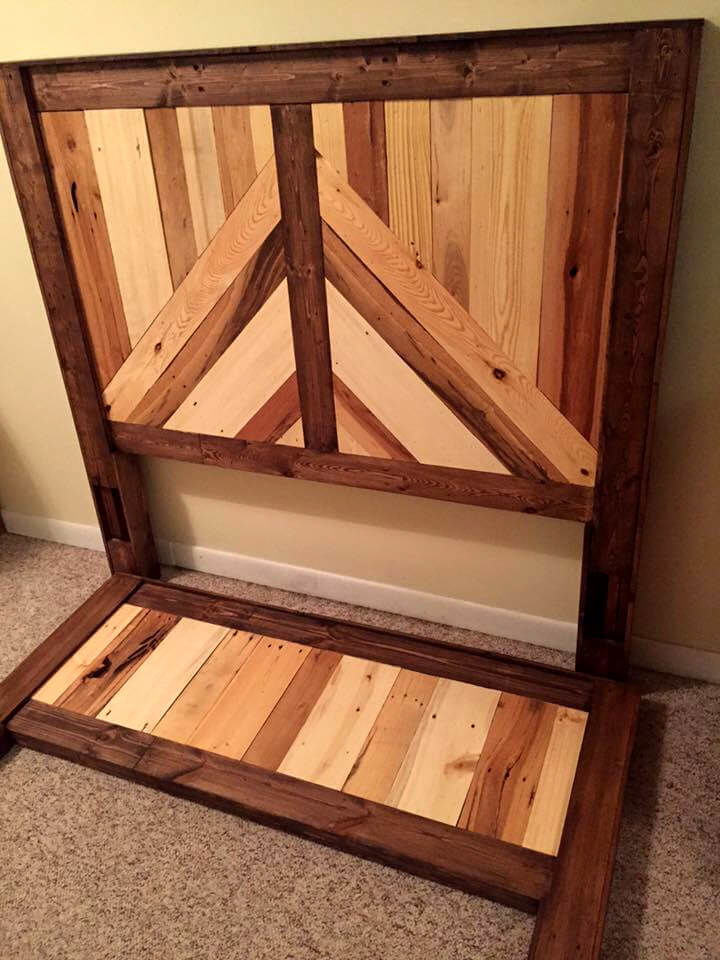 Distressed Pallet Garden Bench with Arched Backrest:
Pallet Kitchen Hutch with Decorative Edging: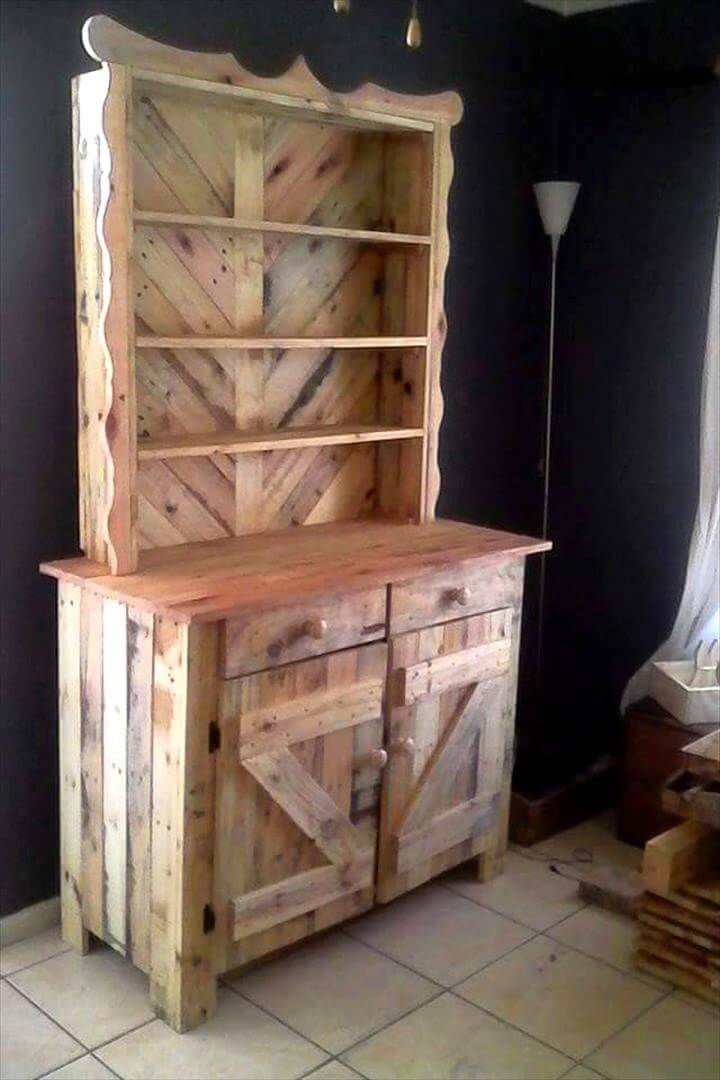 Pallet Camera Rack: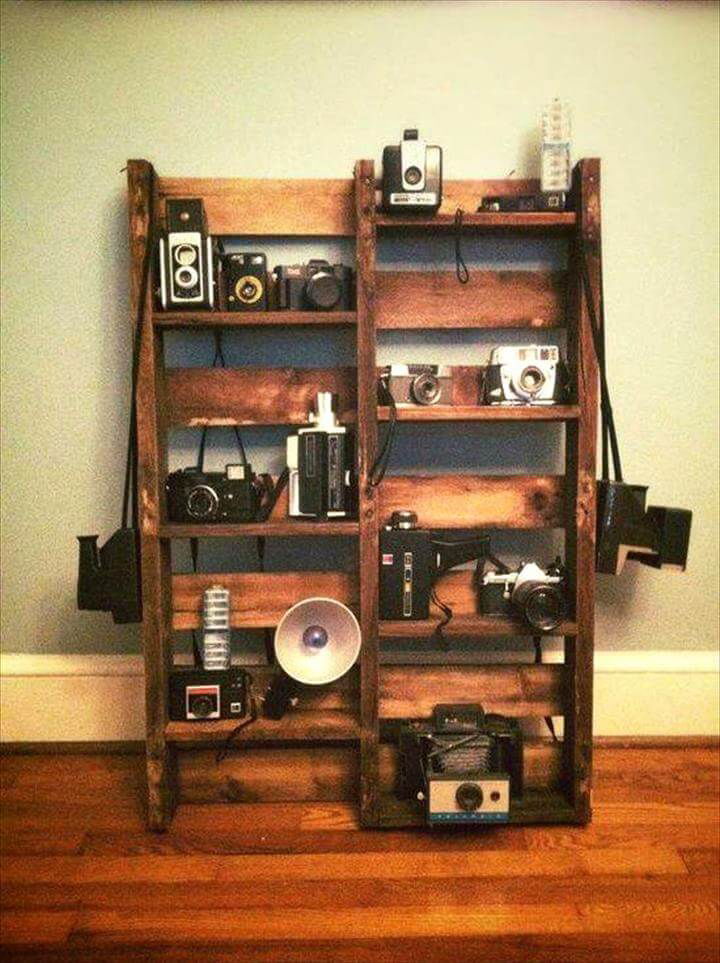 Multi-Tiered Pallet Garden Planter: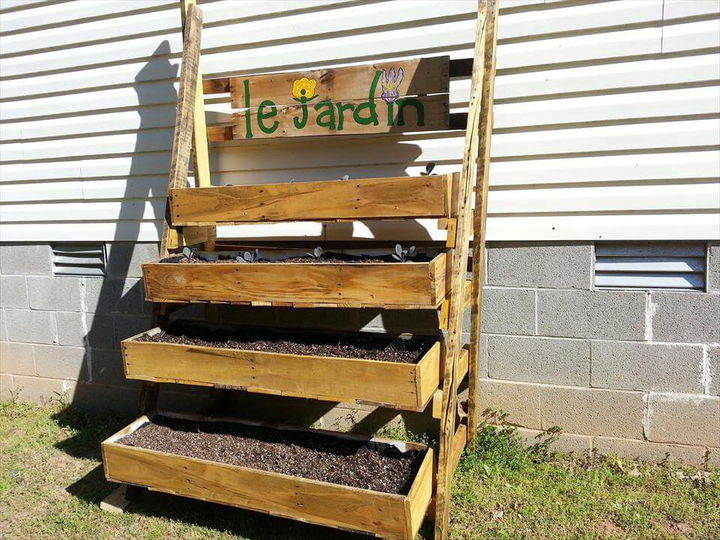 Pallet and Metal Pipe Bed: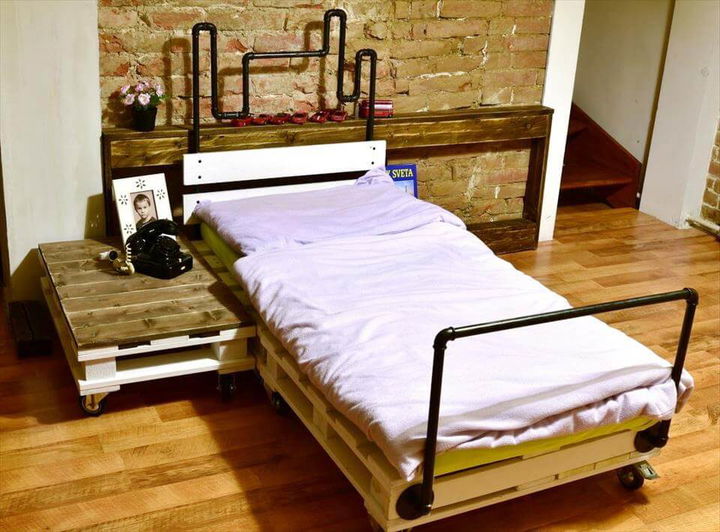 Pallet Rustic Outdoor Kitchen: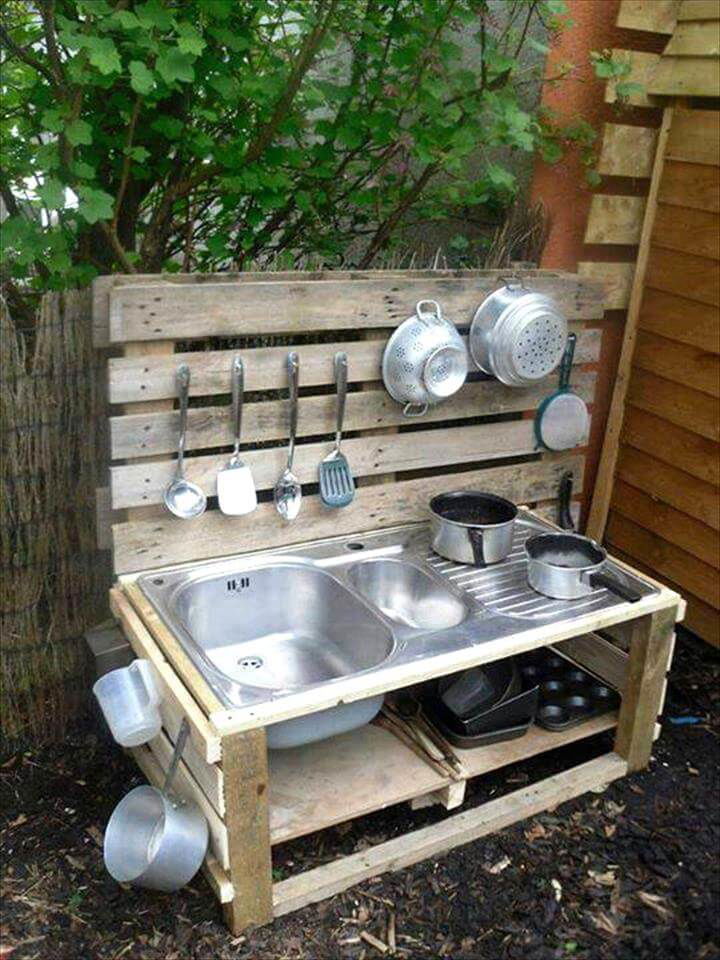 Pallet Garden Wishing Well: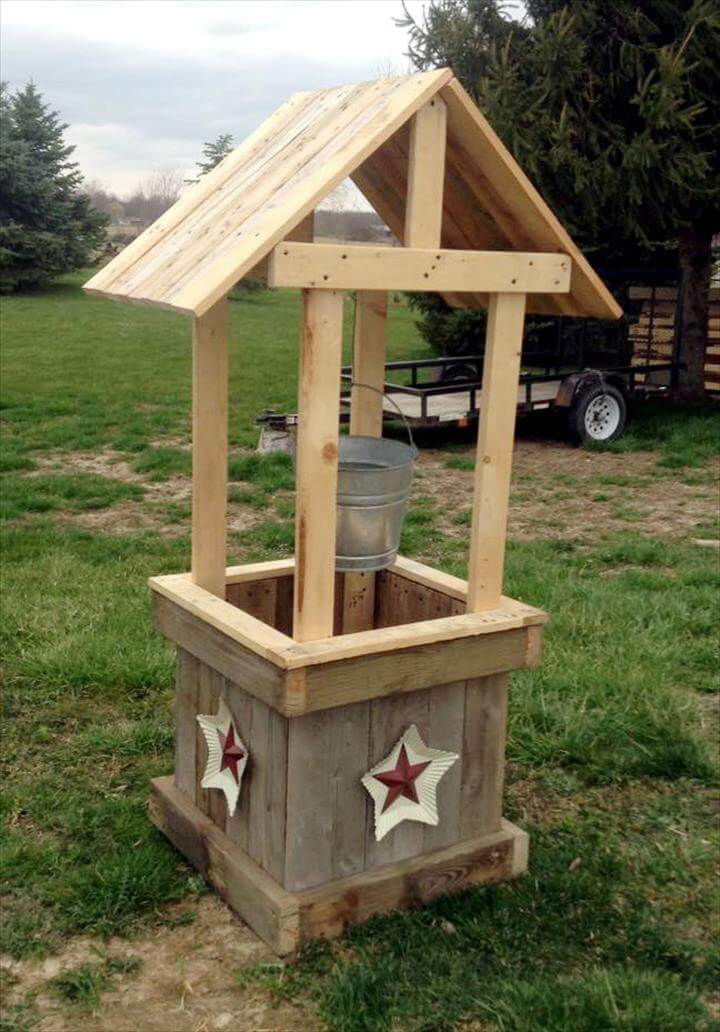 Pallet Heart Shape Side Table: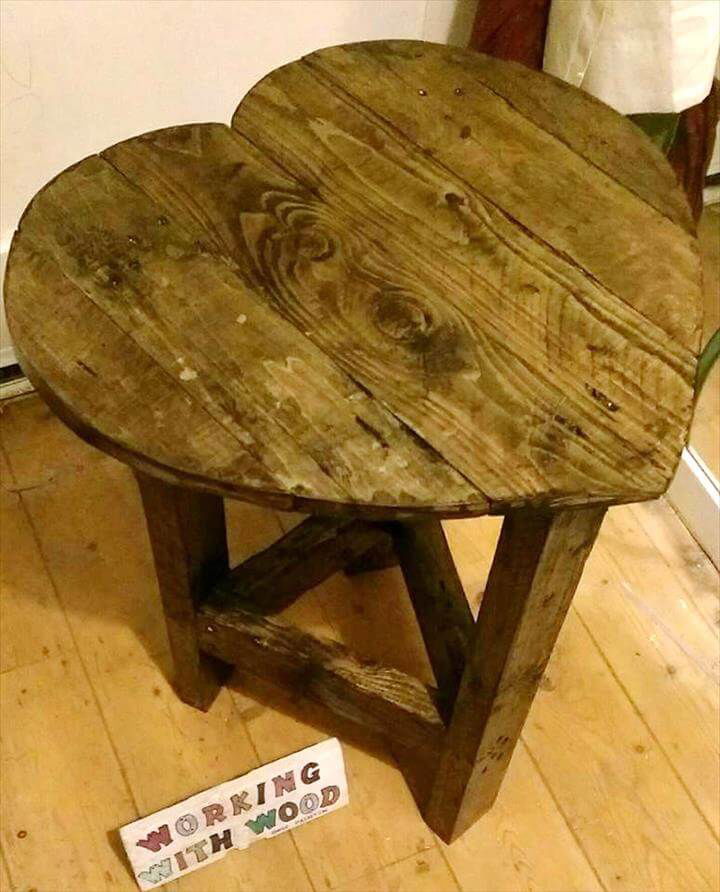 Pallet Coffee Table + Entertainment Center: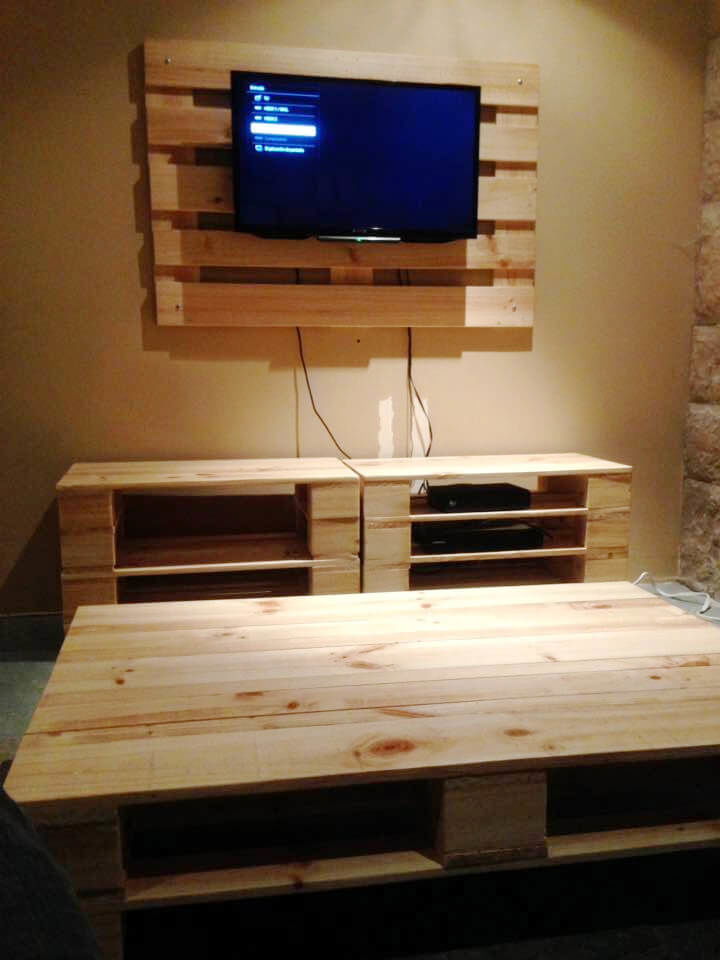 Elevated Pallet and Old Woods Lake House: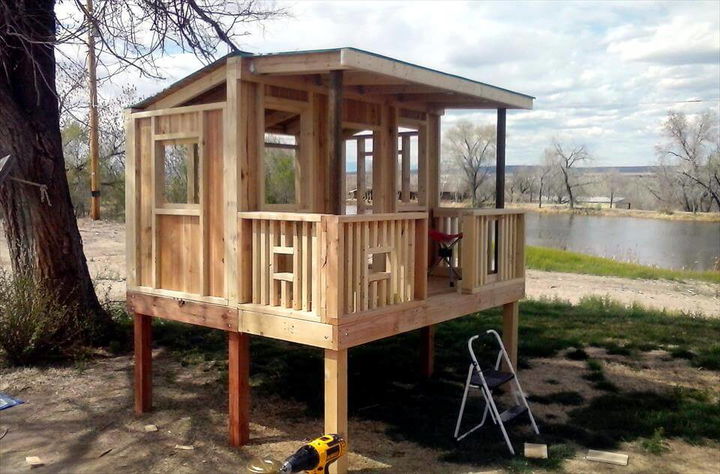 Robust Wooden Pallet Indoor Party Lounge: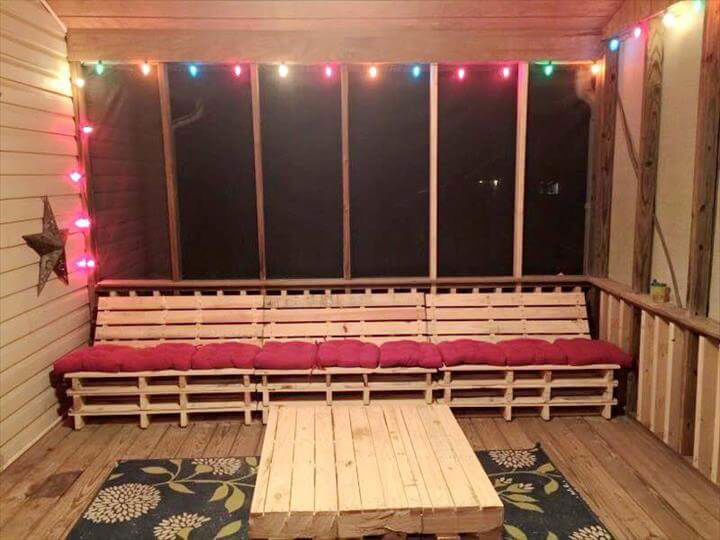 One can even do many of cost-friendly projects with pallets to boost up the visual and overall functional behavior of his shops, extend the display points of your shops by making amazing display units and shelving schemes, organize the precious XL wooden counters with pallets and also customer sitting furniture quite easily with pallets like given L-shape wooden tables! One can also welcome the pallet projects that go for custom installations of shop workbenches! To organizer occasional family dinners the 12 people dining set with matching benches is all waiting for all homey persons! The party lovers can avail the one table and 4 stools set to play games like chess or cards and can also go for a beverage party using the same sitting set!
Built custom tables and cages for extra protection to home appliances and also build mini chest or keepsake boxes with pallets for storage of your vitally important items and precious wedding gifts! Build fanciful bird art lamps with pallets, try your hands to copy the given sample, and do give respect to pallet planters which are all to hire to install a decorative edging of your garden beds, you exterior stairs and also of your wedding stages, get inspired of given reddish pallet flower planters! Build ultimate functional and sturdy beds also with pallets, let the cool given here with underside storage options be your DIY pallet inspiration for this weekend!
Pallet Mini Chest with Rope Handles:
Fanciful Pallet Light Lamp with Faux Bird Art: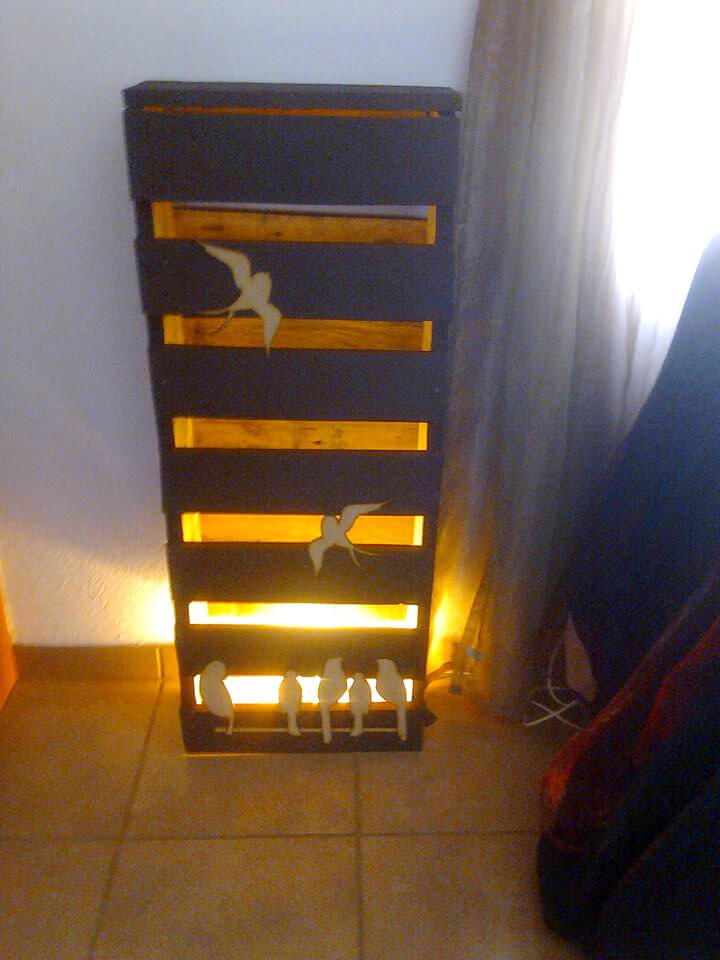 Custom Pallet Table with Storage: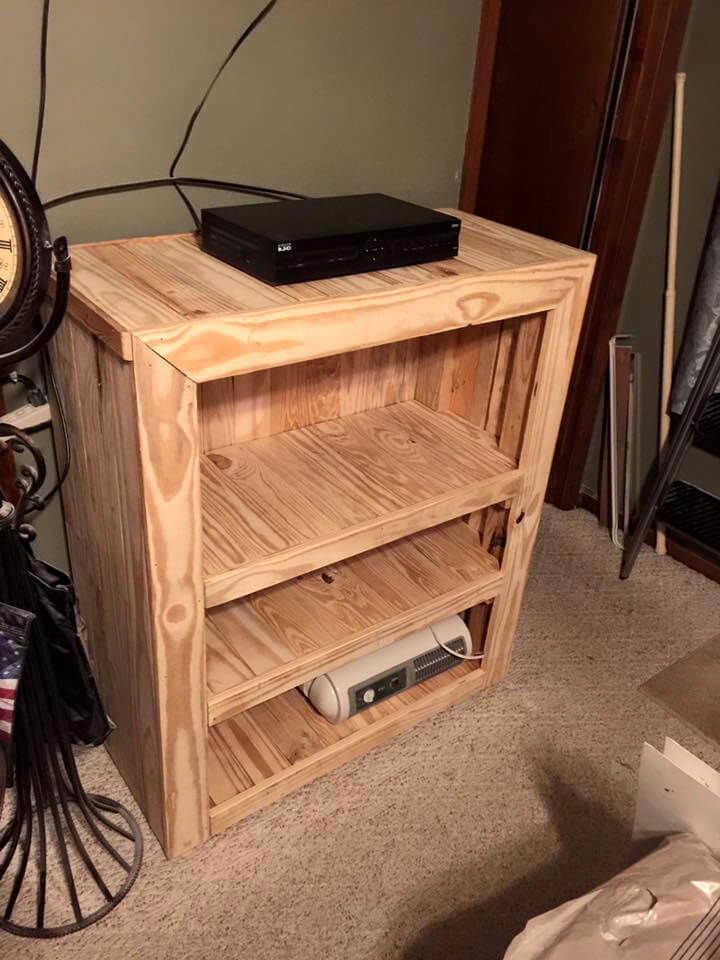 Pallet High-Top Table with 4 Stools – Party Set: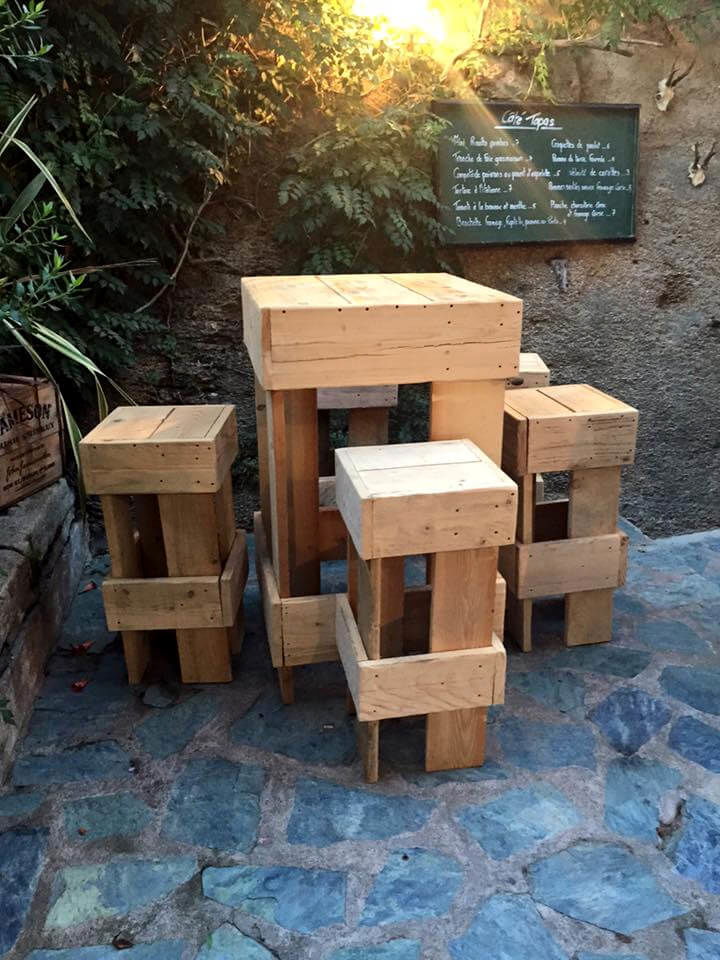 L-Shape Pallet Restaurant/Coffee Shop Tables:
XL Sleek Pallet Dining Table with 2 Matching Benches: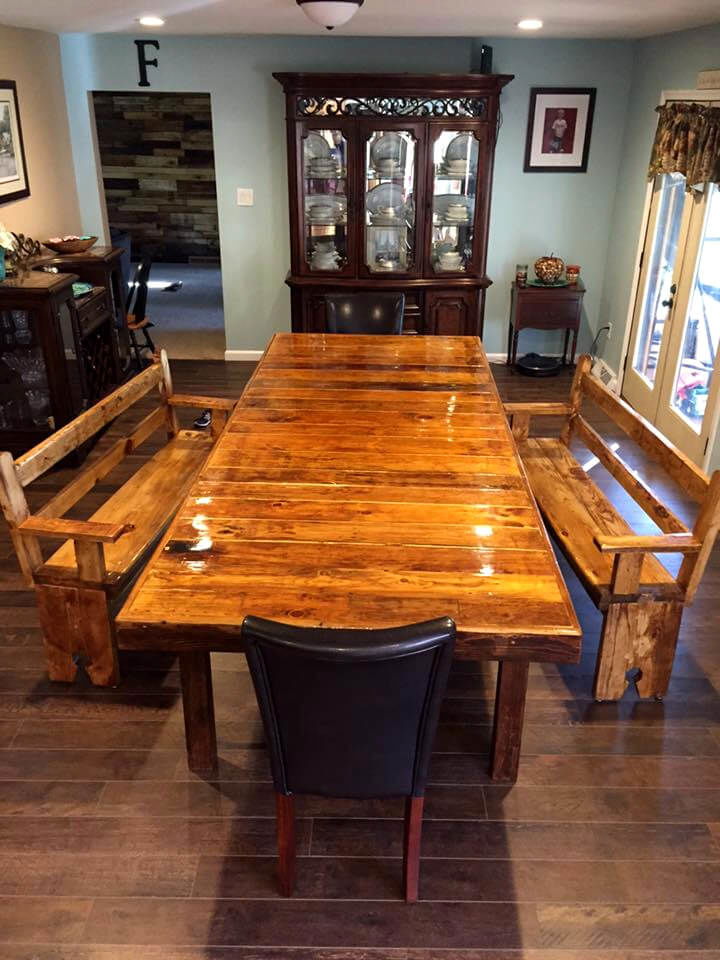 XL Pallet Shop Counter: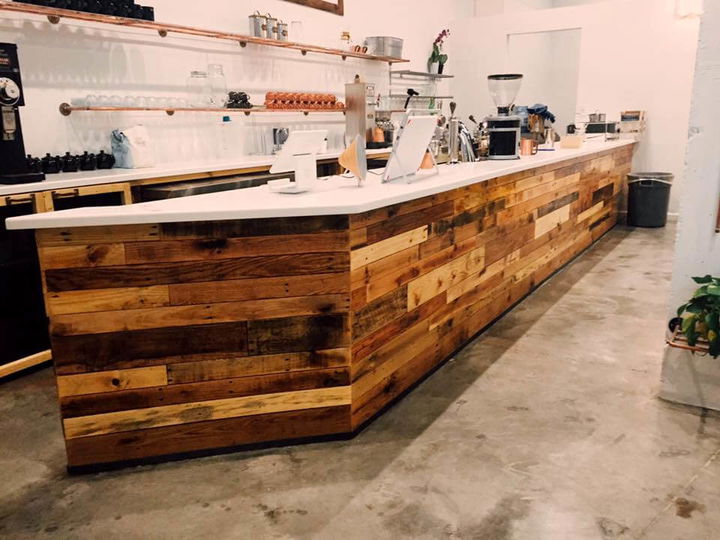 Rustic Pallet Tray with Metal Handles: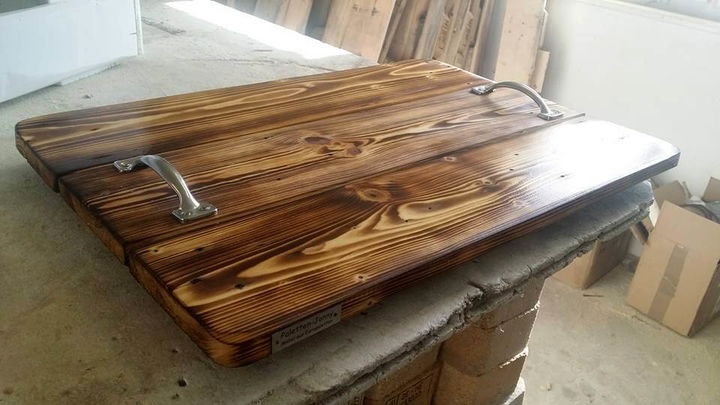 Mahogany Stained Pallet Planters: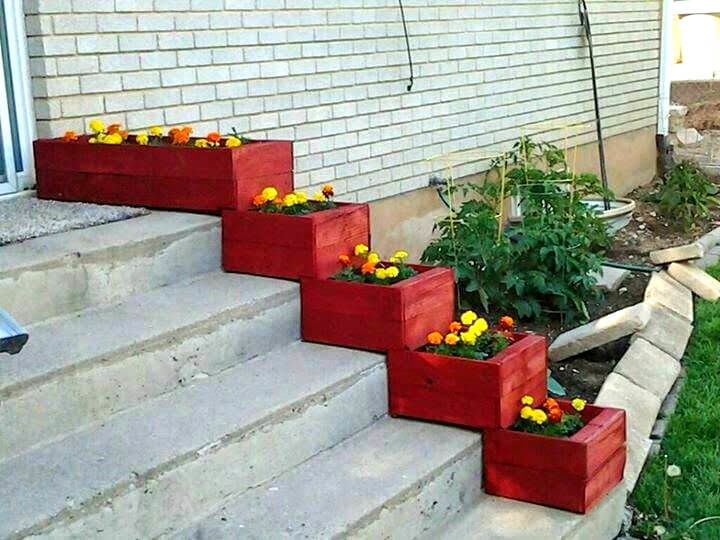 Pallet Bed with Underside Storage and Nightstand: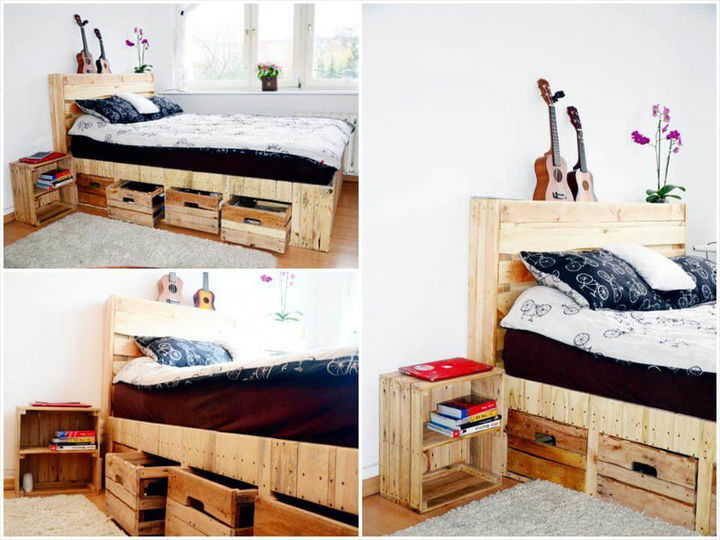 You may be a fan of any vintage inspired, shabby chic, farm house styled, mid century modern or country cottage styled decors or living styles, but one thing would be common for all of you that you will all give respect to pallet made crafts that rocks for all of above living environments!
Grab rustic yet functional media stands or mini TV cabinets to organizer you vintage or mid century modern media or living rooms! Mimic the traditional style of living using rustic wooden sitting sets, copy this given robust patio set to do this! Create all sensational fanciful decors for your garden and home exteriors with pallets, the given pallet snowman will make a great inspirations in this regard! For instant antique decorative vibe to your modern chic interior walls, the rustic mirror wall accents will be the items to prior first! Overcome you kitchen sitting space issues by installing custom stools and chairs with pallets and let the pallets also organize your sitting and eating environments with respective types of furniture, hire the pallet made coffee tables and dining tables sets! To install the garden potting or work benches and also the private room sliding wooden gate also lie in some bigger pallet achievements, take a visit of ideas to learn more!
Rustic Pallet Mini TV Cabinet with 2 Drawers: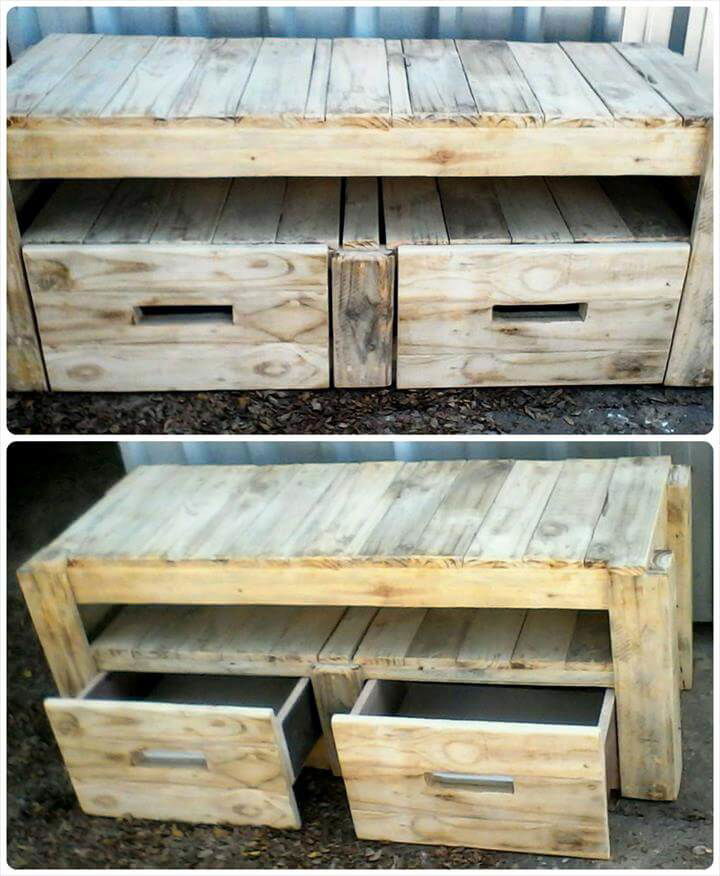 Pallet Patio Sitting Set:
Pallet Snowman – Pallet Garden Decor: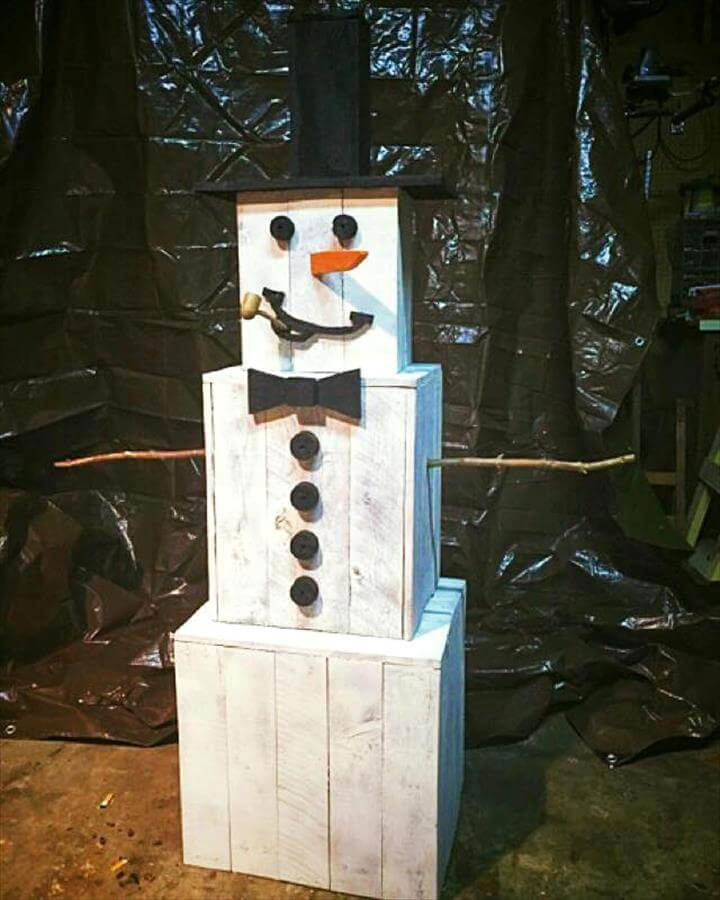 Rustic Pallet Wall Mirror Accent: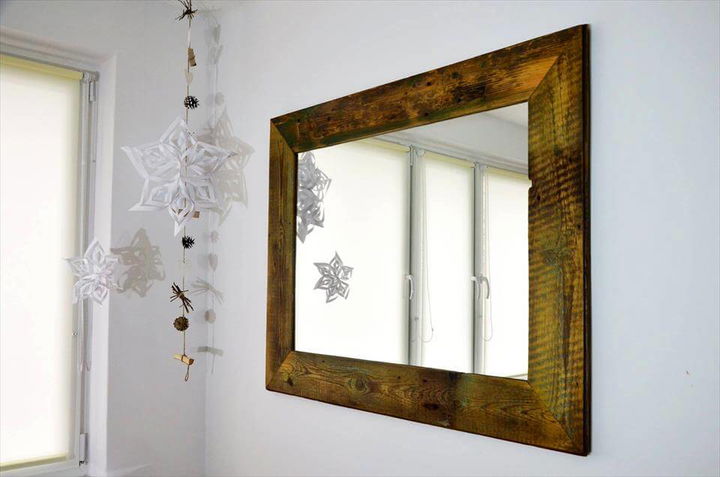 Pallet Kitchen Stools: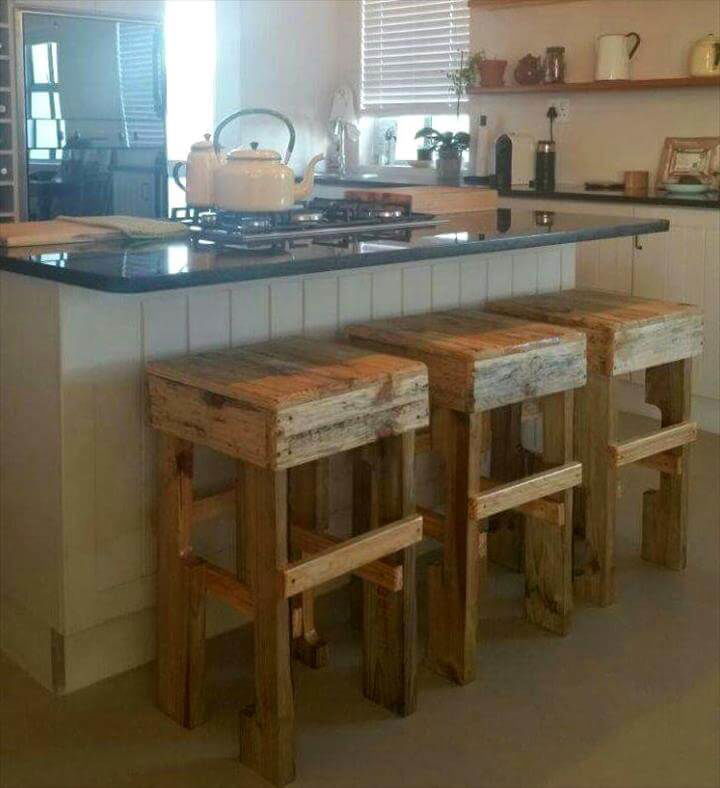 Pallet Rustic Wall Mirror: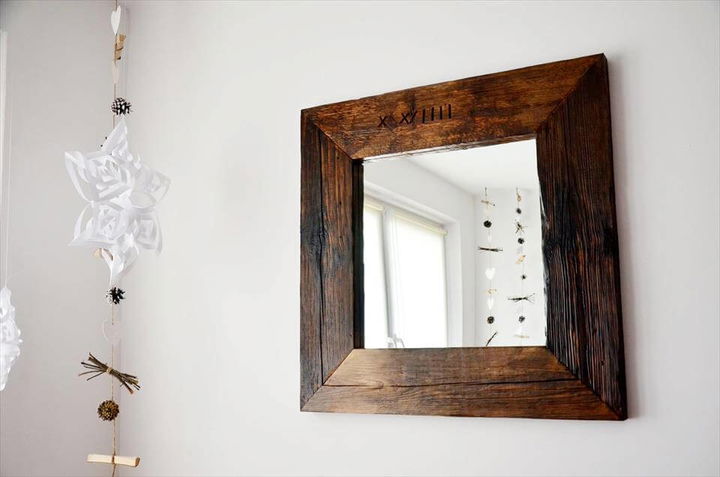 Rustic 2 Pallet Square Coffee Table: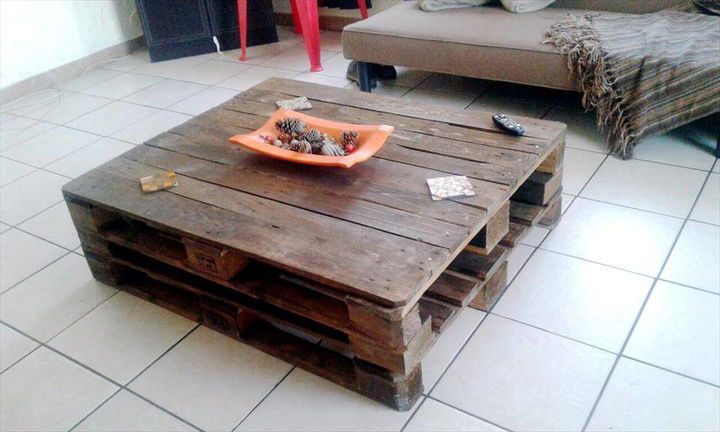 Pallet Custom Garden Potting Bench: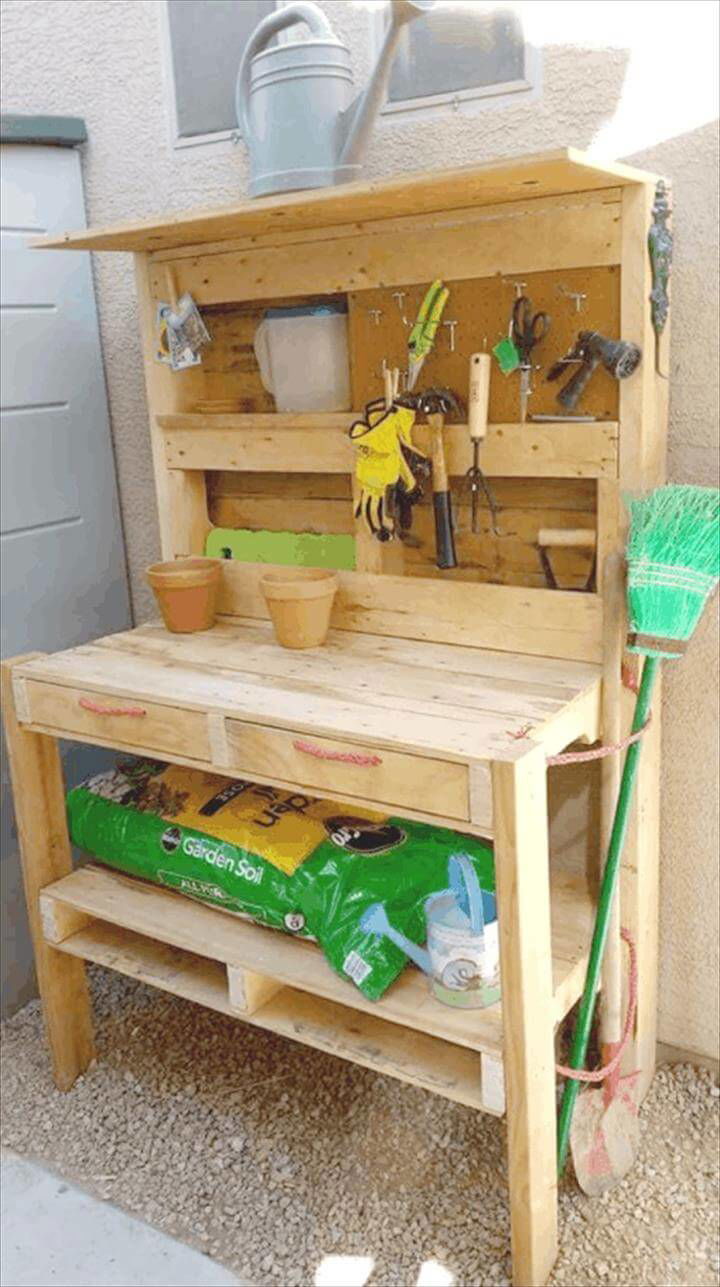 Pallet Outdoor Dining Table with 2 Matching Benches: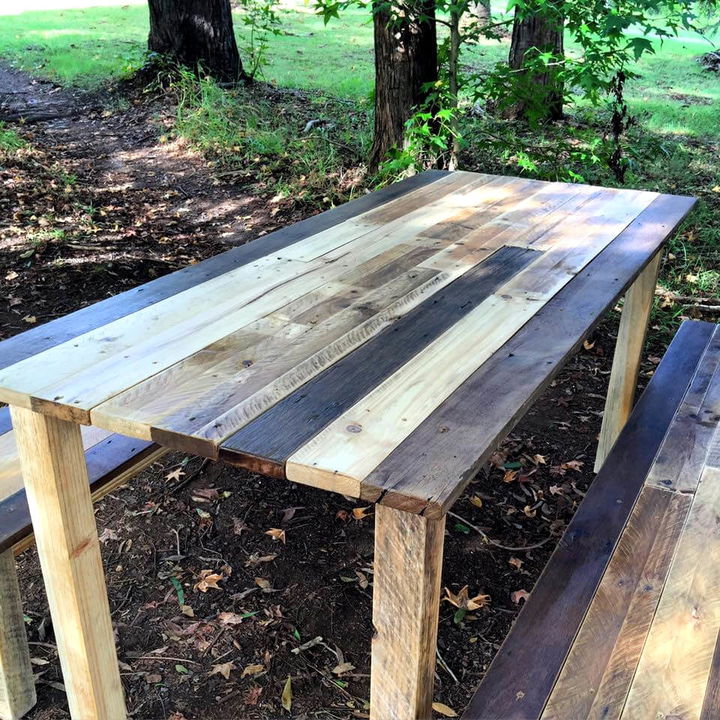 Pallet Sliding Gate: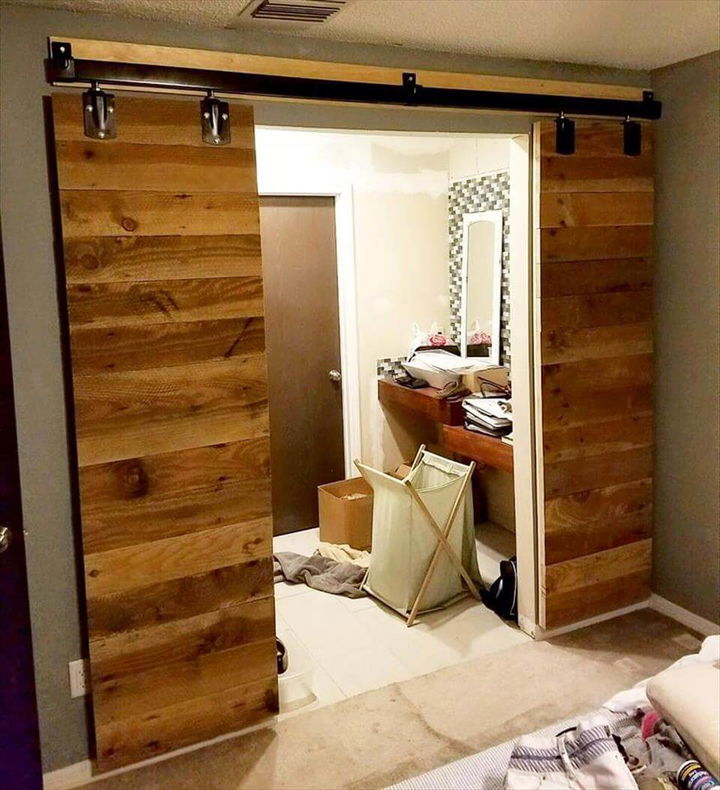 We have brought here tons of amazingly creative suggestions to reuse pallets according to developing needs and demands of your home! This big list of ideas here is for nothing but to change your life thoroughly! You can really ask that what to do with retired pallets while having them in big quantity or stock! The bigger stocks of pallets can be reused to install amazing bigger party lounges, large outdoor sitting sets and also custom seats to enjoy the poolside and deck spaces!
In decors, one should grab the pallets to fabricated outstanding wall hanging frames, mural stands and also custom organizer to display a variety of your decorative stuff! Use also the old spools to give a visual boost to your garden as you can change them easily into precious garden planters also! Reuse the pallets to build custom entry ways consoles, wall mirrors and also integrate the pallet lengths to create sensational wall frame, you can add a wire or twin loop at the back to hang them safely on any fixed wall support! Also mount some mini boxes over pallet made boards to get pot organizer, vertical gardens and wall hanging pot holders out of them! Peek into the given showcased collection of pallet ideas to get inspired of some practical samples!
Pallet Patio Sitting Set: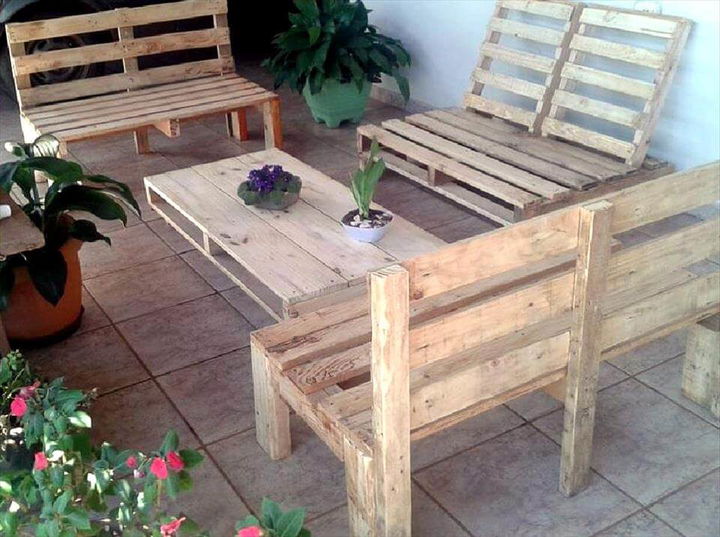 Old Spool Garden Planter/Decor: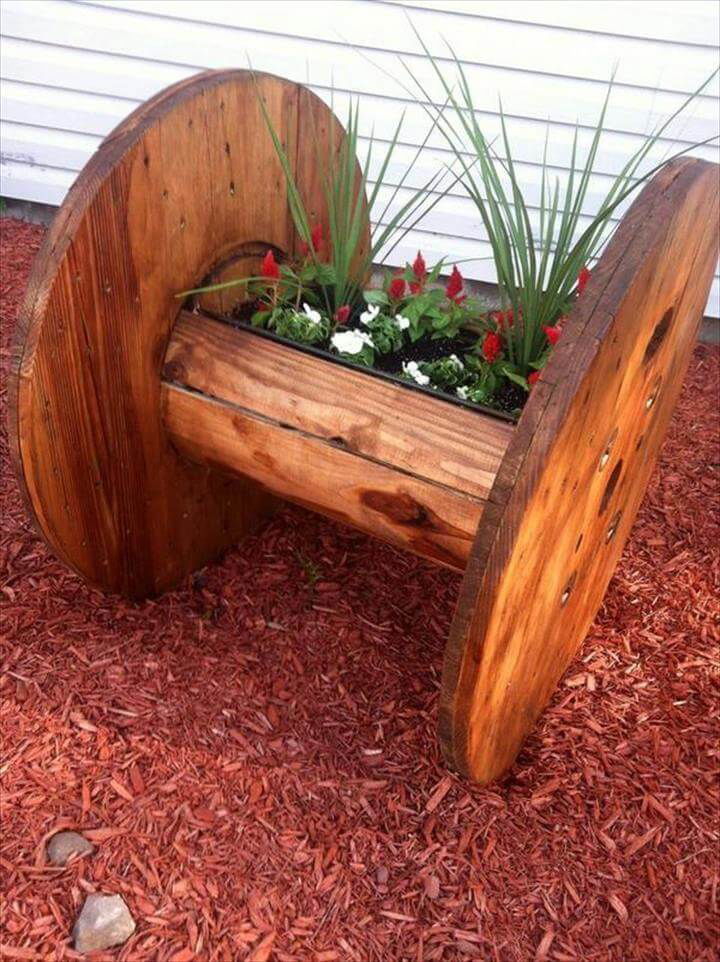 Wall Mounted Distressed Pallet Pot Holder: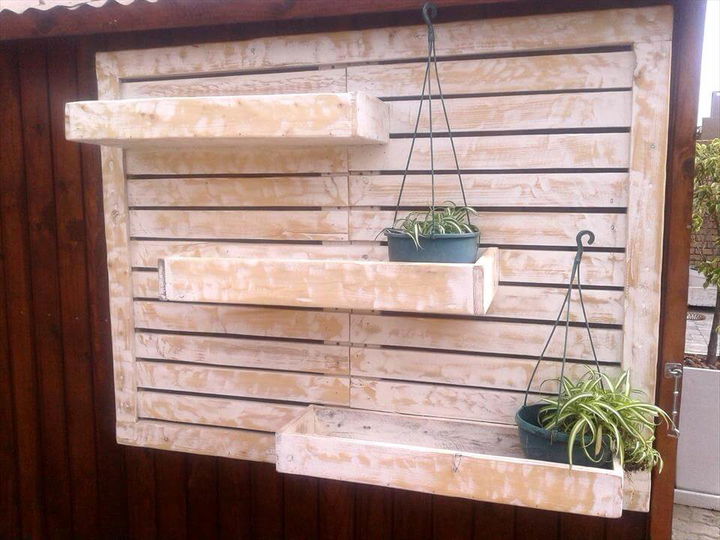 Pallet Shelves with Rusty Old Nail Hooks: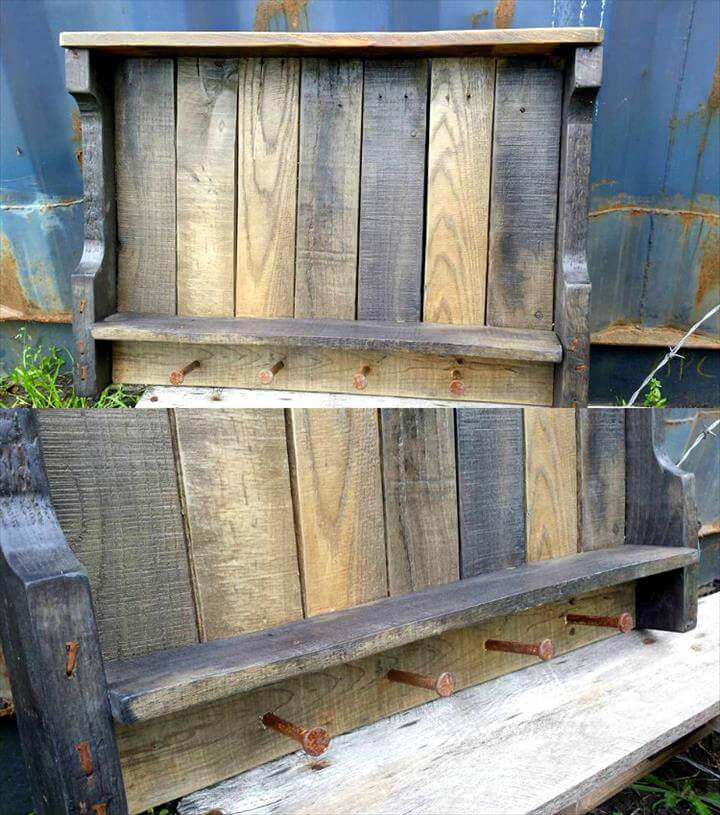 Pallet Mirror + Entryway Console: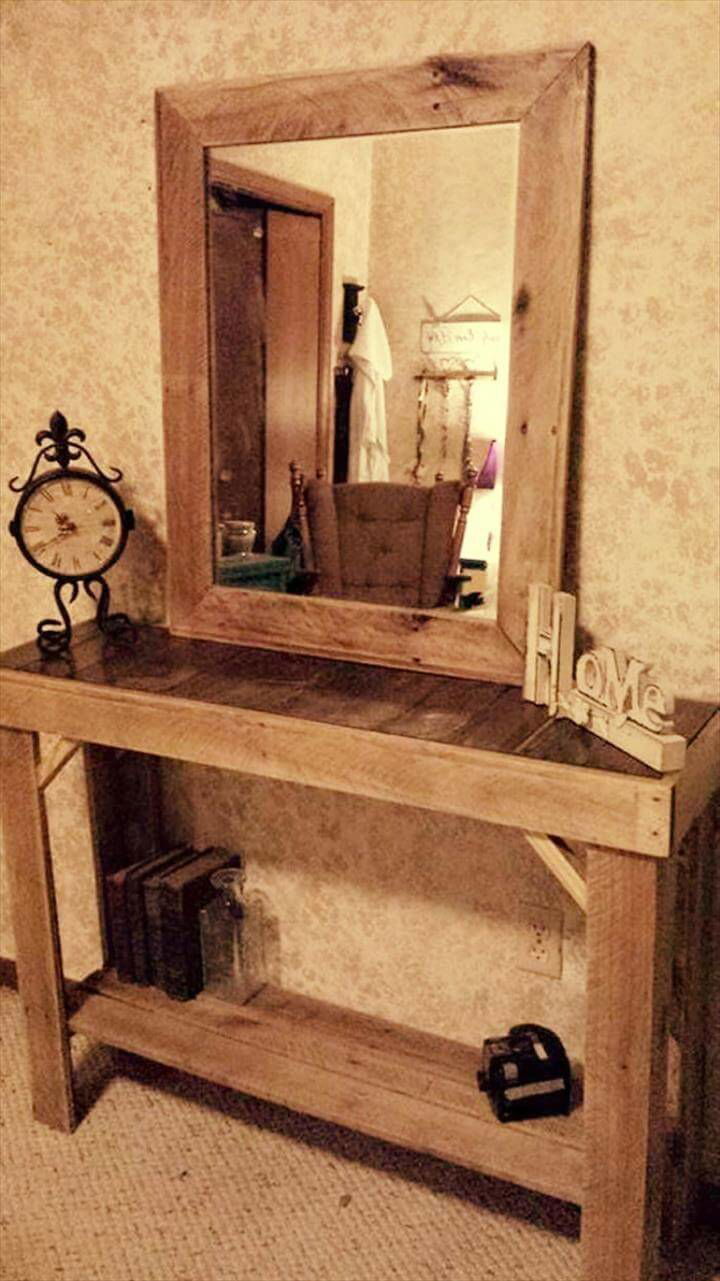 Pallet Wall Hanging Frame: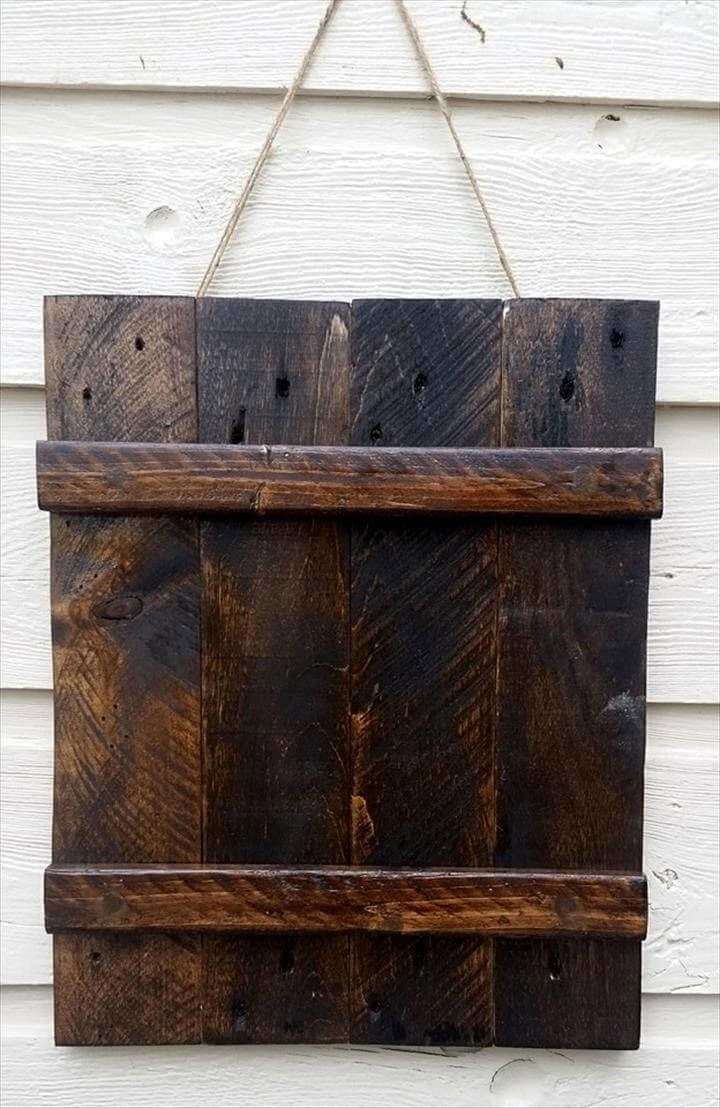 Pallet Vertical Herb Planter/Mini Garden: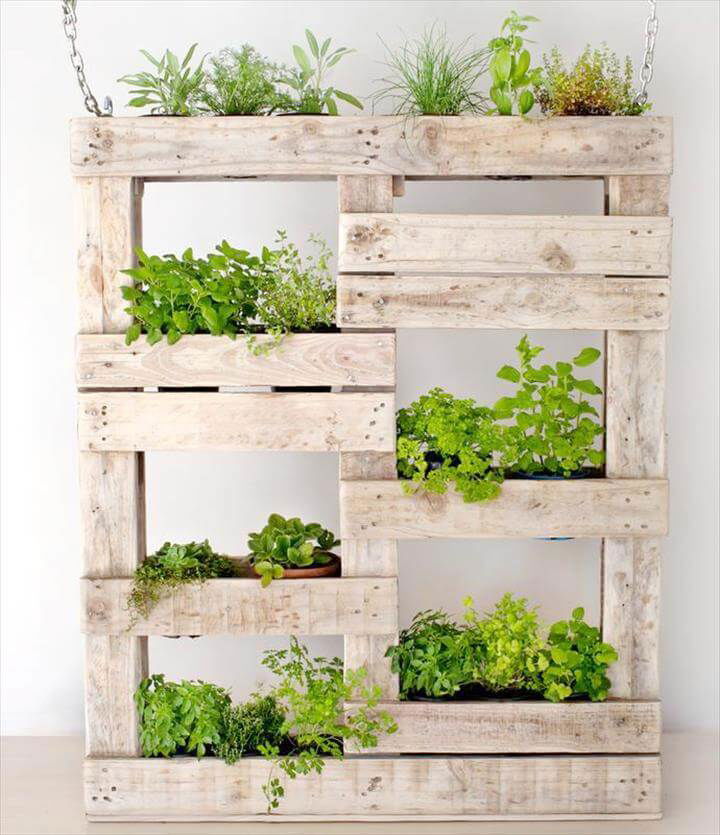 Low Pallet Deck Bench: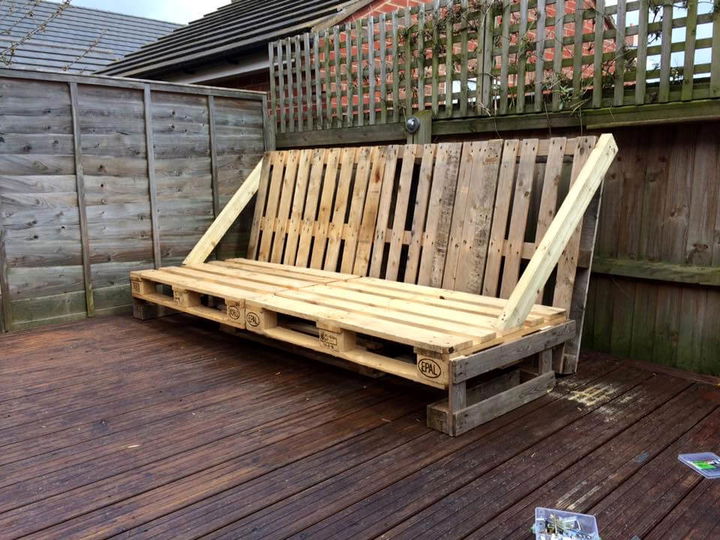 Stylish Grey Pallet Patio Bench:
Pallet wood allows you to think beyond the limits and you can consume pallet wood which is all free for any trial construction of furniture, by doing so at weekends you will also be the inventor of one-of-kind furniture crafts the whole world will love! We are continue to share the pallet furniture examples and other ideas about practical recycling of pallets to boost up your creative sense and this time we are also with a highly praised collection of pallet wood crafts! Just feel the feasibility of every single pieces of furniture showcased below!
Pack individual pallet lengths to install mini tables which can be all taken in use as nightstands, side tables and also as end tables! Also upcycle pallets for custom bed constructions, like the given king bed having also a blanket chest at the end along with robust king size dimensions made of pallets! Build custom boxes with pallets to use as toy boxes, storage chests and also as keepsake boxes and don't forget to plan them also for garden decors as they can also make beautiful planters! Take the pallet slats in simple wooden board form and then paint or drawer anything over to gain them as fanciful pieces of wall art like the pallet painted horse wall art exampled below! Build vertical planters with pallets and do craft them to install precious media walls and to reuse pallets for refurbishment of old furniture is also much praiseworthy tip to recycle pallets, the given tables with old reclaimed metal and sewing machine bases are the superbly ingenious examples here!
Pallet Mini Table/Stool: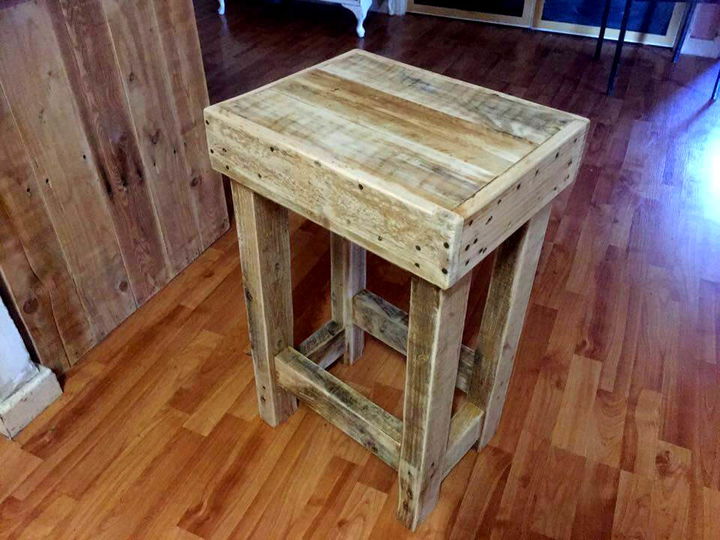 Pallet Queen Bed with End Blanket Chest: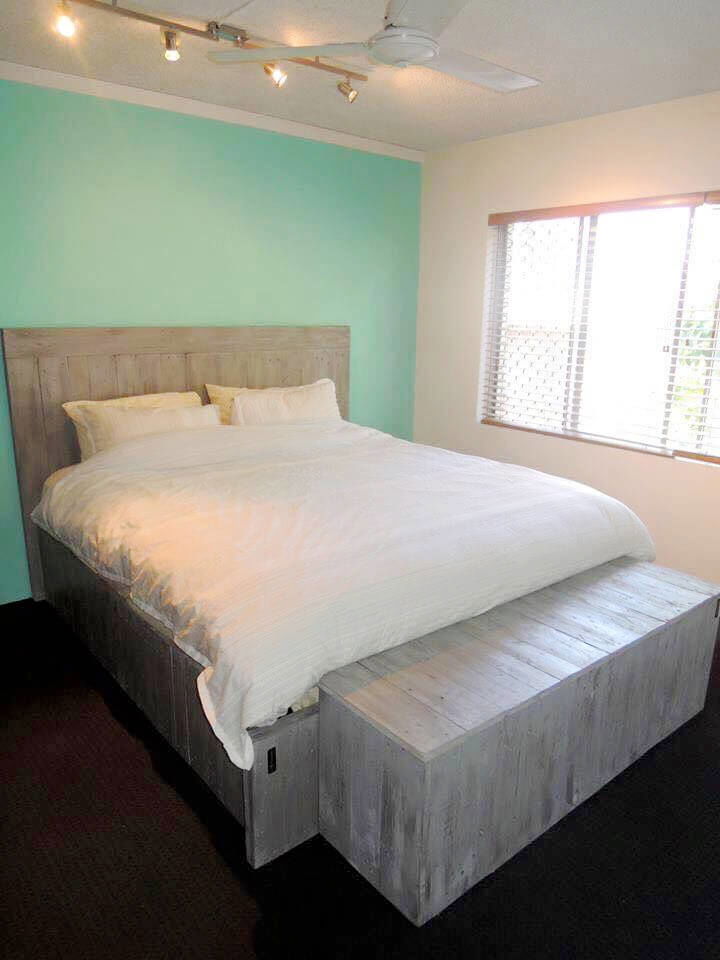 Distressed White Pallet Planter Boxes: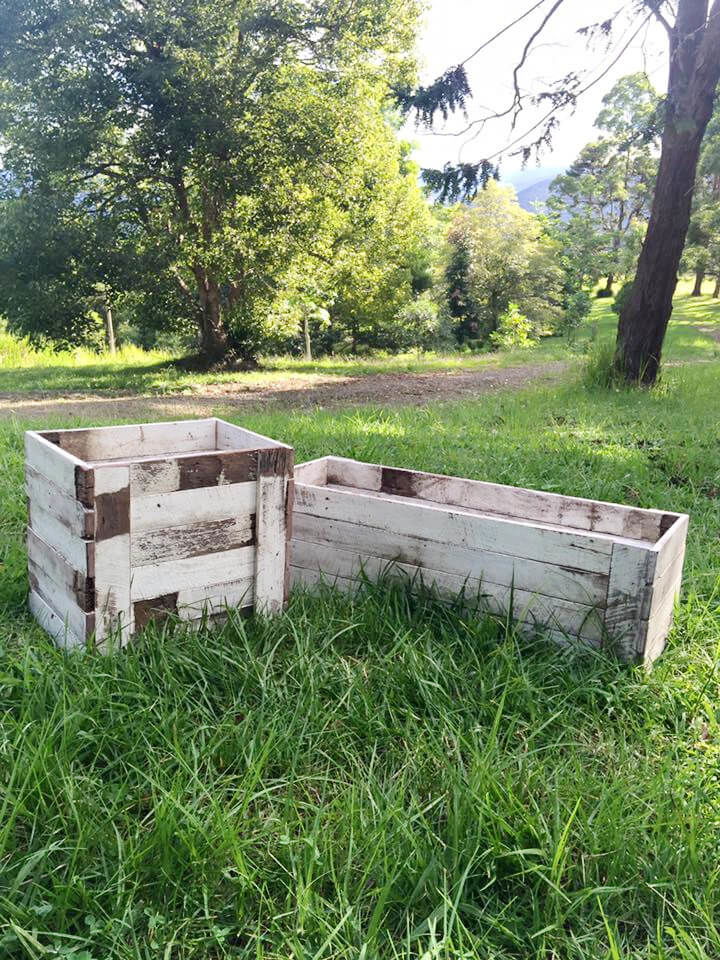 Pallet Painted Horse Wall Art: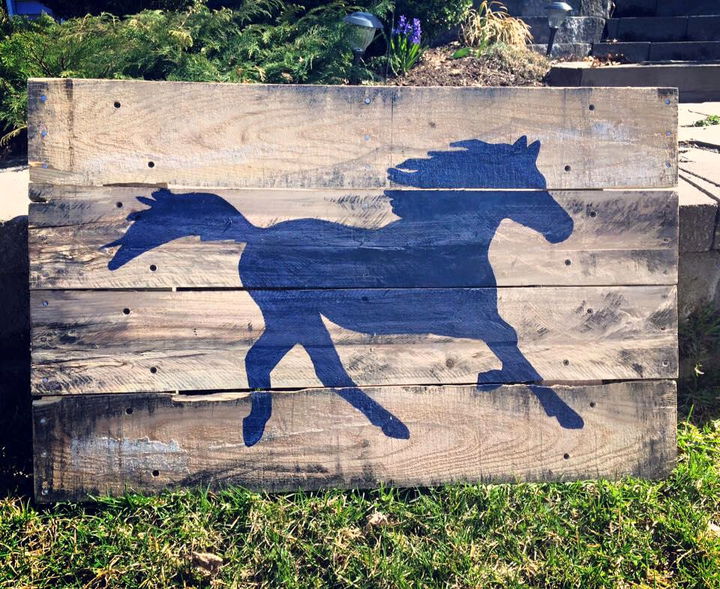 Vertical Pallet Succulent Planter: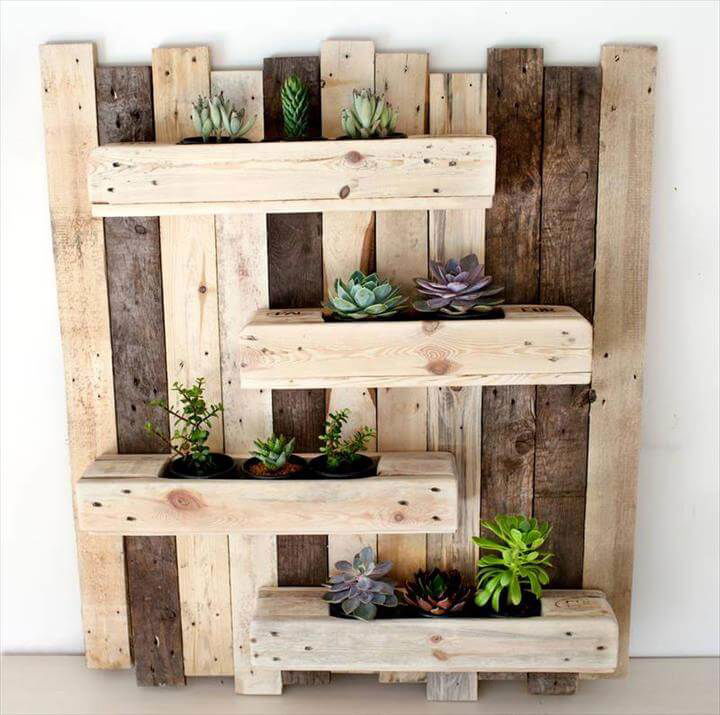 Multipurpose Pallet Table with Patterned Top:
Pallet + Old Spool Round Coffee Table with Book Storage:
Pallet + Old Sewing Machine Base Chevron Table: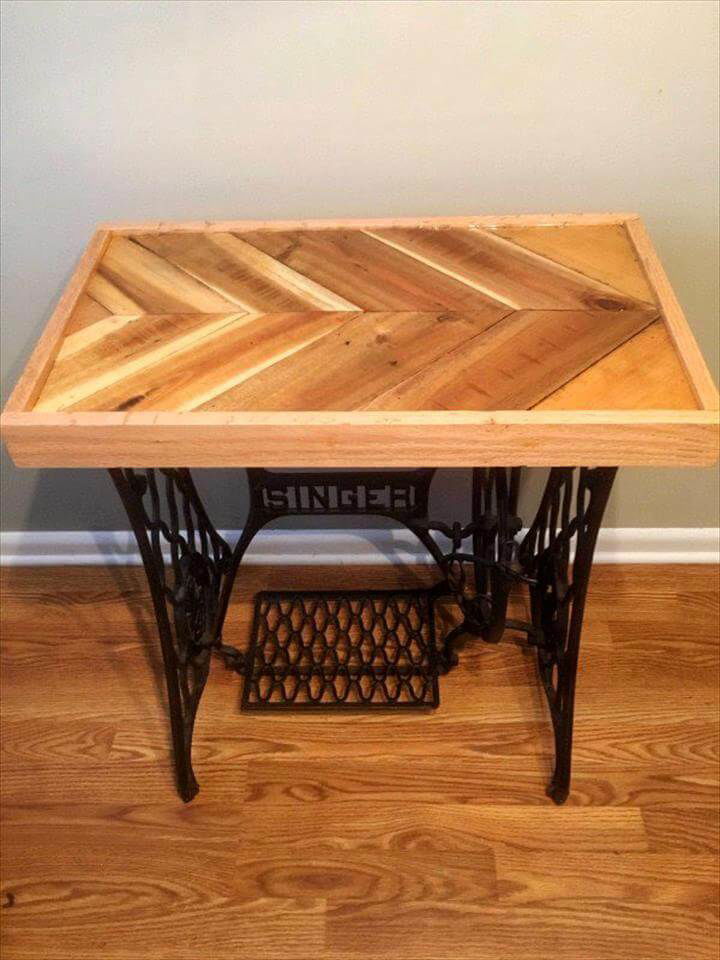 Pallet + Old Metal Scroll Base Semi Circular Console:
Pallet Garden Sitting Set with Red Cushions: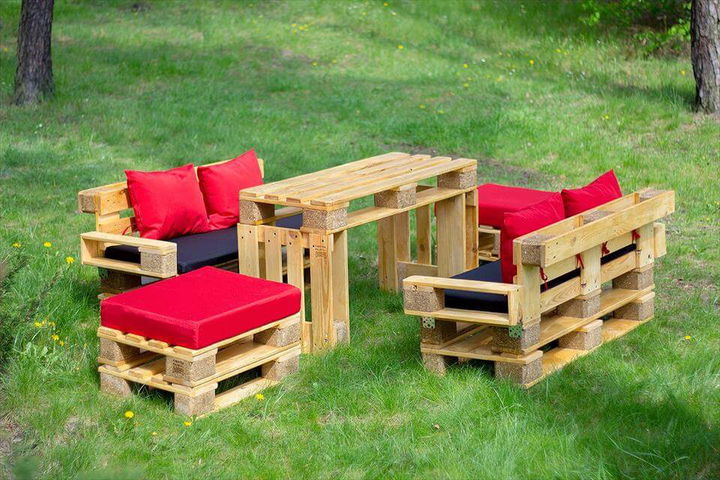 Handcrafted Wooden Pallet Media Wall: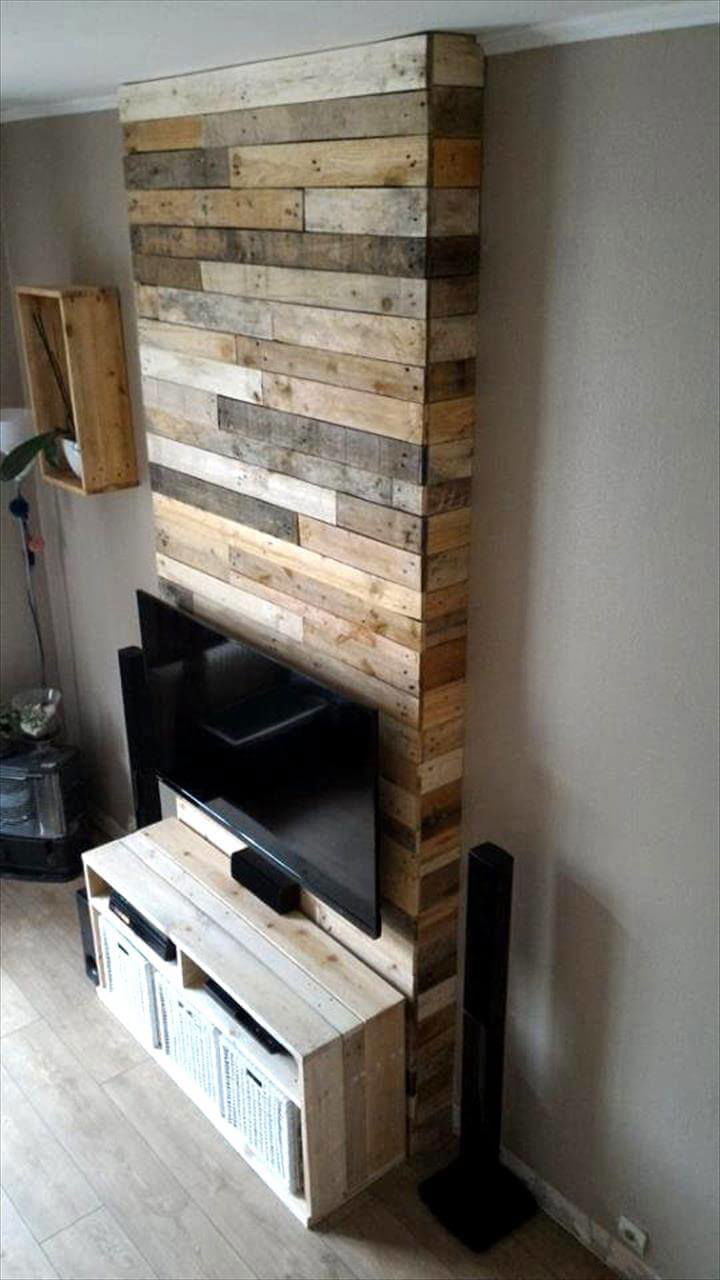 Pallets are really the magical wooden skids to gain a welcoming look of your outdoors and green spaces! The first things you can do in this case is the installation of custom wooden benches and you can really do it in number of ways! Install arm less benches with custom tilted backrests through quick slatted arrangements of pallets, use also a bunch of pallet boards to install robust wooden seats like given dual tone 3 seater, and you can even change the styles of backrest positions to create a more superior look of them like given white painted benches with arched backrests! Also do some amazing pallet decking projects to organize the home deck spaces and you can even stack pallets for raised wooden floors whether to your outdoor or indoor home portions! You can also get your favorite wooden grabs in your favorite dimensions by composing them with pallets the mini robust pallet tables and mini storage cabinet are a better examples here! Use single pallet boards only to gain industrial looking coffee tables and also amazing wall hanging pot organizers, don't forget also to plan the single pallet slats for amazingly seasonal wall art pieces!
Custom Pallet Bench: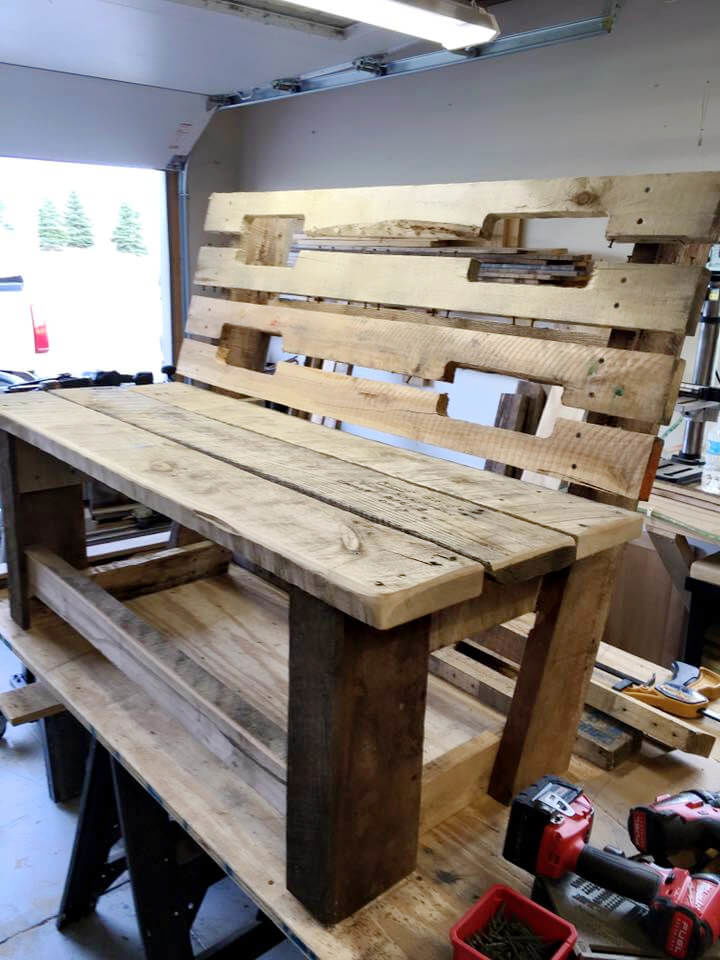 Unique Pallet Garden/Patio Bench: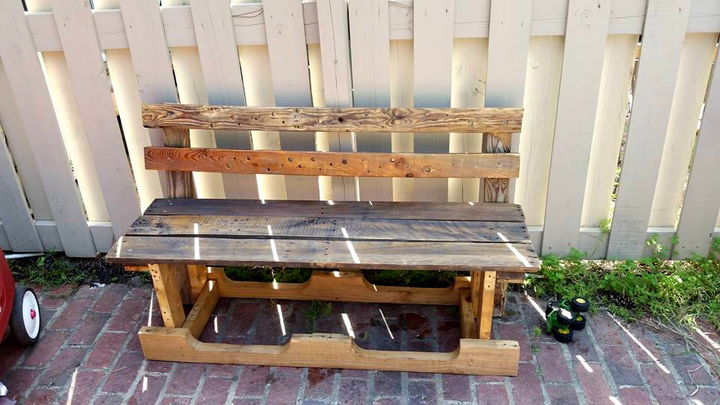 Renovated Pallet Deck: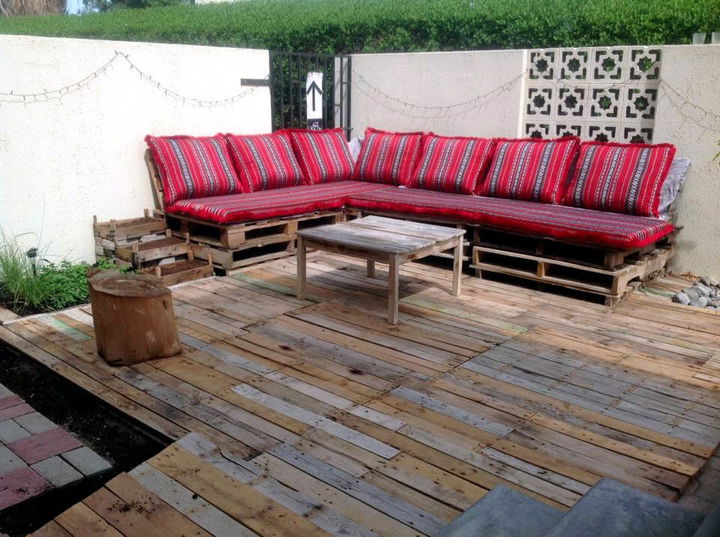 One Pallet Highly Modern Coffee Table: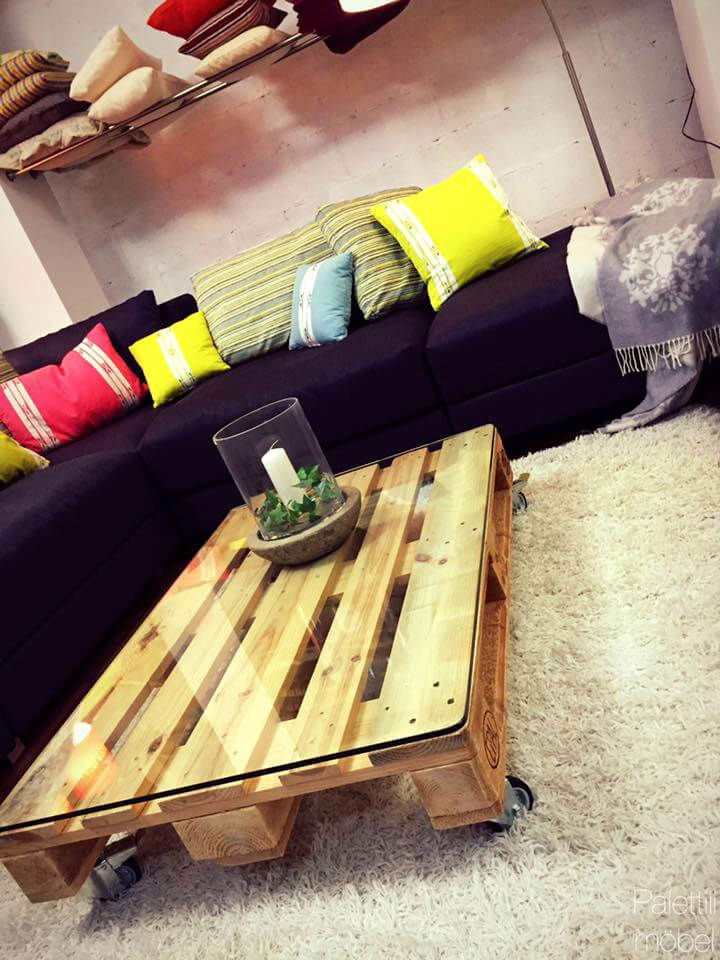 Pallet Wall Hanging Pot Organizer/Holder: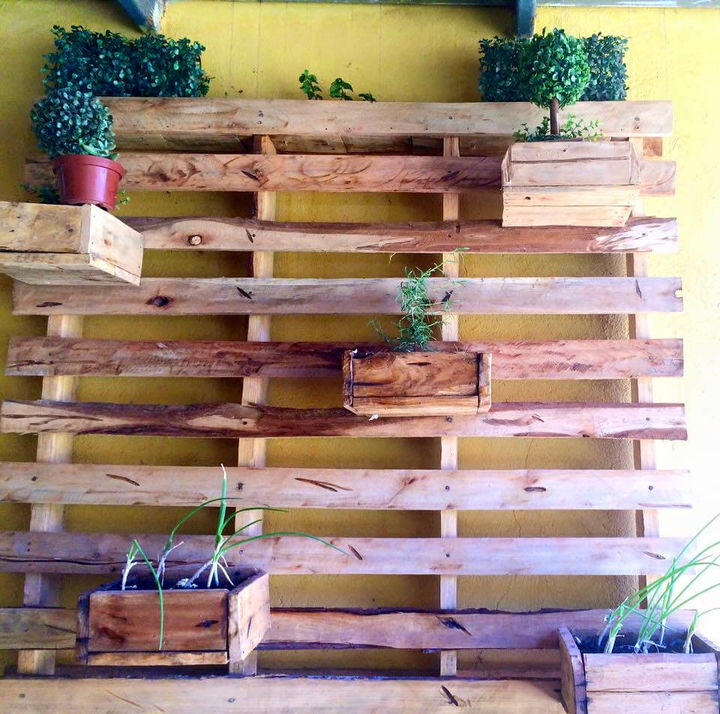 Beefy Dual Wood Tone Pallet 3 Seater: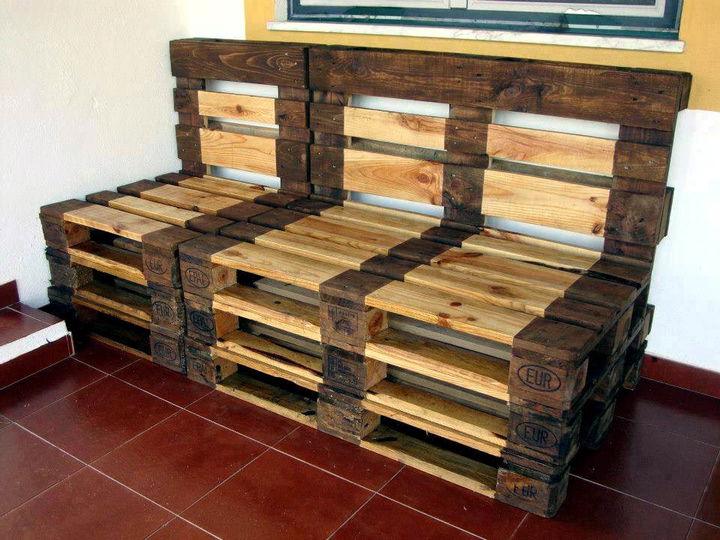 Green Painted Pallet SPRING wall Art: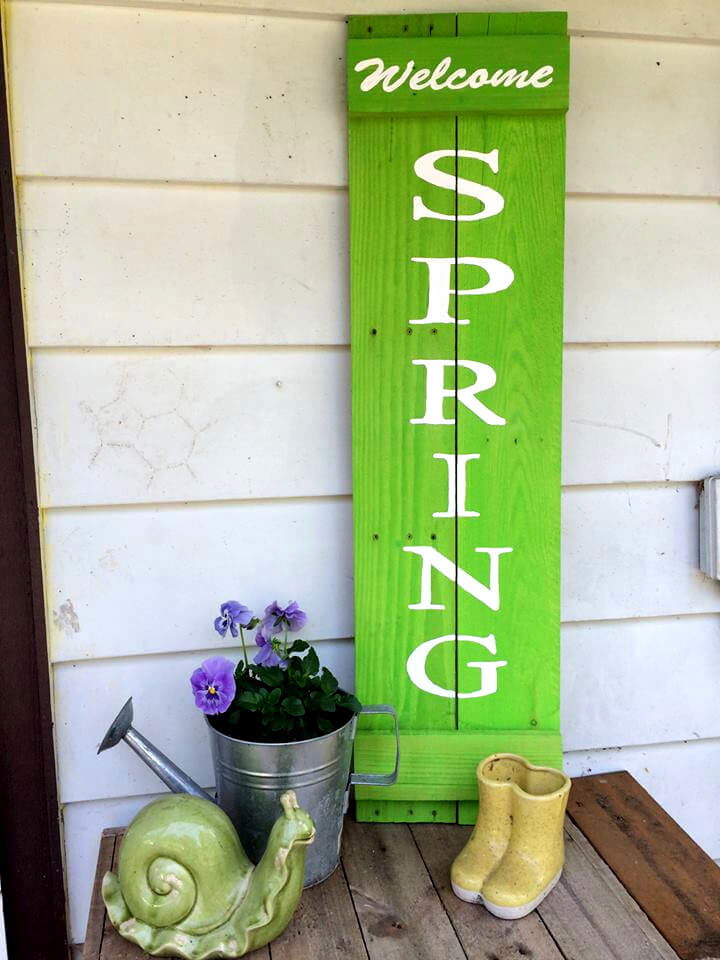 Custom Pallet Mini Stools or Tables: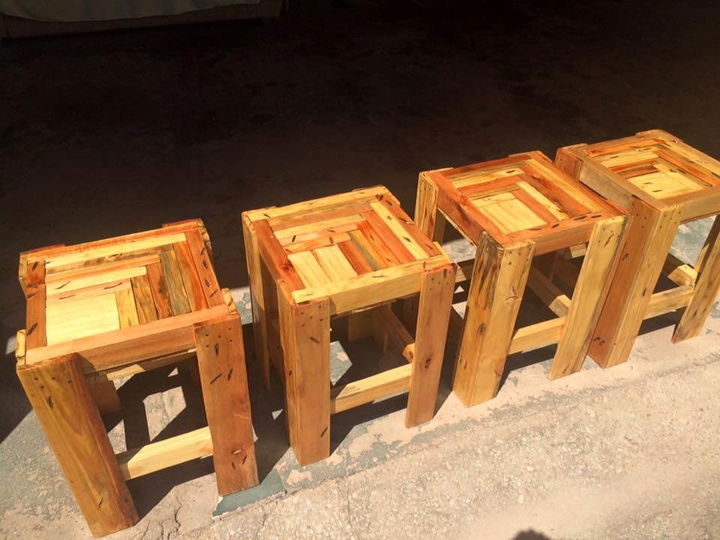 Mini Wooden Pallet Floor Cabinet: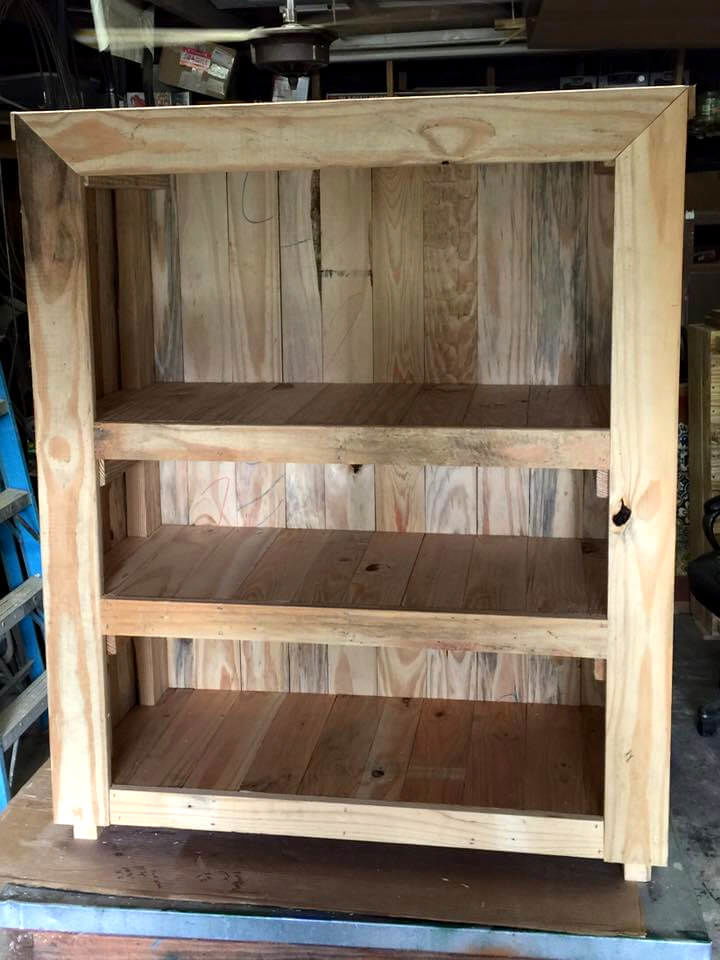 Chic White Pallet Benches Having Arched Backrests: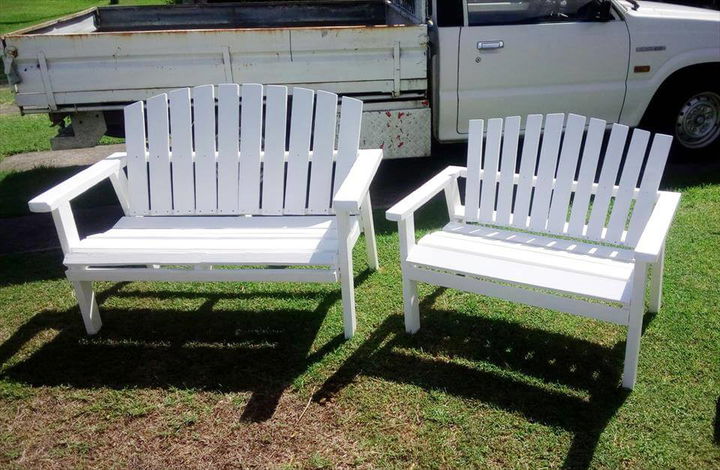 Give your first preference to pallets if really rummaging around for the materials to install some amazing setups to securely store and enjoy your favorite kinds of beverage! Readjust the basic already made frames of pallets and regain those retired shipping skids into surprising layouts of furniture! Reclaim the deconstructed pallets for creative table furniture yields, checkout the given table design as a mind blowing sample! Give better fittings to mini pallets to install robust chairs, also extend the pallet skids with some shelves and built in racks for adorable wall hanging bars out of them, don't forget to copy the pallet-made bottle openers which can give a wall mount next to your wall hanging bar! Build custom high-top consoles with pallets that serve in multiple ways like a given one is serving as a behind sofa table and also as a bar table for beverage parties in the same living room! Repurpose pallets and alter them a little to let them appear into amazing kitchen spice racks, tools racks and also into beautiful coffee mug racks, add metal hooks for brilliant hanging solutions! Also construct the outdoor party lounges and custom sitting furniture sets to organize your outdoor for great fun!
DIY Vintage Pallet Coffee Table: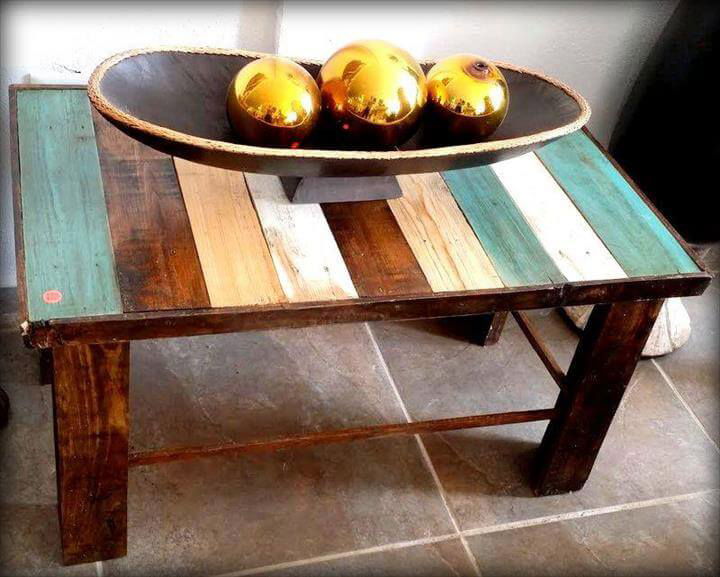 Robust Wooden Seat: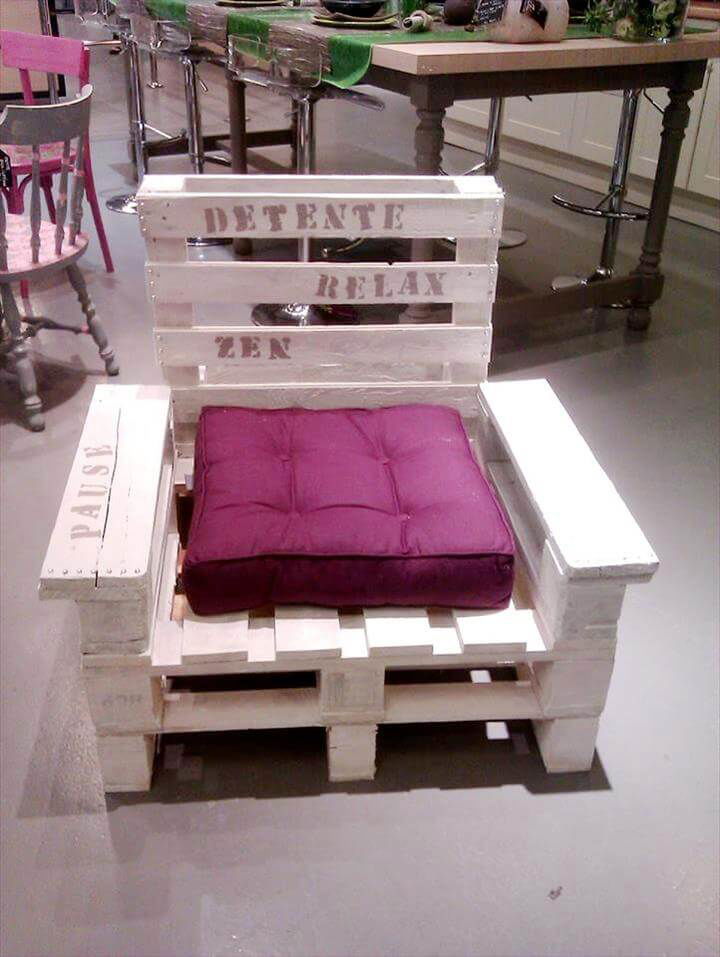 Handmade Custom Pallet Bar: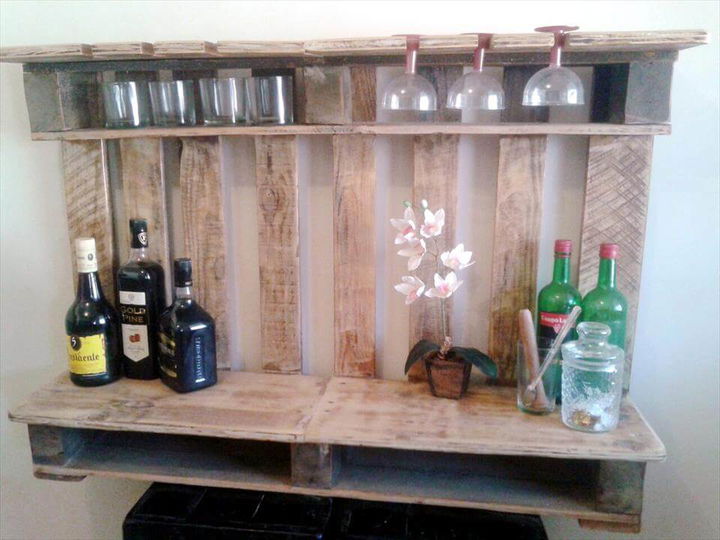 Pallet Bottle Opener + Bottle Cap Holder:
Rustic Pallet & Mason jar Bottle Opener:
Pallet Behind Sofa Table + Bar Table: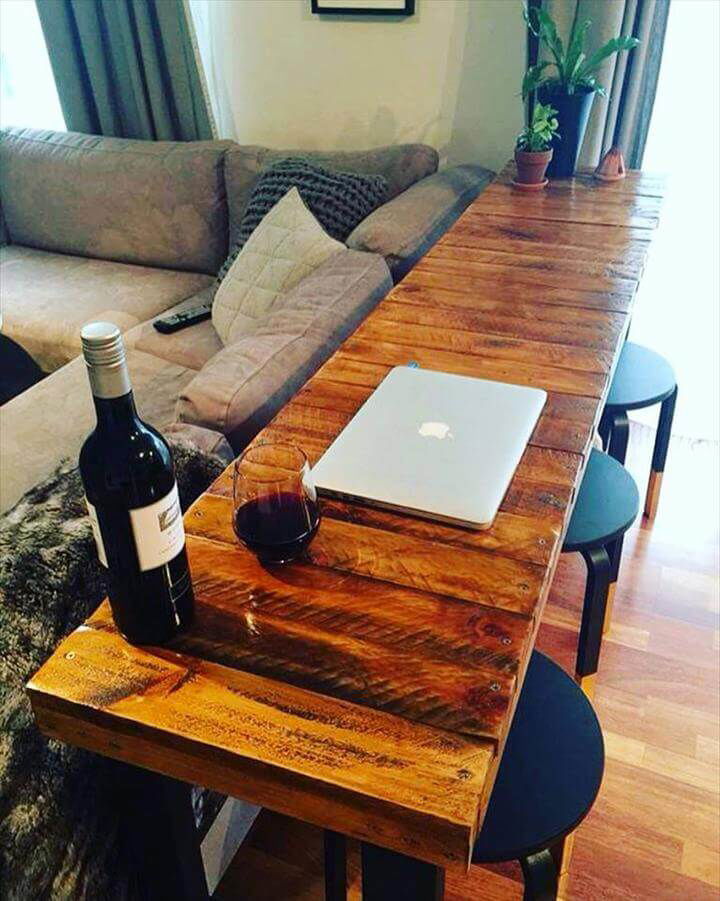 Pallet Kitchen Spice Rack with Cooking Tool Hooks: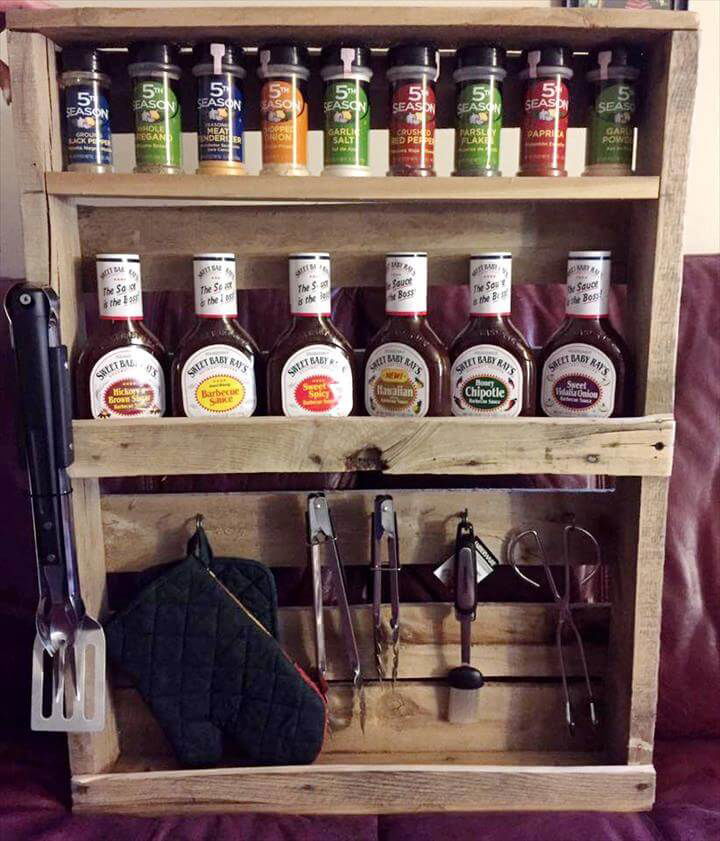 Pallet Coffee Mug Rack with Coffee Logo: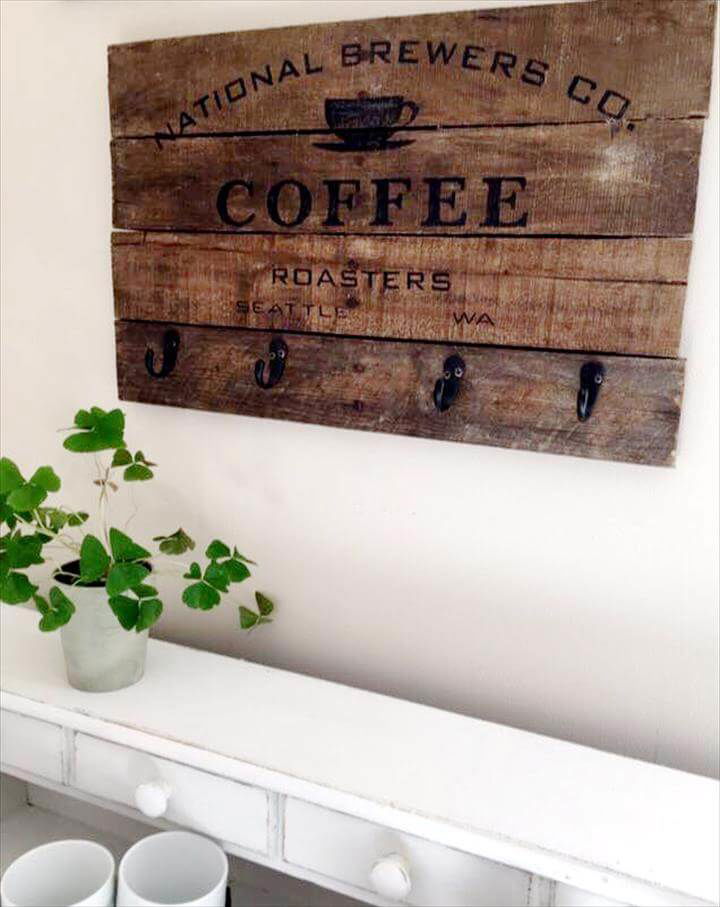 Antique Pallet Dear Head Wall Art: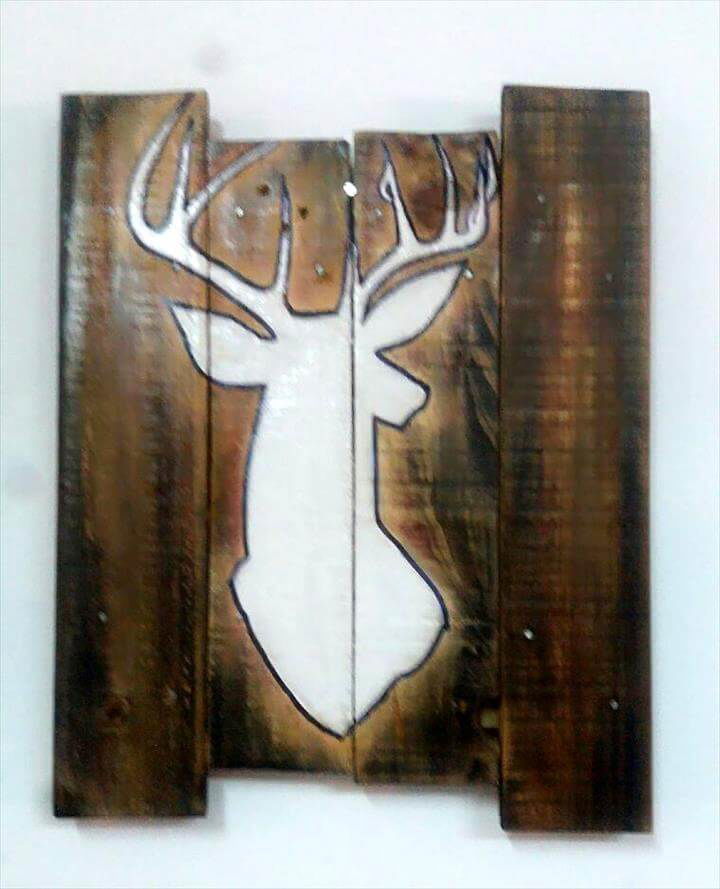 Pallet Garden Sitting Furniture:
There is a big deal of tricks and tips to use for amazingly beneficial recycling of pallets! We have showcased here visual images of pallet crafts that will tell better the whole creative stories of pallet wood recycling the outputs of which are 100% functional home objects and furniture crafts! Reuse pallets to build accent rustic mirrors for interior and bathroom walls, also collect the pallet slats as a ceiling wooden fixture and hang the bulbs from it for amazing ceiling chandelier and repurposing of pallet skids to install awesome chest of drawers would also be really amazing as shown! Create a luxurious look of your living room by installing faux wooden fireplace there and also utilize the pallets to integrate superior models of a kitchen shelves like the given tea rack! Solve your laundry storage issues by installing cool laundry basket dresser with free pallets and do align pallet slats over a wall area creatively for extraordinary display units and shelves like given LOVE wall shelf! Build custom consoles, media cabinets and also living room sofa sets with pallets and to install indoor beverage bottle racks or organizer is also something that has earned lots of appreciation from beverage lovers!
Pallet Bathroom Wall Mirror with Shelf: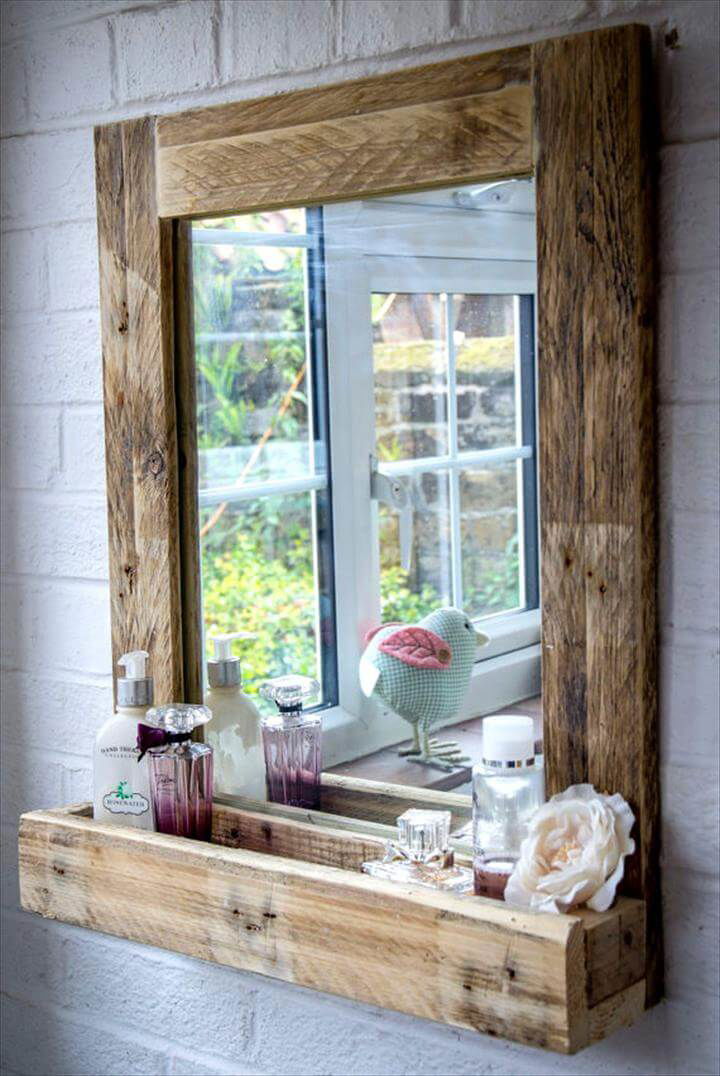 Pallet Ceiling Bulb Chandelier: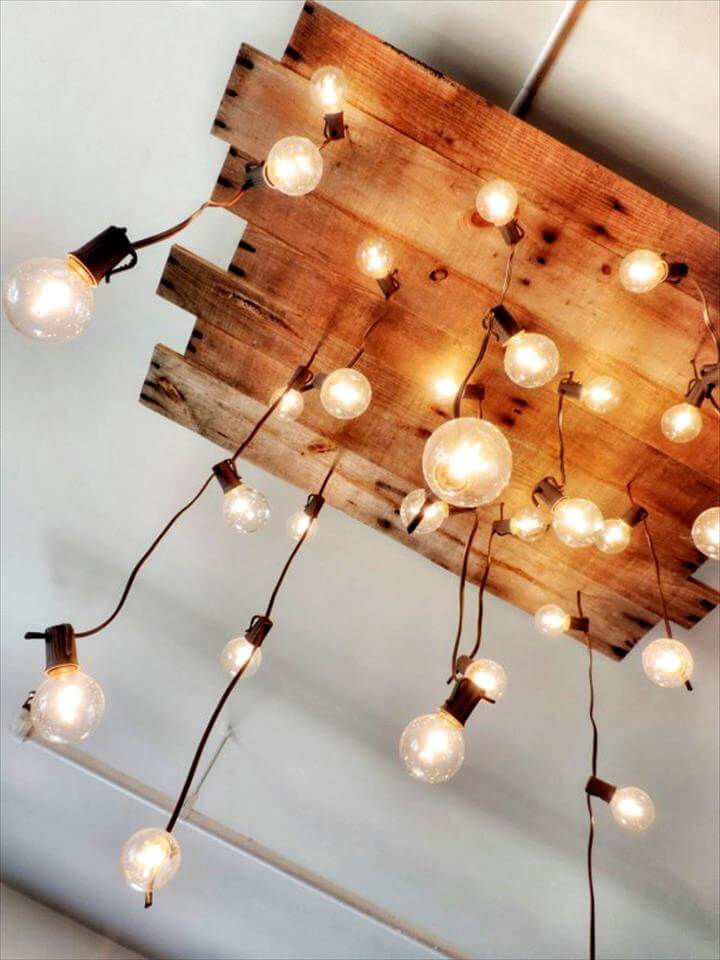 Rustic Pallet Chest of Drawers: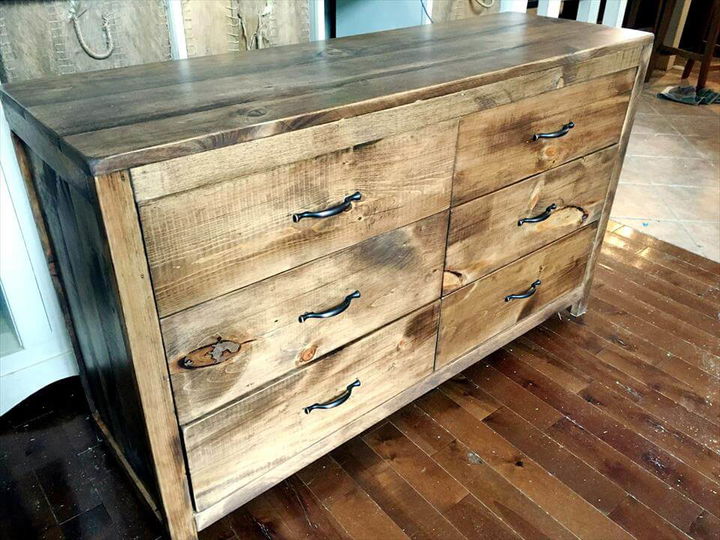 Pallet Faux Fireplace: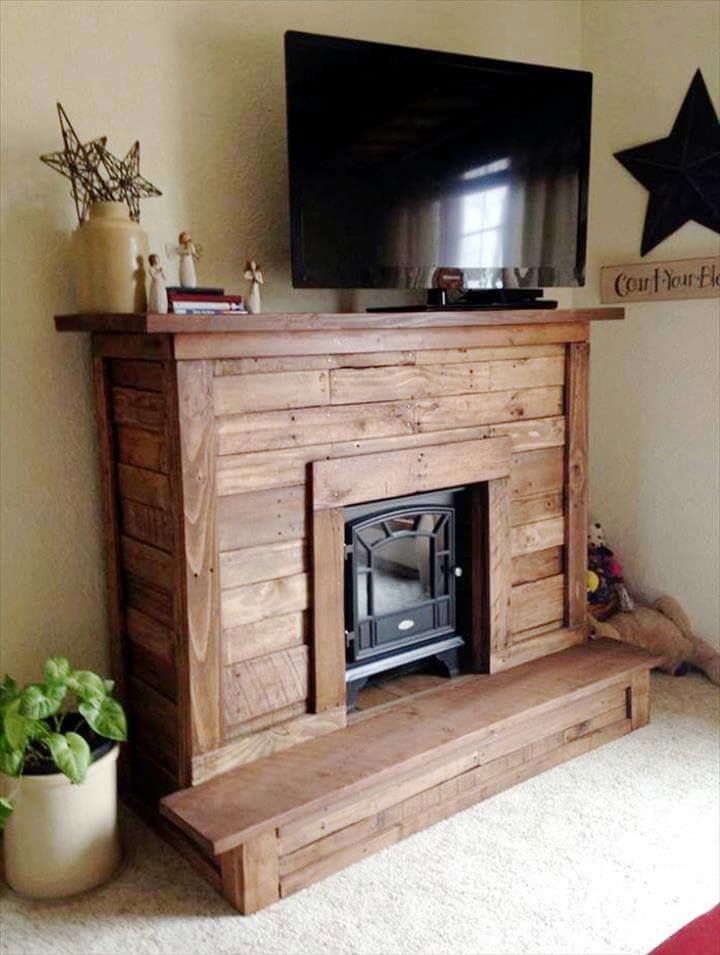 Pallet Tea Rack: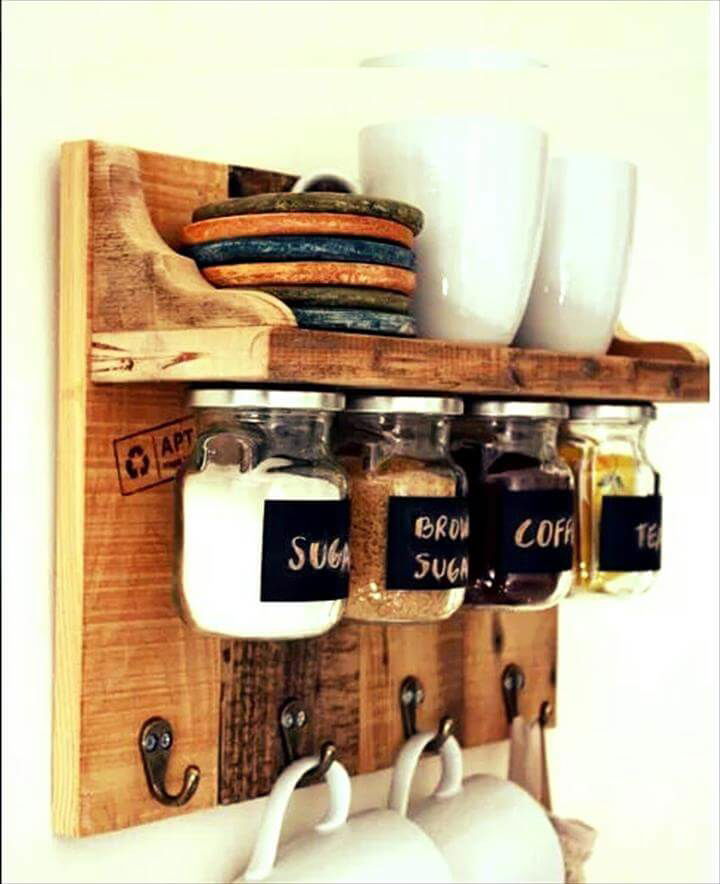 Pallet Laundry Basket Dresser: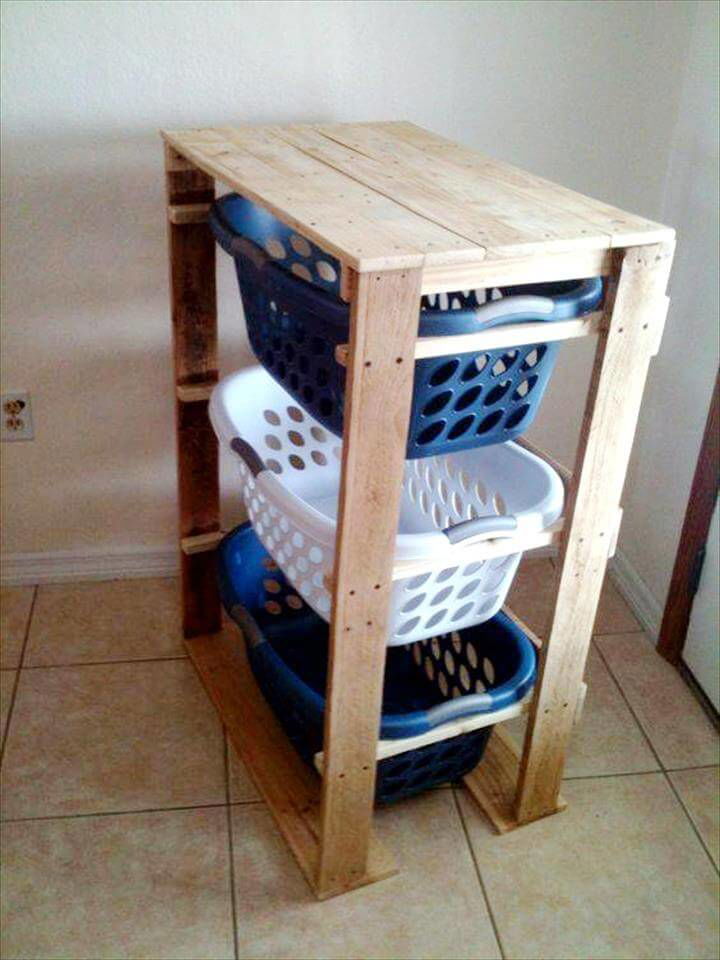 Pallet LOVE Wall Display Shelves: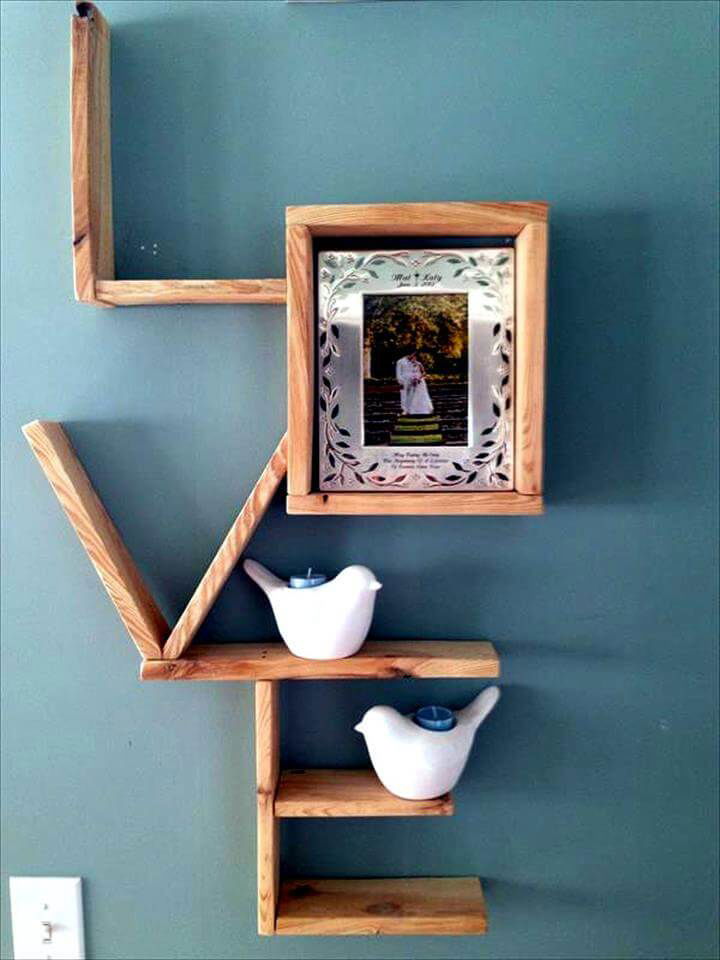 Pallet Media Cabinet/TV Console:
Sturdy Wooden Pallet Sectional Sofa Frame: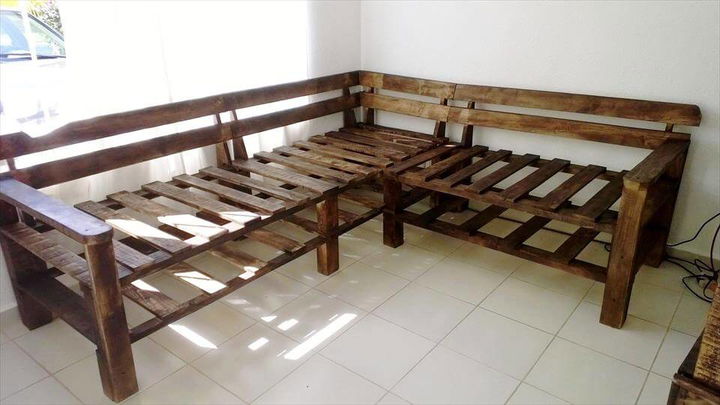 Pallet Beverage Bottle Rack: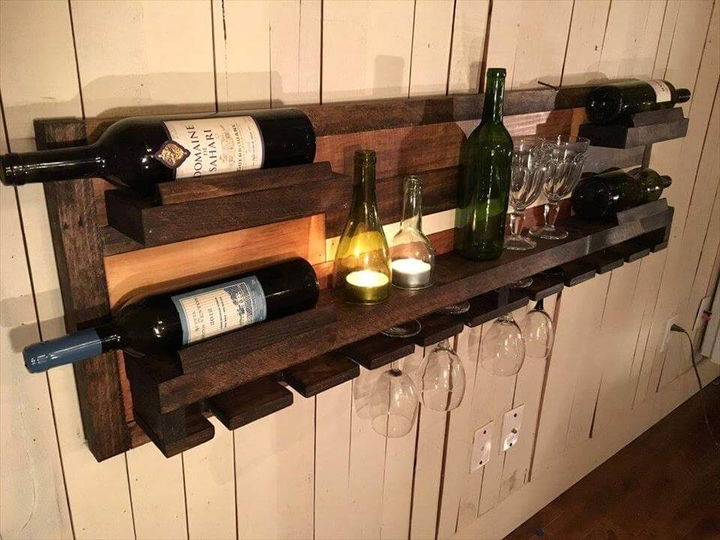 Pallets can even be made performed some exclusive functional tasks when they come to us in ultimate timeworn and ultra-rustic appearance! Use the rustic wooden slats from rustic pallets to install precious antique wall pieces, random alignments would be ice on the cake as shown! Gather original whole pallet boards to yield robust wooden benches as shown below white one with planter boxes, and also build the whole garden sitting sets with retired shipping skids quite easily! Build also the custom furniture with pallets by going with your own personal preference, the given laptop table and bench set is an awesome sample here and a rustic multipurpose console can also be a great example in this regard! Spread over the whole pallet boards and get them padded for custom seats, comfortable benches and luxurious sofas, get inspired of the terrace sofa set and grand cushioned daybed, valuable suggestions in this respect! Regain pallets also as super comfortable front porch benches and do use them wholly as vertical gardens or planters would also be great way to enhance the decors of your garden and home interiors! Think a little bit bigger and install also the custom kids tree houses and elevated lake view houses with pallets, 2 marvelous practical recommendations have been given below!
Rustic Pallet Wall Art: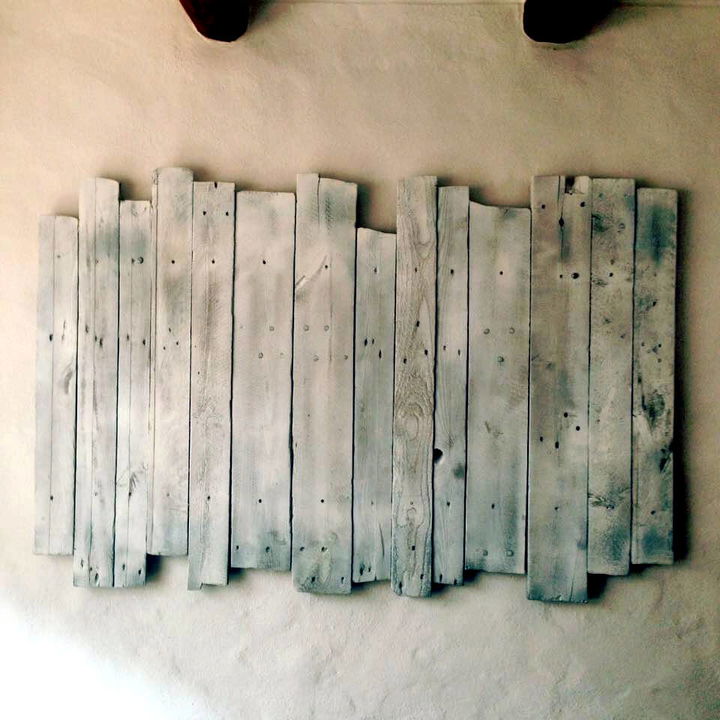 Pallet Patio White Bench with Planter Boxes: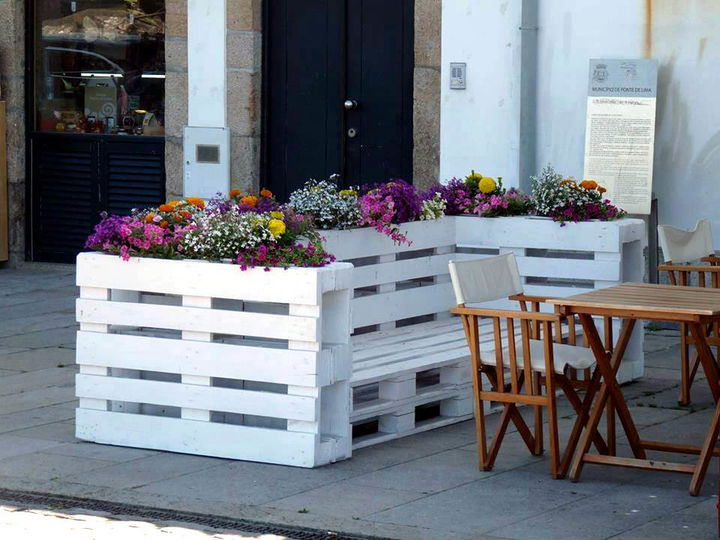 Custom Pallet Garden Sitting Furniture Set: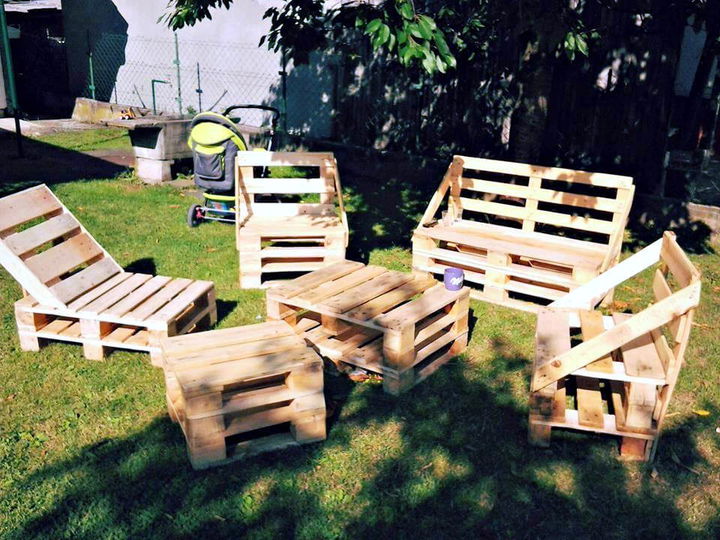 White Pallet Laptop Table with Matching Bench: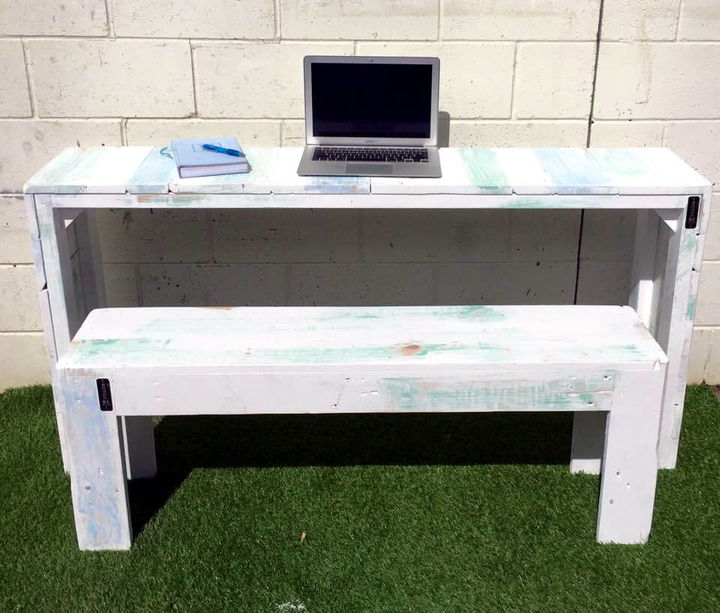 Rustic Pallet Console/Kitchen Island/Foyer Table: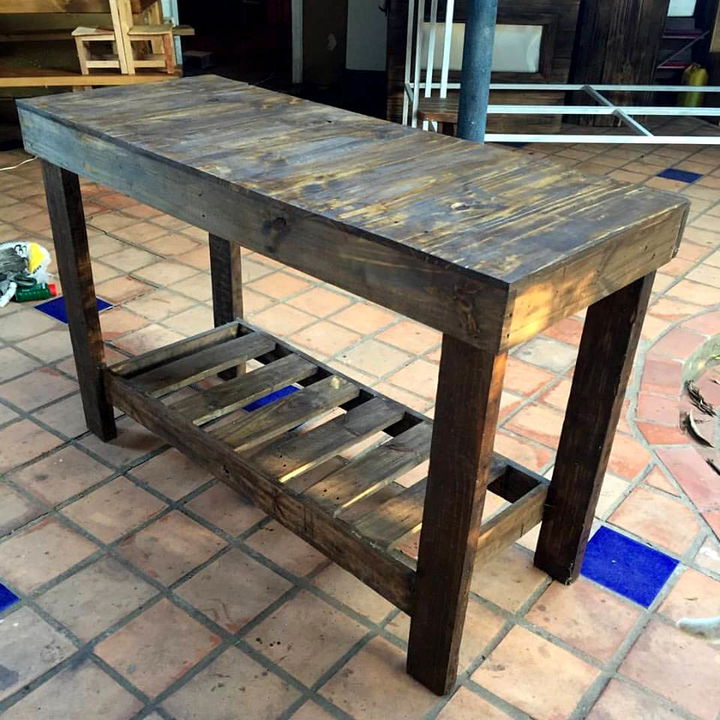 Pallet Terrace Sitting Sofa Set: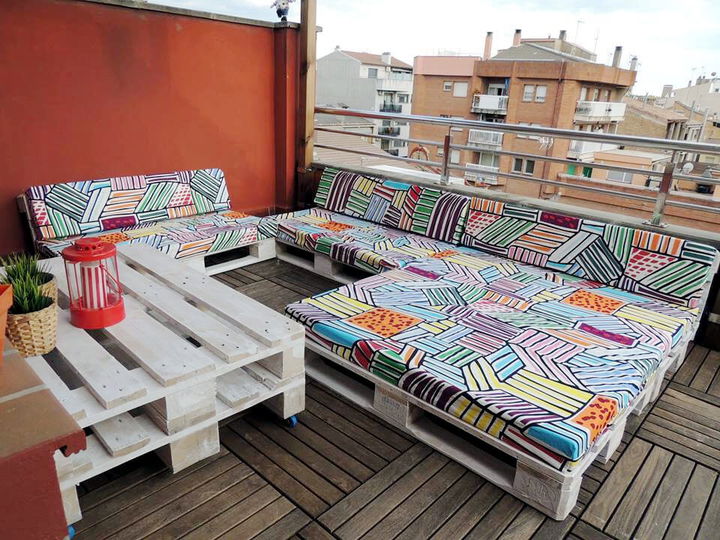 Rustic Pallet Cushioned Porch Bench with Wheels: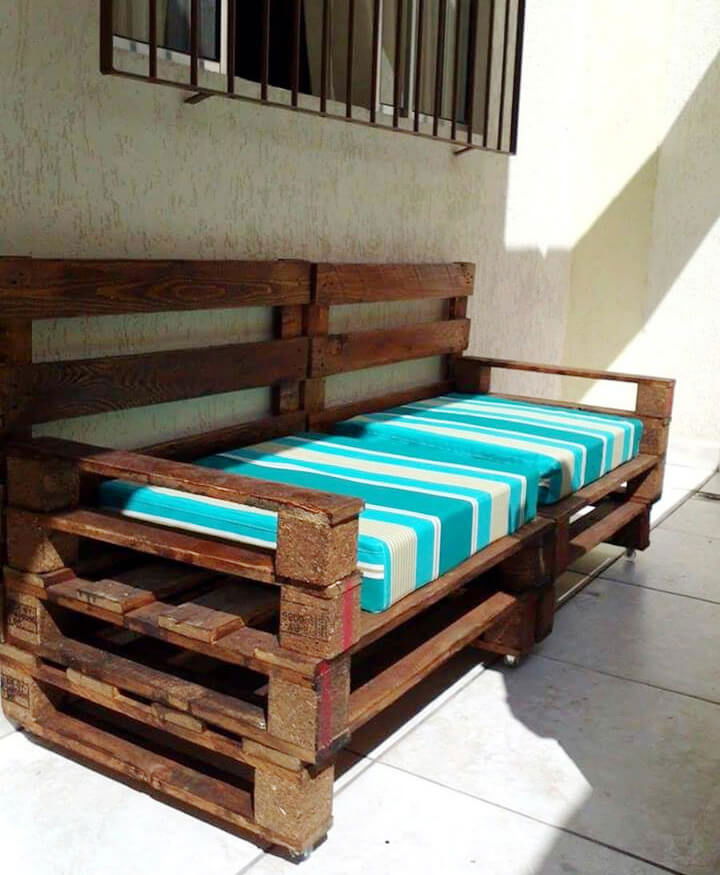 Pallet Vertical Planter with Metal Accents: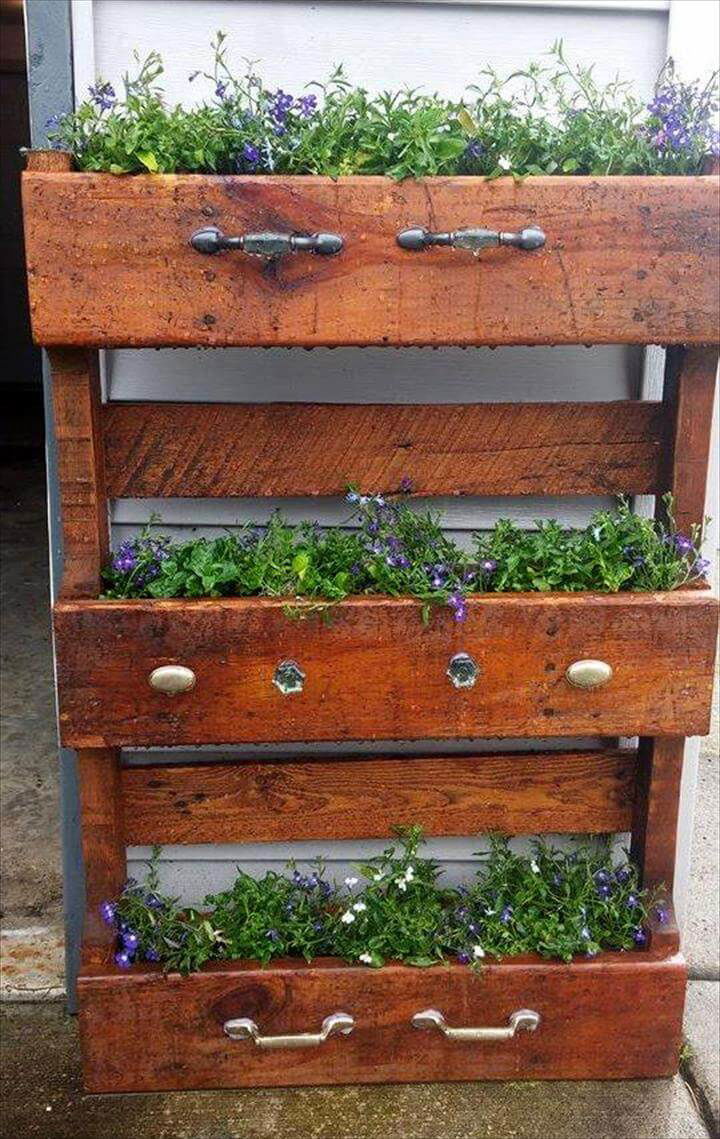 Pallet Daybed/Armless Sofa: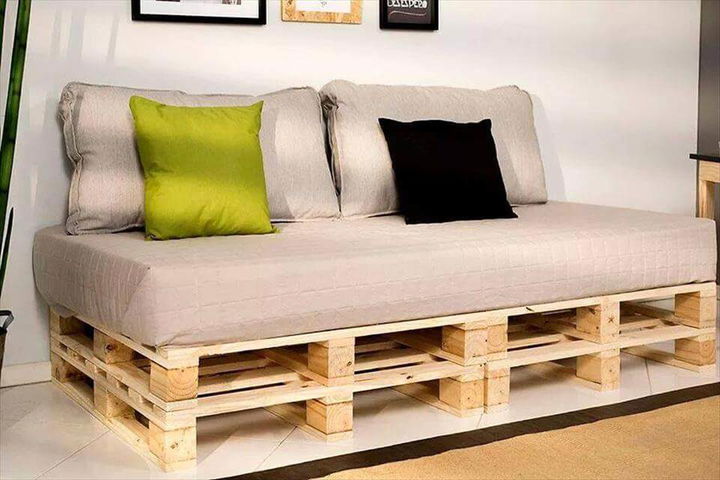 DIY Pallet Tree House for Kids: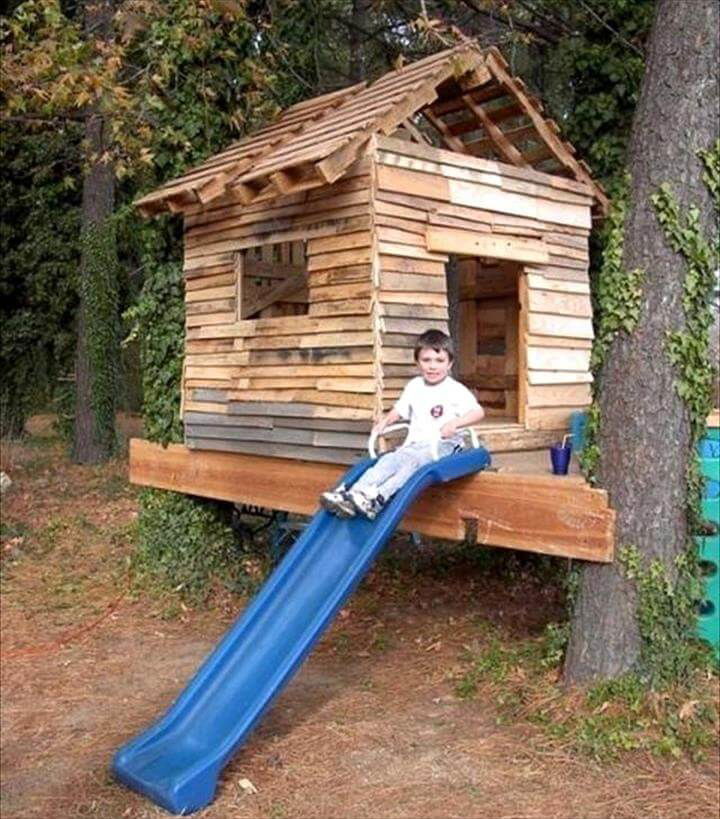 There are also may tiny projects you can do with pallets that may bring bigger functional changes to your routine life, install beautiful bottle openers with pallet, you may need anywhere in your home, pack the pallets tight to get patterned slabs and just put some tiny wooden lengths as shelves over them to get those slab as marvelous beauty station for your interior walls, try the given below model looks rustic yet modern! Build tiny dog feeders, dog bowl stands and also custom dog beds and these items will lend you a big helping hand to handle your pet –care issues! Reinstall pallets for some mini tables, an all time need of your home especially that of a living room and bedroom as they can be used as end tables and also a nightstands there! Not only rustic, get also highly modern and premium edition of living room coffee tables out of pallets, the given 2 blow are sure to amaze all your senses! Also extend the final look of pallet-made furniture crafts with reclaimed home materials, like an ordinary pallet chair has been turned into a kind chair by using some artistic wooden accents! Don't forget to build the custom benches for your patios, garden and also for backyard and terrace space!
Pallet Bottle Opener: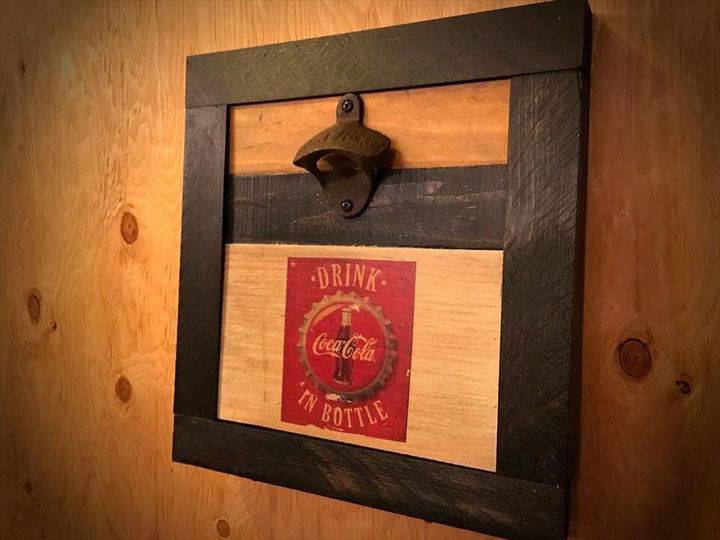 Modern Pallet Coffee Table: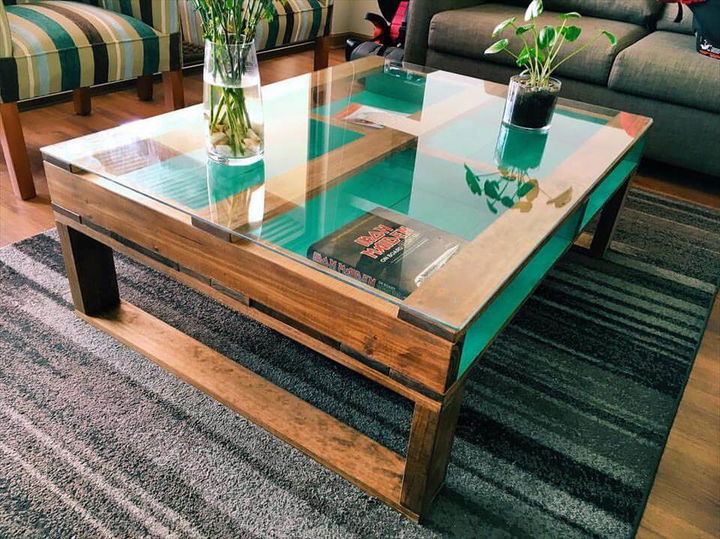 Chic Pallet Wall Display Station: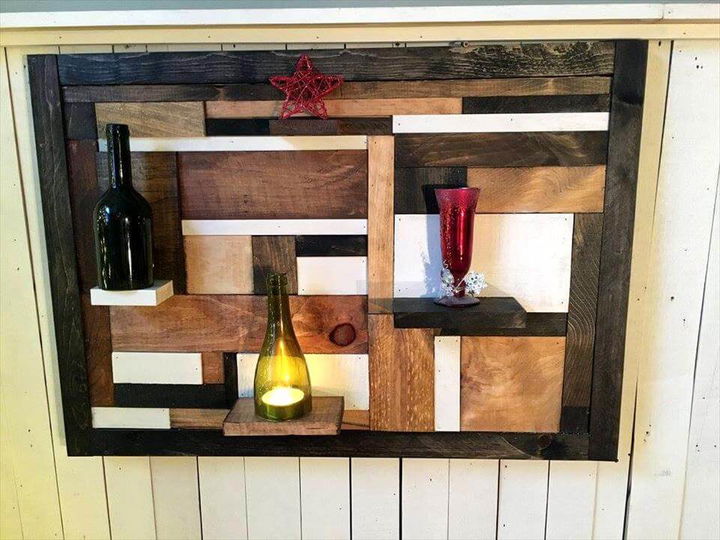 Pallet Dog Bed + Dog Feeder: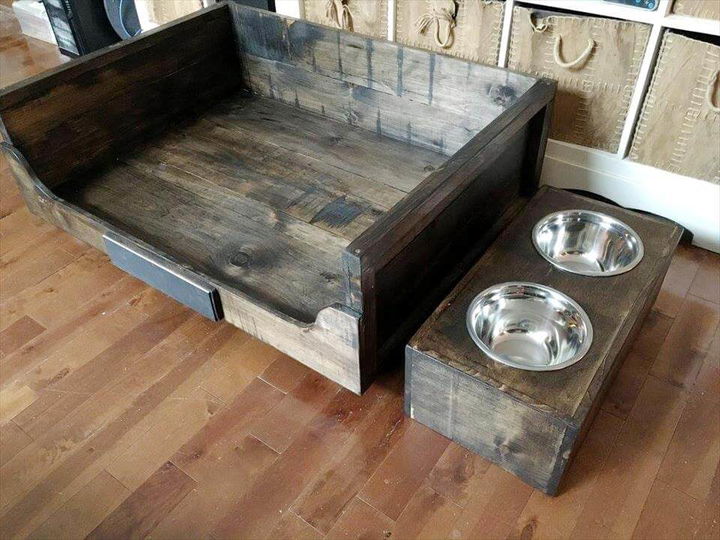 Pallet Multipurpose Mini Tables:
Pallet Platform Bed: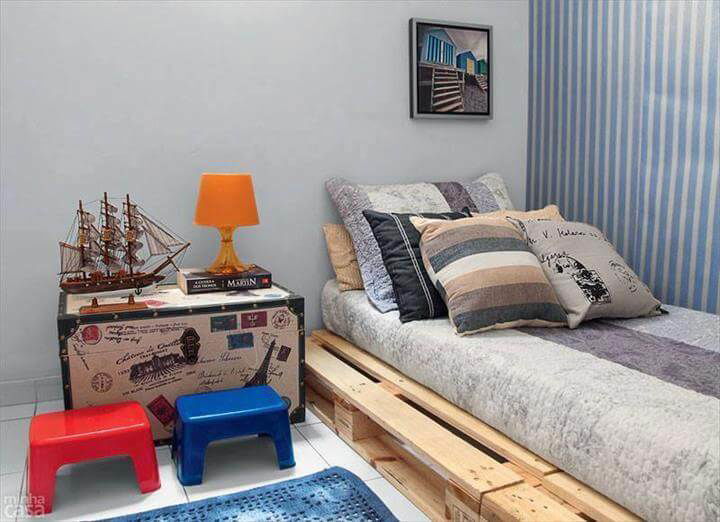 Pallet Coffee Table – Premium Edition: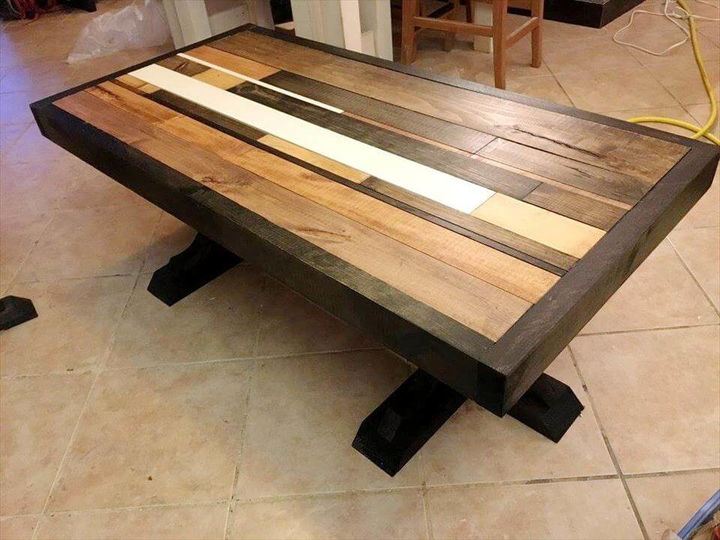 High Top Pallet Console with Shelf Underneath!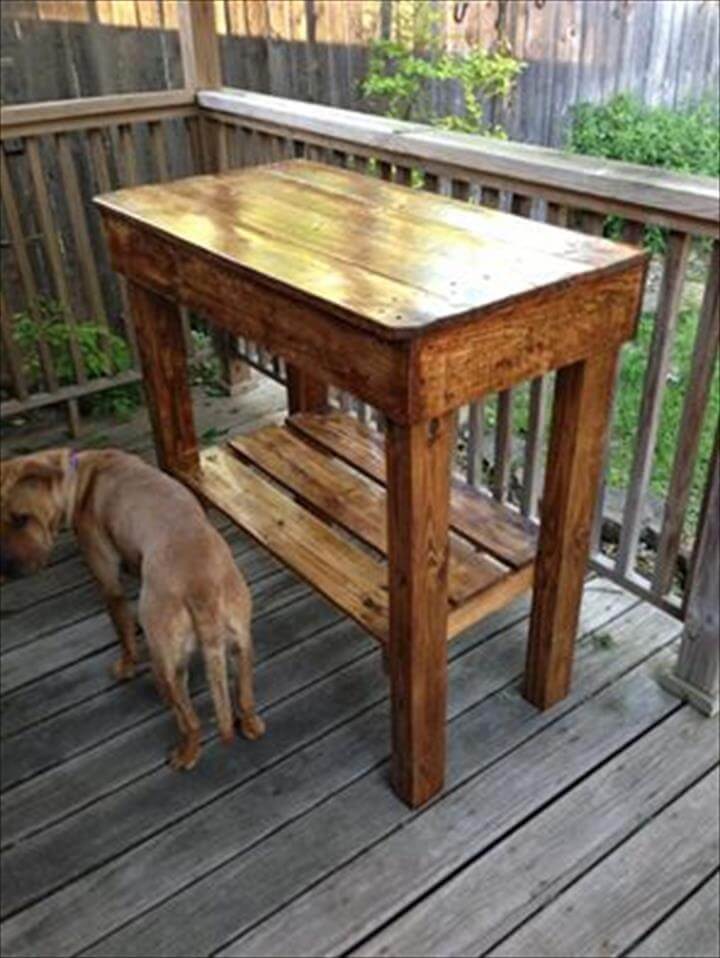 Pallet King Chair: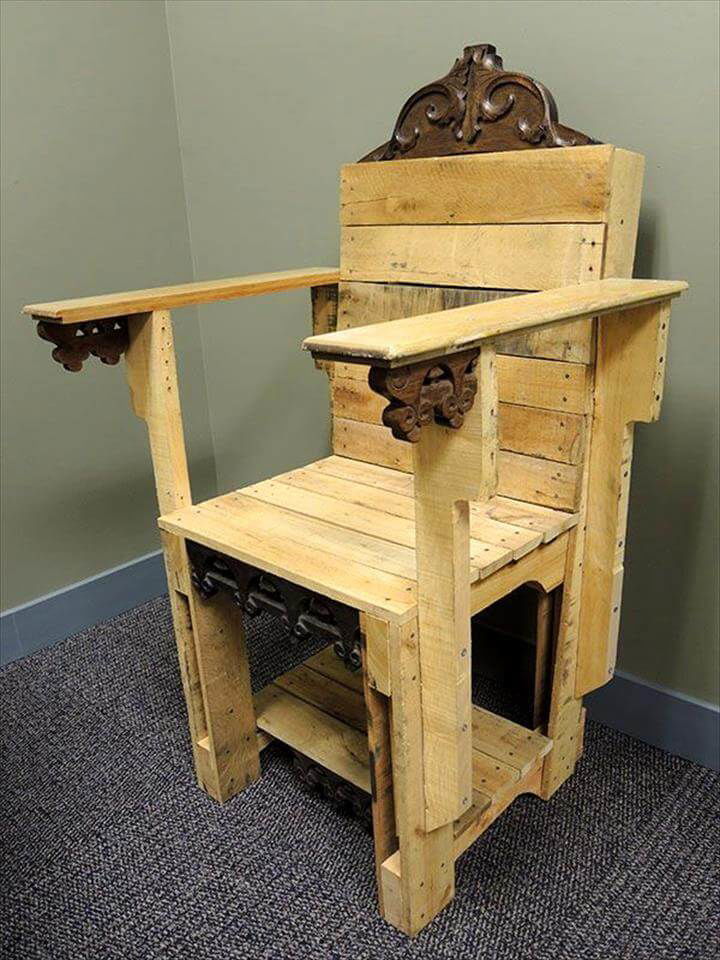 Distressed Patio Pallet Bench:
Do amazing things with your walls using old pallet wood, create a gathering of some random sizes of pallets and let it serve as a wall art piece, frame up a few of pallet slats to get better picture frames, adding hooks and mini shelves may be optional to add, watch the given below example! Also write custom quotes, says, custom worlds or name letters over the pallet slats and just hang them together on a wall area for family rule charts, love verses gifts and moral sayings wall art pieces out of them!
There are also may things mini but super functional to install with pallets, reclaim pallet slats to make tiny table coasters, repack them to build tiny chest for custom types of storage, also build mini shelving units to display your art and crafts, get inspired of given awesome suggestions! Repurpose modified pallet boards to install better indoor wall gardens, pack the pallet slats in artful style to integrate better models of headboards and also install the whole bed frames with pallets without in quick and easy steps! Building custom consoles for entryway decors, for hallway accent and also media consoles for media room organization also lies in bigger pallet offers that everyone can avail!
Custom-Built Pallet Entryway Console or Sideboard: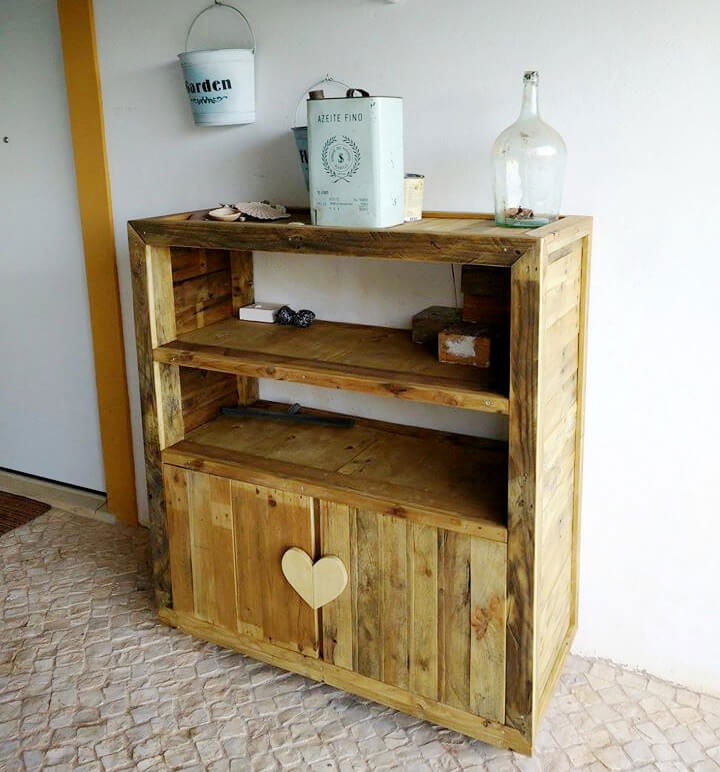 Robust Dark Stained Wooden Pallet Bed: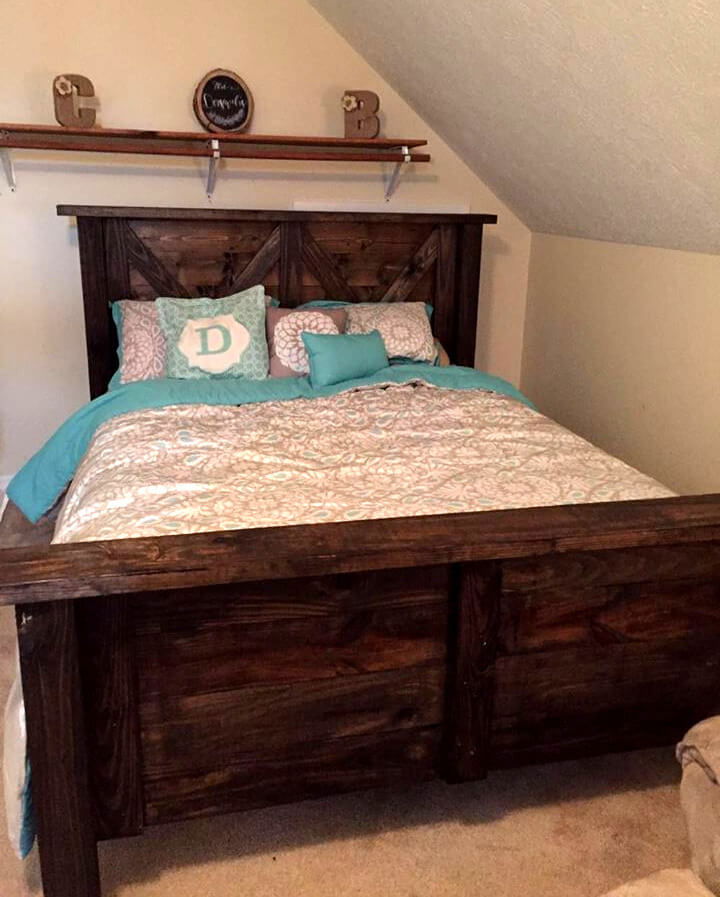 Pallet Coasters: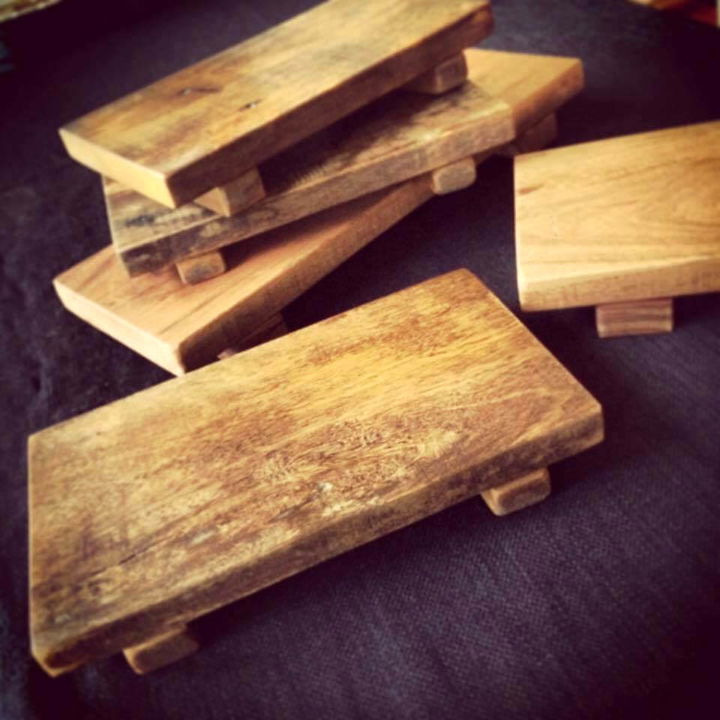 Mini Chest Composed of Pallets: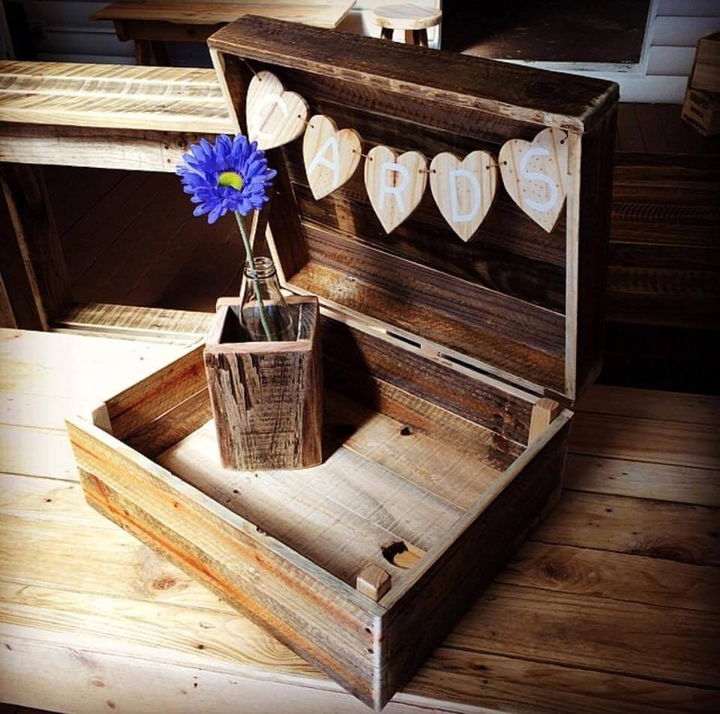 Custom Quoted Pallet Slats Wall Art: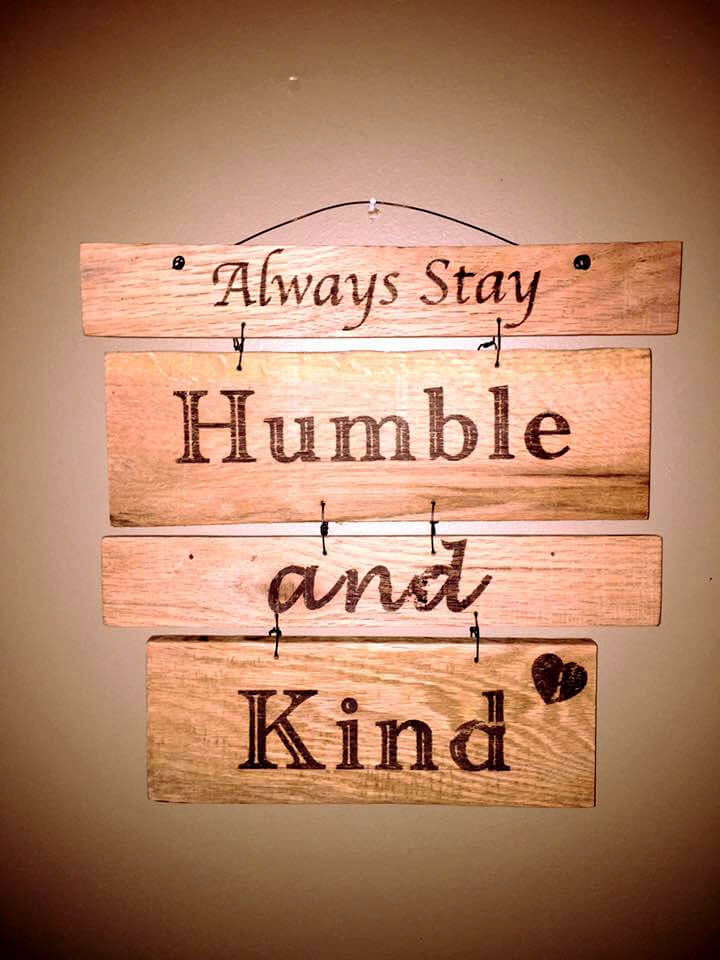 Distressed Colorful Pallet Wall Shelves: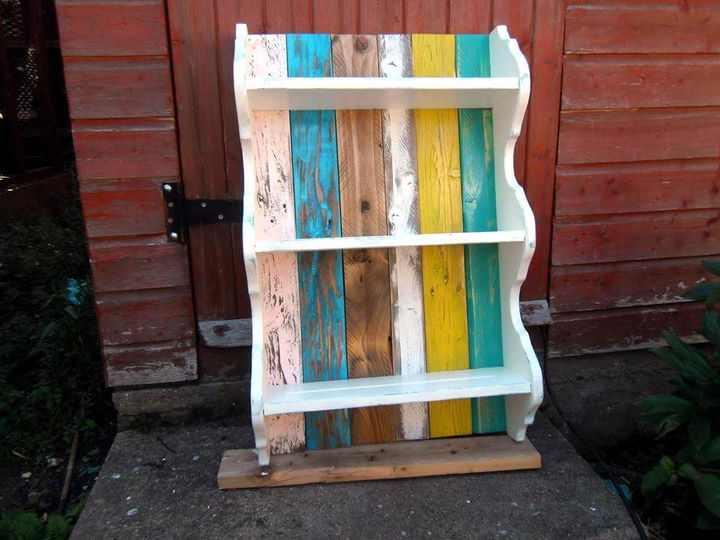 Pallet Wall Picture Frame with Mini Shelf and Hooks: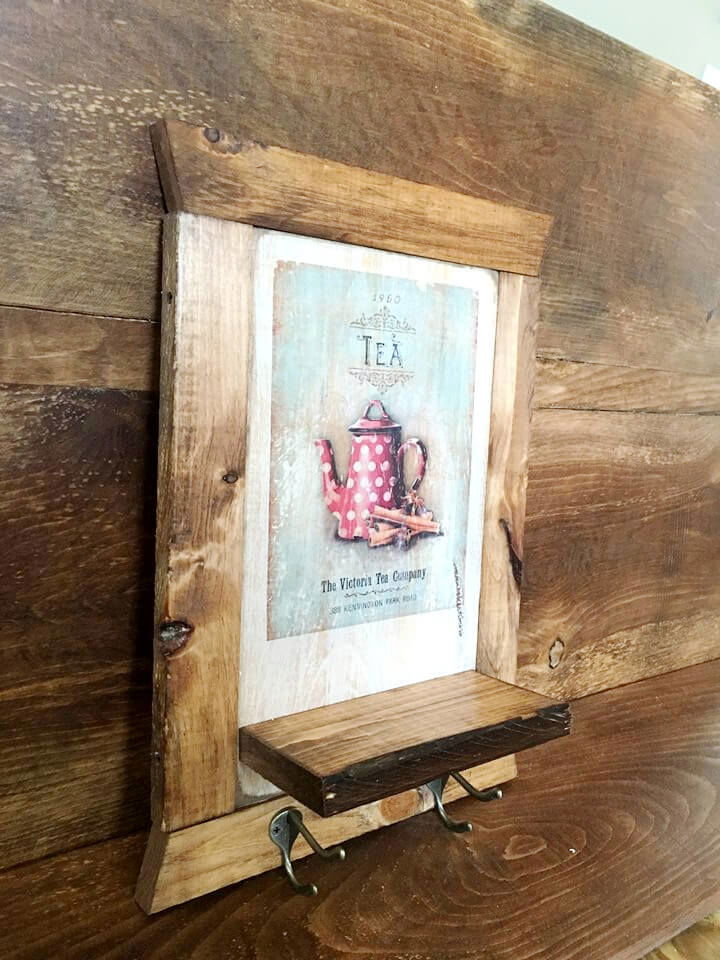 Pallet Living Room Table Set: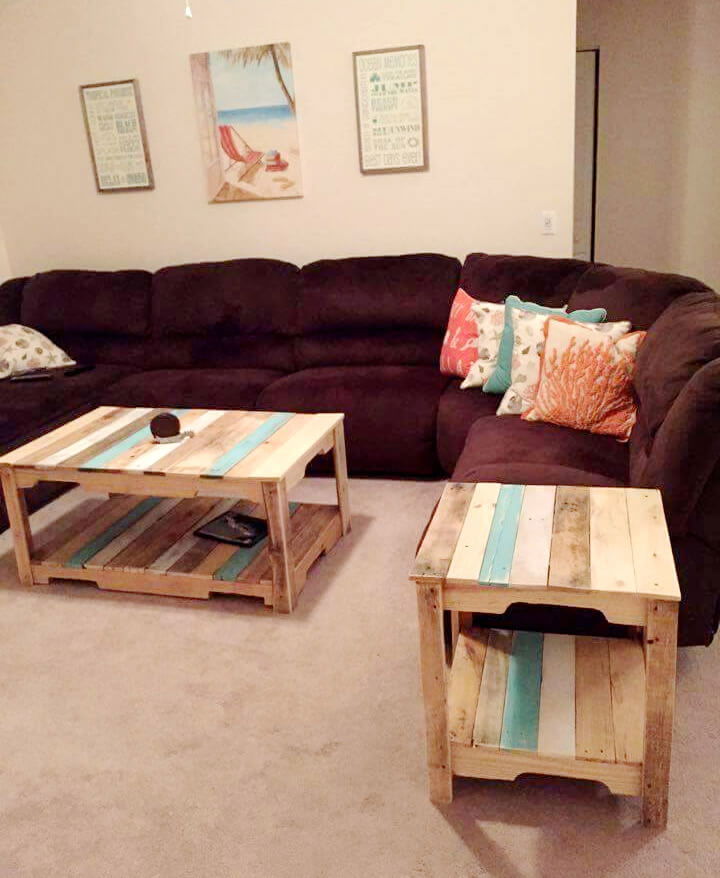 Pallet Multi-Chevron Headboard: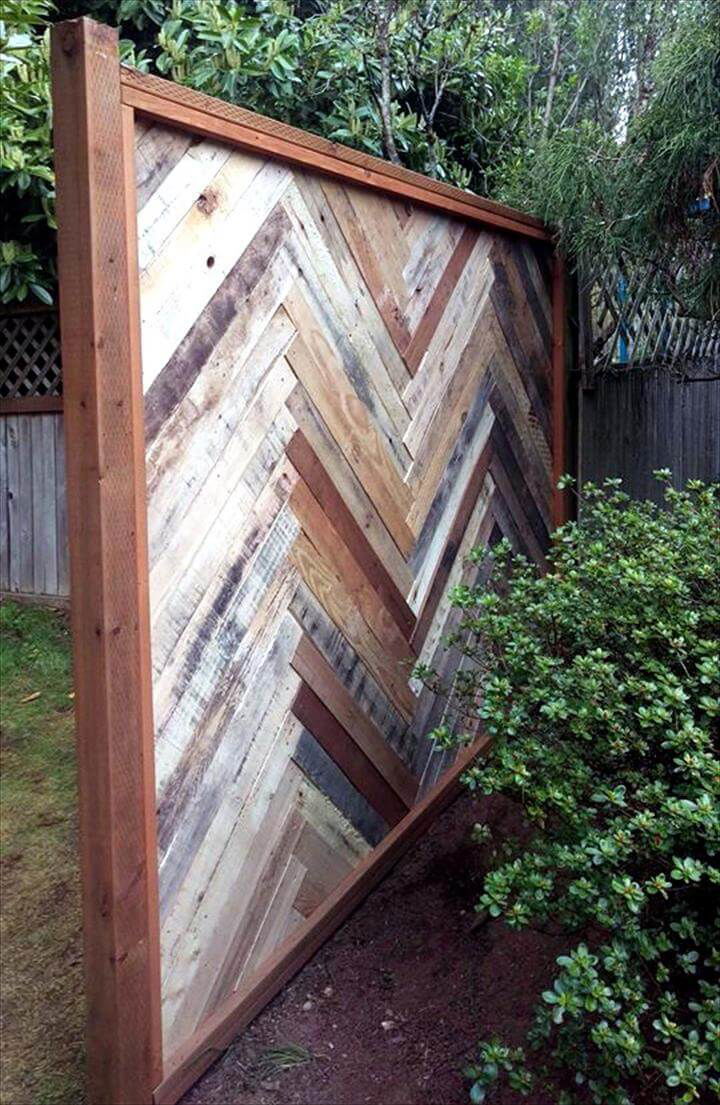 Pallet + Mason Jar Wall Herb Garden:
Let the pallets boost your fun affairs, install wall hanging TV stands with pallets and also custom media consoles! Put the pallet slats in vertical alignments to install custom rustic pieces of headboards and you can even employ whole pallets but with removed dice section as headboards, paint them for a rare stimulating visual like given below! Boost the home serving criteria by building extra wooden tables with pallets like listed below chevron one! Enhance the decors of your home by installing custom beauty stations, personalized display units and wall display shelves with pallets! Recycle pallets to install diverse different kinds of outdoor or indoor chairs like suggested below black dining chairs and building custom storage cabinets would also be a clever ideas to boost up the storage space of your home! Floor up whole pallet boards to achieve mind-blowing platform beds and also try them for making cool kitchen spice racks, a precious one has been exampled below and come with twine fencing for extra protection to stored spice jars! Repurpose pallets also to build custom dining sets, antique tables and stool and also convert pallets into amazing planters to get your green space visually pleasing, get inspired of given twin planters that come with trellis also!
Rustic Pallet Headboard with Reading Lights: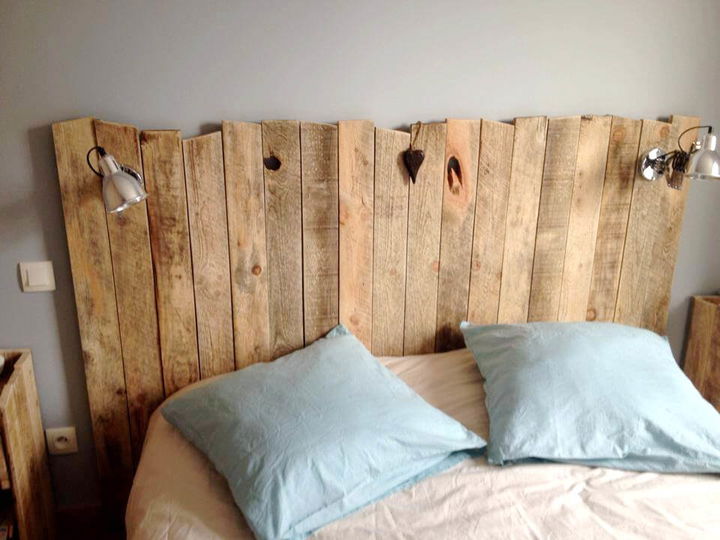 Antique Pallet Chevron Table: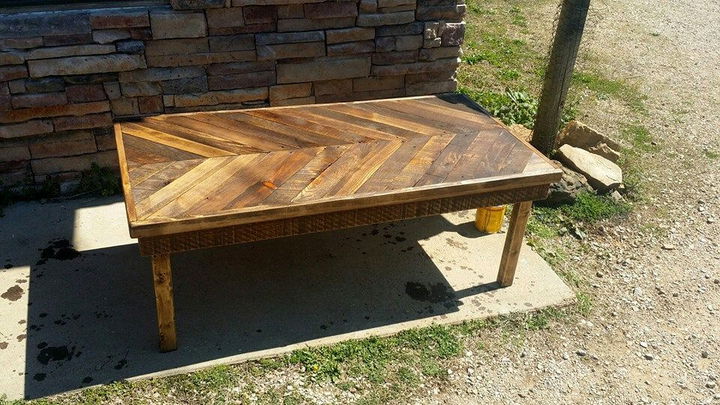 Pallet Wall Display Shelf: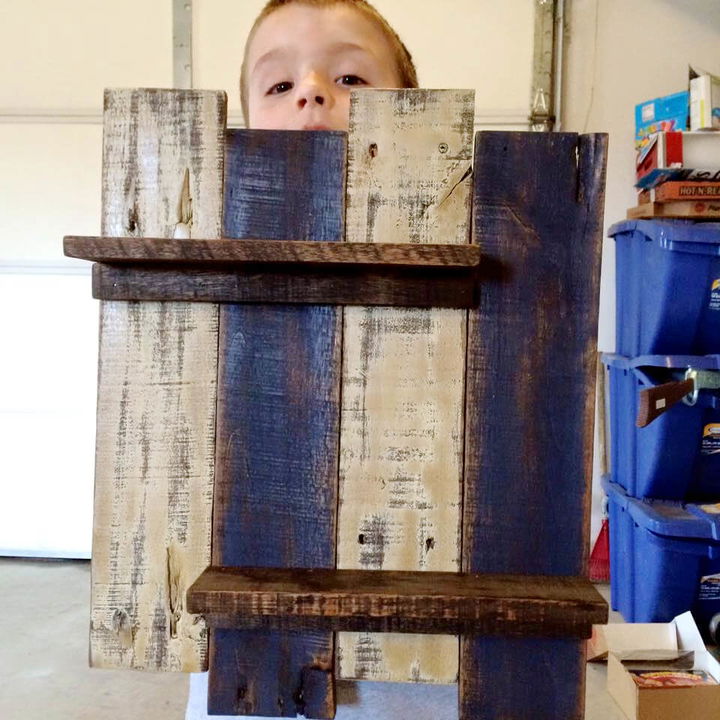 Pallet Wood Mini Cabinet: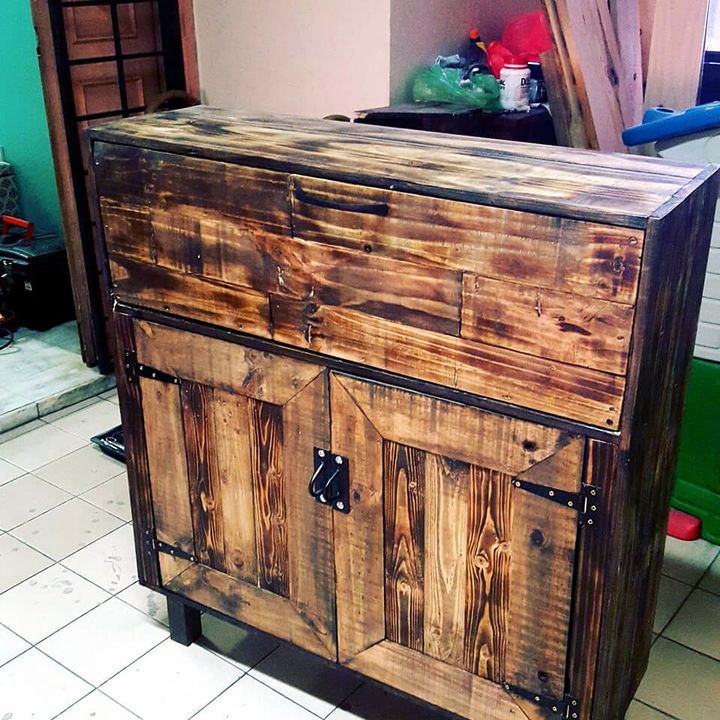 Pallet Blank Painted Dining Chairs: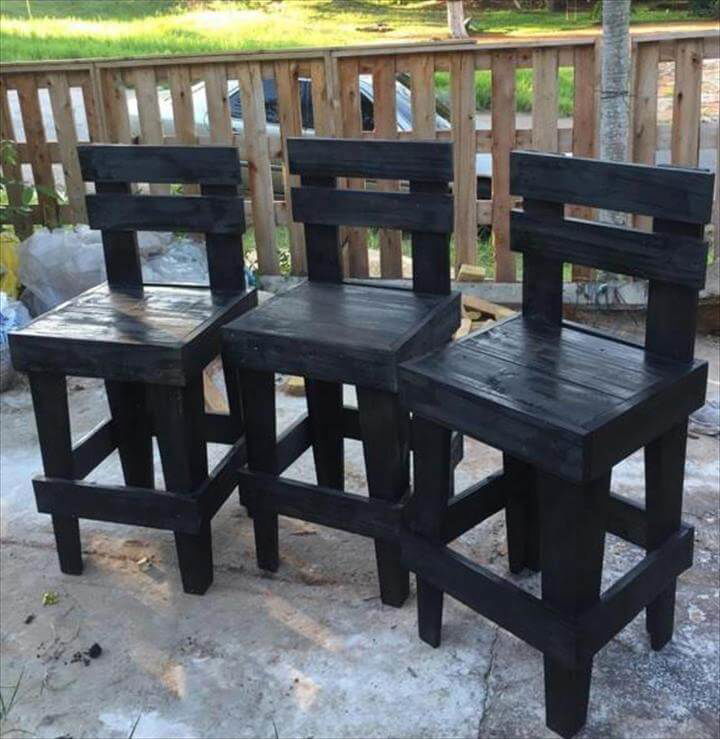 Personalized Pallet Display Unit/Beauty Station: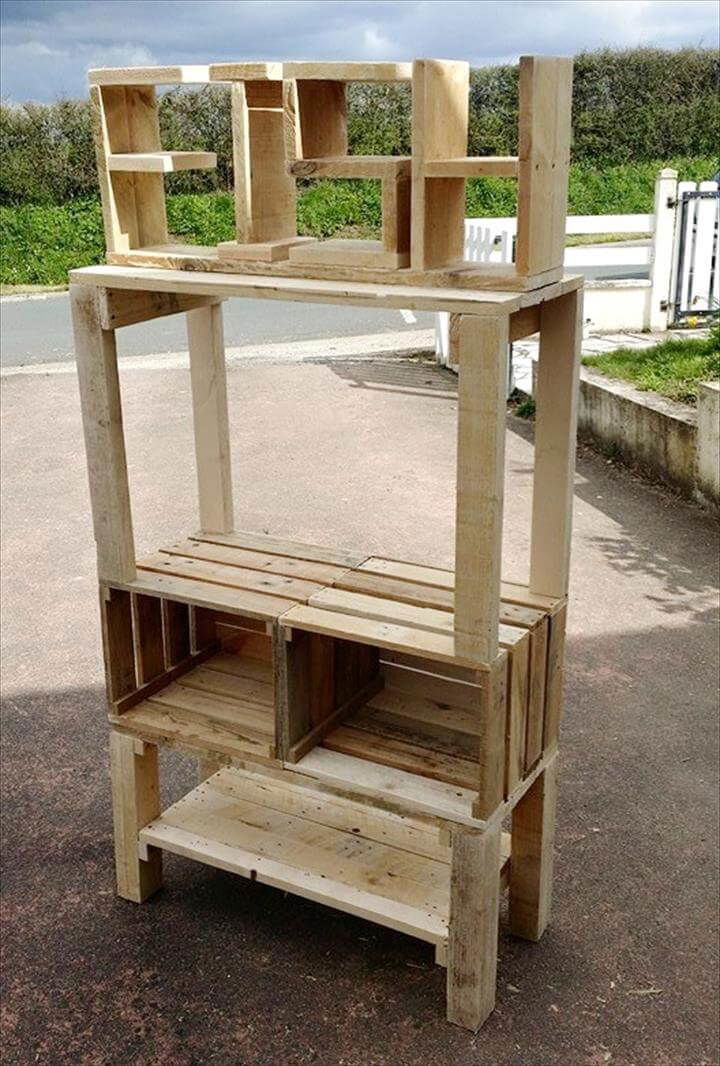 Pallet Headboard with Nightstand Boxes: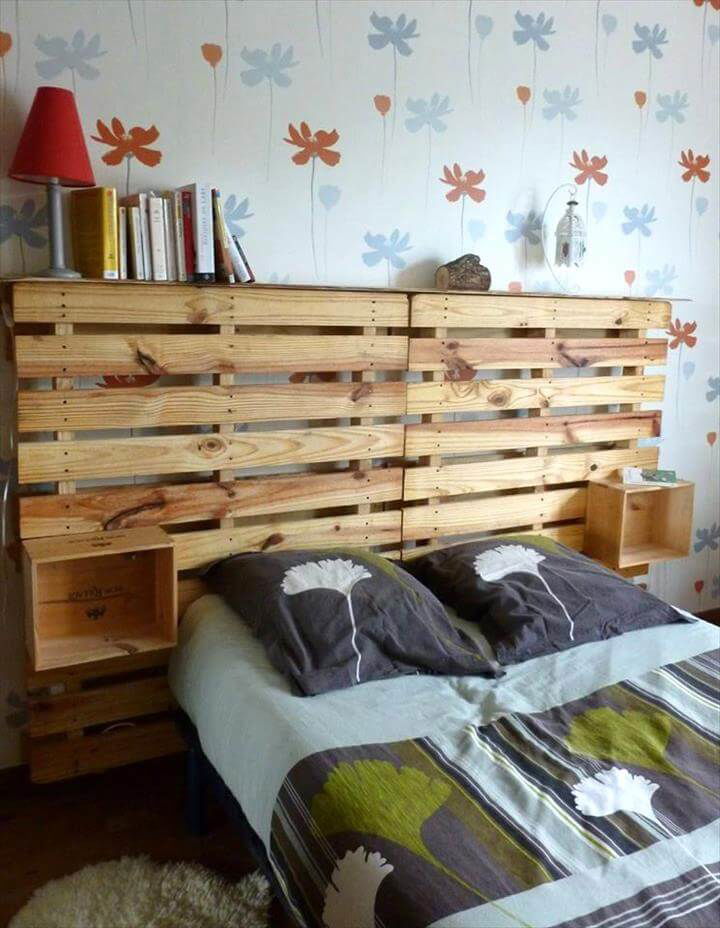 Ultra-Rustic Pallet Table: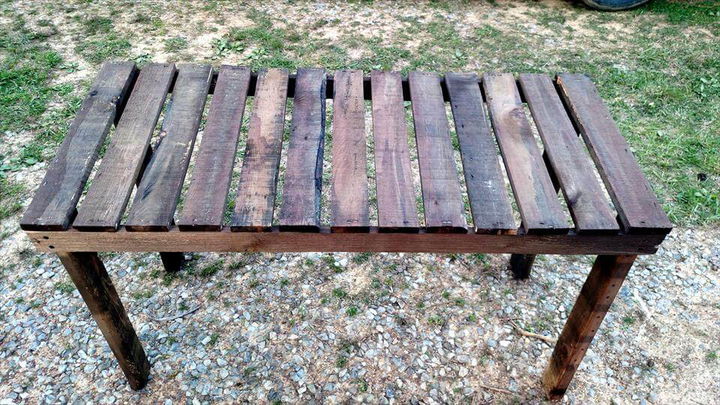 Pallet Painted Headboard:
Custom Pallet Dining Set: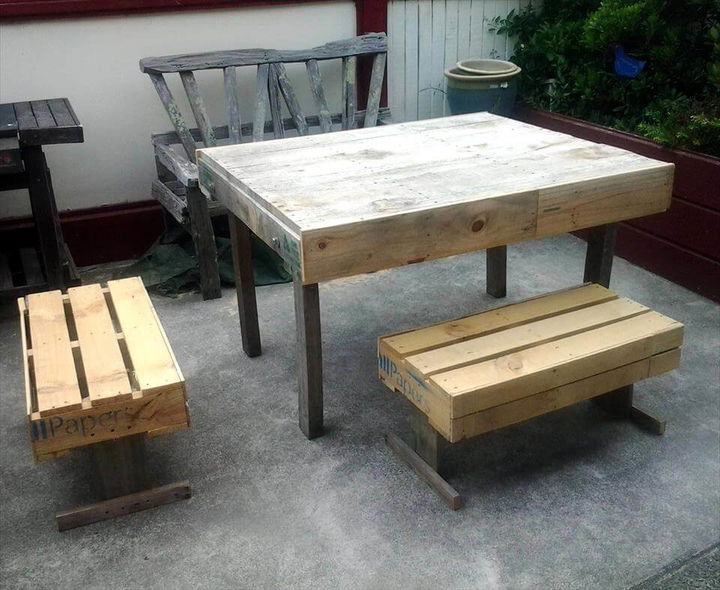 You will have to dive into pallet recycling ideas if you are willing to feel the recycling potential of pallets which is just amazing! The ideas shown here will give a better understanding and are self-explanatory! Reuse pallets to handcraft garden and home decors, given unique planters and accent wooden wall mirror are beautiful items to see here in this regard! A floored up gathering of pallets may get your inspired also as it leads to better platform beds you are need for your to enhance the sleeping space of your home, go also to modify pallets for amazing nightstands and headboard outputs! Let the pallets enhance the decorative value of your home by building amazing wall display units and wall hanging wedding gifts shelves, few creative examples are waiting for your below! Also take the pallets as bricks to a building, to install beautiful wooden houses in your garden and beautiful kids playhouses! Also hire the shipping skids for garden fencing and also for decorative edging of your flower or vege beds!
Pallet Twin Planters with Trellis: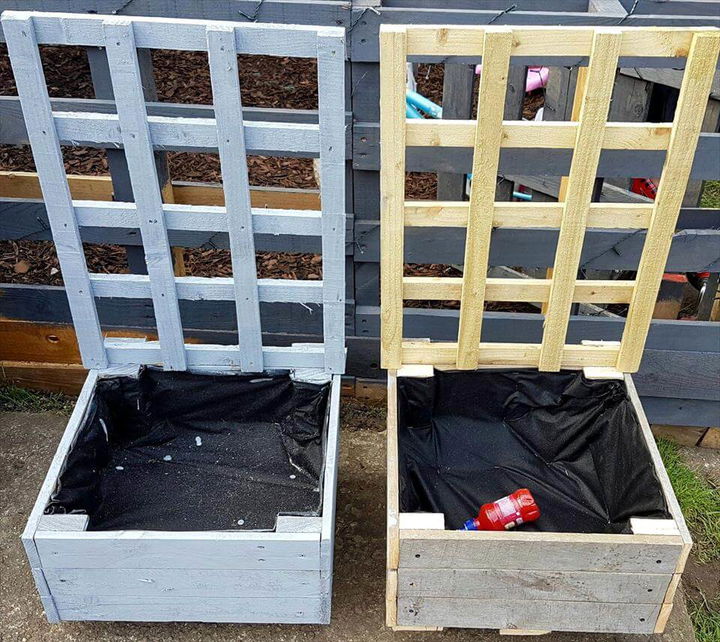 8 Pallet Platform Bed: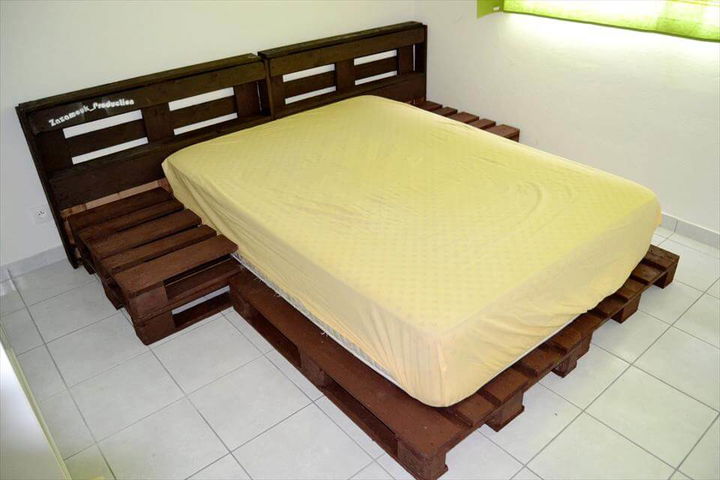 Pallet Kitchen Spice Rack with Twine Fencing: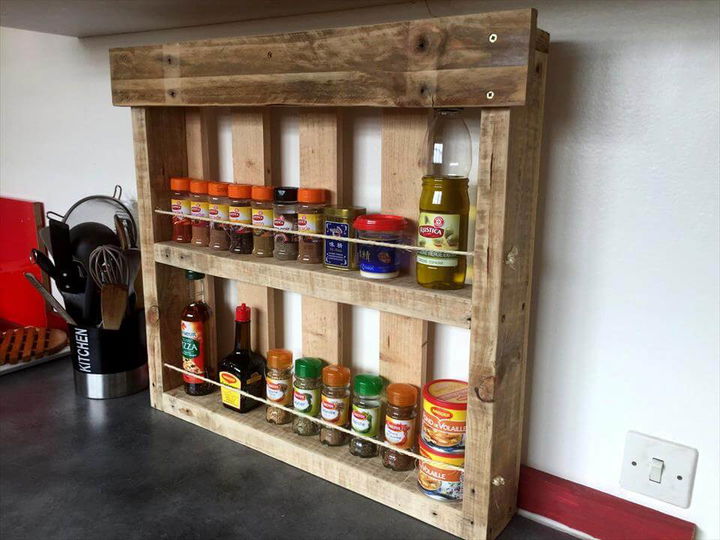 Pallet Stools: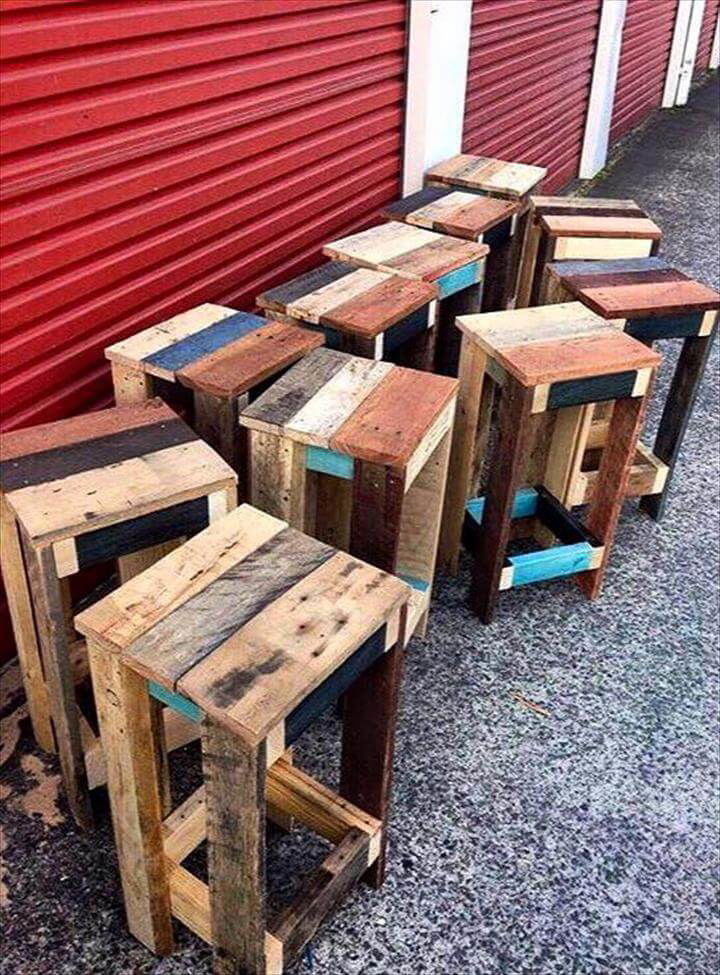 Accent Pallet Wall Mirror: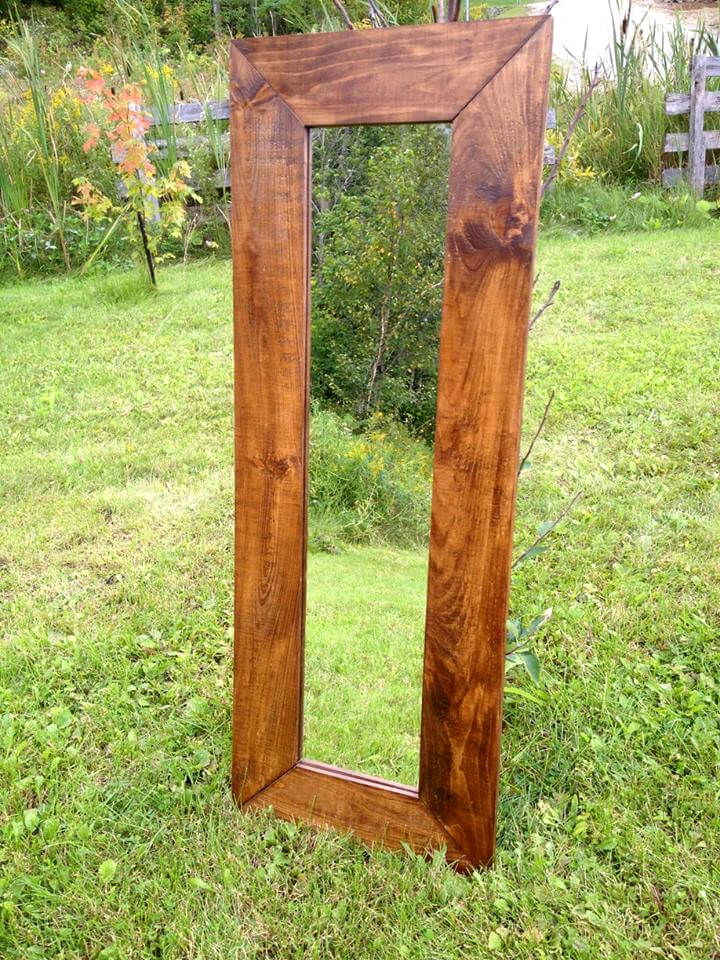 Pallet Headboard Wall and Nightstands Set: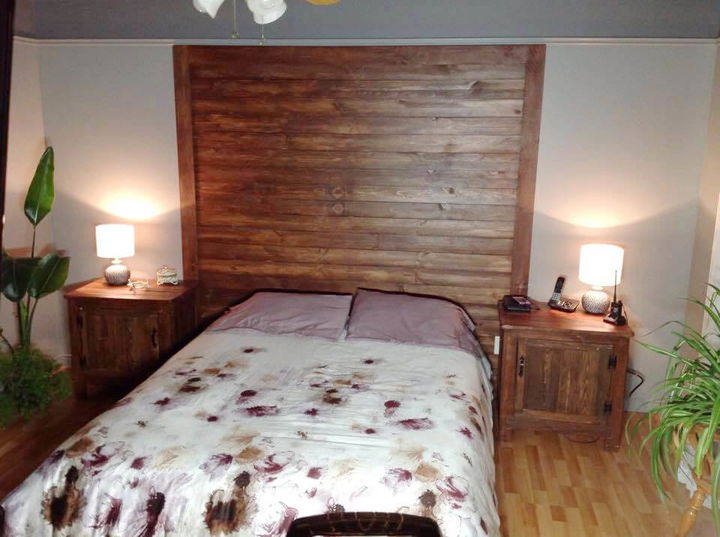 Pallet Wall Display Shelf:
Pallet Kids Playhouse Fencing:
Pallet Wall Display Unit with White Lines: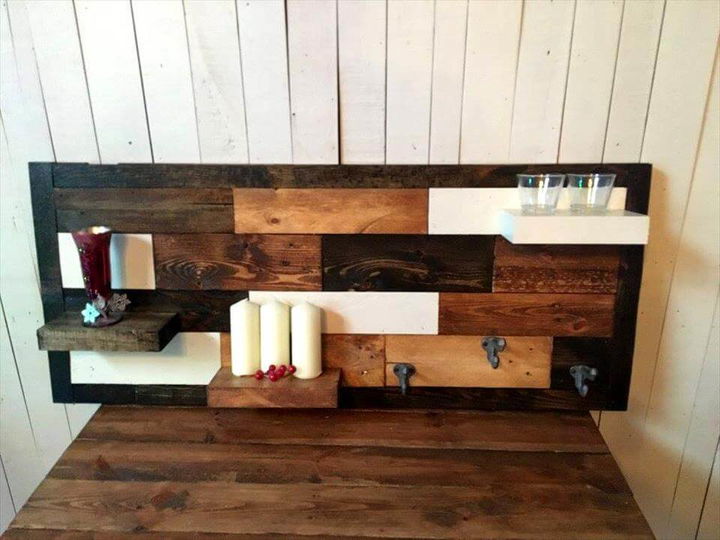 Pallet Wall Hanging Display Shelf: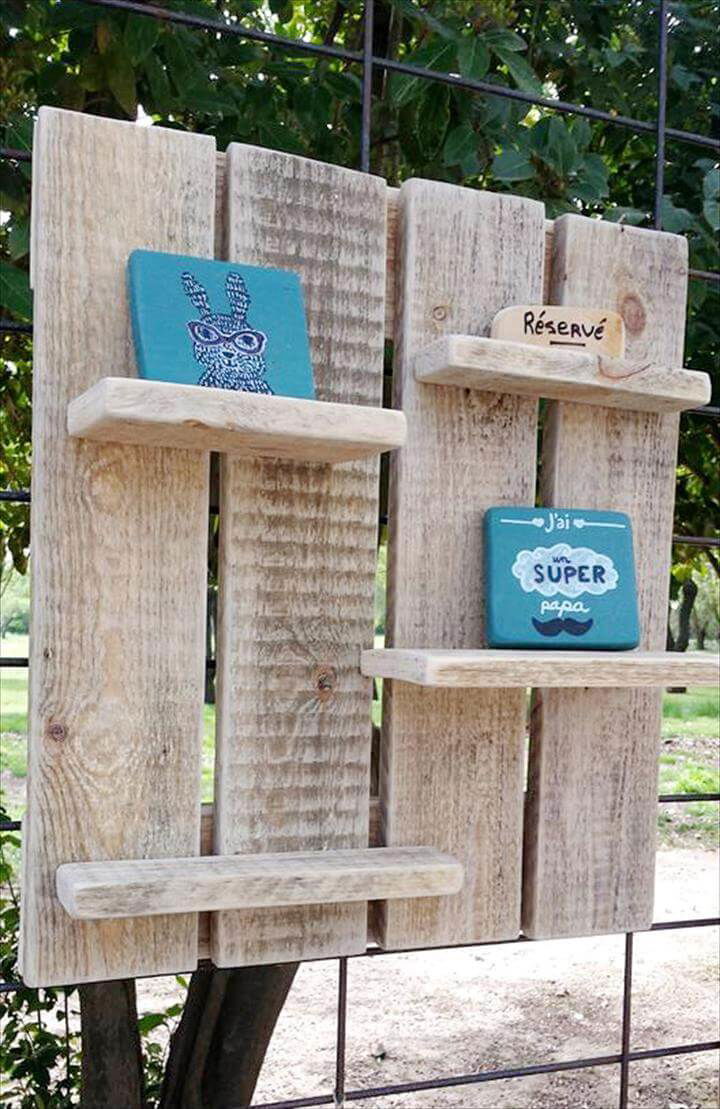 Do you really want to go crazy with pallets for some honorable wooden achievements, then why not take a start by building glam lamps which have all been composed of old pallet boards and empty glass bottles! Put two or more pallets in tangible L-shapes and cushion them for super comfy seats for your garden sitting, you can also do so without installing the backrest positions, the showcased below L-shape sofa set with light green cushion is highly ingenious sample in this regard! Build mini pallet herb gardens out of mini pallets and add a custom pallet-made kitchen hutch to your kitchen interior to organize the kitchenware lying untidy! Put together different or equal sizes of pallets to install artistic or geometrical wooden boards which can be hanging on any interior wall as accent wall clocks, checkout the cool suggestions below! Build superior living room crafts also with pallets, like the larger media stands that also serve as bigger beauty stations there due to incredible built-in storage options, you are all free too to get these media stands in custom traditional or retro styles like shown below!
Pallet and Old Glass Bottle Accent Lamps: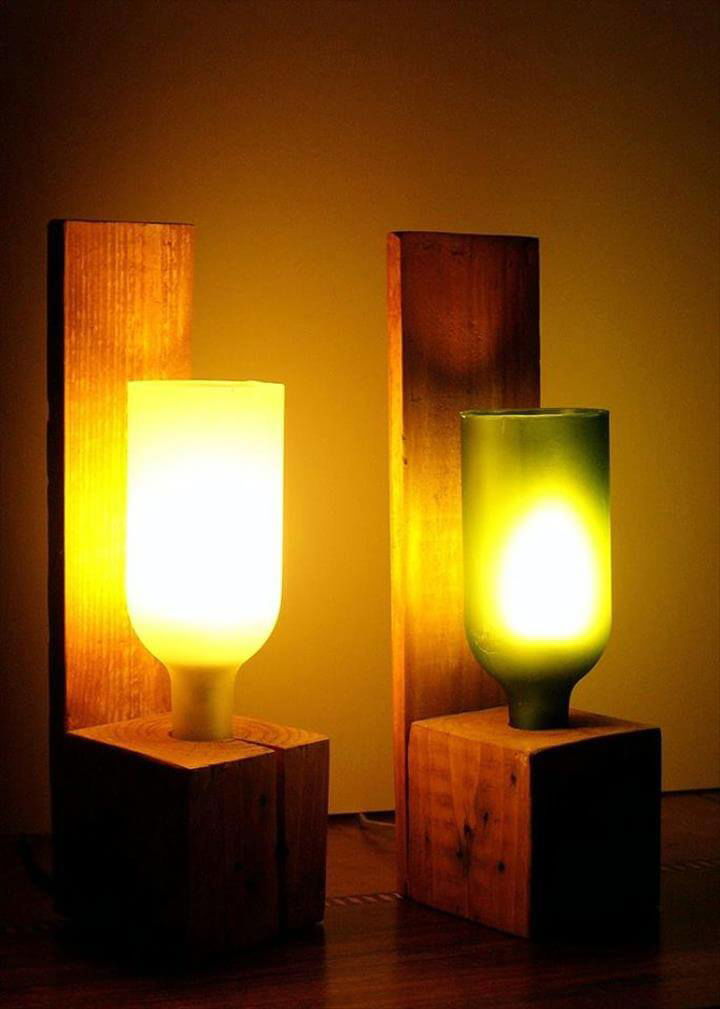 Pallet Cushioned Bench with Wheels: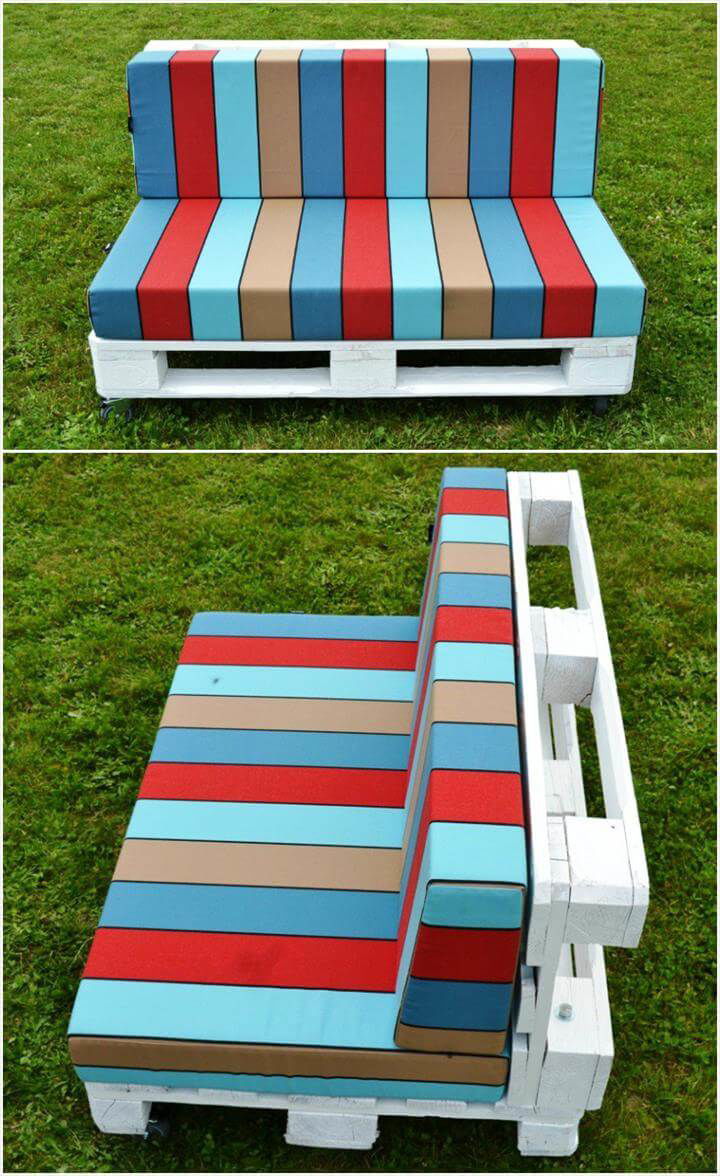 Mini Pallet Vertical Herb Planters: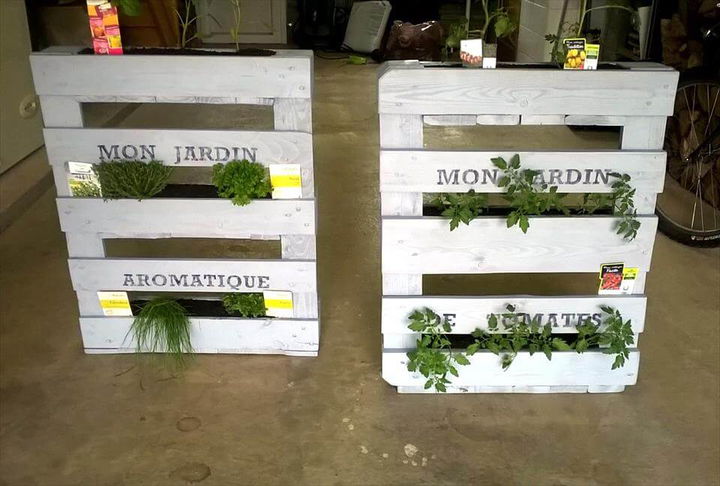 Pallet Kitchen Hutch: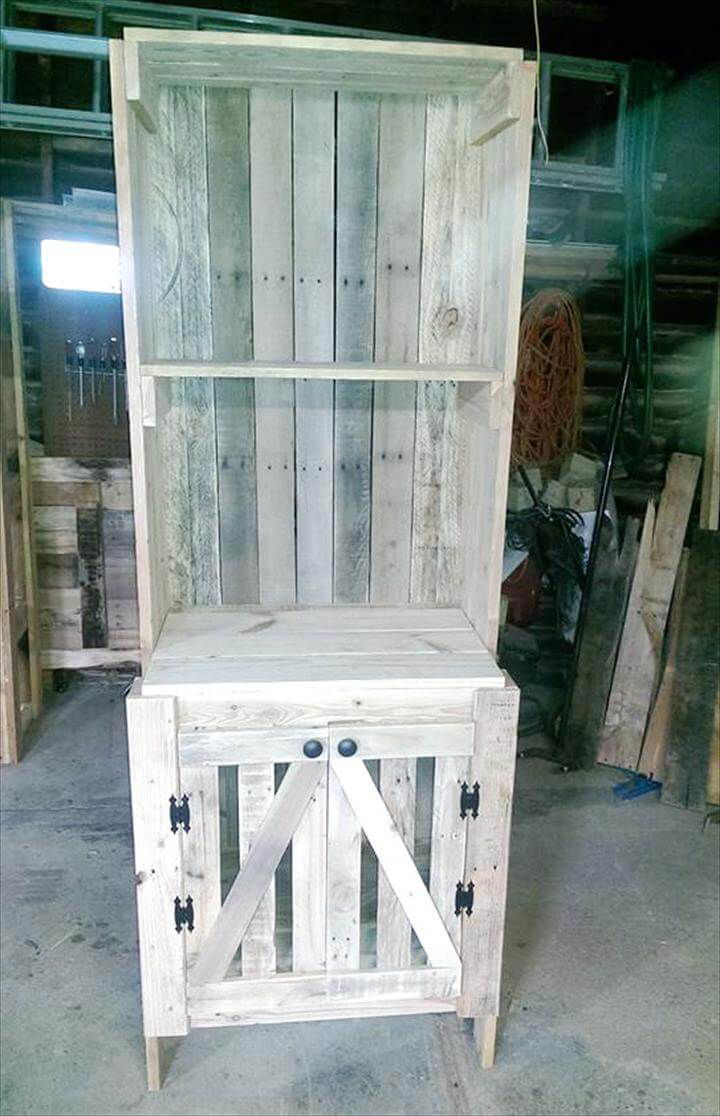 Cool Pallet L-Shape Sofa Set: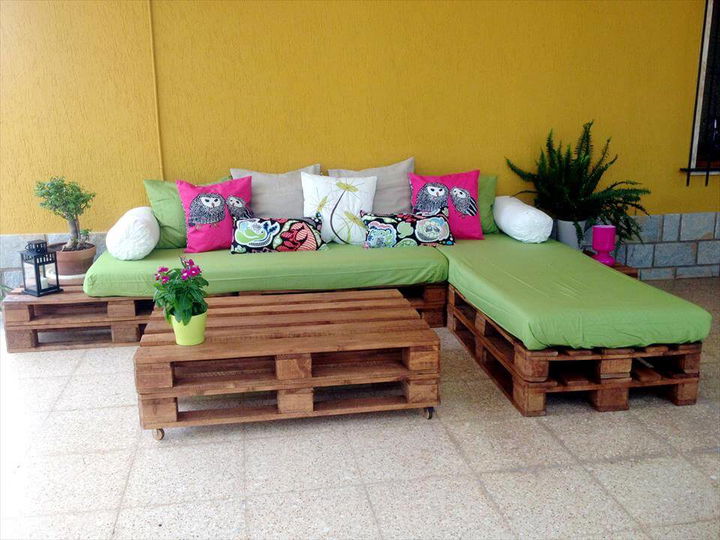 Pallet Accent Pot Holder: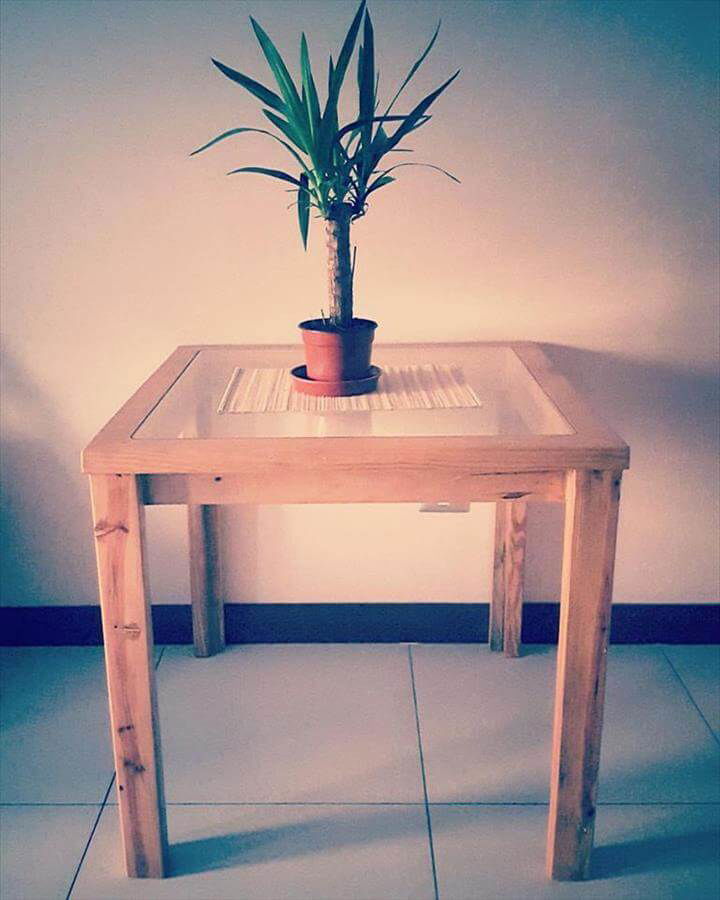 XL Pallet Media Stand with Storage: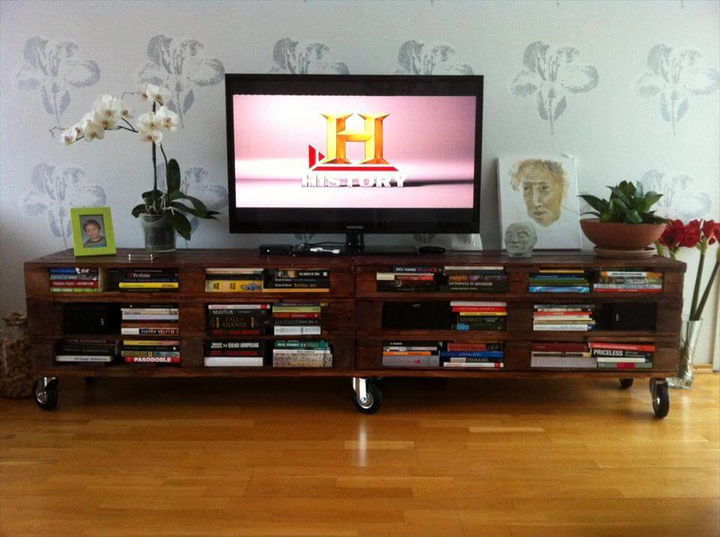 DIY Pallet Retro Styled TV Cabinet/Media Console: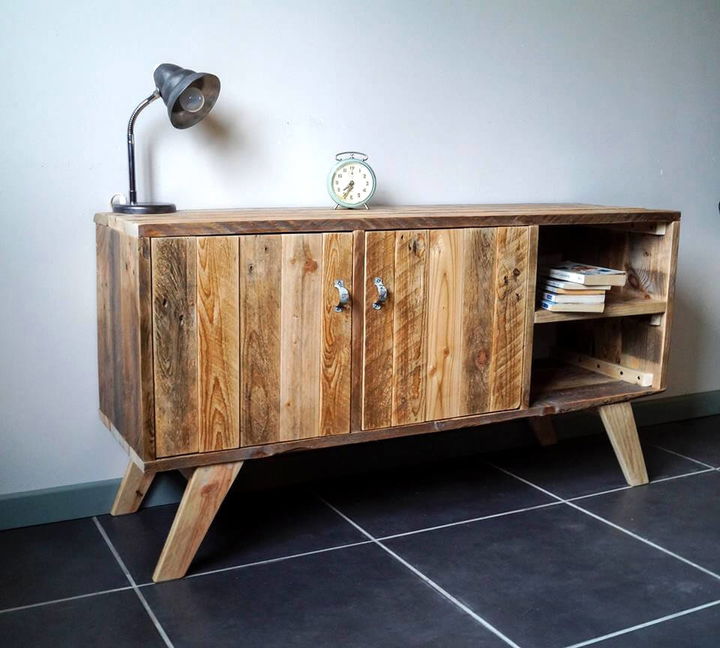 Pallet Wall Clock:
3 Pallet Slat Wall Clock:
Here we are with an ever new series of pallet-made crafts that can serve well to all who have shows a keen interest in DIY art! The given examples and ideas are linked to routine life and you we can bet that you will praise each pallet-made project showcased here!
Attach a few single pallet boards together, and get interesting folding lamps for your study tables! Stack whole pallets to yield long living patio and outdoor sofa set, create neat and solid look of them by giving a throughout filling with pallet slats! Restructure the pallets into hollow wooden boxes, raised them on custom legs for retro styled side tables, frame up few of pallet slats to get better rack for sports goods like given baseball rack with twine fencing! Need to build something unique? 3 legs pallet table with custom shield like tops would make a perfect choice, also avail pallets to organize toddler bedroom, the given bed and study table set are what that are damn easy-to-built with pallets! Bring the pallets into custom L-shapes for stable sofa frames out of them like the sectional padded couch and also modify single pallet boards for custom jewelry rack, the given white painted with lights would be mind-blowing to copy at home! Join bottom of 2 twin pallet boards for storage-friendly living room coffee table designs also!
Pallet Table Lamp: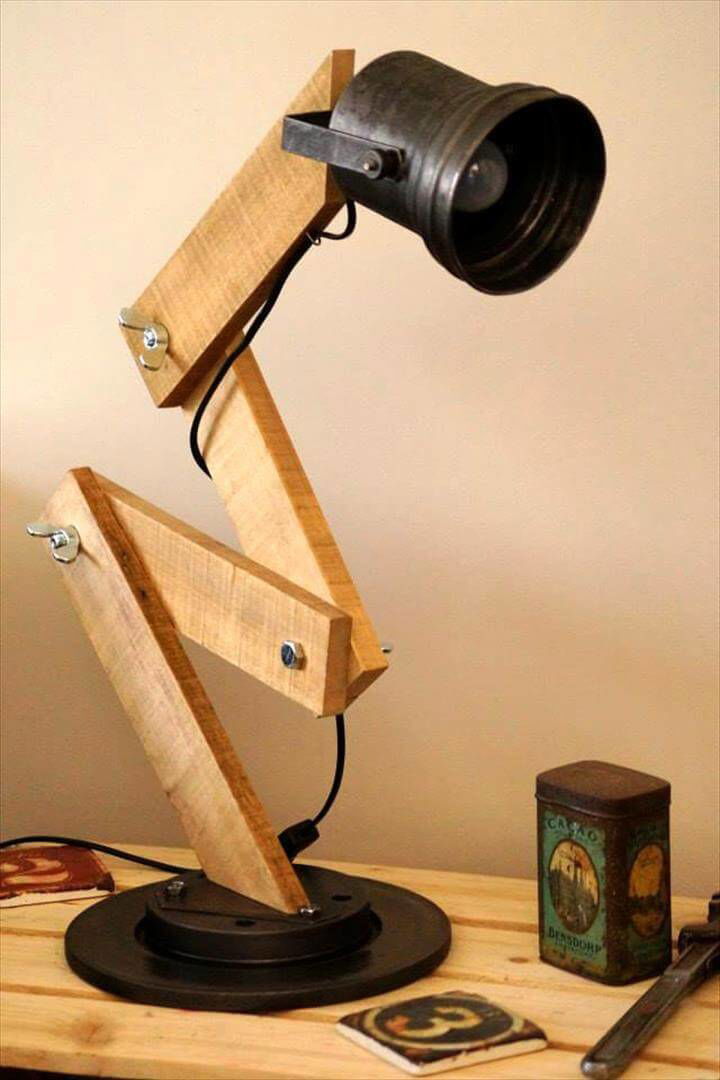 Hand-Built Pallet Sectional Sofa Set: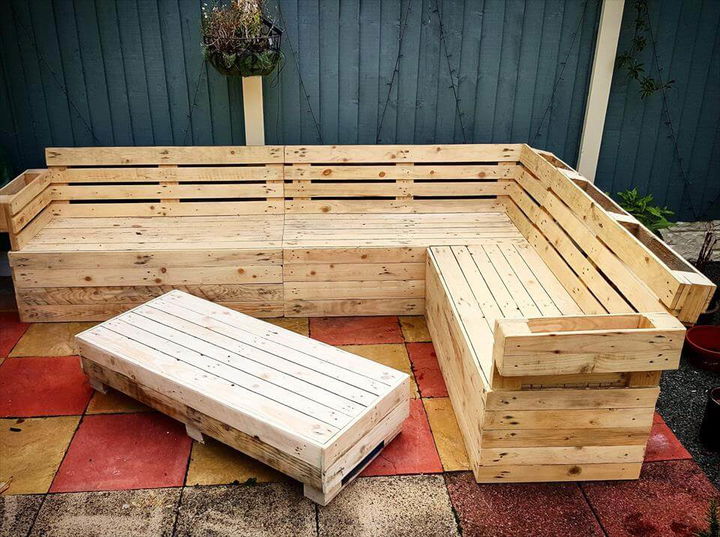 Pallet Retro Side Table: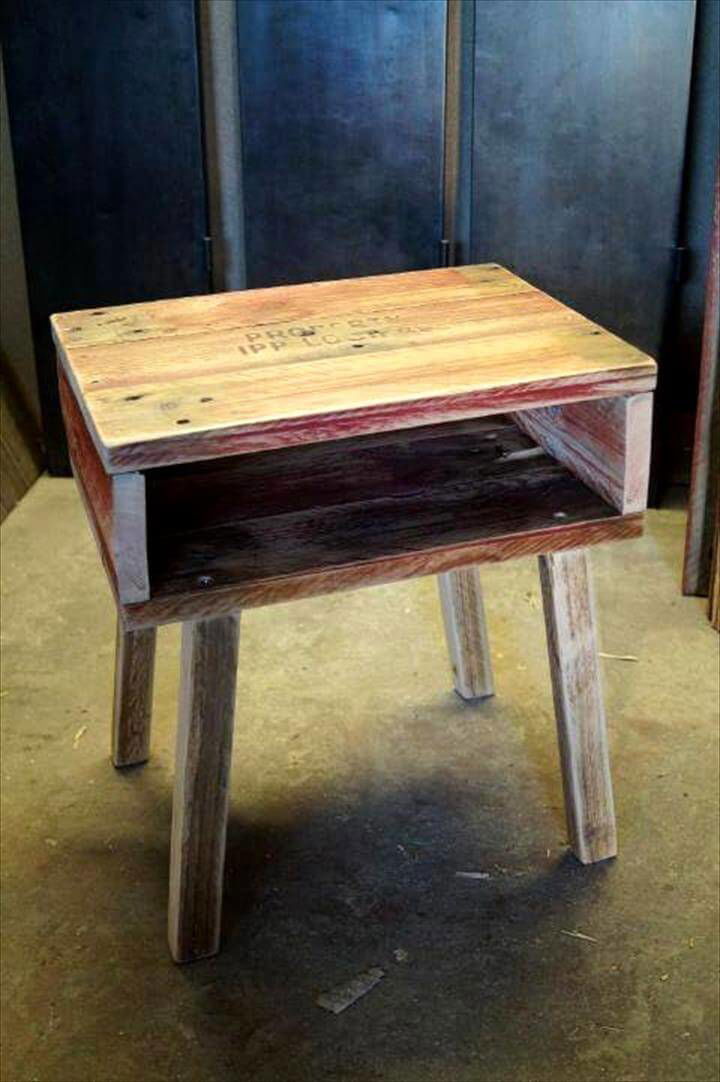 Pallet Baseball Bat Rack: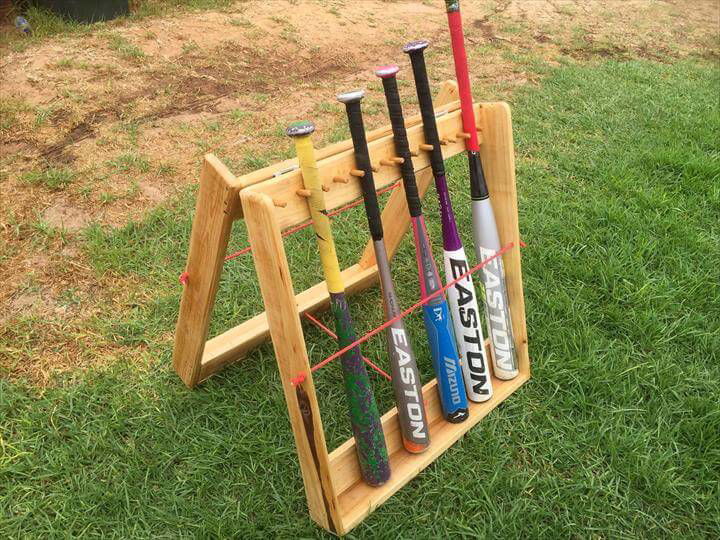 Pallet Mini End Table with Storage: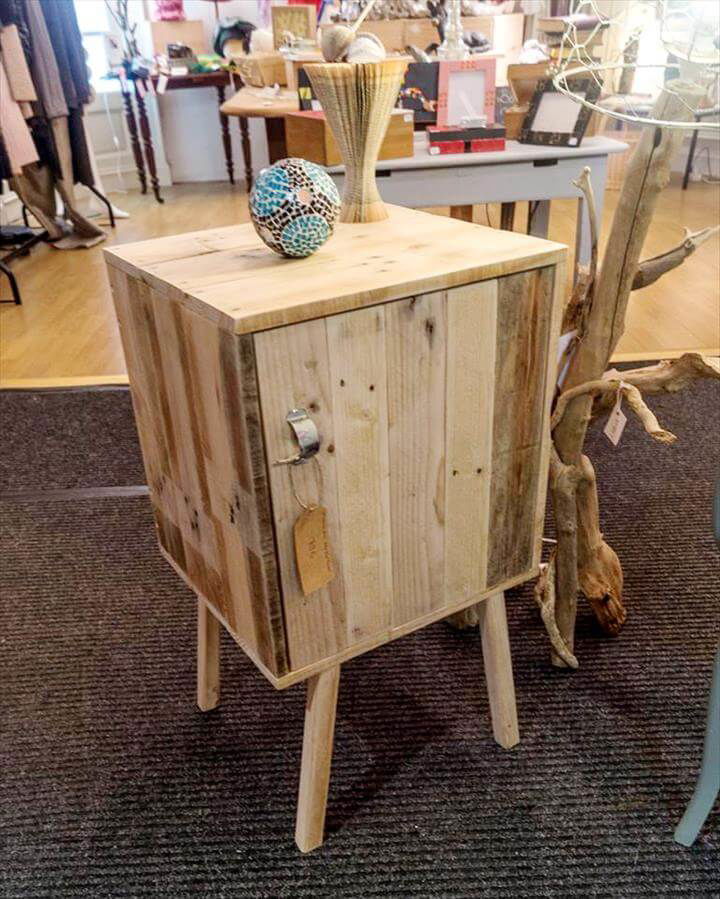 Pallet Mini Table Set with 3 Legs: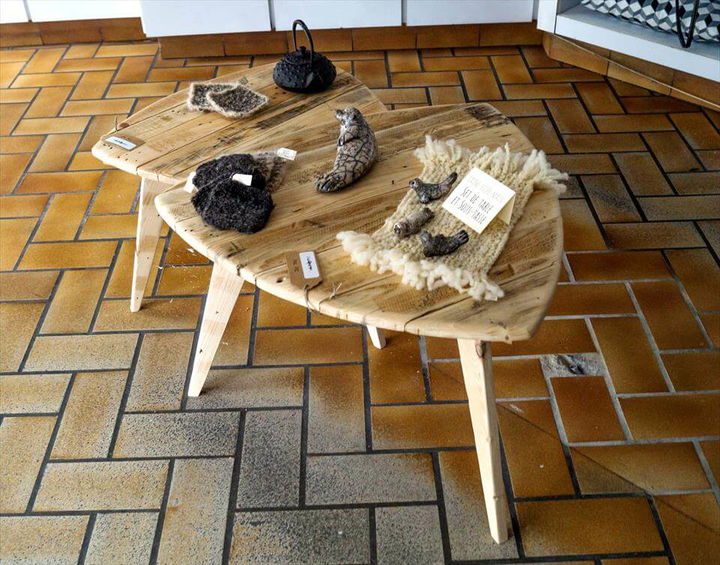 Pallet Toddler Bed and Study Desk: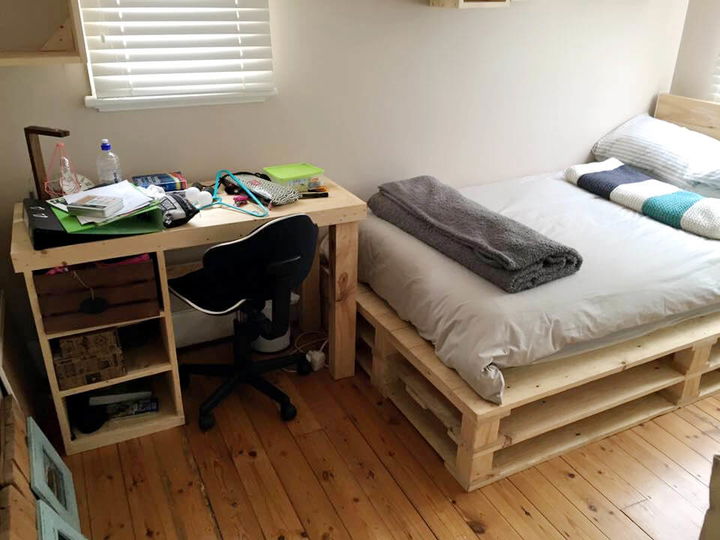 Pallet Sectional Cushioned Sofa + Shoes Rack: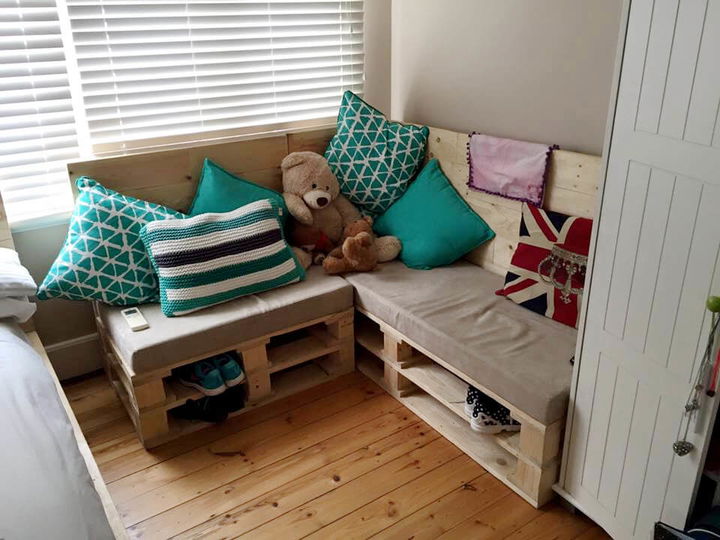 Chic white Pallet Jewelry Organizer with Lights: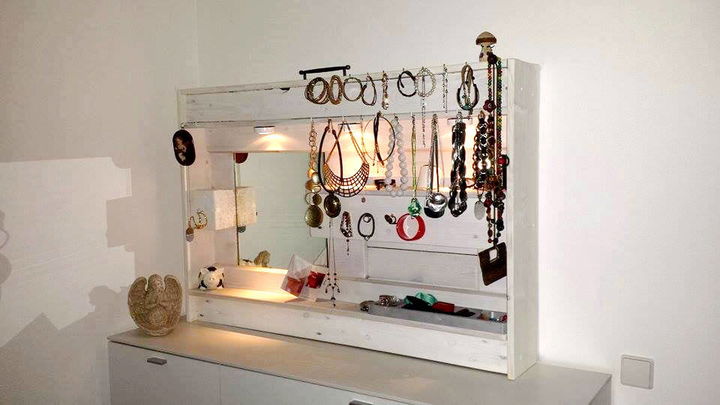 2 Pallet Coffee Table with Storage: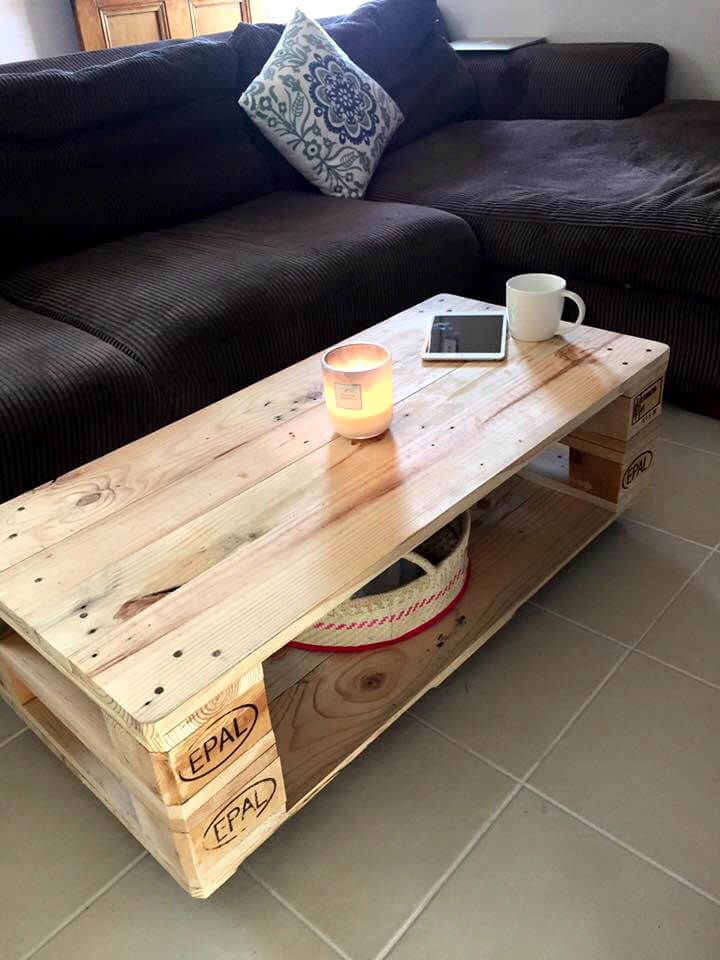 It may be the interior storage space issues that are causing a big headache to all homey persons! As modern storage furniture pieces are costing an arm and a legs, so most of people are pulling their hands back from them, why not avail the DIY solutions to gain most surprising and custom furniture layouts without spending even a bit of your money! Go with easy alignments of pallet slats and build amazing display towers, reuse the mini pallets as pot or vase stands and put the lights underside to let them be more amazing at night also integrate the custom models of pet residences with pallets like the given chicken coop having also a separate sections for sleeping and egg-laying! Still a big fan of retro styled furniture? The given pallet made media cabinet is all waiting for you and if you are a sportsman the pallet wood custom wardrobe would be the item you would like to stay at! Organize your bathroom with pallet made toiletries organizers or shelves and also install precious bathroom vanities with pallets as exampled below! Just in case if you are having modern spacious media rooms then given extra large rolling media stand and well-engineered computer desk would be ever lovely items to get your media room ready for bigger entertainments and fun!
Pallet Chicken Coop with Separate Egg Laying Section: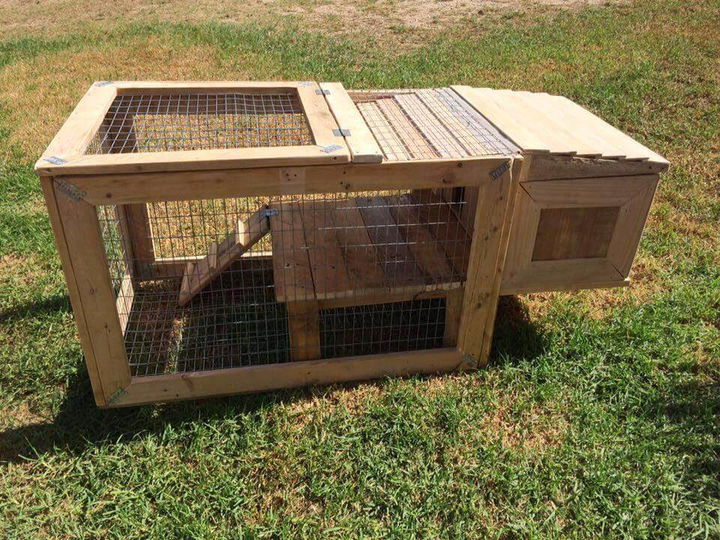 Pallet Vase Stand with Lights:
Pallet Shelving Tower For Display: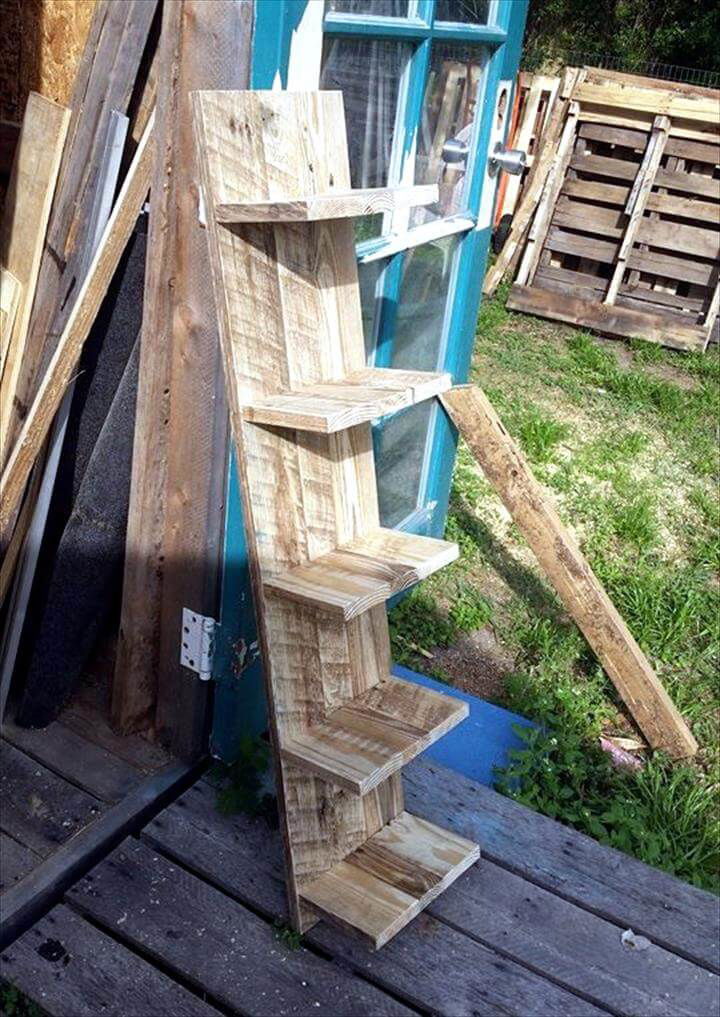 Retro Style Pallet Media Cabinet:
DIY Pallet Custom Wardrobe: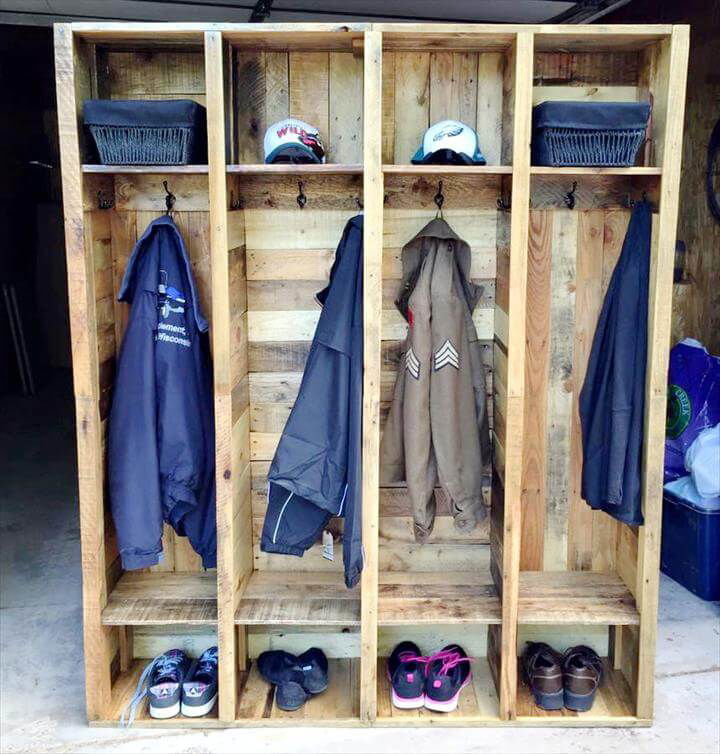 Made by: S&S Pallet Creations LLC
Pallet Wood Vanity:
Made by: S&S Pallet Creations LLC
Rustic Pallet Bathroom Wall Organizer: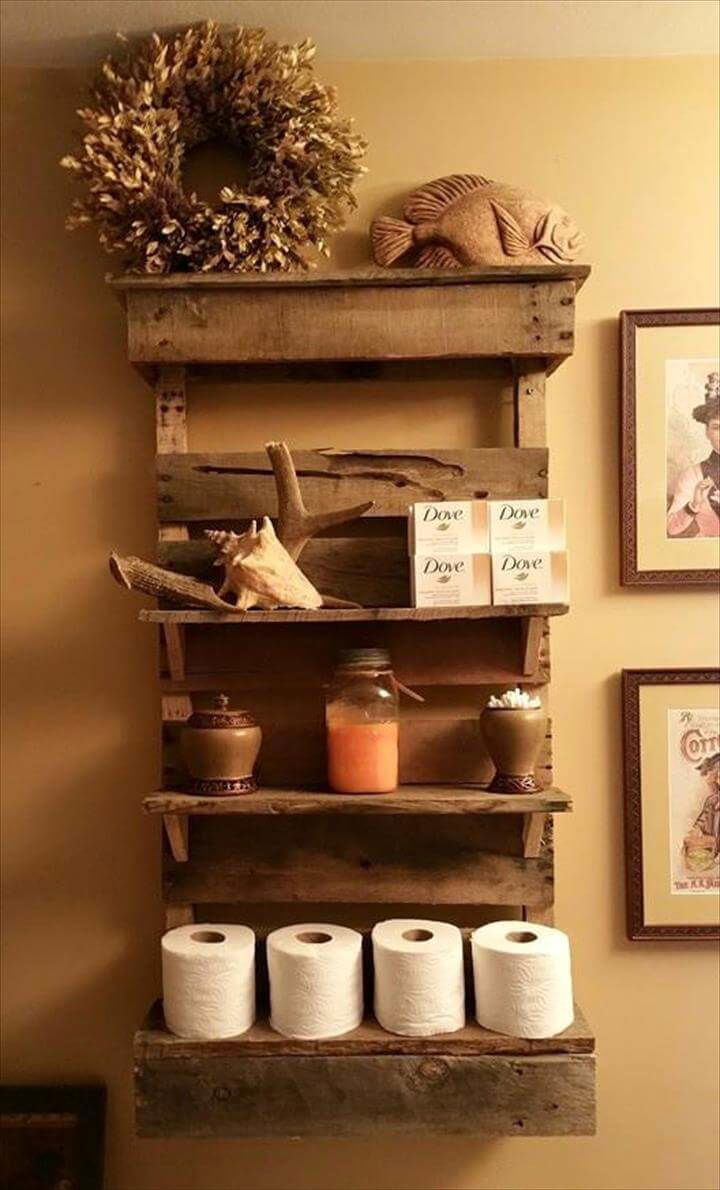 Made by: S&S Pallet Creations LLC
Pallet Made Patio Sofa Set: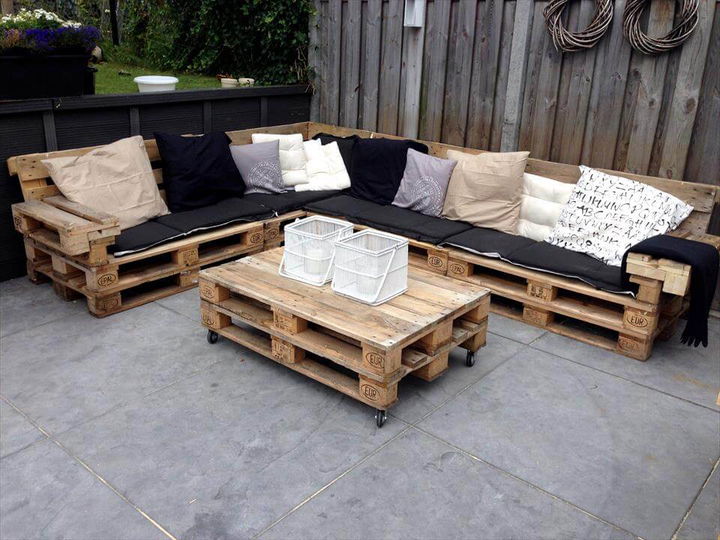 Pallet Multi-Toned XL Media Cabinet: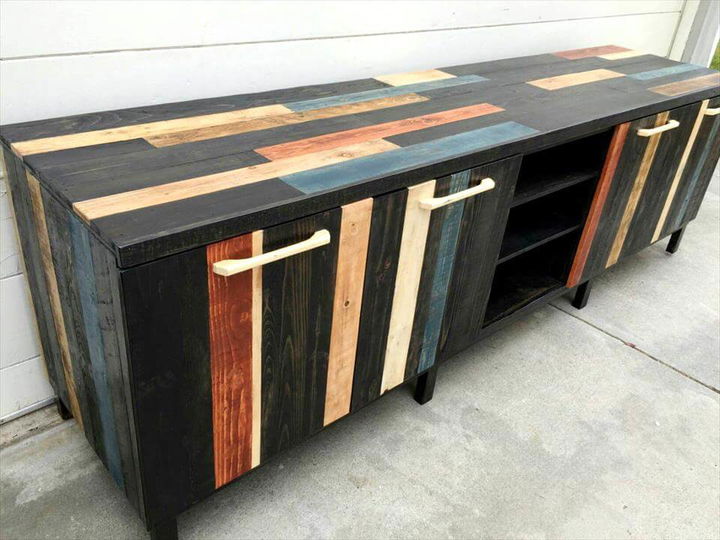 Creative + Functional Pallet Computer Desk: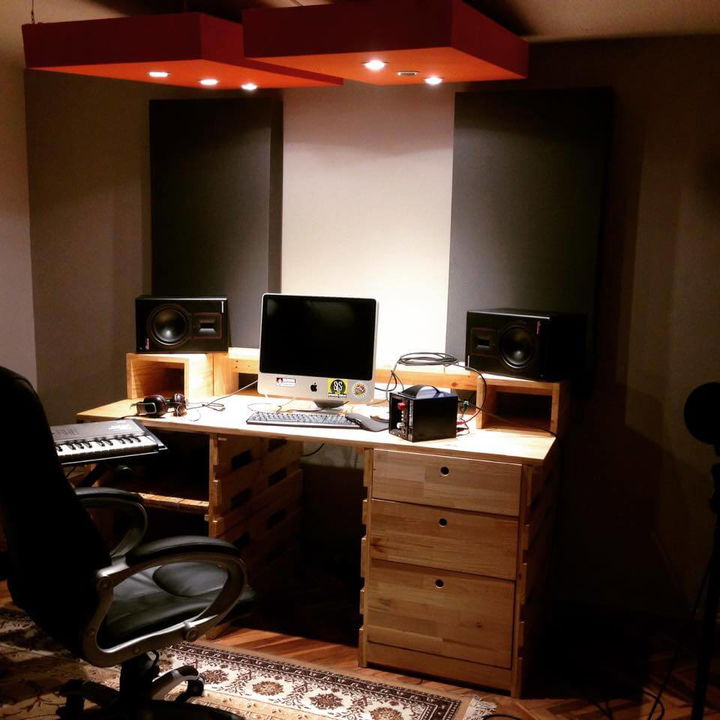 There are big surprises in the modern recycling world of pallets, people having interest in any profession or field do some amazing pallet project to facilitate the routine works more like the pet lovers can build the pet houses, beds and even the awesome feeders out of pallets, some amazingly cool suggestions are a dog kennels and all in one dog house given below! Gain extra sitting space for your home through simple stacking of pallet boards as this results into surprising seats, benches and even into larger sitting plans, get inspired of given rolling couch in this case! Let the pallet slats organize your wall areas with a bunch of metal hooks fix over them like the hallway tree style coat rack enlisted below! Installing amazing bedroom headboard frames, custom media room entertainment center and also to the highly sophisticated media stands are some of highly creative pallet achievements showcased below! Enjoy pallet made boxes as planters for garden decors and also for garden like atmosphere in your home! Making of small and mini tables out of pallets can also please all home lovers and here some fantastic examples have been given!
Pallet Couch with Wheels:
Pallet Dog Residence:
Pallet Tree Style Wall Hooks/Coat Rack: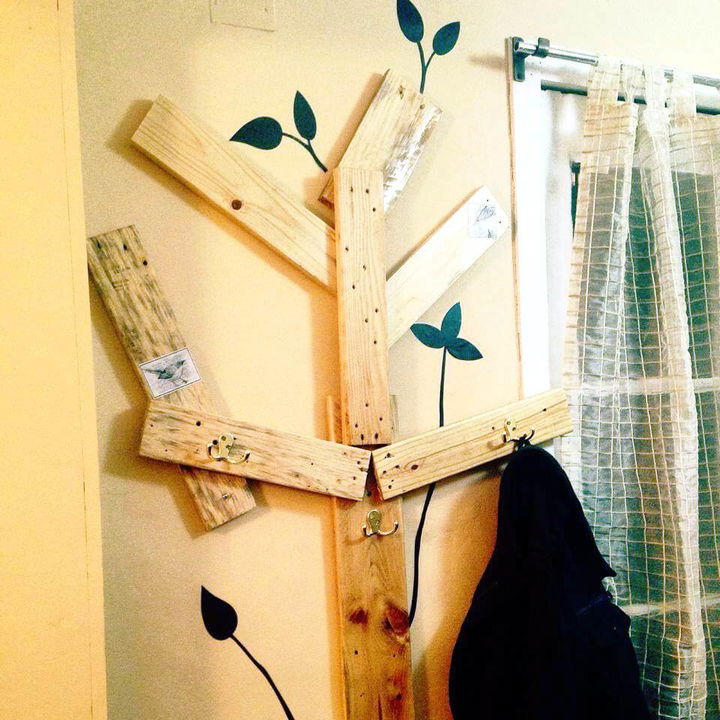 Pallet Wood Planters:
Large Square Top Pallet Coffee Table: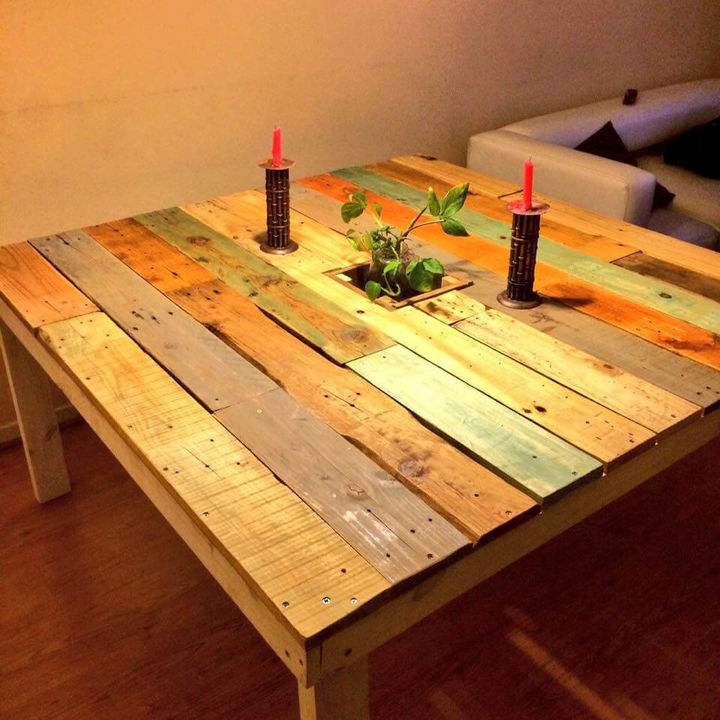 Pallet Custom Entertainment Center: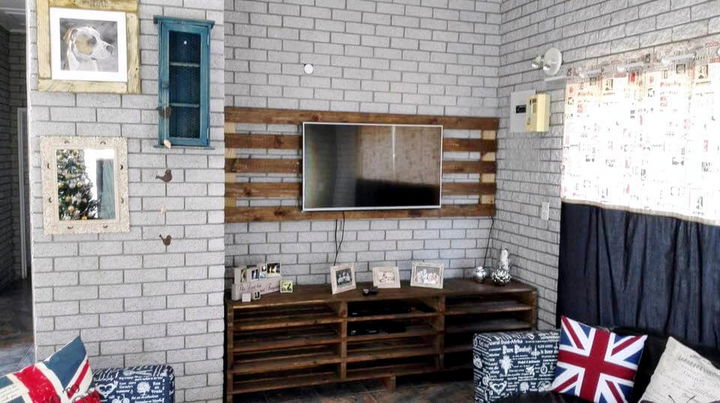 Pallet TV Stand with Caster Wheels: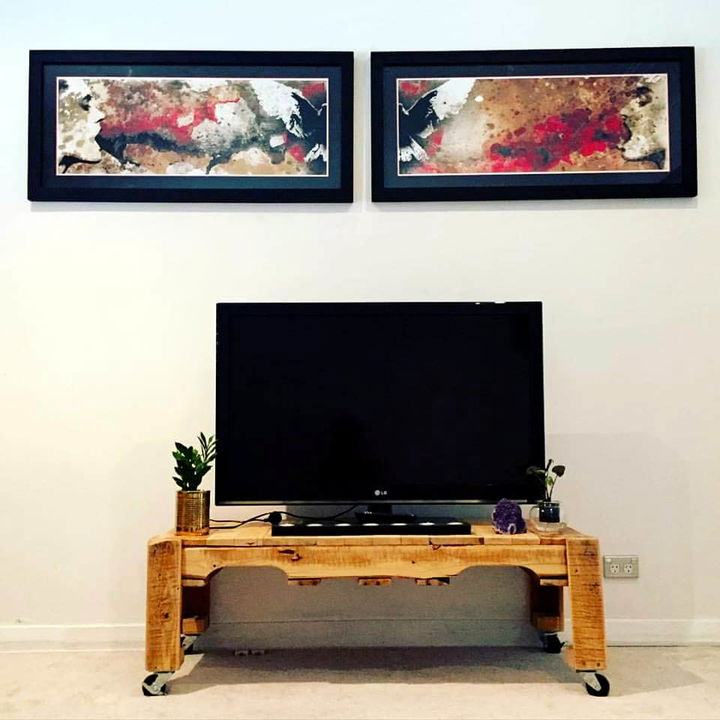 Dual Tone Wooden Pallet Headboard: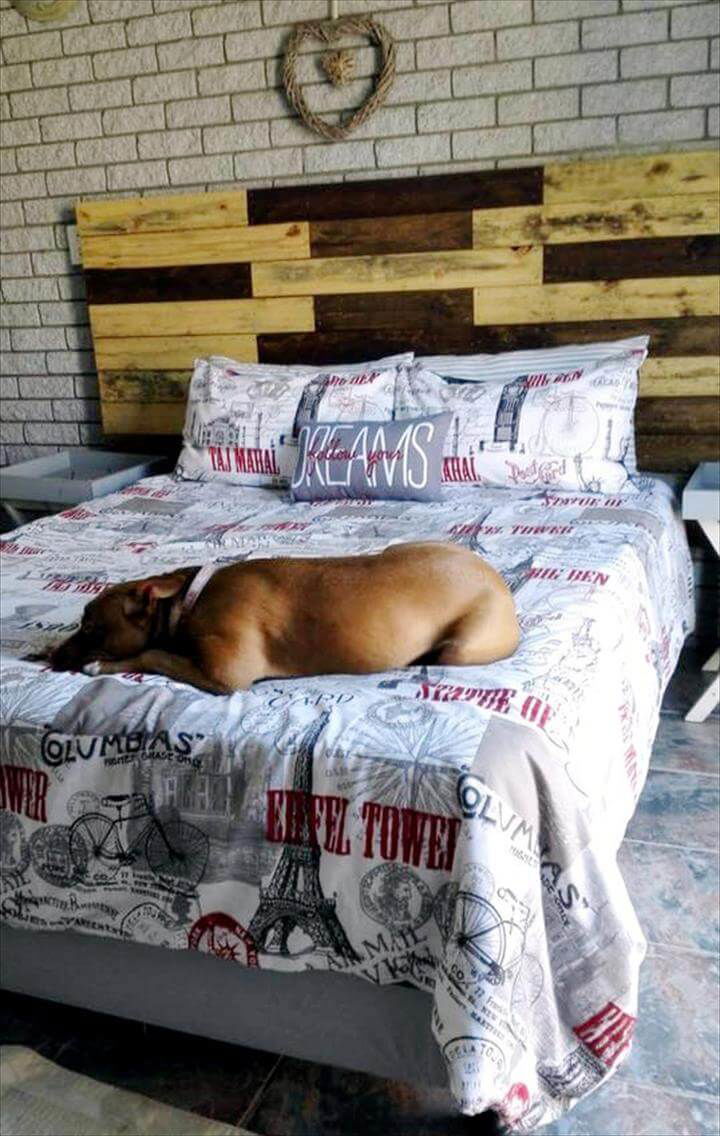 Colorful Pallet Chair and Table Set: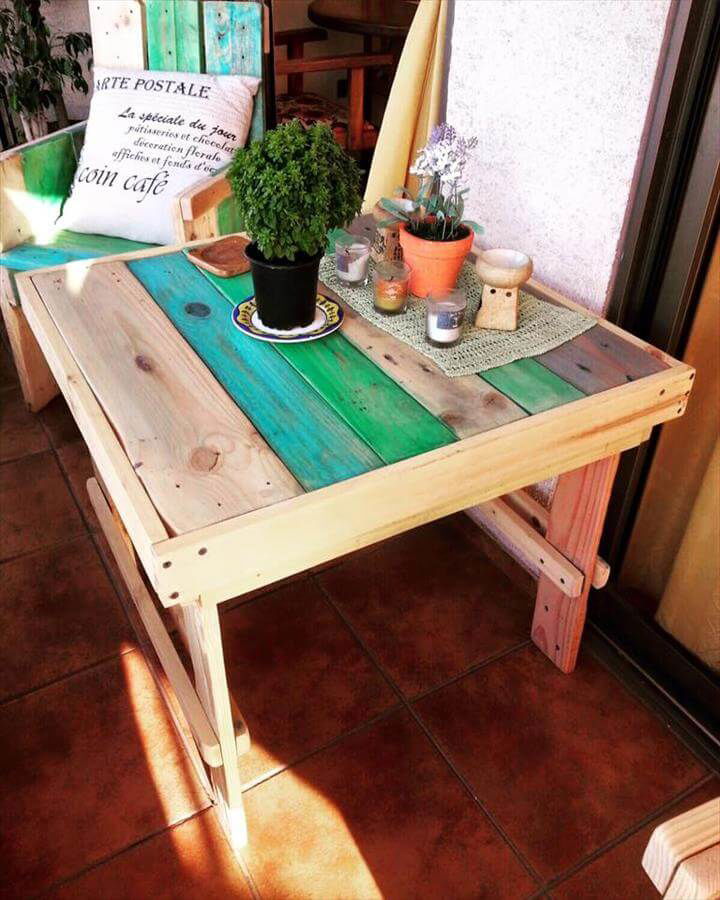 All in One Pallet Doghouse + Dog Feeder + Dog Bed:
Rusticity of pallets is all to grab for a vintage or mid century modern depiction of your interiors! To do this, you can take help of this pallet and Mason jar wall lights which are all to give a precious antique touch to your modern interior walls! The final results of easy pallet stacking can put in great amazement because the output may be the platform bed having headboard that has further having extended wooden surfaces to serve as nightstands! Get the pallets to install custom storage towers which can be used as laundry room dressers and as blanket rack, a genius practical suggestion about it has been showcased below! Also build custom storage chest to digest the interior home clutters and do install the wooden couch through creative repacking of pallets for longer family gossips, celebrations and formal outdoor sitting! Avail the pallet crate shelving ideas to install better display units, bookshelves and kitchen crockery organizers! Repurpose pallets to Install rolling garden playhouses for kids, custom beds for pets and also the custom dog feeders, some of ingenious examples about all these have been given below to get you inspired!
Pallet and Old Mason Jars Wall Lights:
Whole Pallet Platform Bed with Headboard: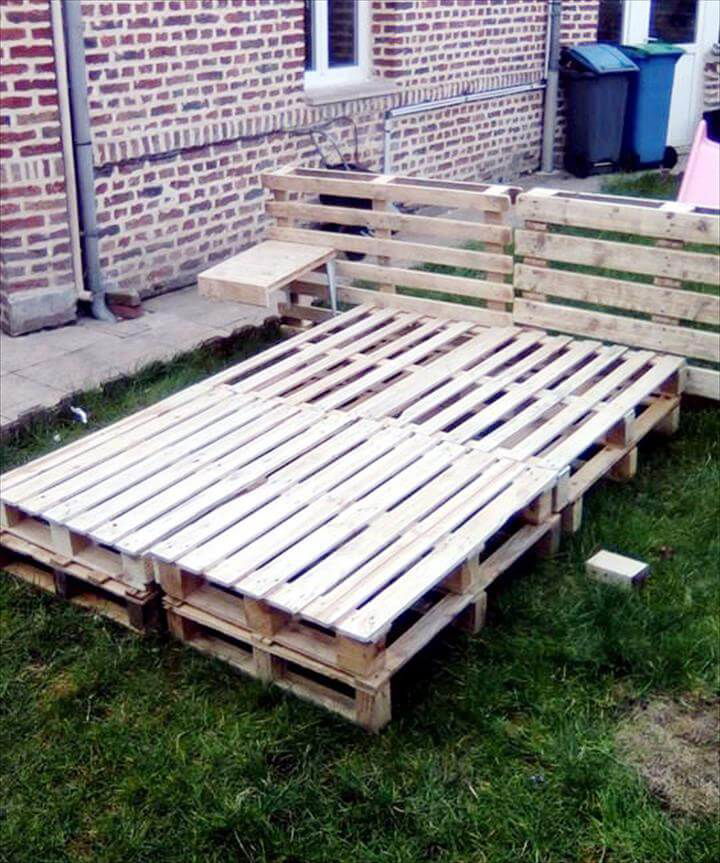 DIY Pallet Laundry Dresser/ Blanket Rack: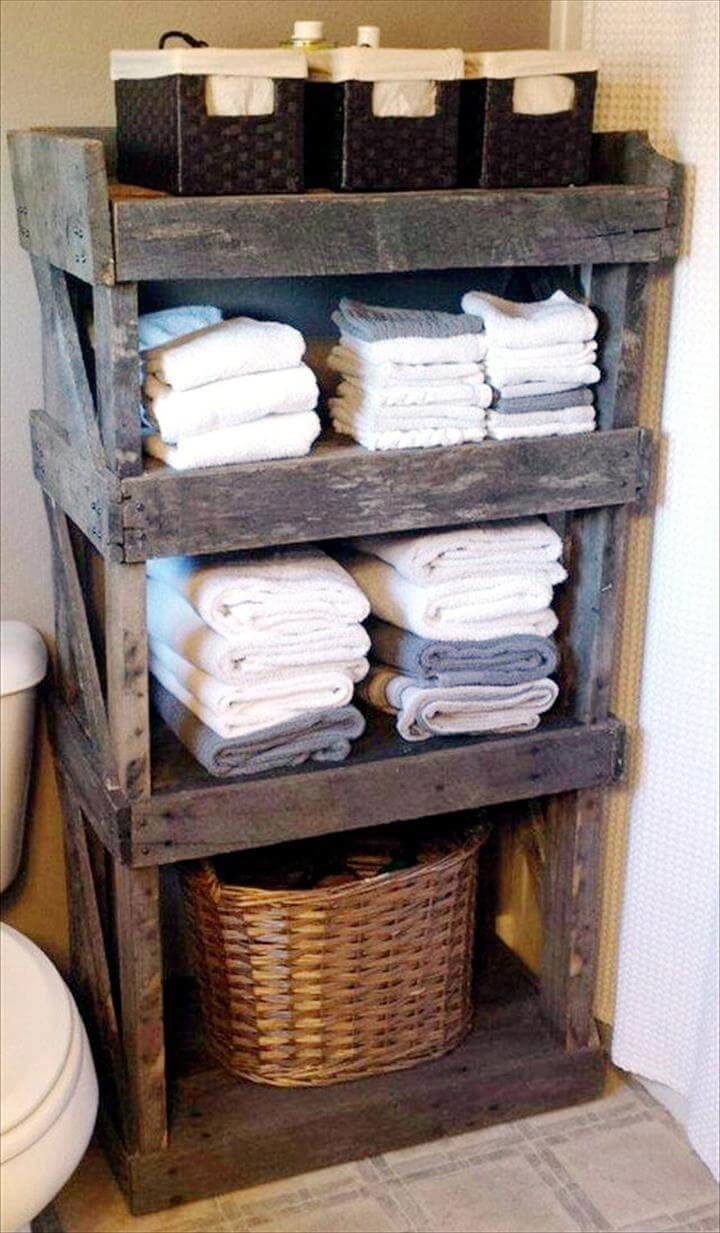 Multipurpose Wooden Pallet Chest: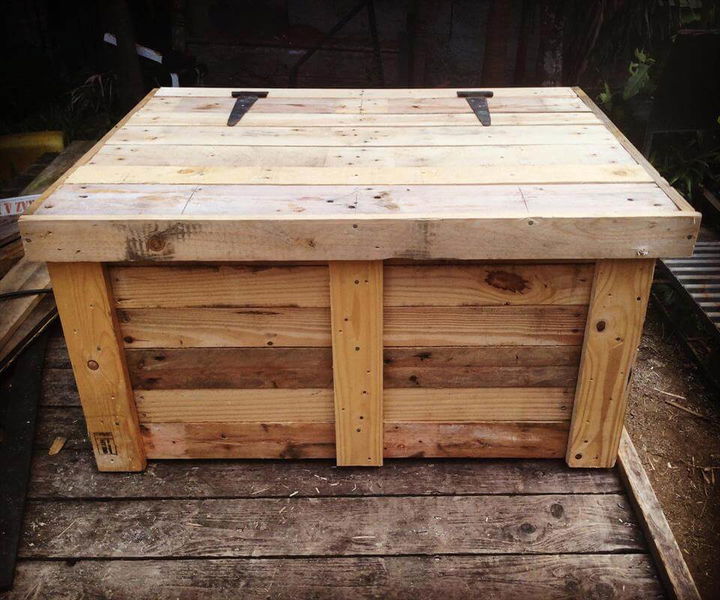 Pallet Sectional Sofa Frame: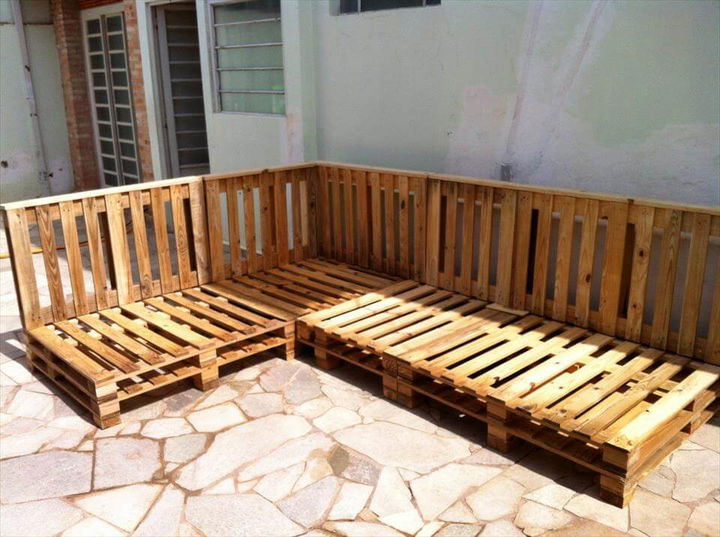 Custom Pallet Crate Bookshelves: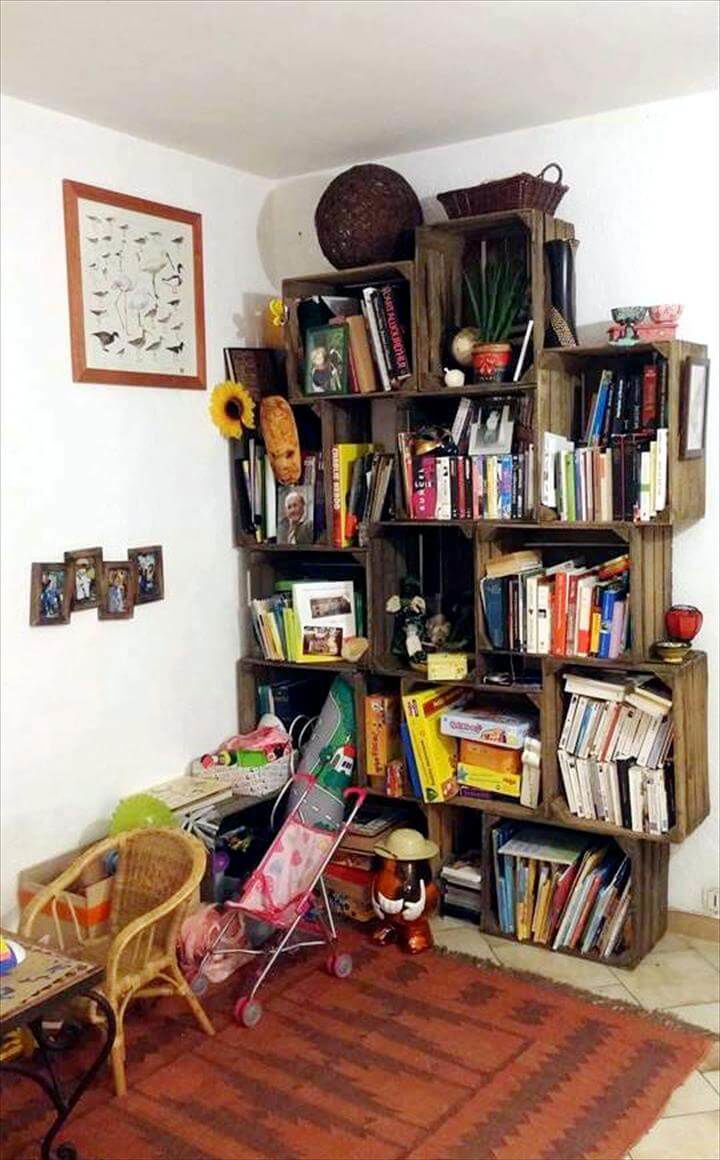 Pallet Crate Style Storage + Diplay Unit: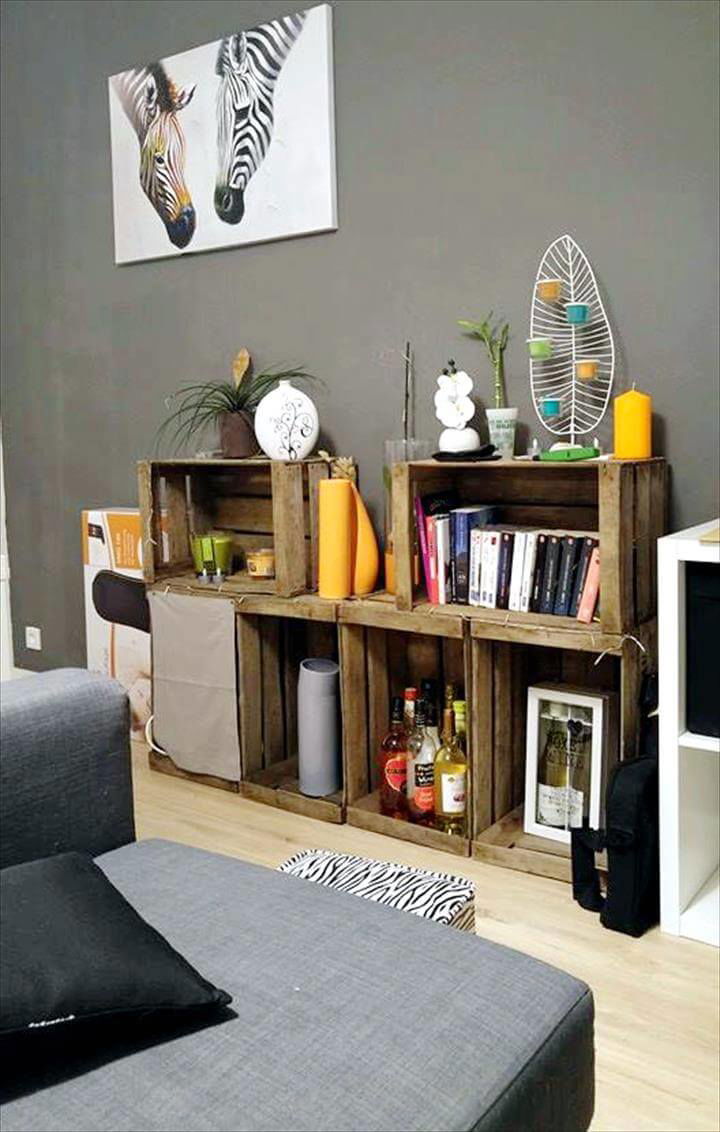 Pallet Crate Kitchen Storage: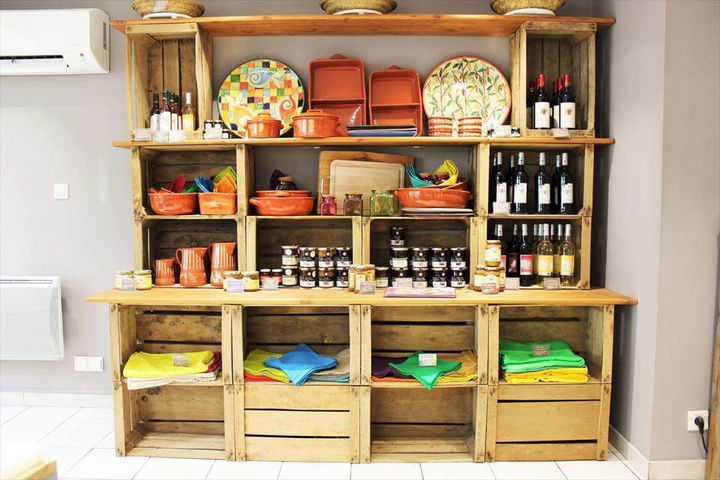 Pallet Wood Rolling Kids Playhouse: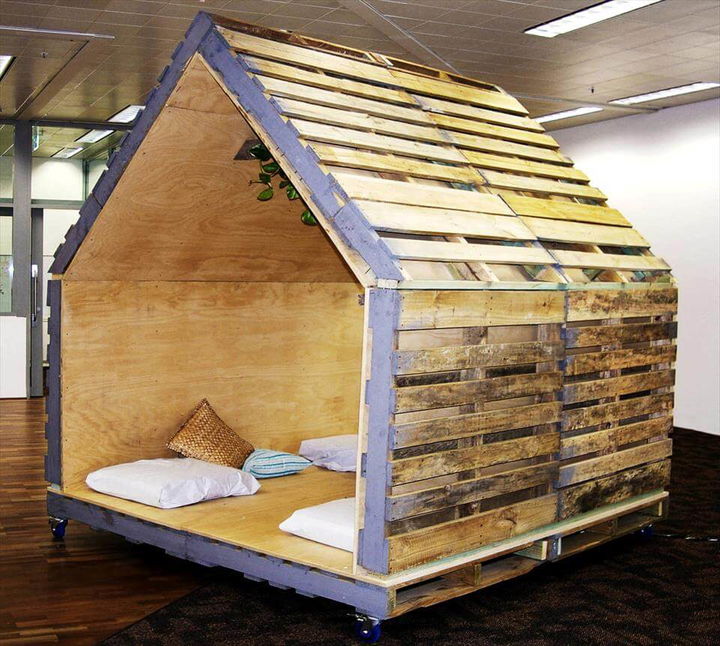 Pallet Dog Bed: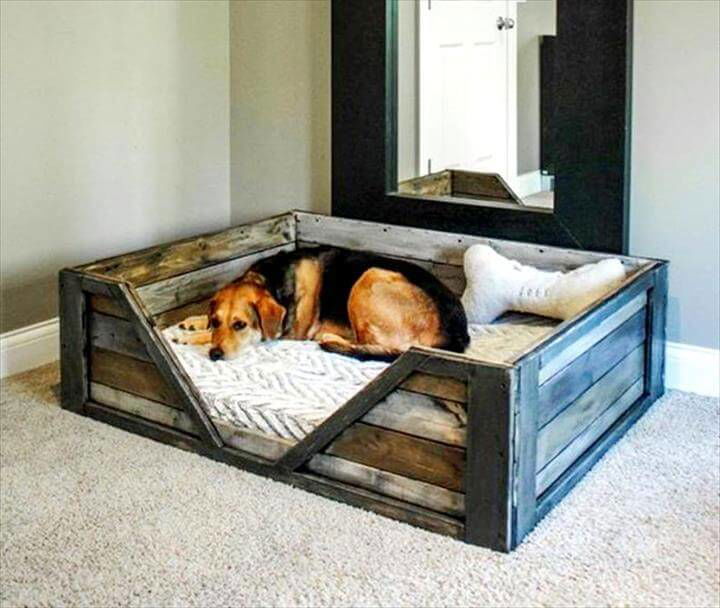 People knowing the recycling potential of wood can't let the old and retired types of wood go wasted! To make you fall in love with recycling of pallets, we are having here a big list of items to make with old, useless and retired types of wood like pallets! If you are passionate about keeping pets, then pallet-made dog bowl chest and a chicken coops given below may the ideal pieces to give yourself a big helping hand, get yourself amazed with the given examples below! Let your kitchen interior be more functional and great with pallets, reclaim pallets to build awesome trash bins and also provide protection and a damn rustic wooden touch to your kitchen wall by going with pallet wood wall cladding as shown below! Going through laundry storage problem? Build custom storage units with pallets like given laundry basket dressers, also integrate removed pallet pieces to build simple small or large frames, the bigger ones can be hired as inspiring headboard pieces while mini ones can be got for amazing festival decors and wall signs out of them! Gather hole pallets for amazing garden party lounge and also frame up single pallet slats to install folding and adjustable table lamps, get inspired of cool examples given below!
Pallet Dog Bowls Chest: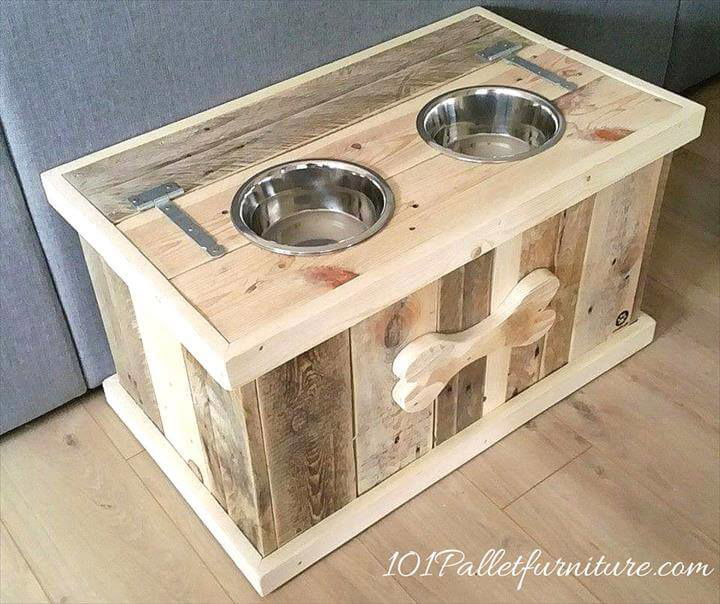 Pallet Wall Hanging Festival Decor: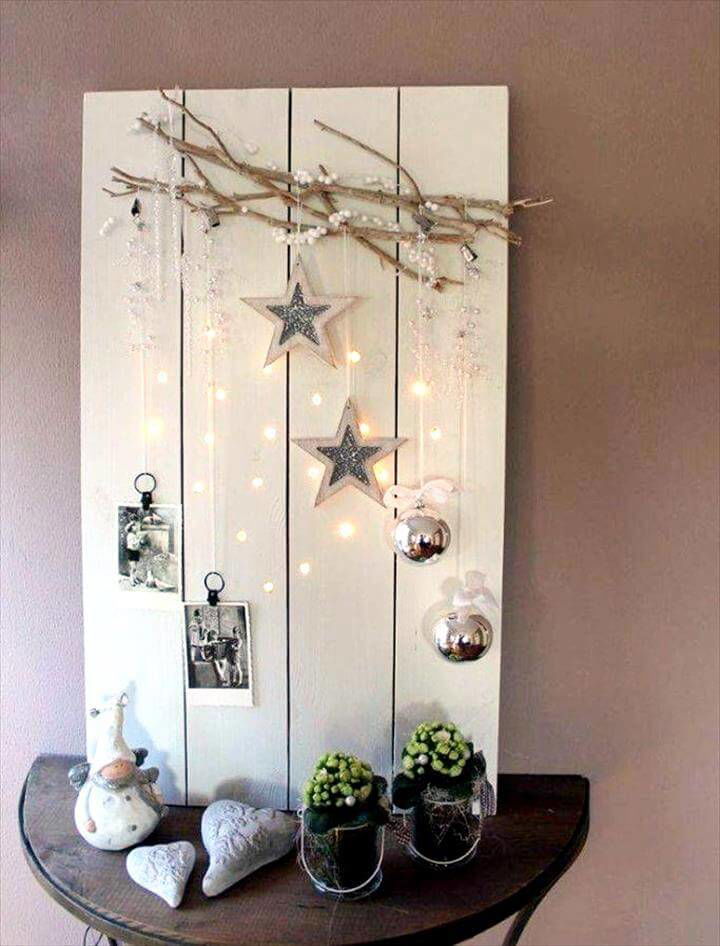 Pallet Desk Lamp: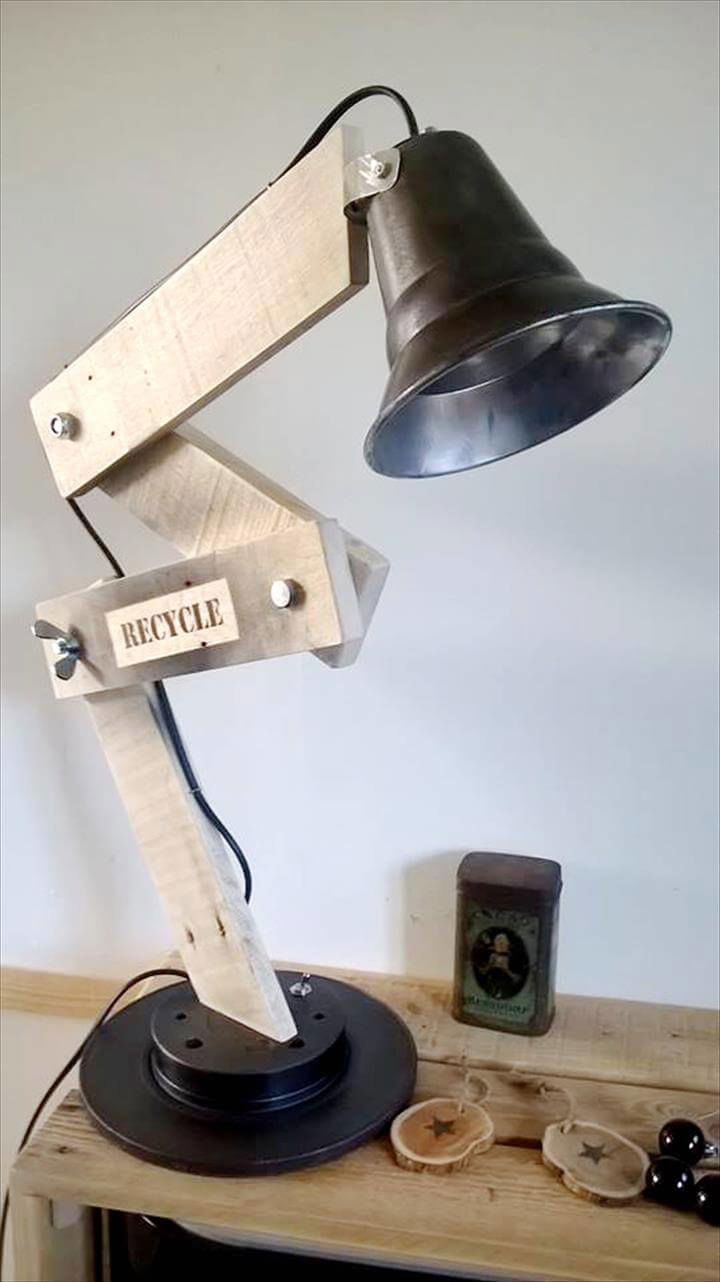 Pallet Garden Party Lounge: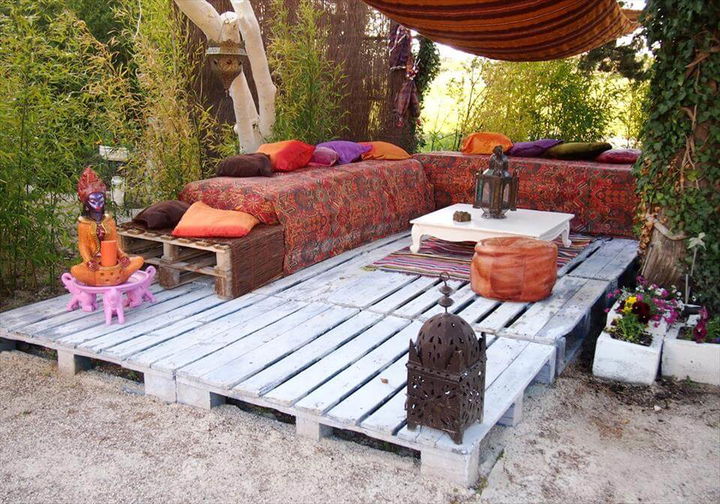 Pallet Headboard with Reading Lights Inspired of Coastal Decors: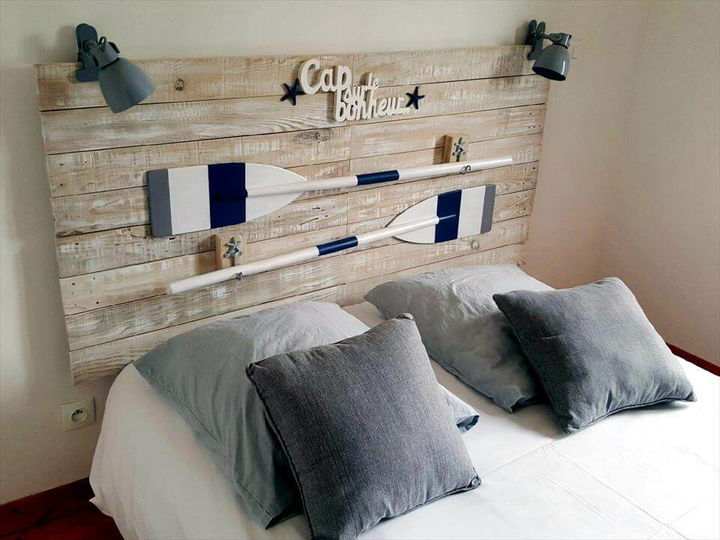 Pallet Kitchen Wall Cladding: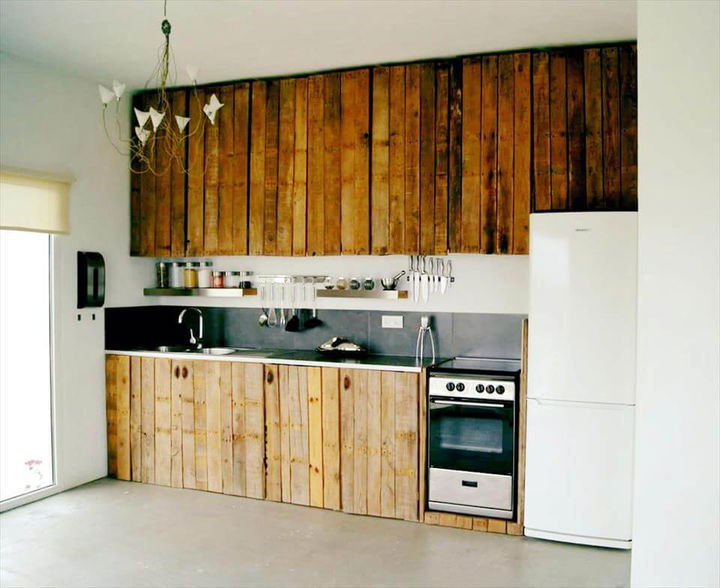 Pallet Kitchen Storage Bin: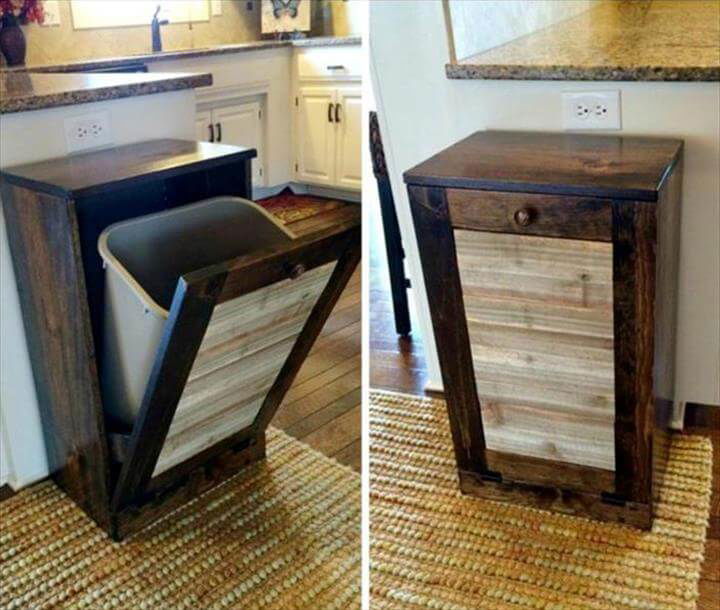 Pallet Laundry Dresser: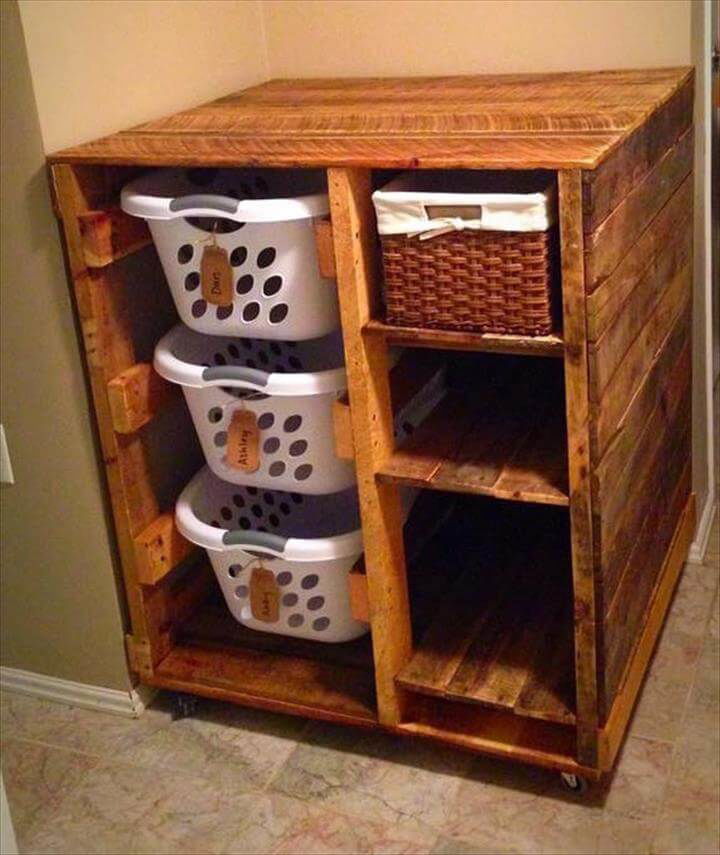 Made by: S&S Pallet Creations LLC
Pallet Garden Party/Picnic Table: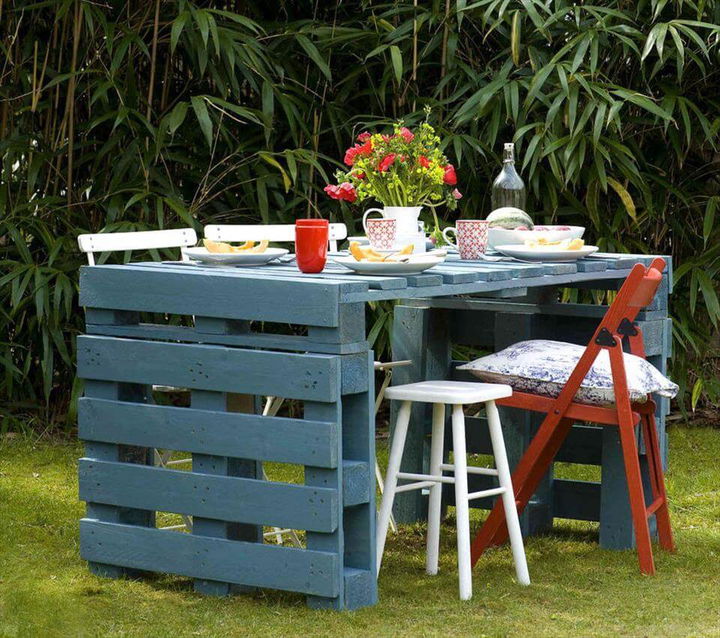 Pallet Chicken Coop:
Pallets are serving everyone on the basis of his intelligence, more intelligent he is the more creative ideas will just be coming in the way for him! You can start from mini pallet wood crafts to go for bigger ones which will also be having a more functional criterion for sure! Build simple crates with pallets let them make crate further display schemes, wall hanging display units and sterling geometrical wall organizer for you!
Pallet-made tiny trays can hold spices on your dining table platforms but bigger one with a raised boundary would be highly cooperative to use as dog or pet beds! Build custom chairs with pallets by adding personally chosen features for a graceful sit back and also install custom party furniture sets for your family and friend's club, a cool sample has been showcased here! Build bar tables with pallets for you shop and outdoor drink corners, remodel pallets to build accent tables for your home décor plans and use the simple slatted pallet boards to paint your favorite shapes over them for stunning visual wall art pieces out of them like given tree wall art pieces!
Custom Pallet Chair: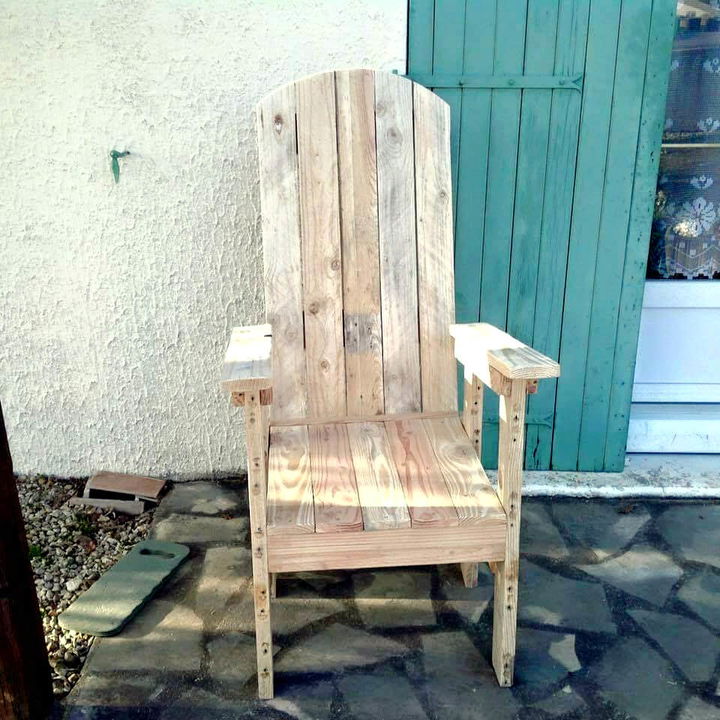 Scorched Pallet Benches:
Pallet Beverage Party Tables: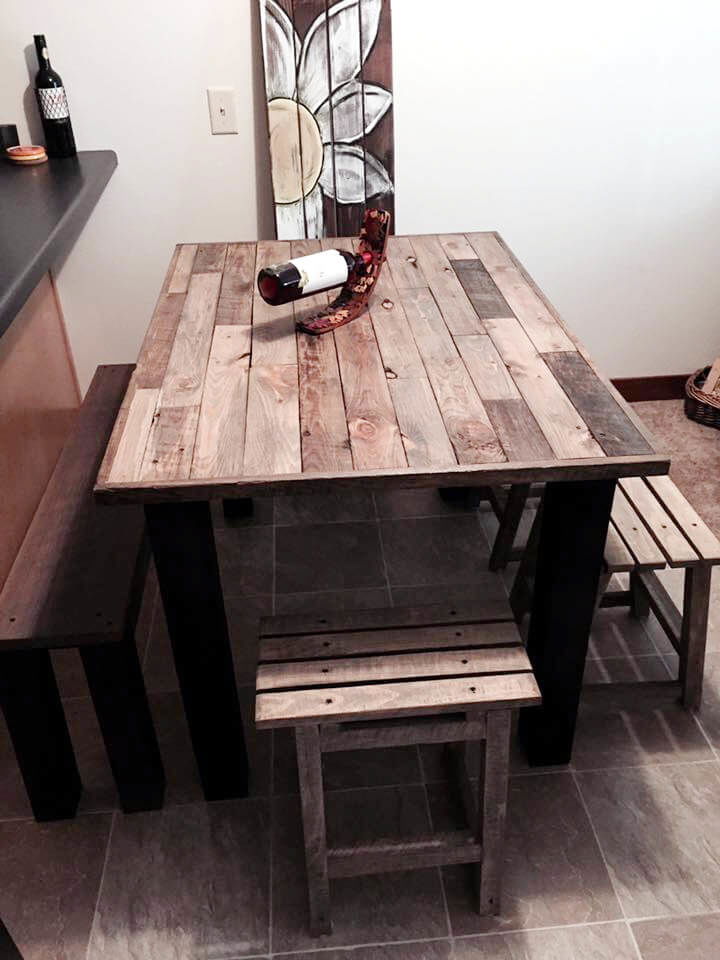 Pallet Wood Autumn Tree Wall Art: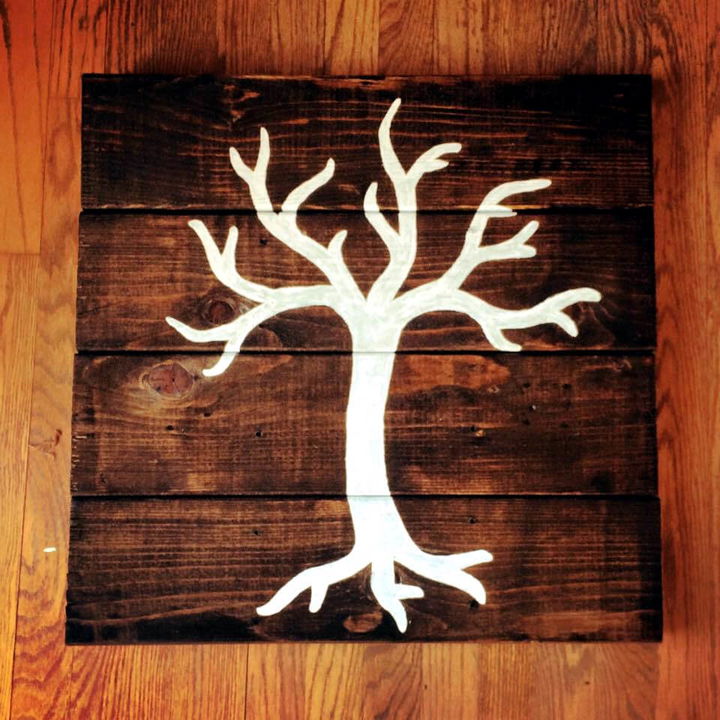 Wooden Pallet Spring Tree Wall Art: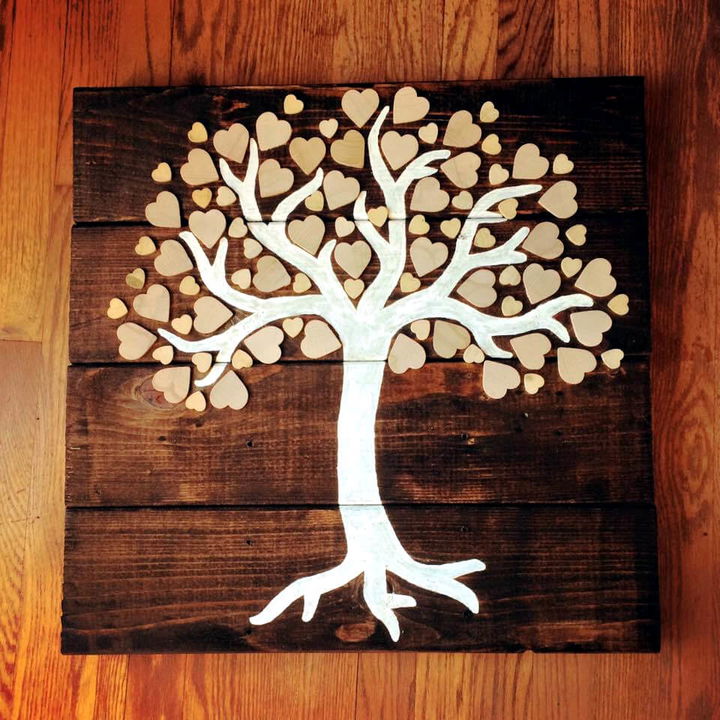 DIY Pallet Crate Style Display Shelves: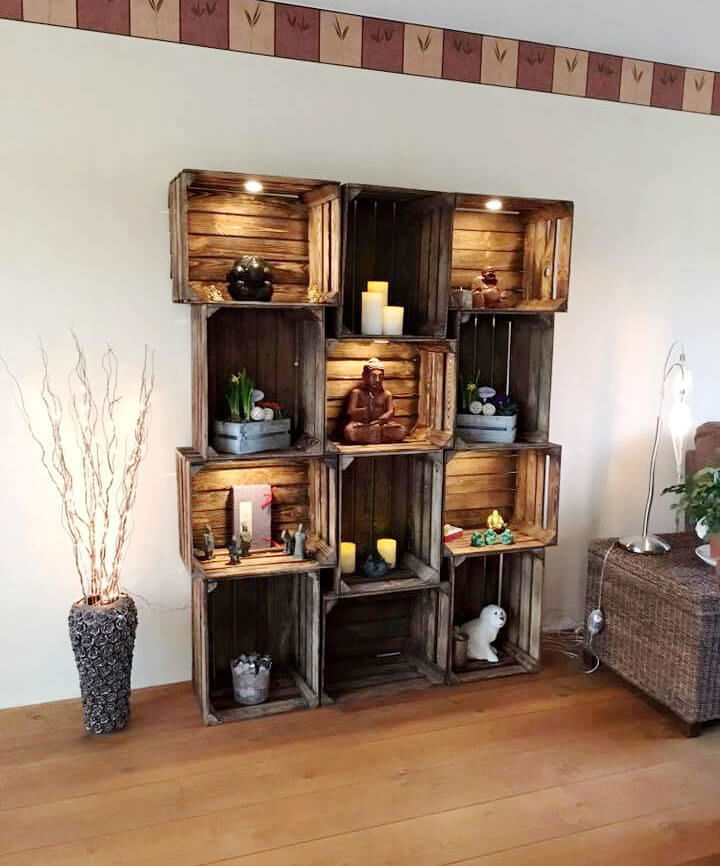 DIY Pallet Bar Table: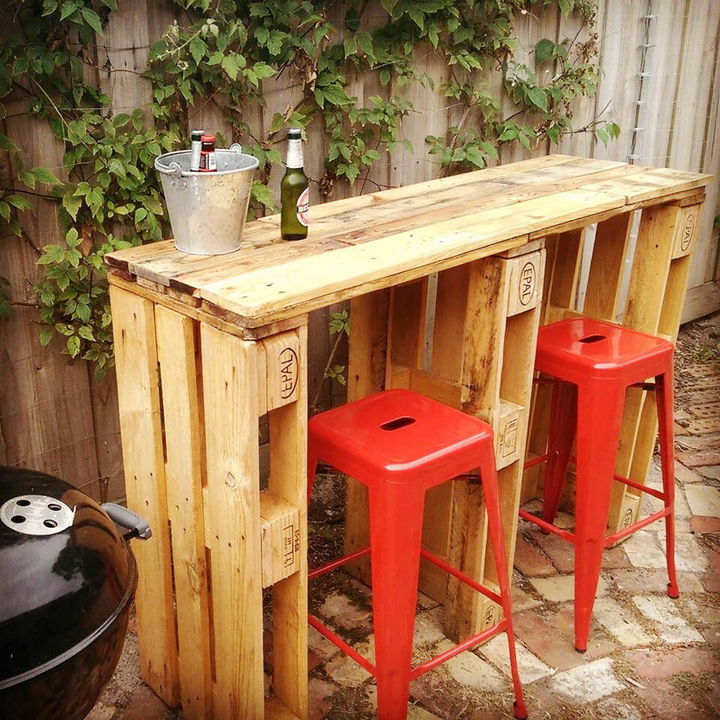 Pallet Crate Style Display Wall + Entertainment Center: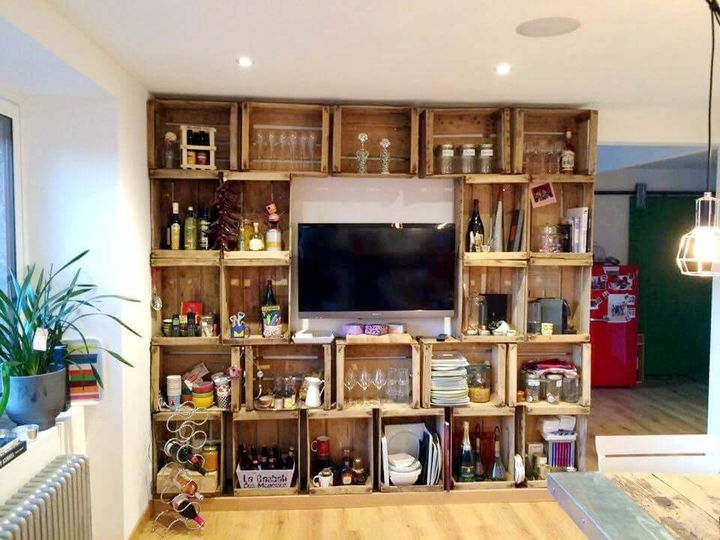 Pallet Low Wooden Accent Table: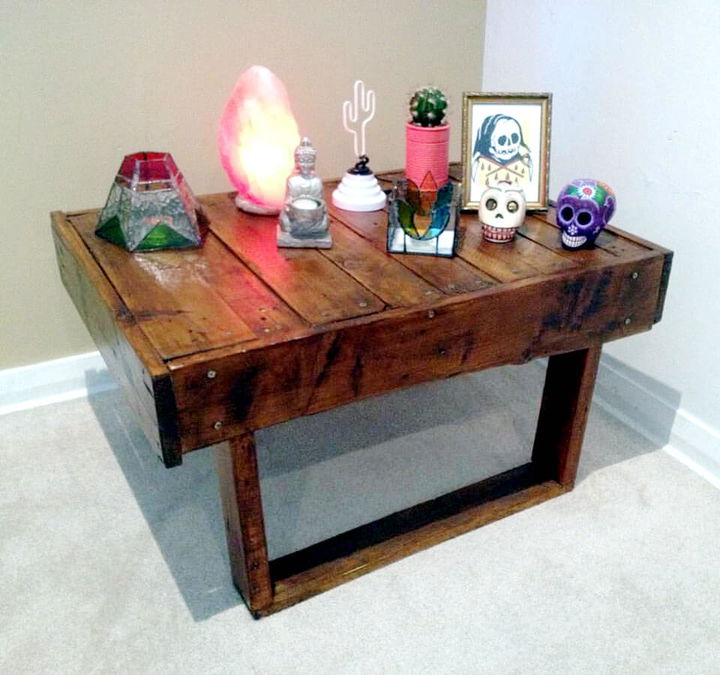 Pallet Pet Bed: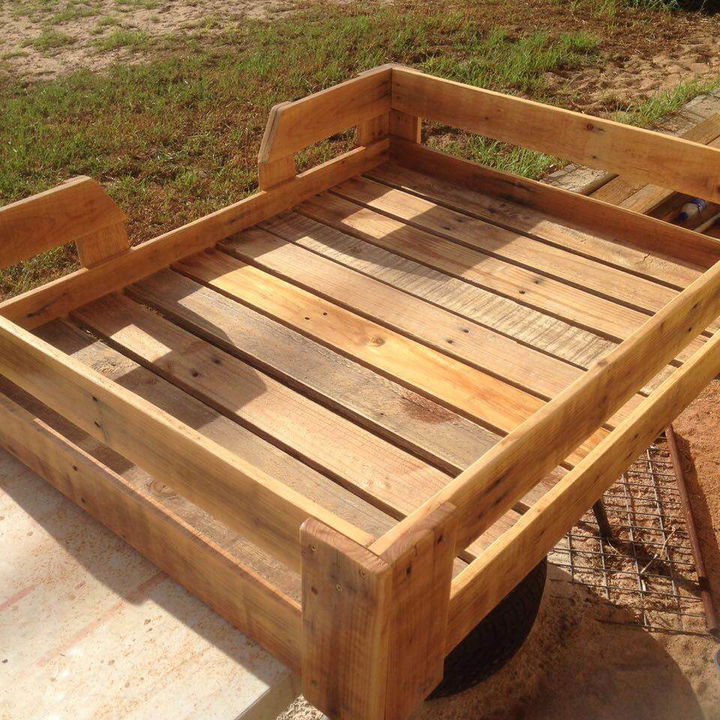 Wherever in home you are missing something special to operate the giving living area, you can just seek help from pallets! Organize your bedroom with pallets by fabricating sophisticated and all sturdy wooden bed even in platform mode, and also build the related components like nightstands, headboards and footboards quite easily with both uncut and dismantled pallet boards! Be a fan of amazing pallet patch works, repair your gates, bathroom vanities and old crumbled pieces of furniture with them! Go with pallets like a engineer and install amazing wooden buildings, residences, and also the kids playhouse with multiple playing sections!
Getting pallets for garden decors would also be a cool idea to enhance your garden's aesthetic value while being on a budget, paint whole pallet boards in your own favorite colors and create little holding in them to let them serve as vertical garden planter or pot organizer, would really worth like a centerpiece in your green space! Also employ pallets to install beautiful pet residences at your favorite outdoor spaces like the given dog shack and go with amazing pallet cladding techniques to give a precious wooden touch to your modern spaces, the remodeled modern bathroom vanity is a highly interesting example here in this regard!
Pallet Bed + Nightstand Set: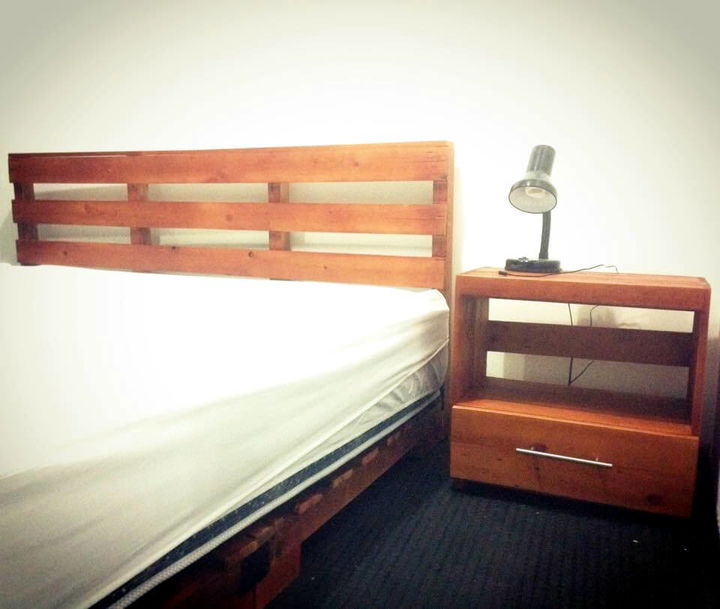 Custom Pallet Indoor Gate:
Mini Pallet Wood Vanity: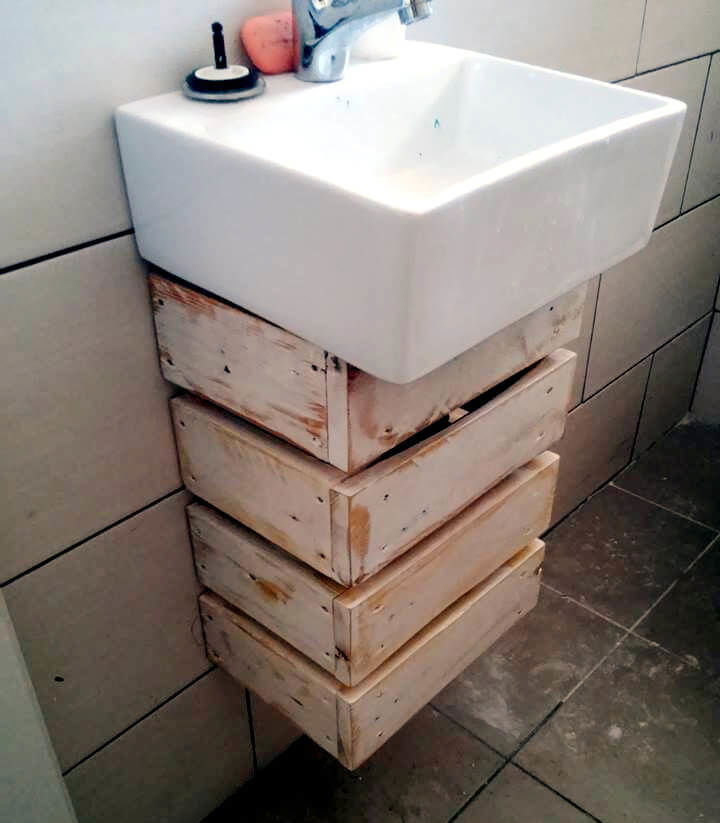 Creative Pallet Kids Playhouse: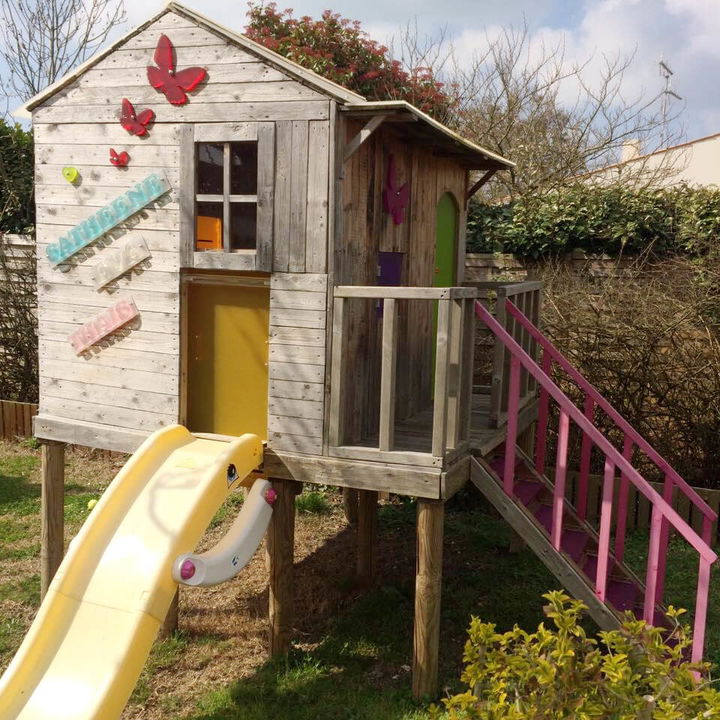 DIY Modern Pallet Wood Vanity: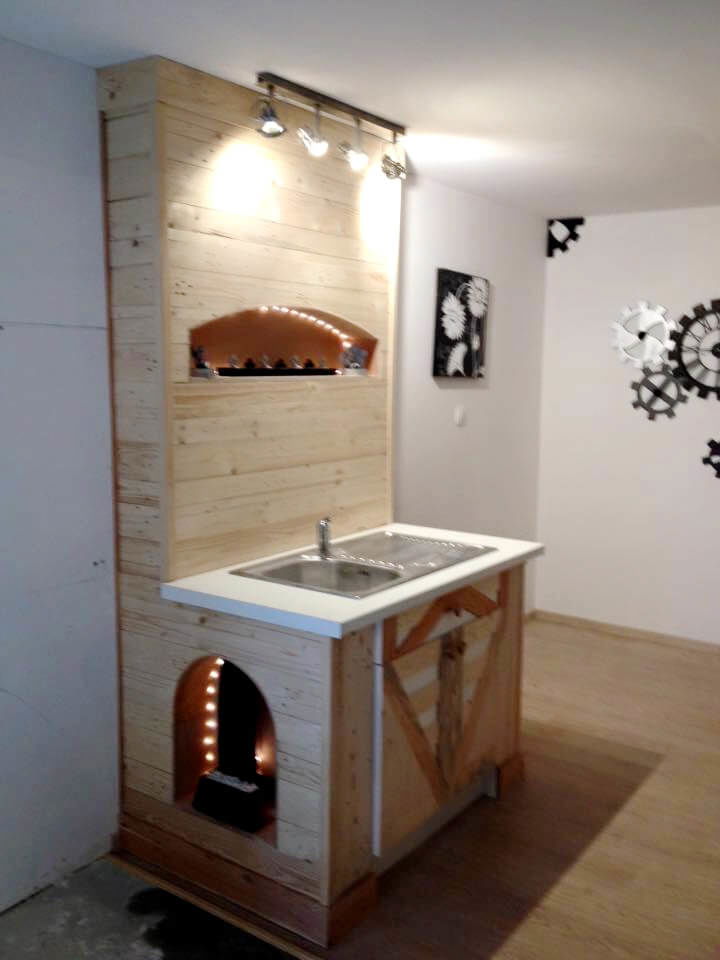 Custom Pallet Wood Headboard: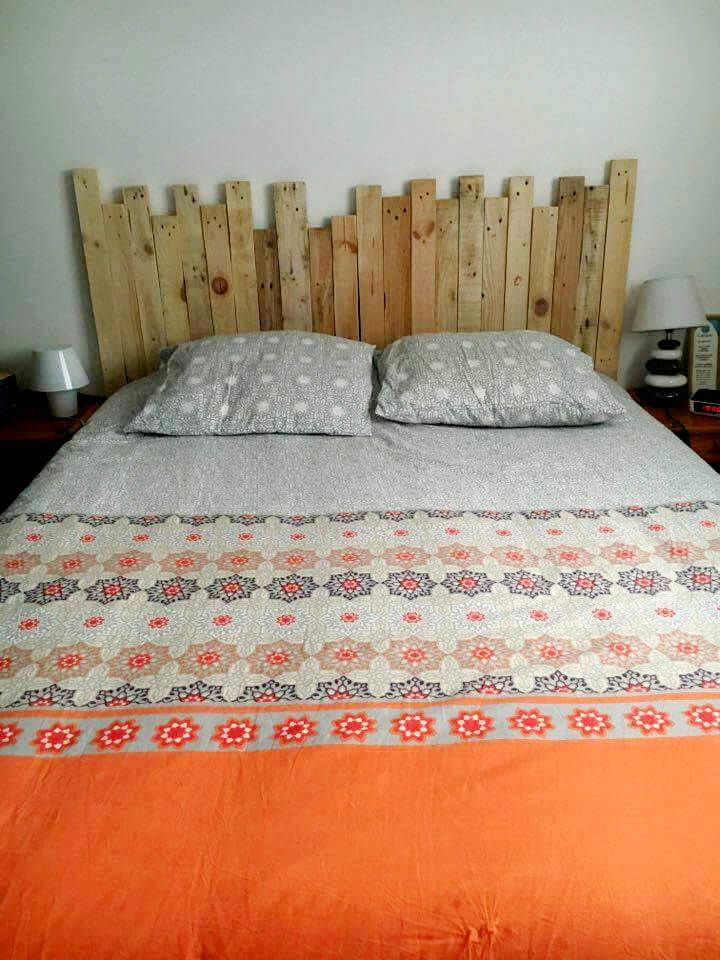 Pallet Rainbow Pot Organizer: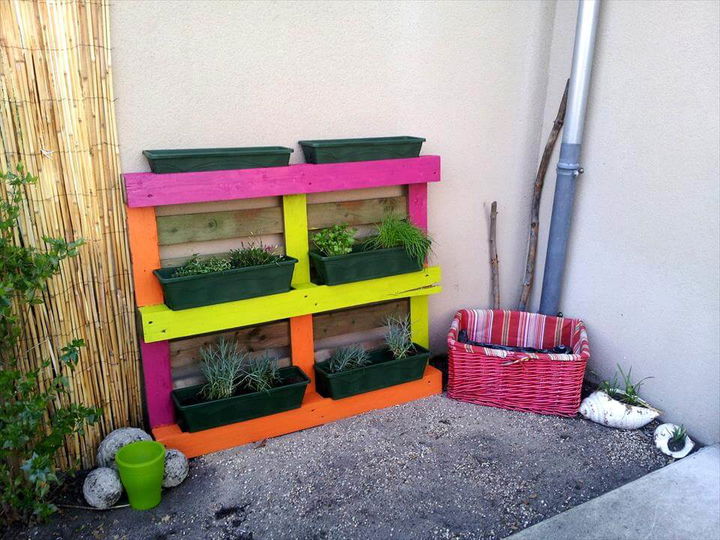 Pallet Wood Dog Shack / Pet Cave: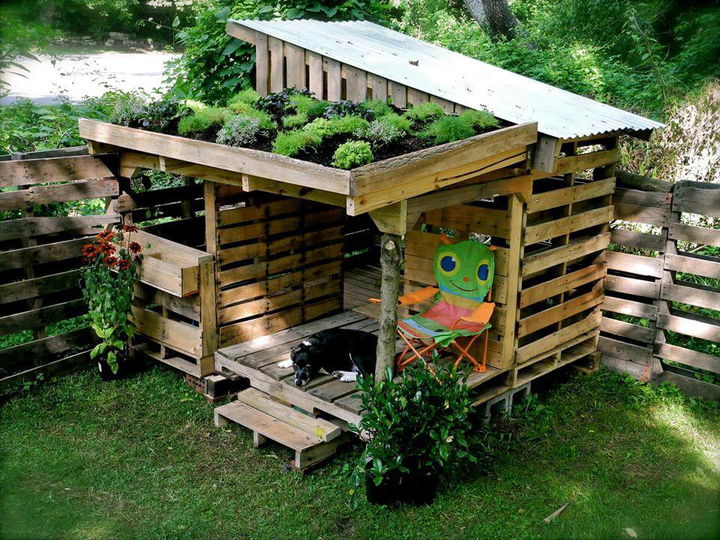 Pallet Wood Headboard + Nightstands with Lights: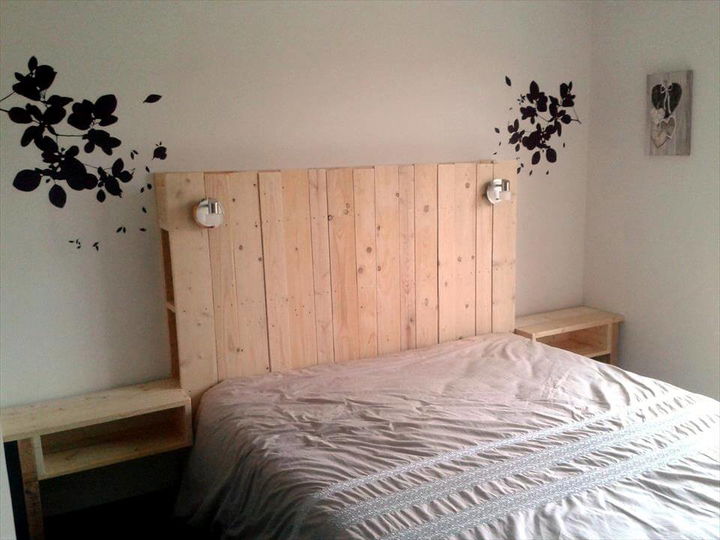 One Pallet Coffee Table with Drawers and Wheels: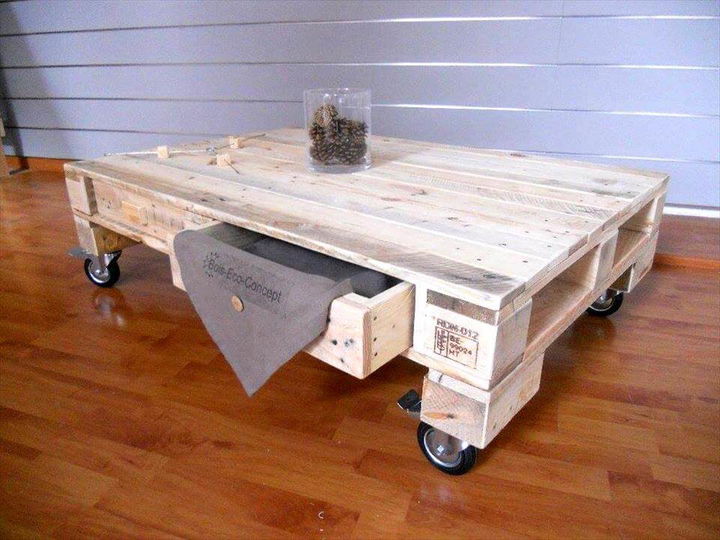 Most of pallets are composed of hardwood got from different trees like pine and oak which can even withstand the worst possible weather conditions! So it would be very intelligent thought to understand the pallets for building outdoor furniture! Just no need to worry about it, the given list would highlight the outdoor furniture particulars one can think about while thinking to recycle the pallets creatively!
Build the trendy block style pallet chair to enjoy the winter evening and also build the same block style occasional XL patio sofa sets to celebrate the social ceremonies or to handle a great rush of guests or friends on an event! For a bathroom, build custom vanities, storage cabinets and also toiletries shelves with pallets! Alter the already made pallet structures a little and get display units to organize the wedding gifts, mural or picture frames and some rare handcrafts! Integrate pallets to build large art style benches and do clone the given double chair bench to enjoy sitting with one of your closest friends, with wife or with a lover! Reestablish pallet slats to gain horse stable wall organizers, hallway coat racks and custom heart shape wall hanging station along with a wall art! Making love shelves with pallets would also be much less time taking ideas to give your interior modern wall a precious love theme!
Beefy Block Style Cushioned Pallet Chair: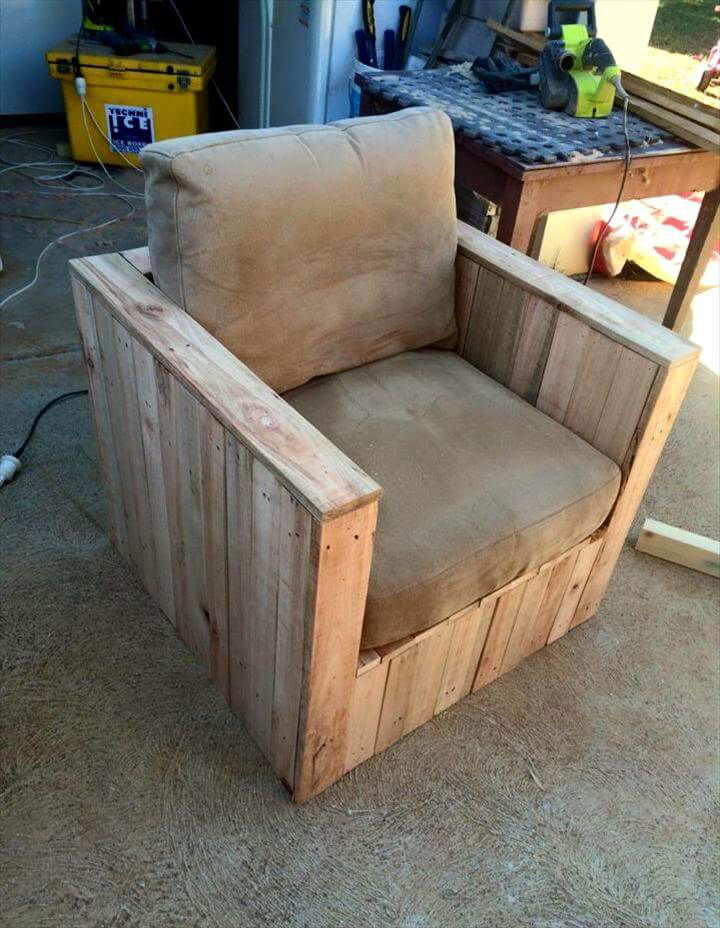 Handmade Pallet Vanity Table with Storage:
Pallet Hallway Organizer/Wall Hooks: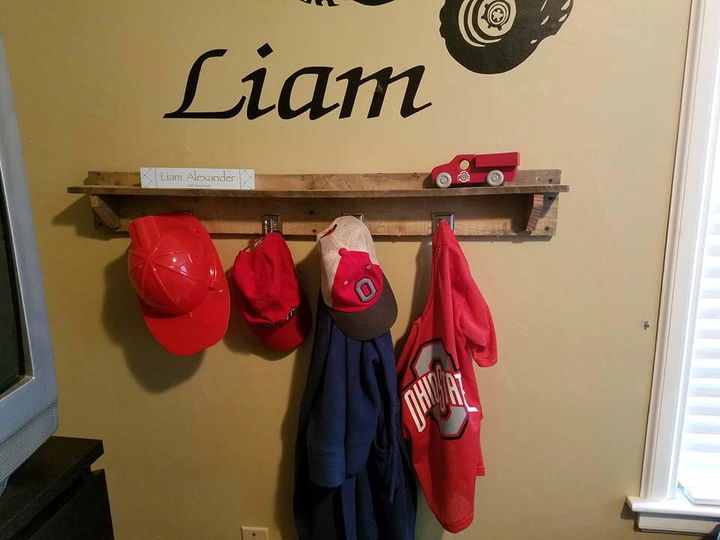 Unique Double Chair Pallet Seat: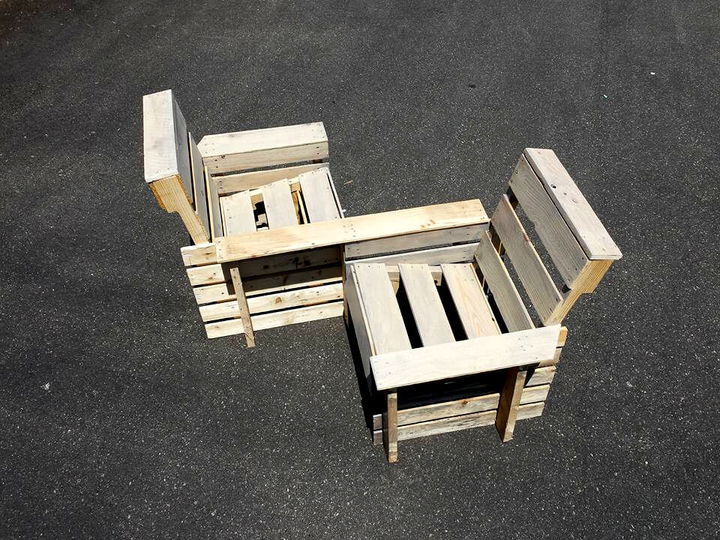 Pallet + Chopped Wood Log Stable Wall Organizer: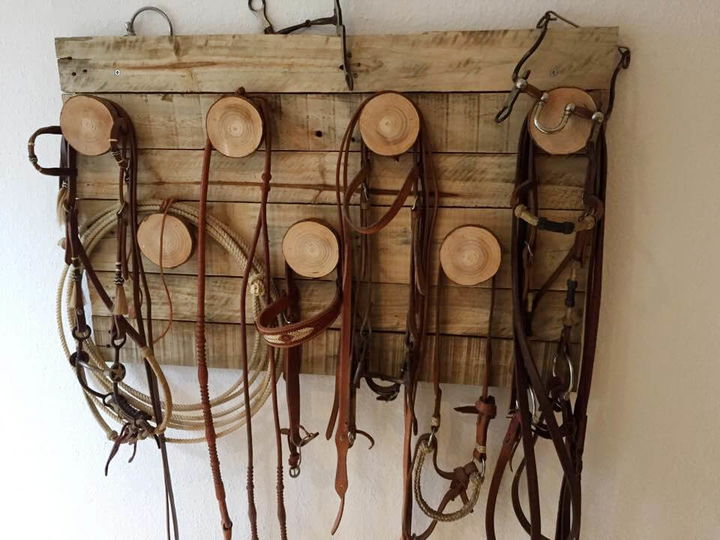 Art Style Pallet Bench:
Beefy Block Style Pallet XL Sofa Set: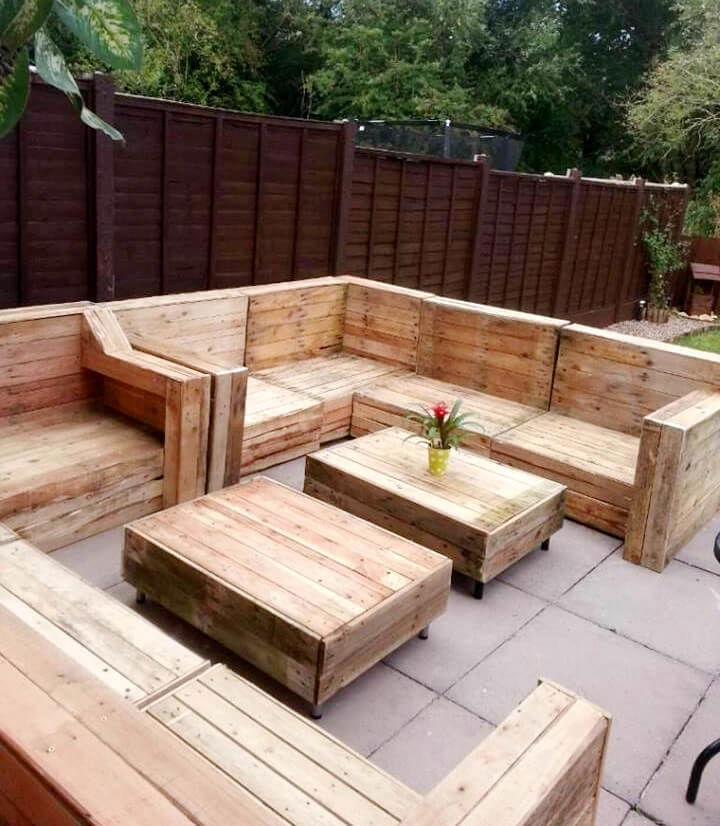 Pallet Love Wall Shelves: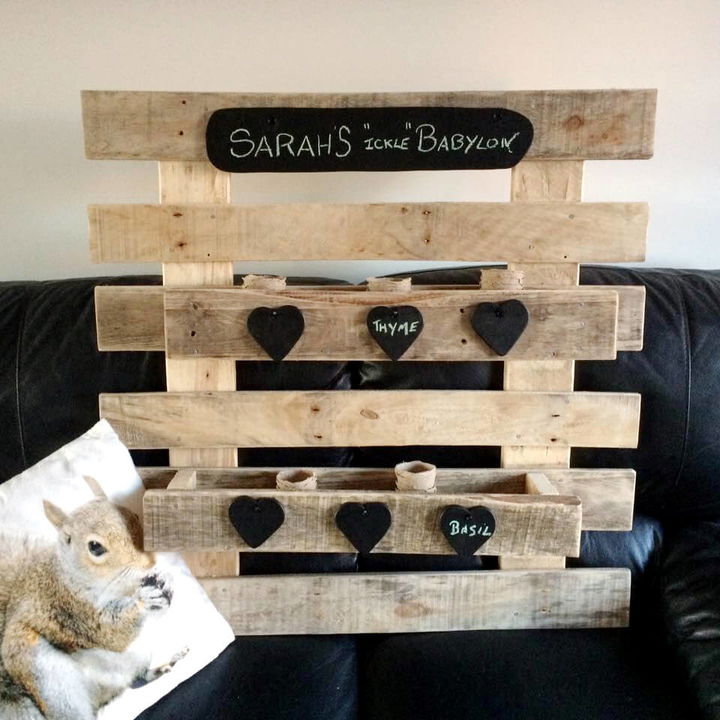 Pallet Wall Picture Frame Display: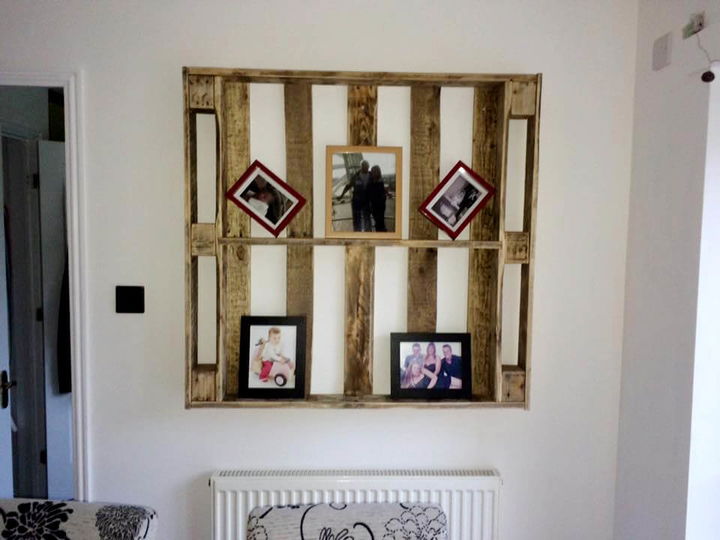 Pallet Heart-Shape Wall Organizer: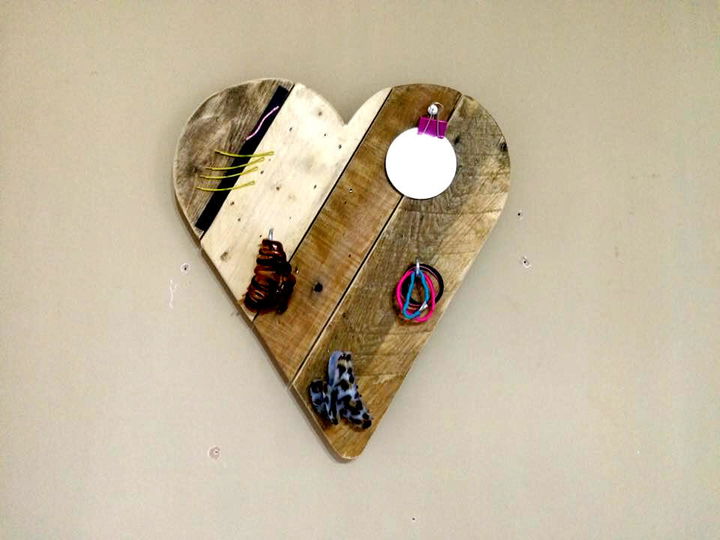 We can even reuse the pallets to enhance the overall decors of our home, garden and backyard spaces! If you are here to have a creative how and know about it then ideas are just waiting for you here! Build a butterfly wooden wall accent and paint it respective shades to get an all charming 3D wall art piece or a centerpiece to display on a living room beatify station! Put together simple pallet slats and gain them into artful board shapes, install some shelving levels and get them as beautiful display units, here by making some heart-shape cutouts, a precious love theme of them has been created! Also put together pallet slats and pack tight to build precious wooden headboards and go for a quick stockpiling of pallets to yield a lasting bed for your newly constructed bedroom! Get your interior wall dignified by making rustic wooden wall mirrors and also spice up your green space by going with pallet-made planters, potting benches and pot organizers they would just serve as perfect beauty stations to your garden! Don't forget to build the wooden candle holders with pallets to use as tea or dining table lights, get inspired of an excellent sample given below!
Pallet Butterfly Wall Accent/Art-Piece: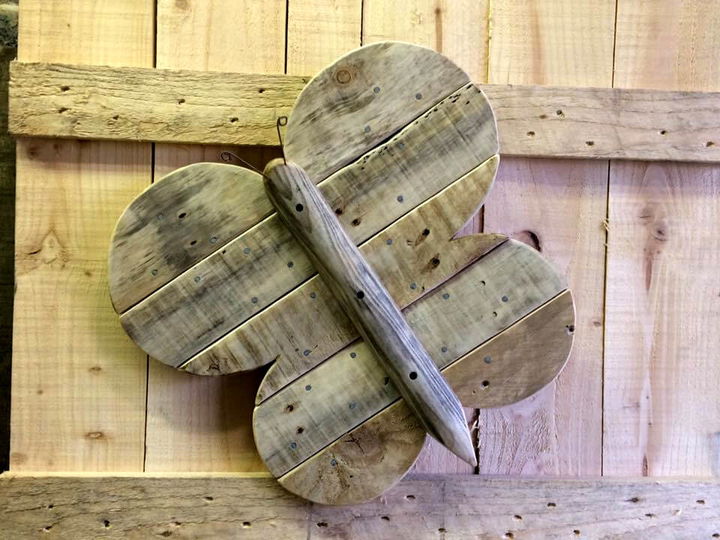 Pallet Love Wall Display Shelves: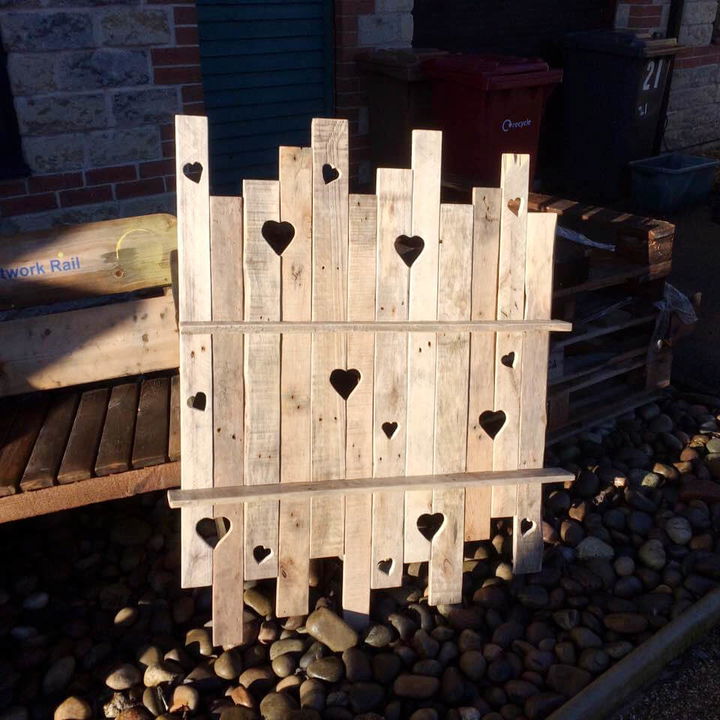 Pallet Block Style Candle Holders: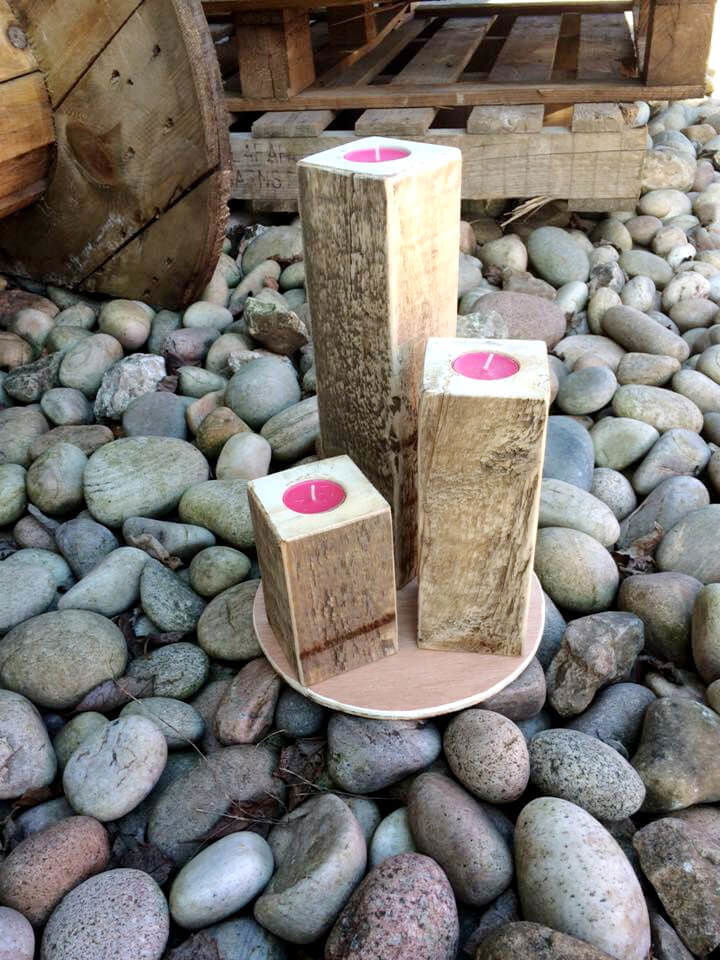 DIY Pallet Art Style Pallet Love Wall Shelf: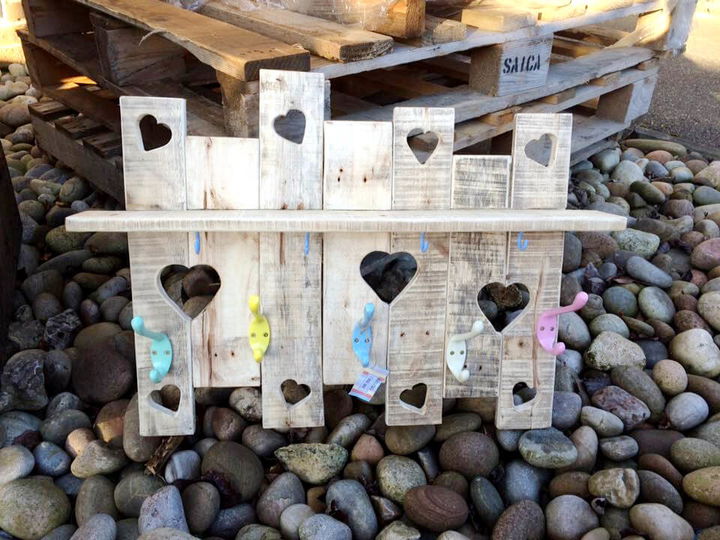 Pallet Planter with a Little Trellis Setup: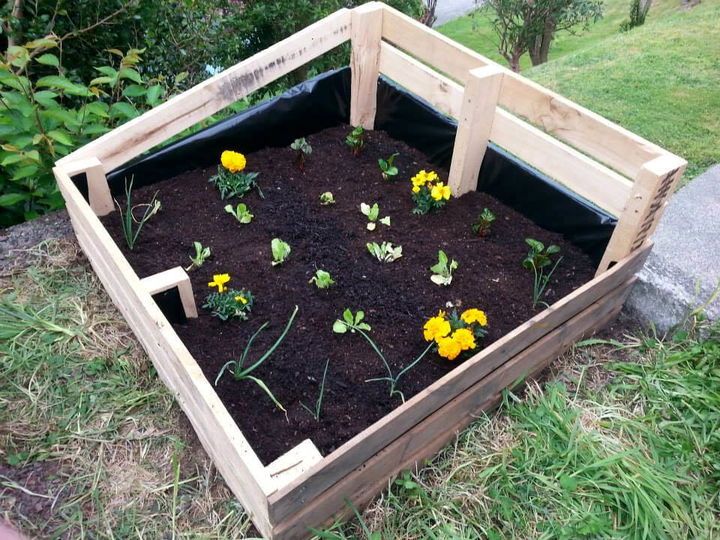 Custom Pallet Love Display Shelf: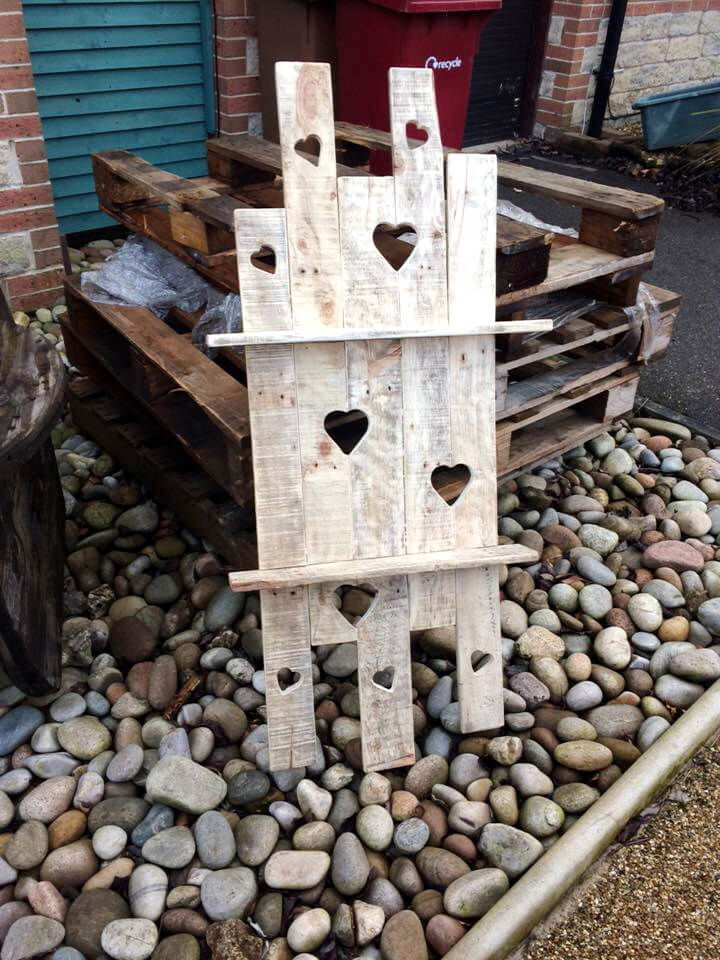 Pallet-Made Bed with Headboard and Nightstand: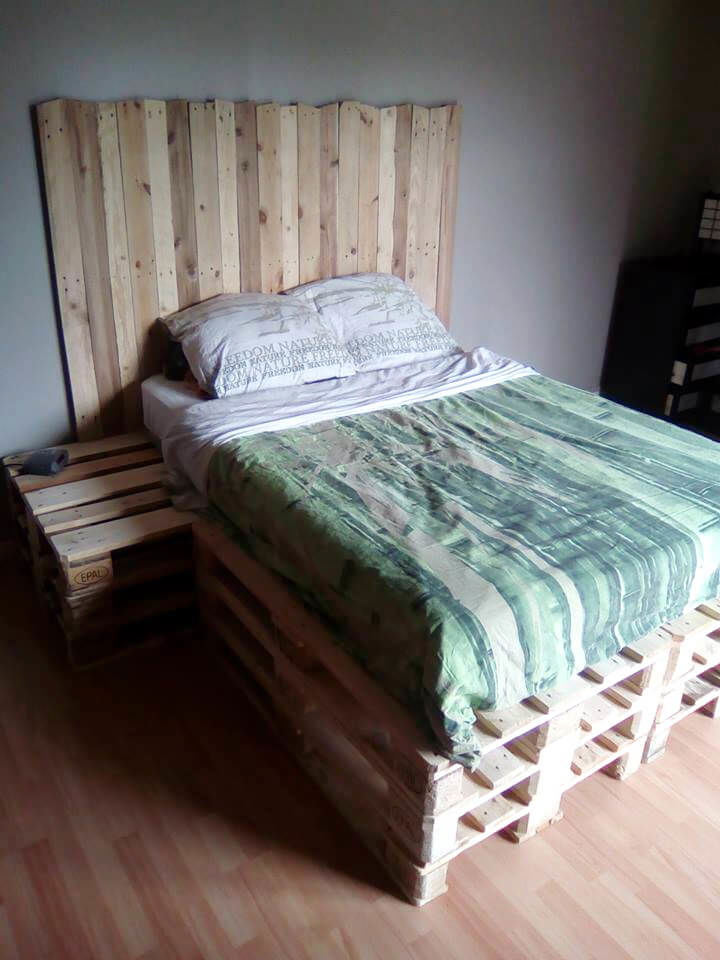 Wooden Pallet Potting Bench: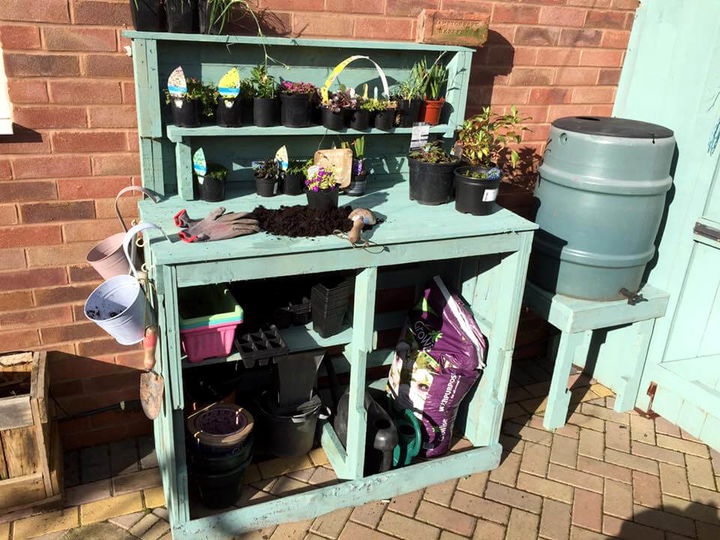 Rustic Pallet Mirror: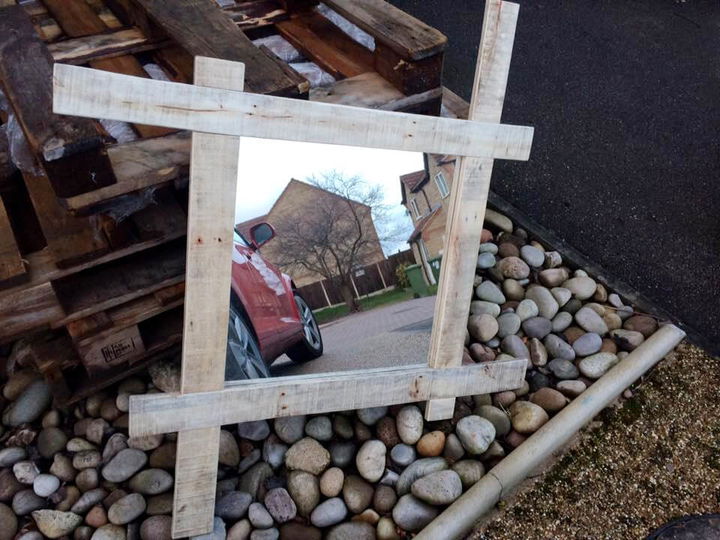 Mini Pallet Coffee Table with Lights: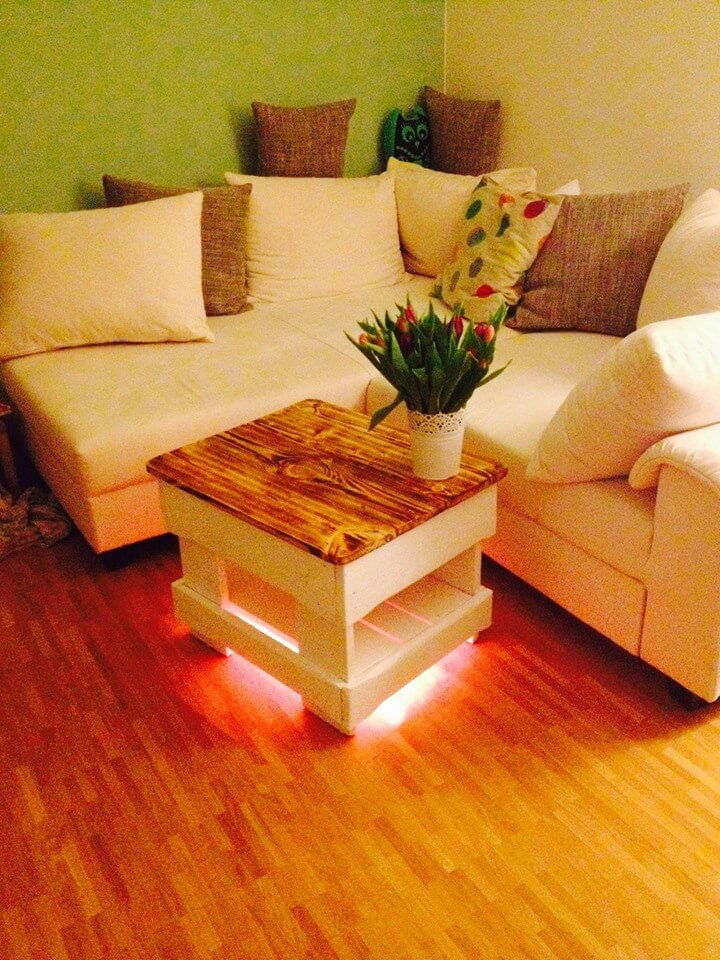 The things you are to do some functional tasks with, can be constructed better with pallets! It seems all true when we dive into the modern creative world of pallets and these are only the pallet-made furniture items with which the all cultures across the globe are getting engaged! How to change pallets into creative furniture outputs? It has really been shown in the given examples!
Bring the pallets into slatted alignments and install XL outdoor loungers, use rustic pallet remains to fabricate functional toilet paper roll holder and also cushion the whole pallet boards to get sophisticated sofa seats for your living room! Go for patio daydreaming by installing custom benches with pallets and also give the whole pallet board a stable wall mount for a beautiful organizer or display unit out of it! Tear the pallets into pieces and plan them for custom hallways tree designs quite easily and also reuse the short supply of pallet wood slats to build custom mini tables! Put few of pallet boards together and paint them for stunning wall art pieces like given home map wall art and also regain the pallet scrap into mini planters or birdhouses to raise the garden beauty to a next level! Also grab the pallets to build picnic furniture items like the given mini bench and a plastic igloo cooler stand with drainage system!
Pallet Rustic Outdoor Lounger:
Pallet Toilet Paper Roll Holder: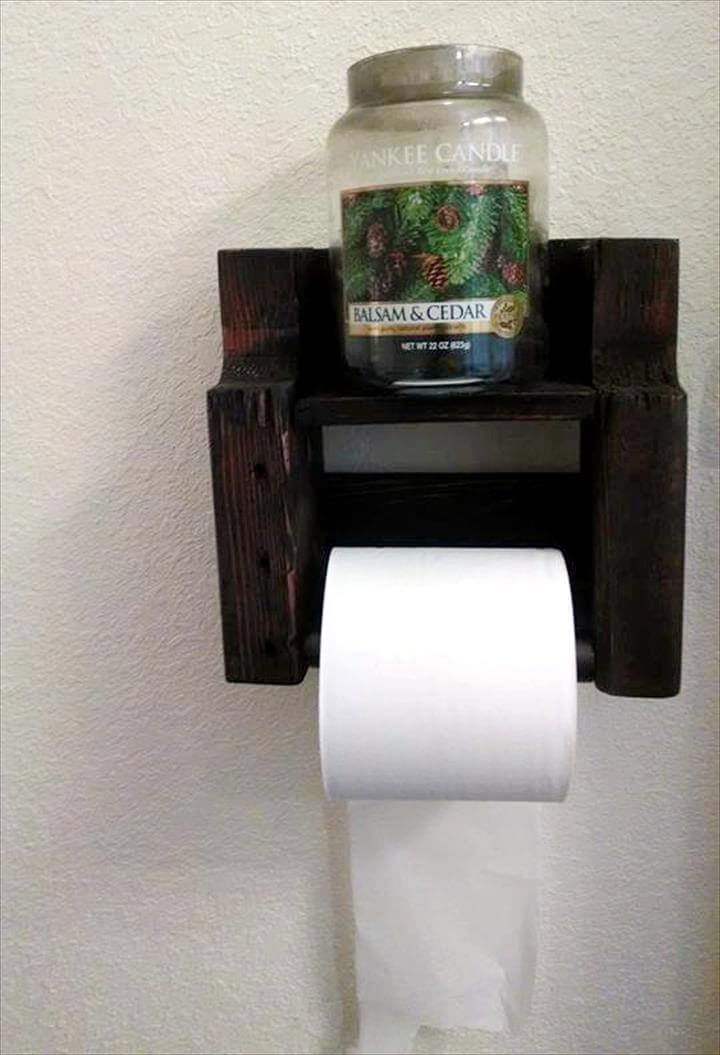 One Pallet Cushioned Seats and an Ottoman: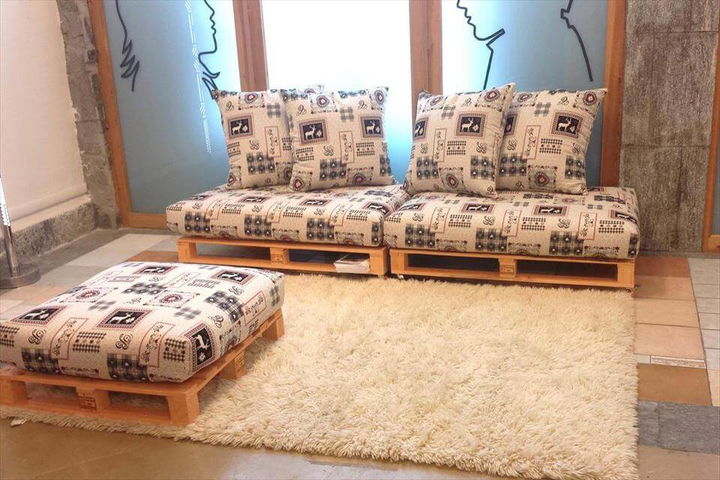 Pallet Sturdy Outdoor Bench: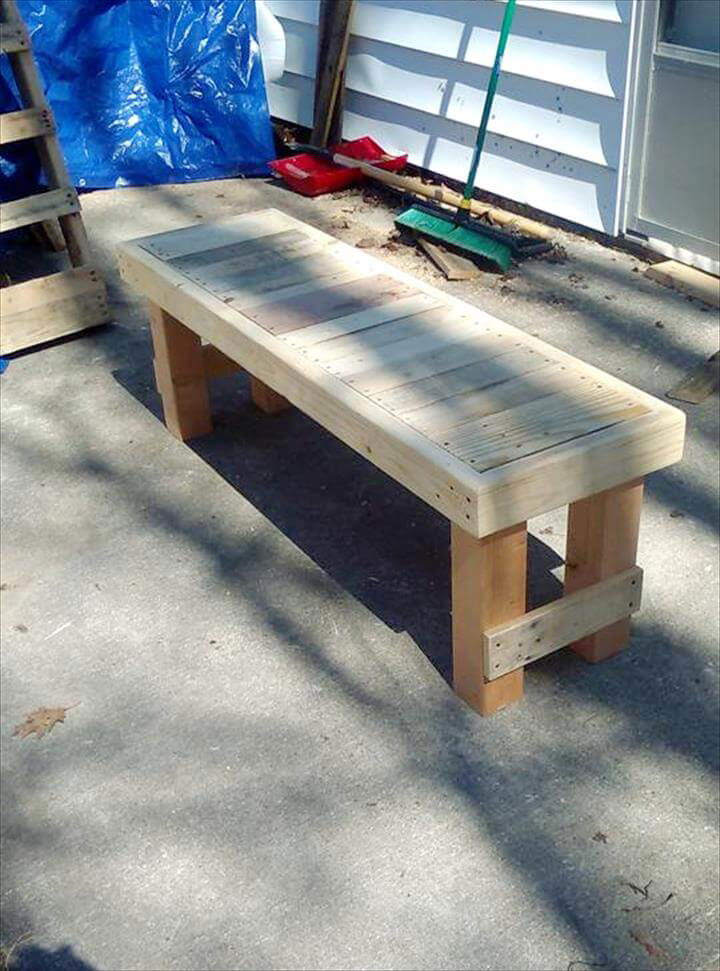 One Pallet Wall Organizer: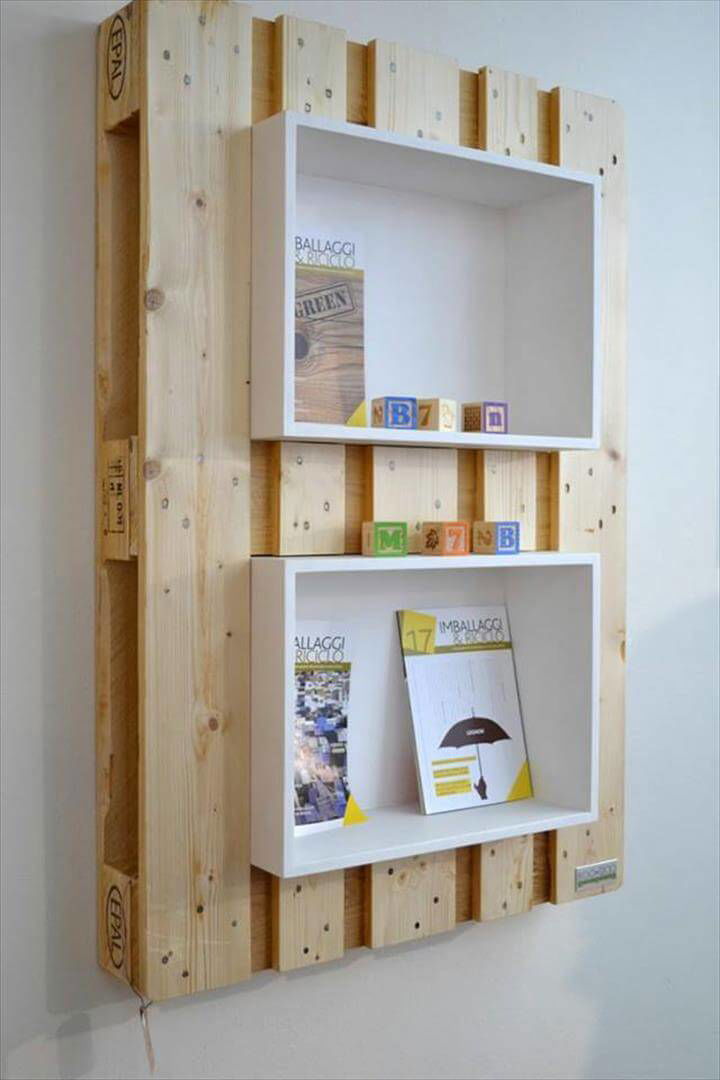 Rustic Pallet Hall Tree: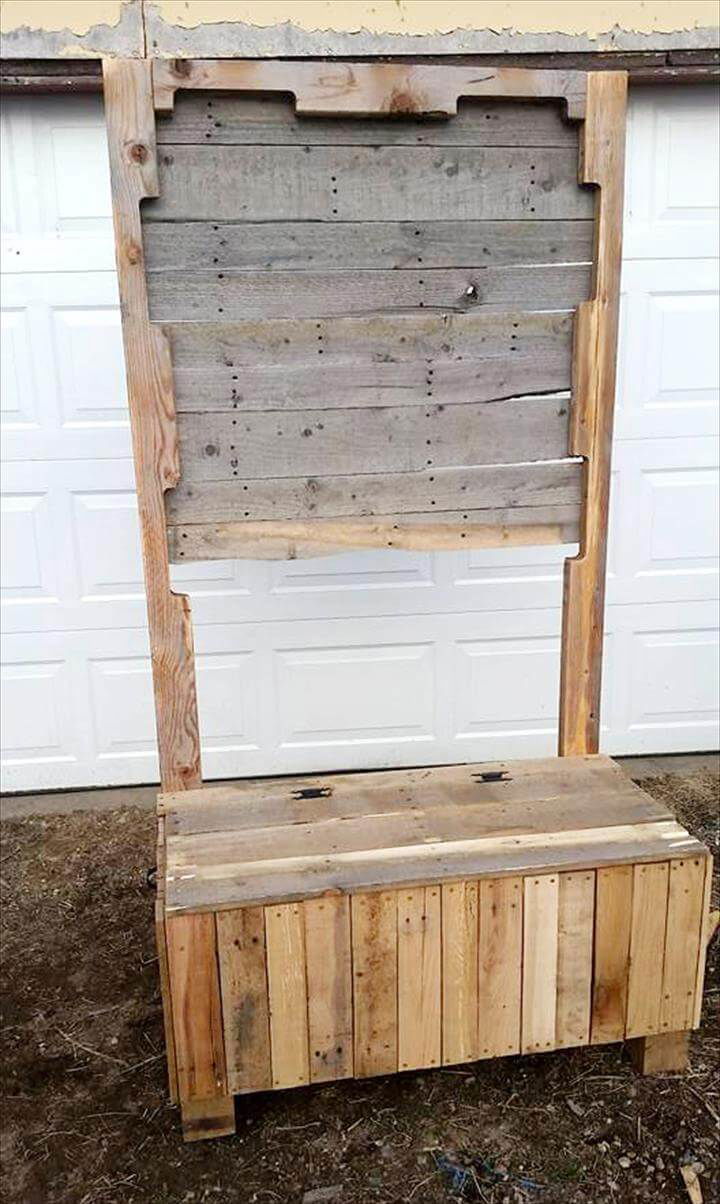 Pallet Square Shape Mini Table: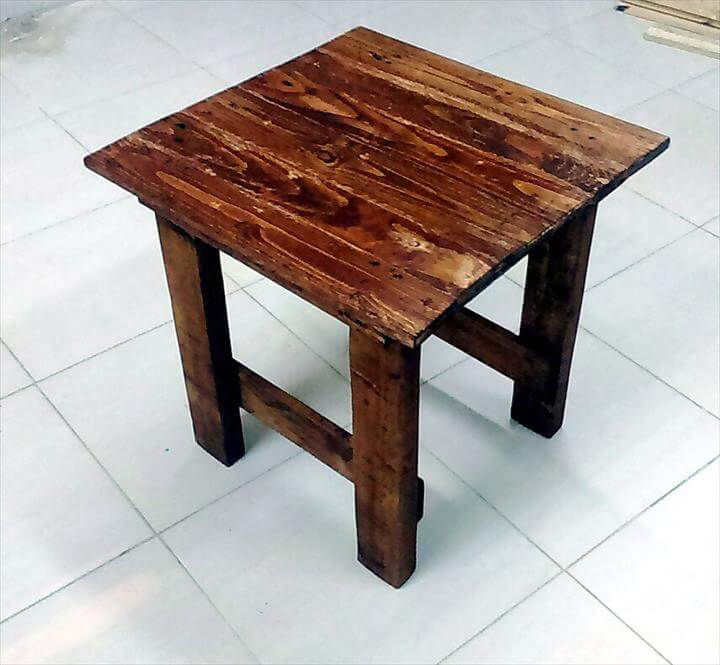 Pallet HOME Map Wall Art: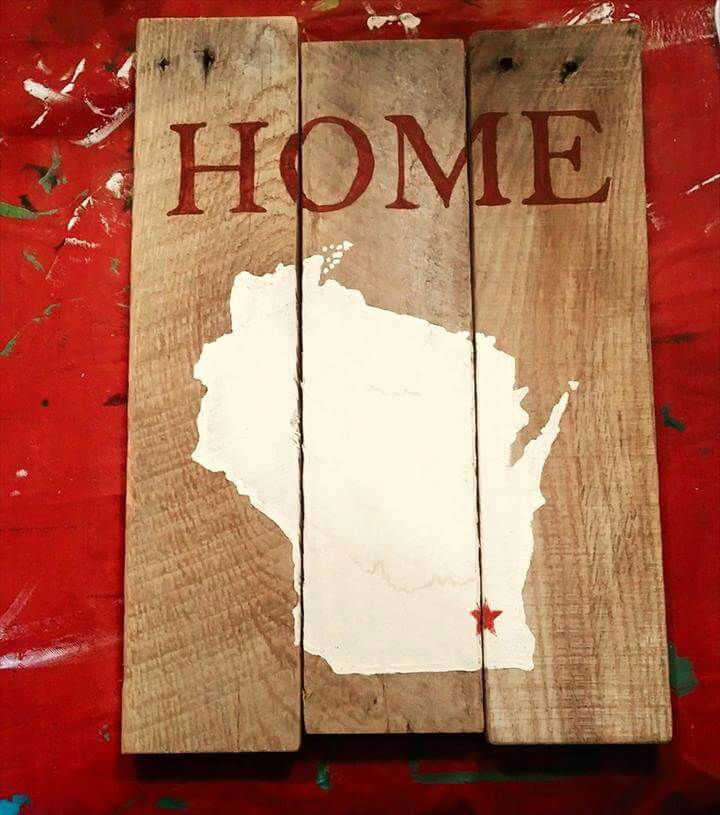 Pallet Birdhouse: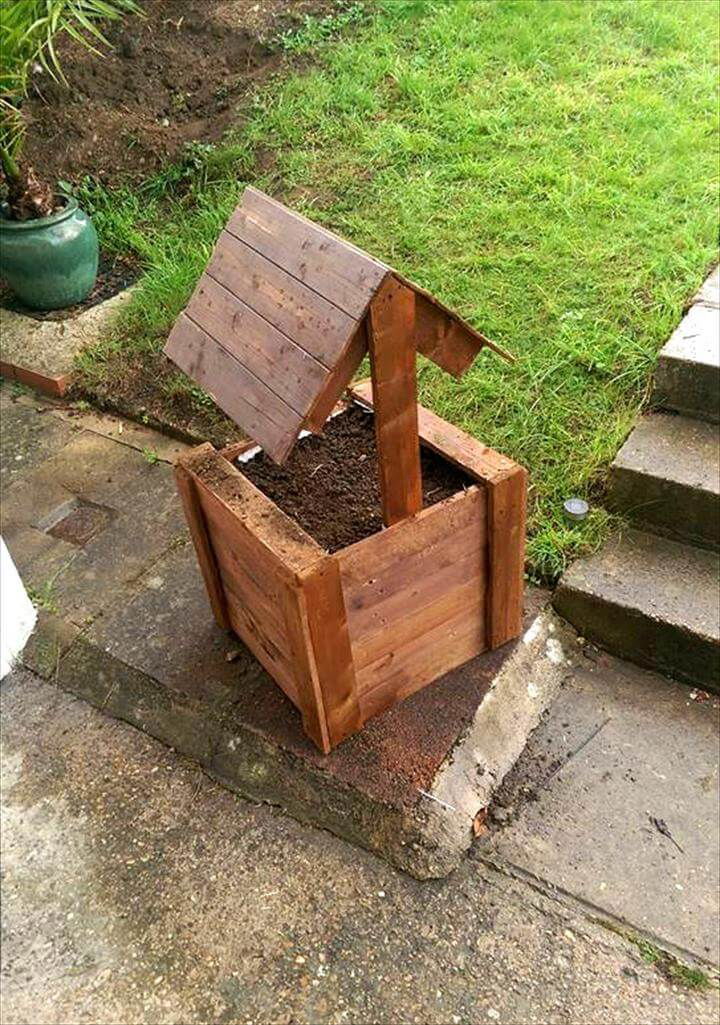 Pallet Ice Chest + Mini Bench for Picnic: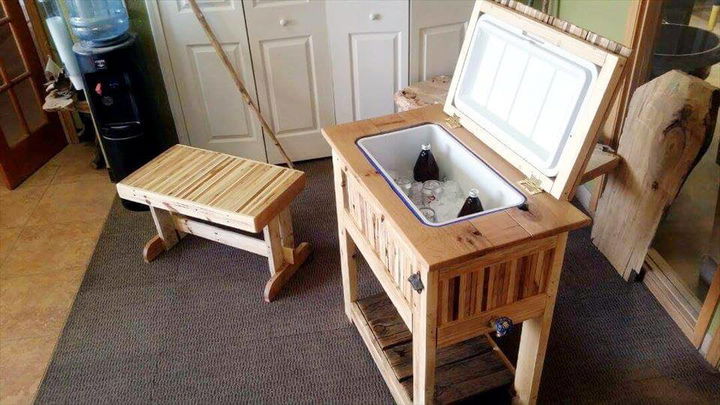 No matter, whether you are a party lover, a kitchen lover, a living room lover, a bedroom lover or an interior wall art lovers, the given list of pallet wood ideas would bind you all under their creative spell! These showcased ideas would add extra wings to your creative and will also help you to go wisely with pallets for inventive outputs!
First of all the we would like to highlight the pallet wood achievement done to please the beverage party lovers, use a reduced size of pallets as a beverage bottle rack or wall organizer and also build the custom party tables with pallets having built-in storage or ice box! The lovers can also have fanciful objects out of pallets to gift to one another, the one interesting sample is a red painted pallet love heart wall art piece! Fabricate whole coffee tables with pallets and simple pack the pallet slats in patterned arrangements for stunning tabletops which can easily be finished with custom legs for fully functional table layouts! Integrate and align the pallet lengths wisely to yield long-living bed frames and to build the occasional dining table set as shown below, would also be a perfect way to avail the recycling potential of pallets! Kitchen lovers can build the custom wooden kitchens with pallets like the given marble and pallet kitchen and all homey person can also clone the given XL shoes rack with additional storage options to organize the interior shoes clutter piles!
Large Pallet Coffee Table with Storage Box Inlay: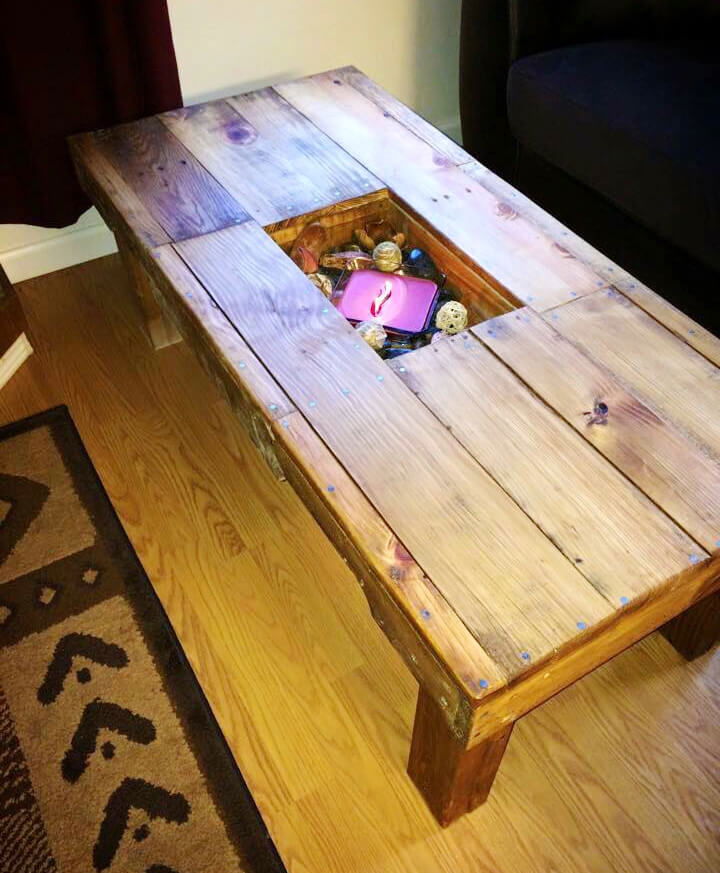 Pallet Red Heart Wall Art: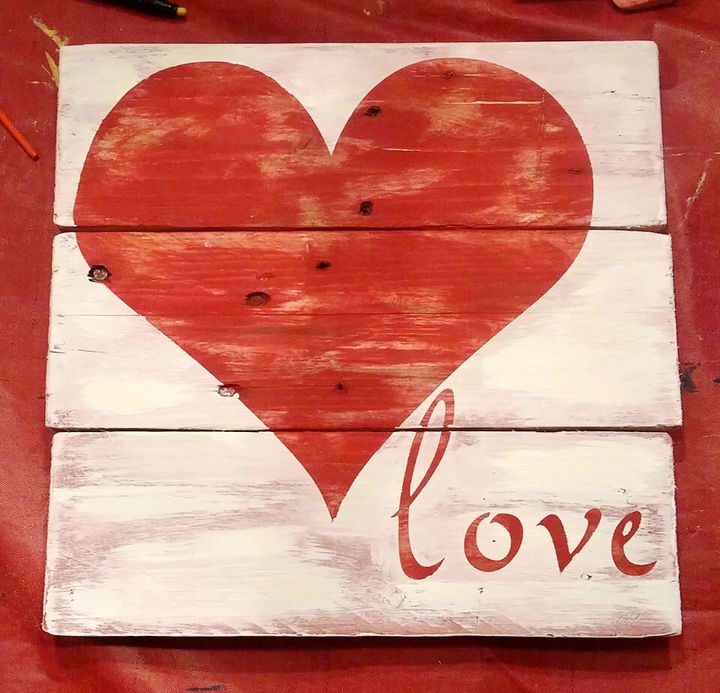 Wall Hanging Pallet Beverage Bottle Rack: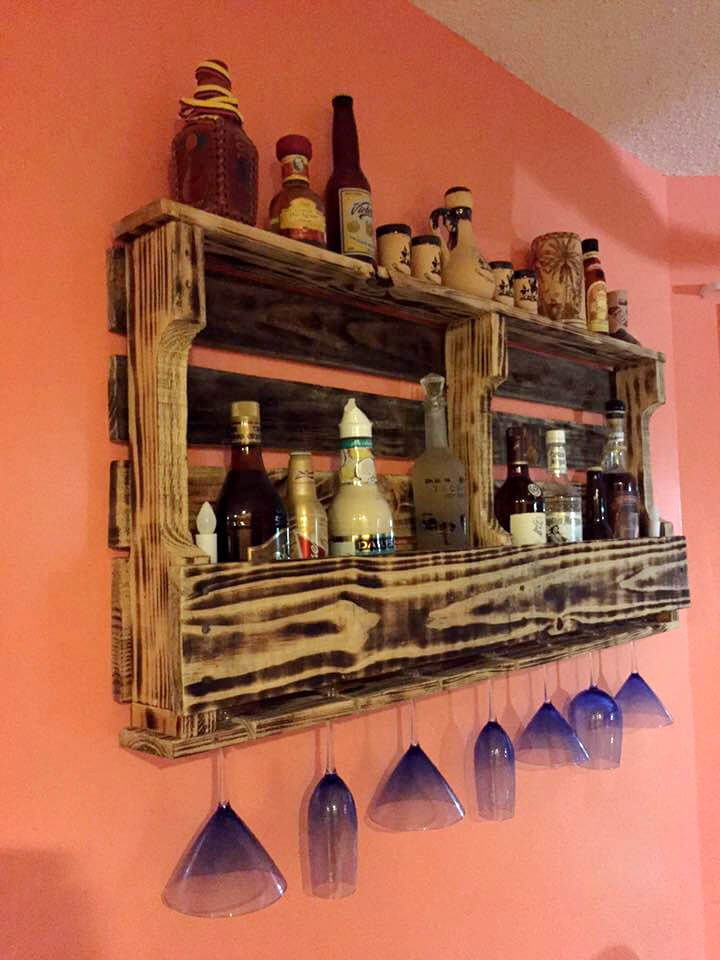 Pallet Chevron Tabletop: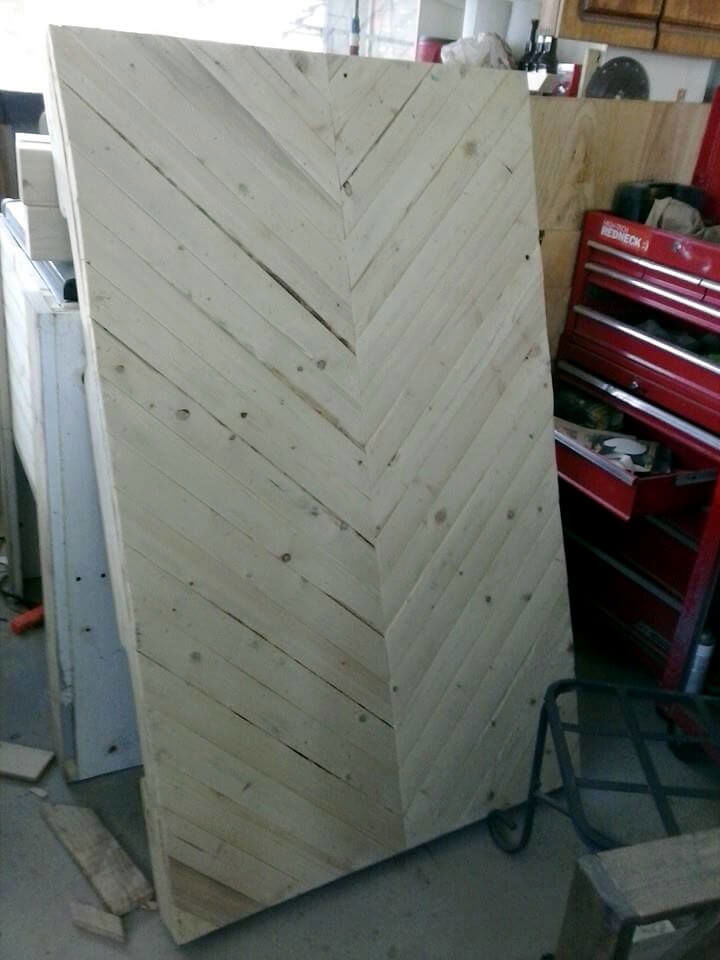 Pallet Coffee Table: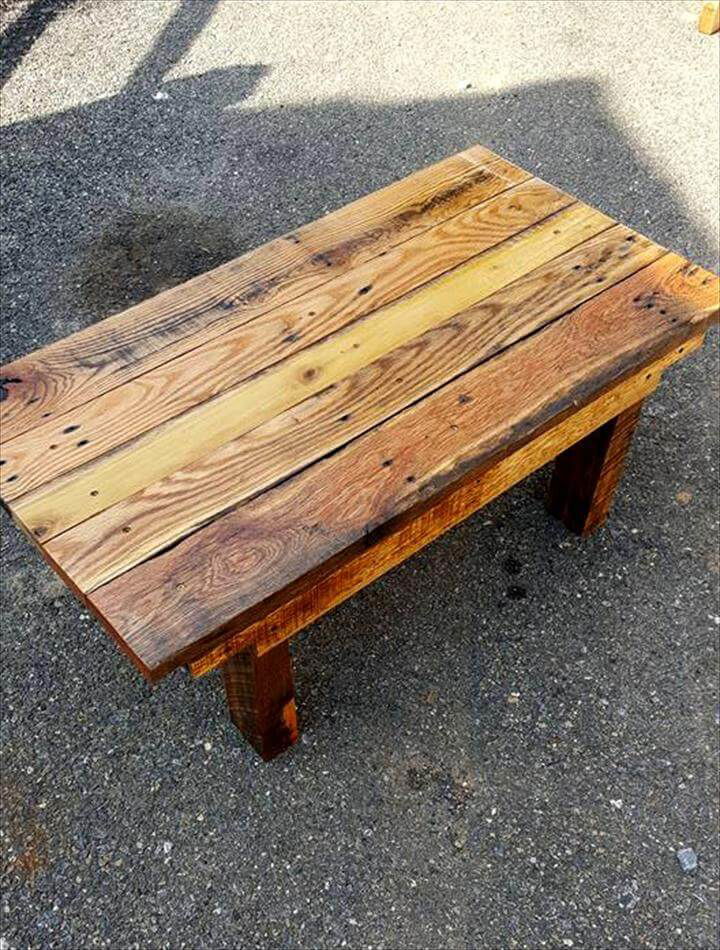 Distressed White Pallet Decorative Console: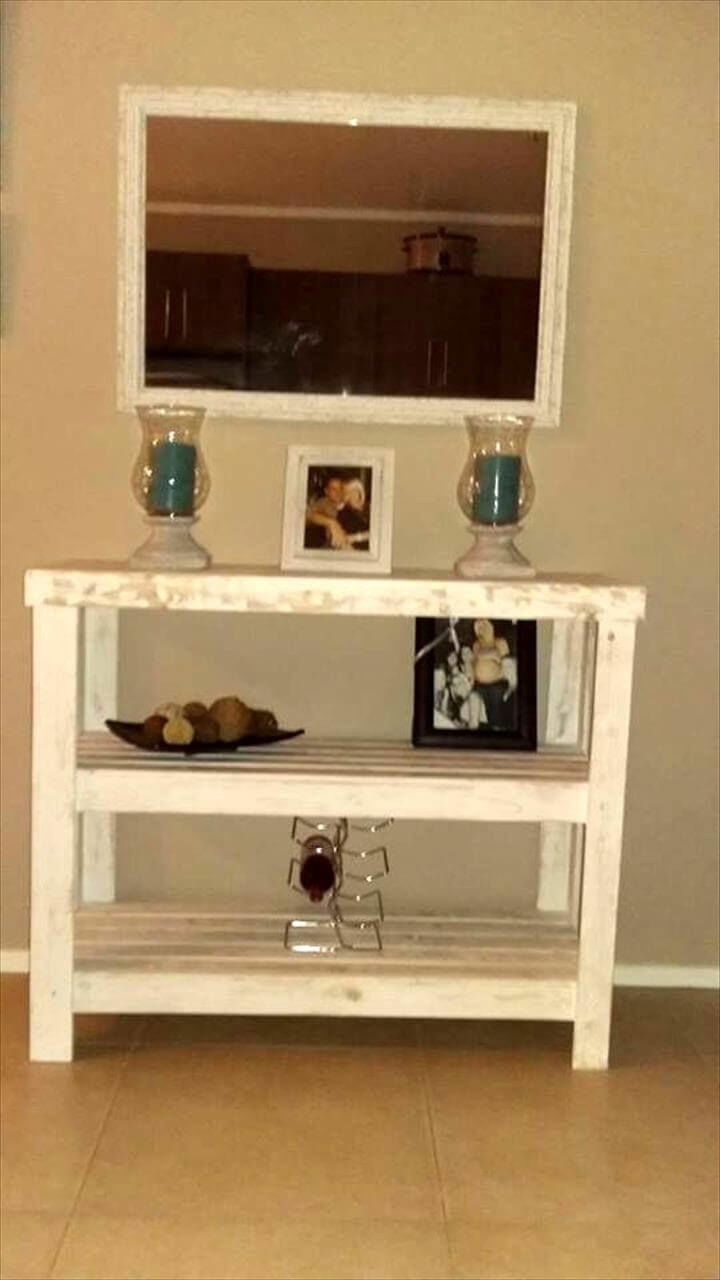 Pallet Bed with Underside Crate Storage: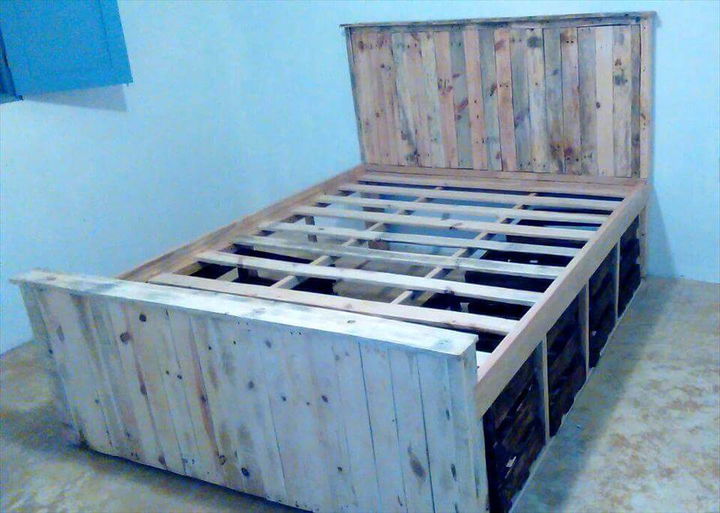 Custom-Built Pallet Dining Set: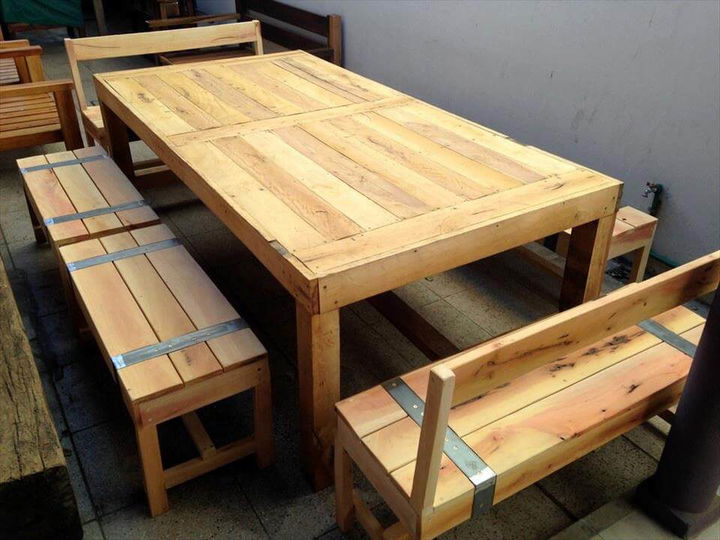 Pallet and Marble Kitchen:
Pallet Shoes Rack + Storage Cabinet: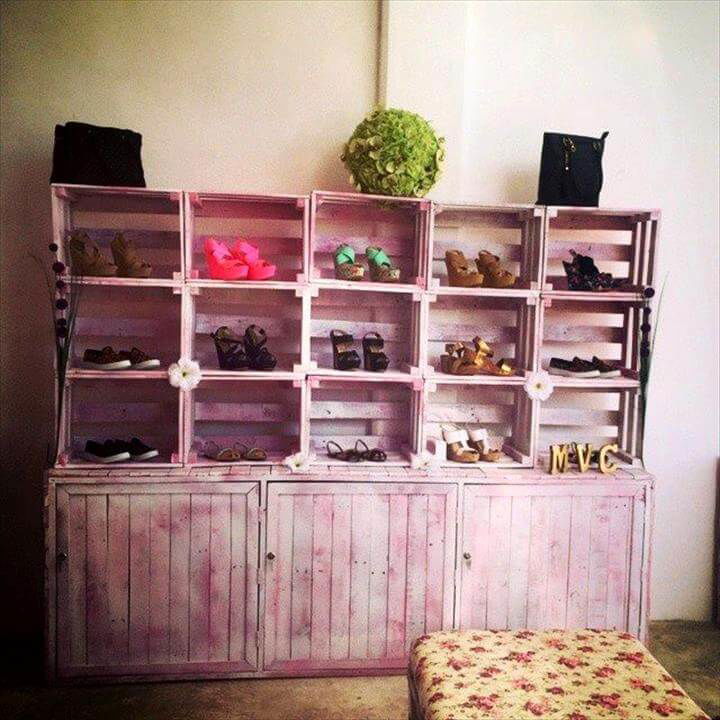 In this modern age, the things are getting expensive day by day and in such conditions, DIY is the best solution to cut down your expenditures and also to be physically fit! For furniture gaining the DIY should be done with pallets and we are having here a bundle of ideas that can serve as ever coolest inspirations!
Reestablish a pallet board and get an output of a charming console as shown and hence you can also create kitchen islands, media console and living room decorative consoles with pallets! Arrange pallet lengths in artful shapes to get fanciful garden or interior wall signs as example below chevron wall sings! Get pallets for building robust wooden outdoor benches in different styles and dimensions, some brilliant ones have been given in collection! Build a simple pallet tray like shape and use it as a dog bed and build some custom storage boxes in a trimmed pallet size and use it as a beverage bottle rack, get inspired of the given examples! Also build the living room table sets with pallets involving the side tables, end tables, coffee tables and also the media console tables, the given below suggestions would be ideal to give your thinking a creative spark!
Pallet Dark Stained Console/Kitchen Island: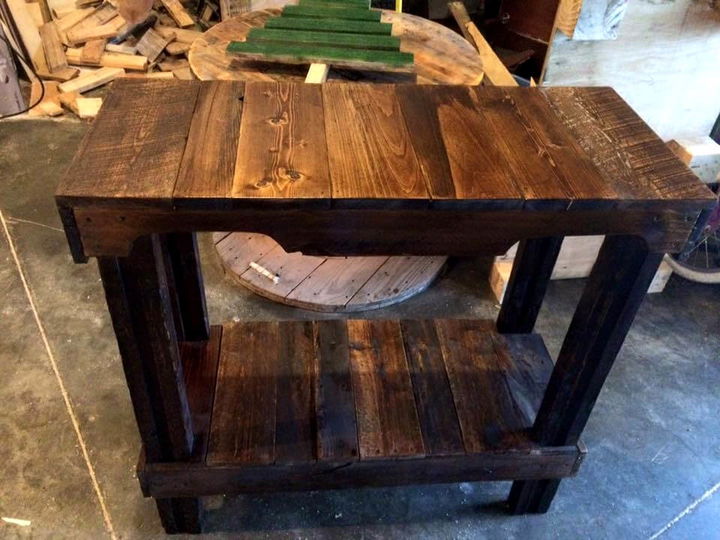 Pallet Chevron Wall Signs:
Robust Pallet Bench: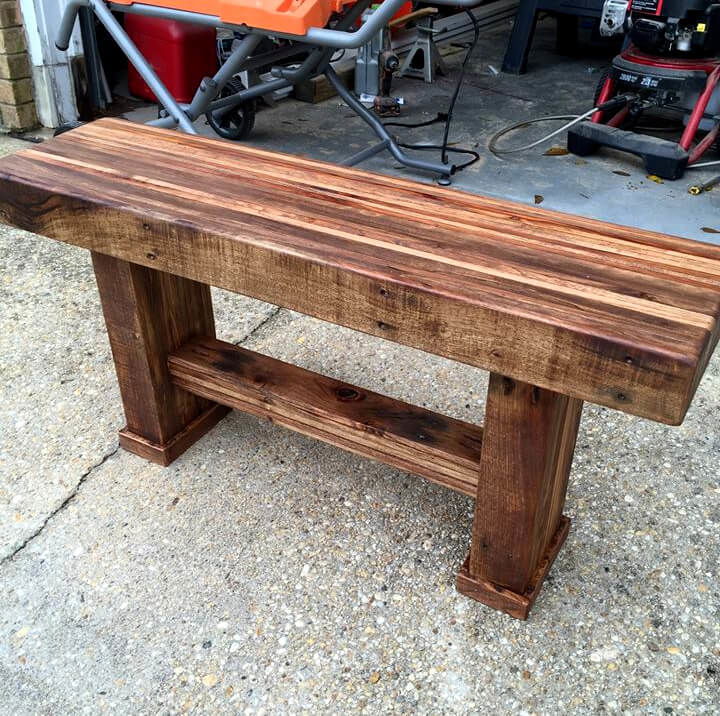 Scorched Pallet Living Room Table Set: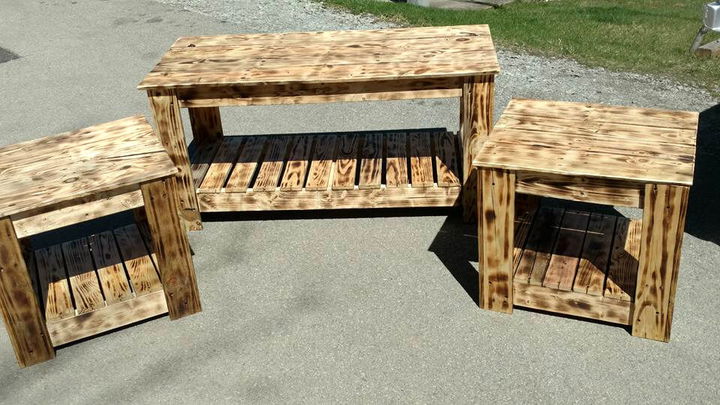 Pallet Dog Bed: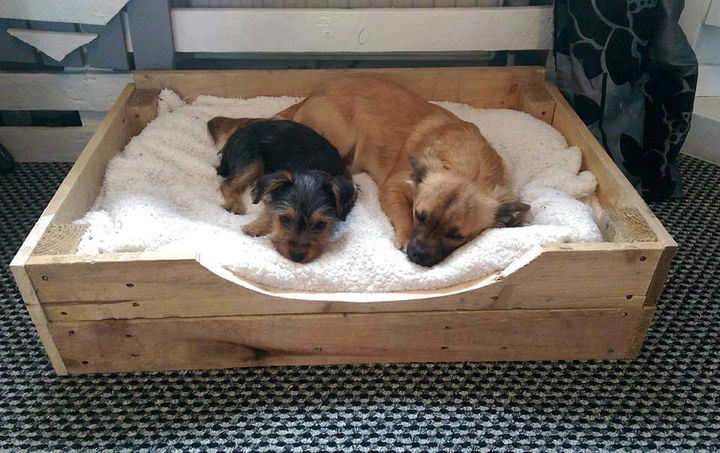 Pallet Wall Hanging Beverage Bottle Rack: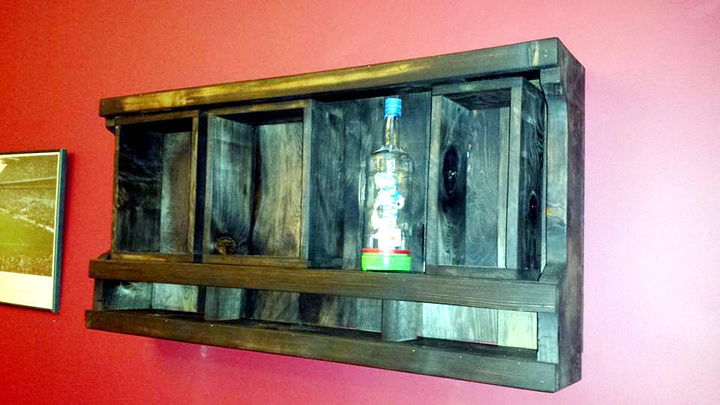 Pallet Outdoor Bench: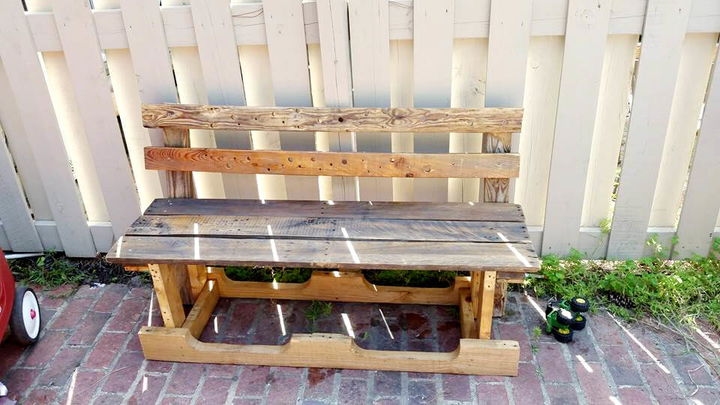 Dark Stained Pallet Media Cabinet: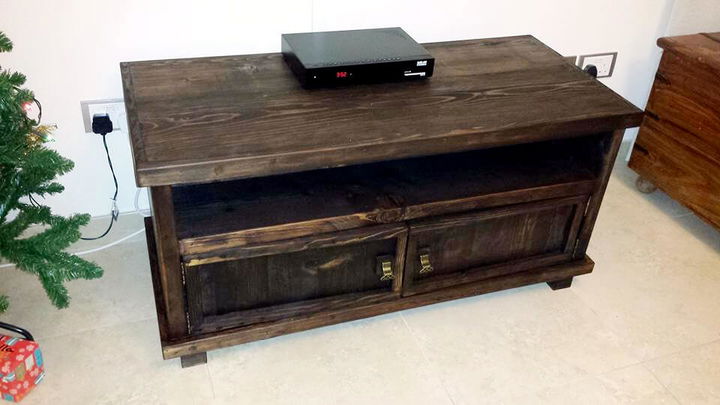 Chevron Pallet Stained Coffee Table: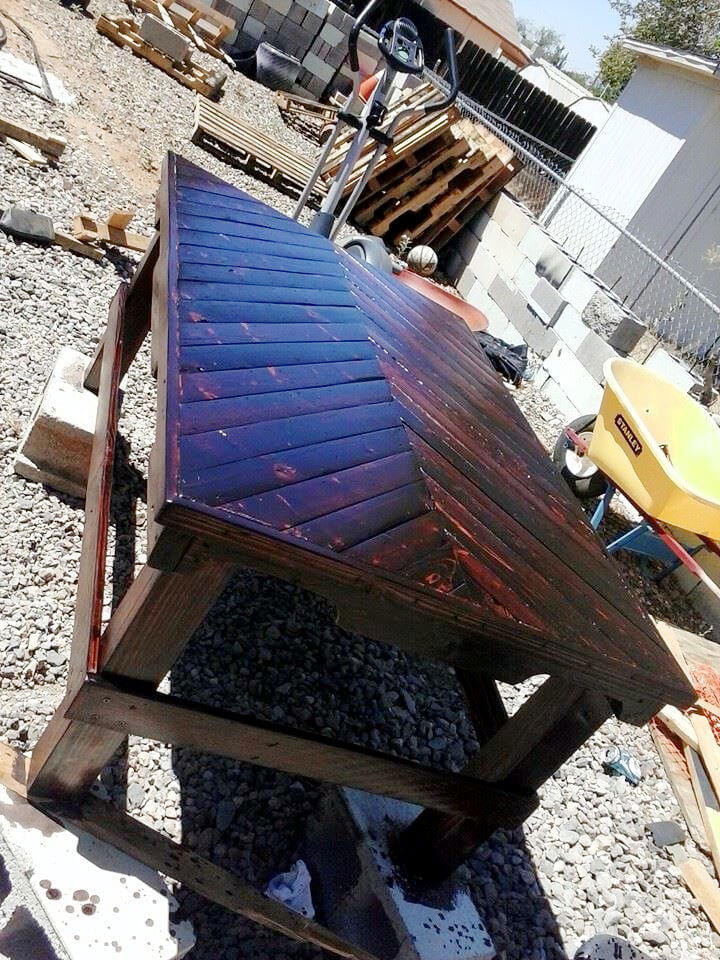 Colorful Pallet-Made Benches: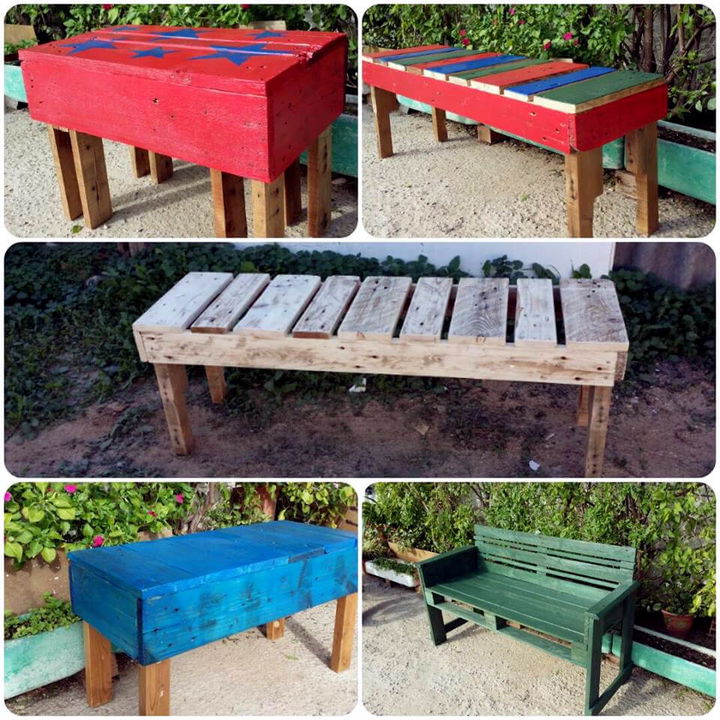 Let the pallets improve your indoor security trends, build sliding gates for your indoor private rooms and also a gathering of pallet slats to install precious baby gates for your stairs! Join multiple removed pallet slats again to gain charming wooden boards and paint anything over to get them as mind-blowing wall art pieces, do check the given blue whale and seahorse pallet wall art pieces in this case! Pallets slats can be packed flat to build custom dimensions of any furniture crafts like the shown below clear coated coffee table, the patio set and also the wall hanging light holders!
Pallets are always good to recycle for some functional outputs no matter whether they are available in uncut form or in dismantled form! Use pallet scrap to make beautiful table coasters and paint them well also for worthy pieces of table decors out of them, the given scorpion coasters are a cool example here, use whole pallet board to install vertical flower or planters that can really give a natural decorative touch to any of your space! Do install the custom floating shelving schemes with pallet slats for storage and display and also repack some pallet slats to gain lasting bookshelves and display stations, checkout the given few examples!
Pallet Baby Gate:
Pallet Blue Whale and Seahorse Wall Art: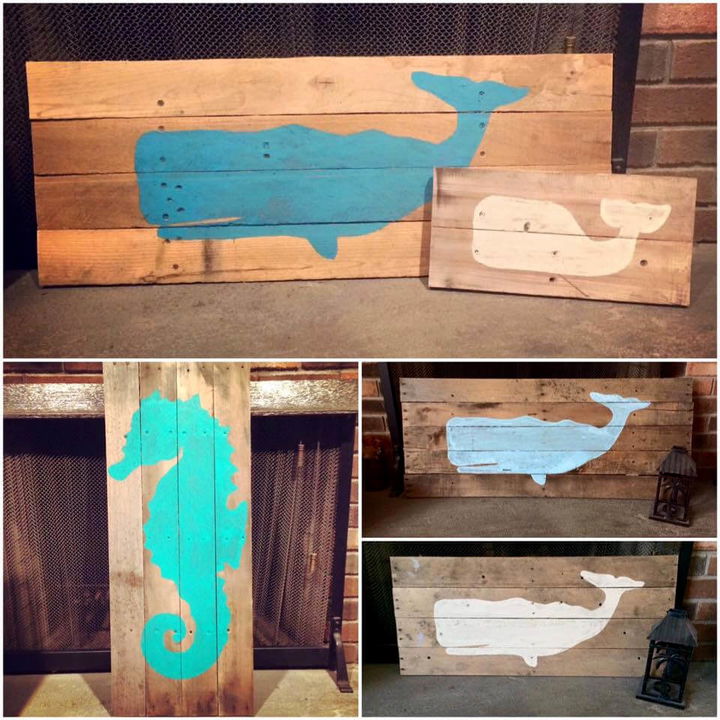 Pallet White Painted Scorpion Coasters: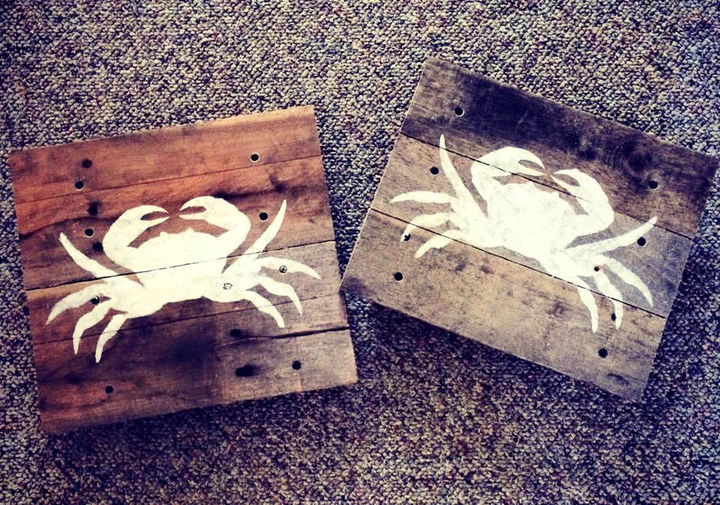 Clear Coated Pallet Coffee Table with Edged Top: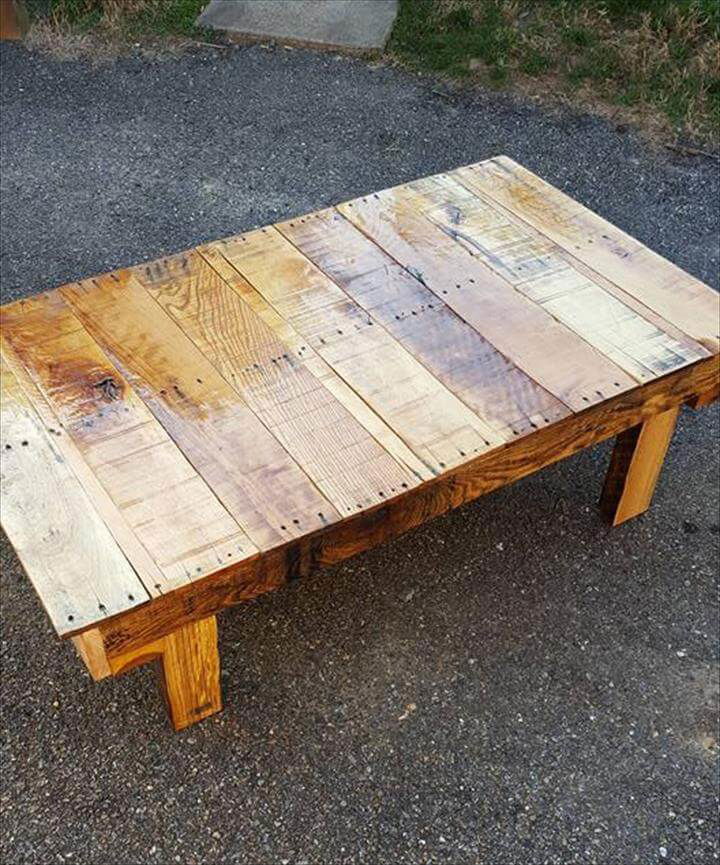 Pallet Antique Wall Light Holders:
2 Person Pallet Patio Set: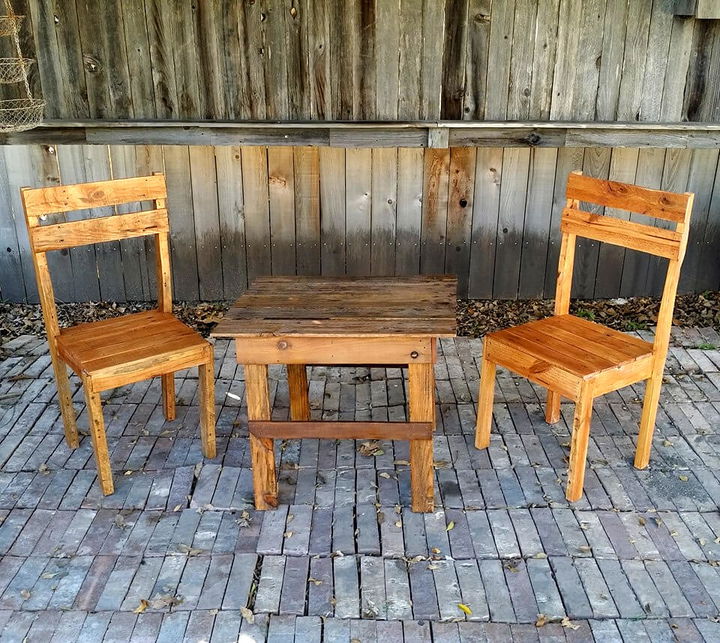 Scorched Pallet Bookshelf: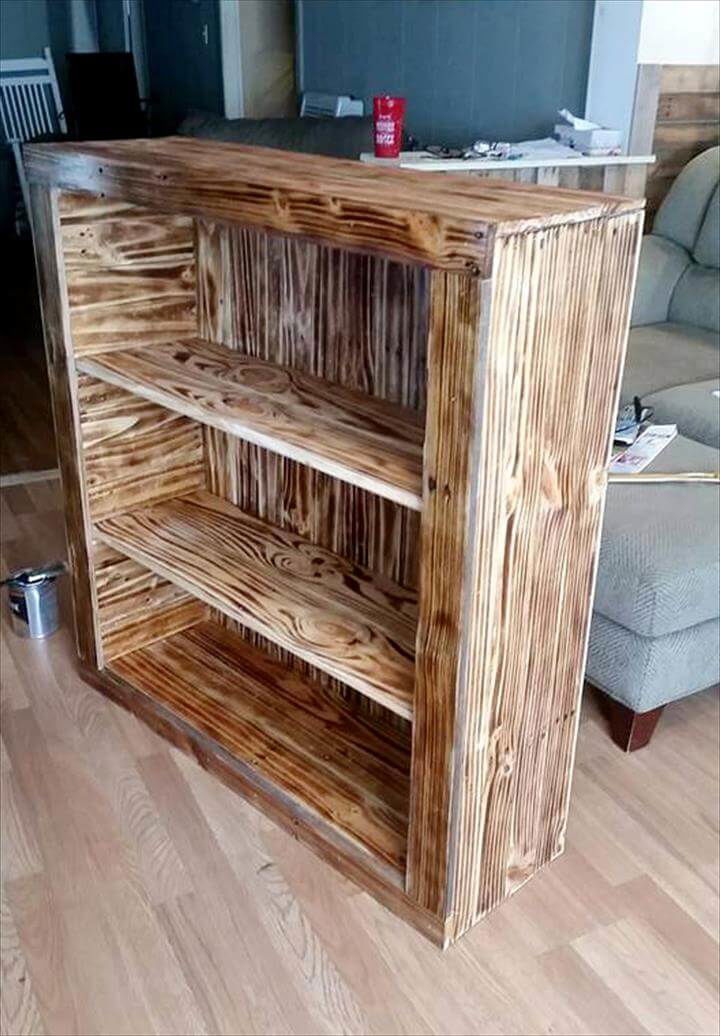 Pallet Beverage Glass Floating Shelves: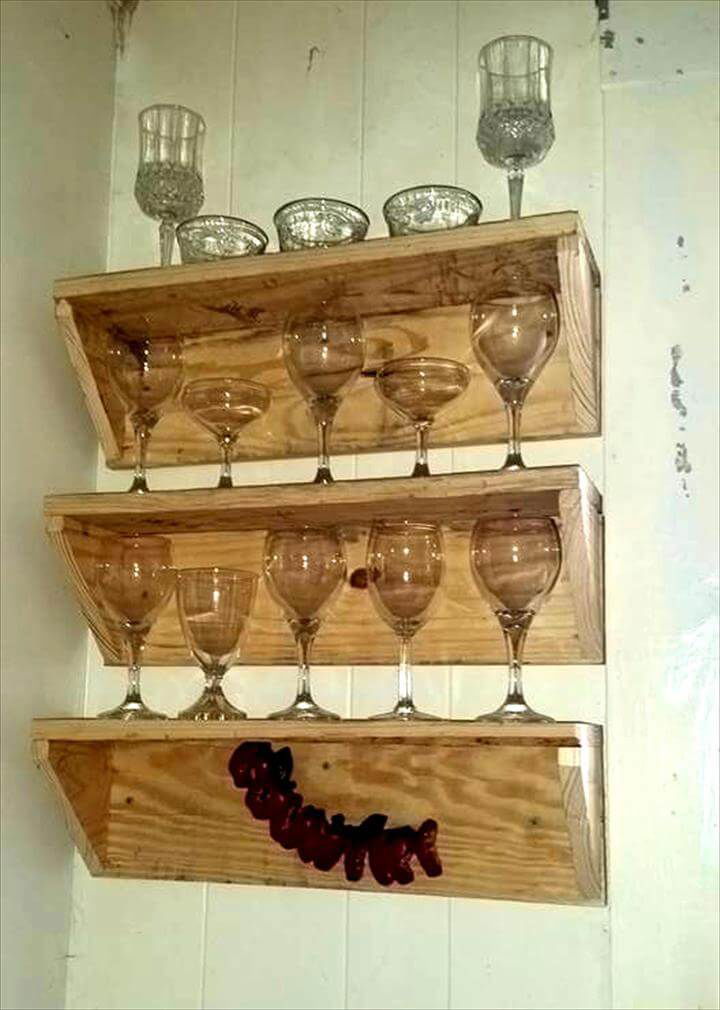 Dual Toned Pallet Sleek Coffee Table with Short Legs: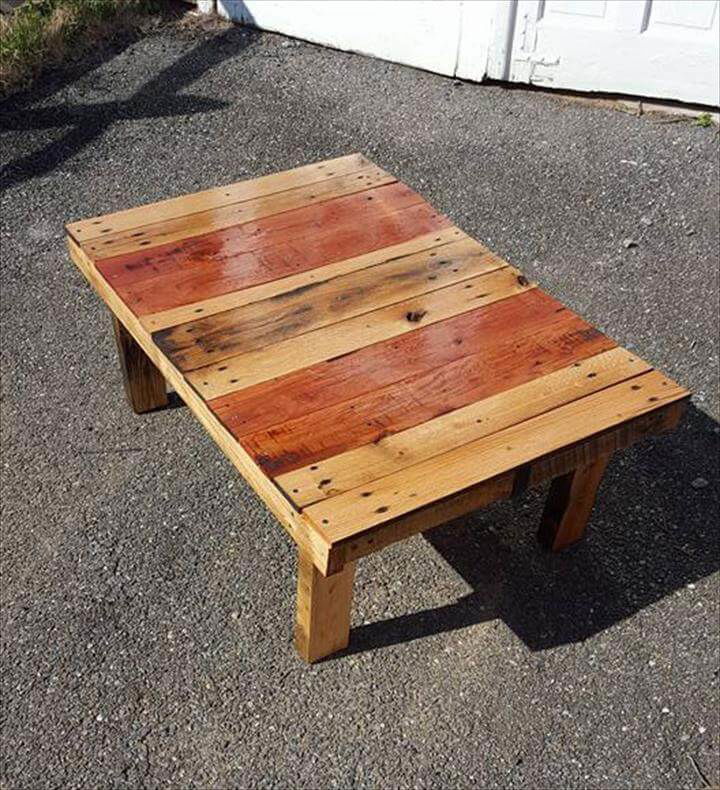 Pallet Vertical Flower Planter: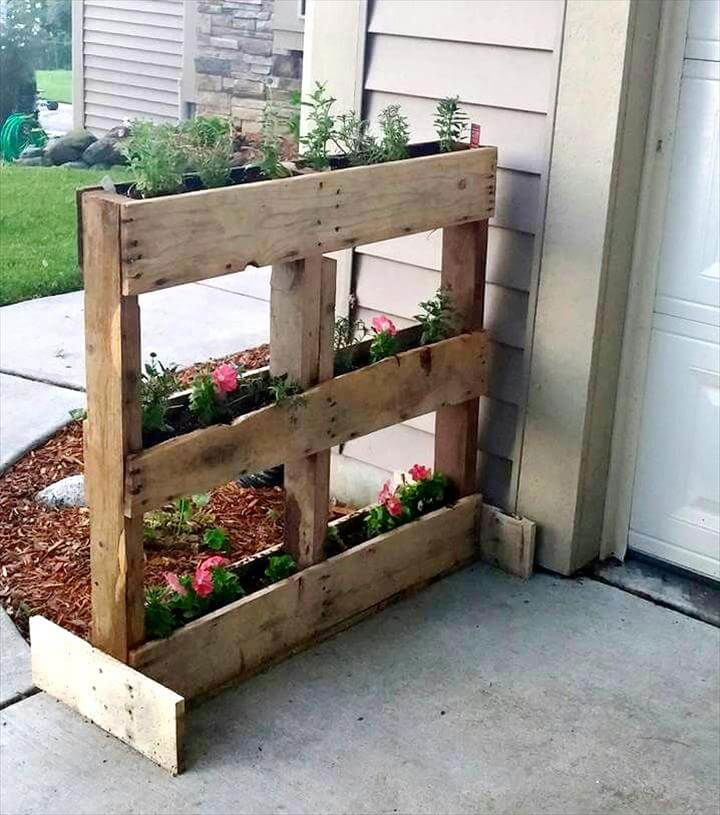 Pallet wood has really big surprises for all home and nature loving persons, you can also learn a lot more here to make your home and green space more beautiful and mesmerizing! Need to spend your vacations in arms of nature? Build a garden or outdoor cabin with pallets as given one having red mahogany stained shingled wooden walls! Need some instant storage units to digest the untidy interior clutter collections?
Repurpose pallets to install custom storage units as given shoes rack mounted over a wall area! Also build media cabinets for secure storage and well display of your media items, 2 incredible pallet-made samples have been showcased below, mount some antique metal accents over a rustic pallet frame to get a fetching wall sign showing the vintage love and also build the hallway trees which provide immediate hanging and storage solutions for your items in hand or which we are wearing like shoes, ties and coats! Do install custom toddler bed frames and daybeds by making flat arrangements of pallet slats and you can also follow the same flat packed arrangements of pallet lengths to build extraordinary tabletops like given chevron top coffee table!
DIY Pallet Garden Cabin/Shed: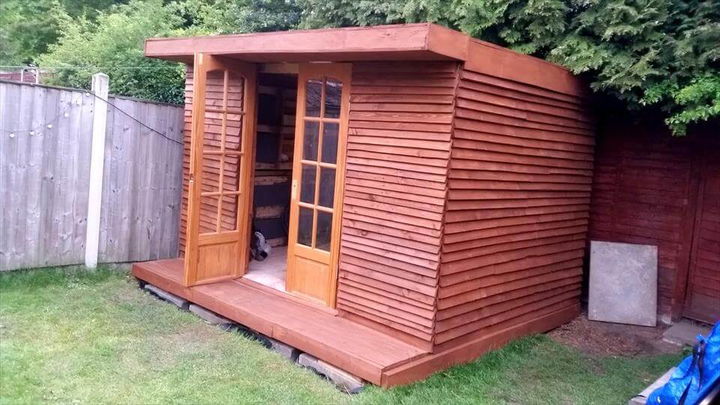 XL Pallet Shoes Rack: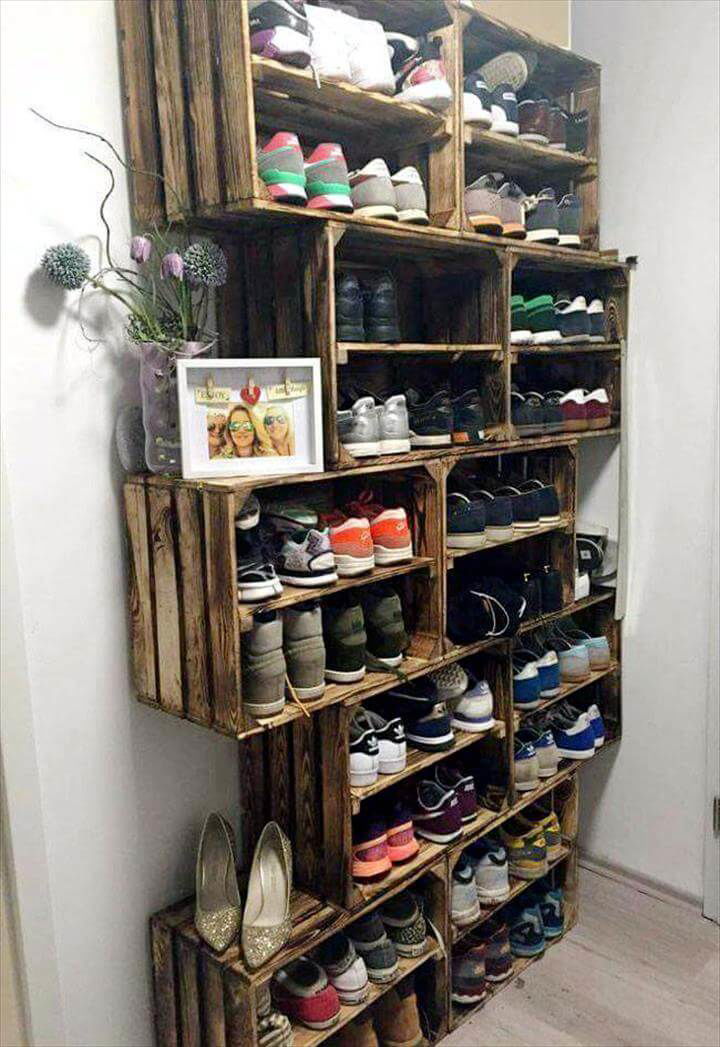 Pallet Media Cabinet: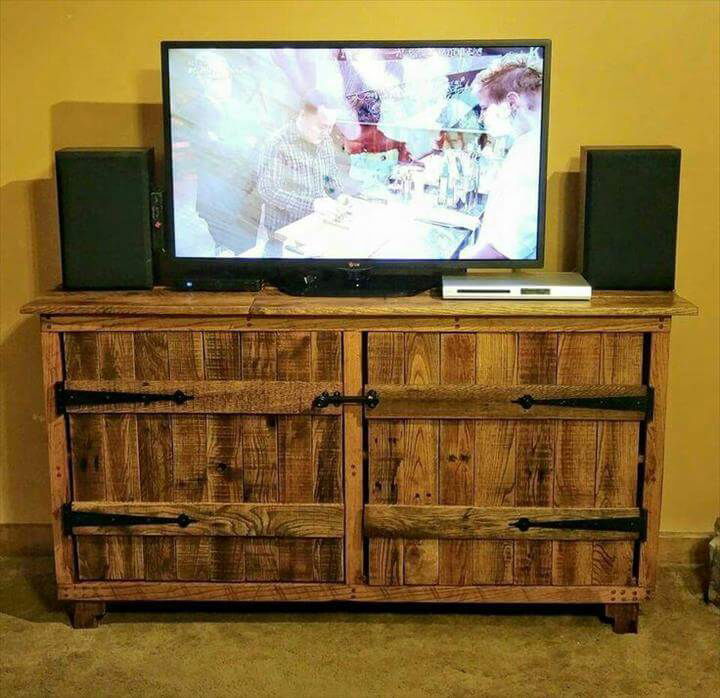 Pallet Antique Wall Sign: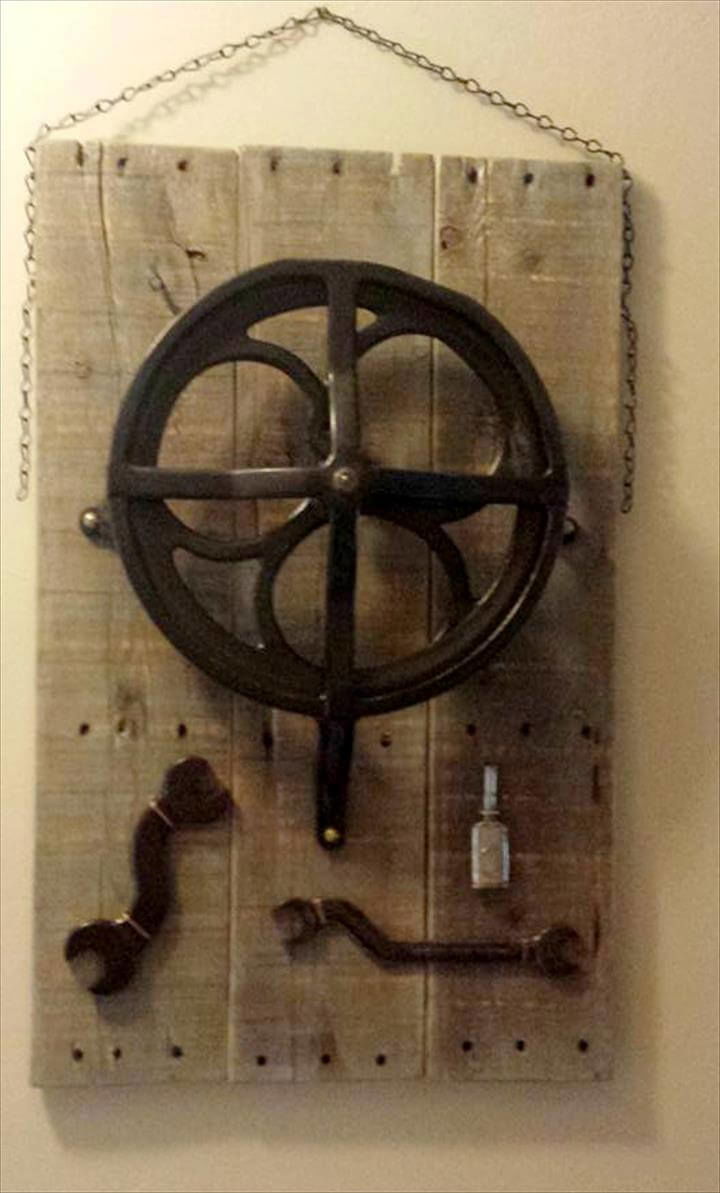 Rustic pallet Hall Tree: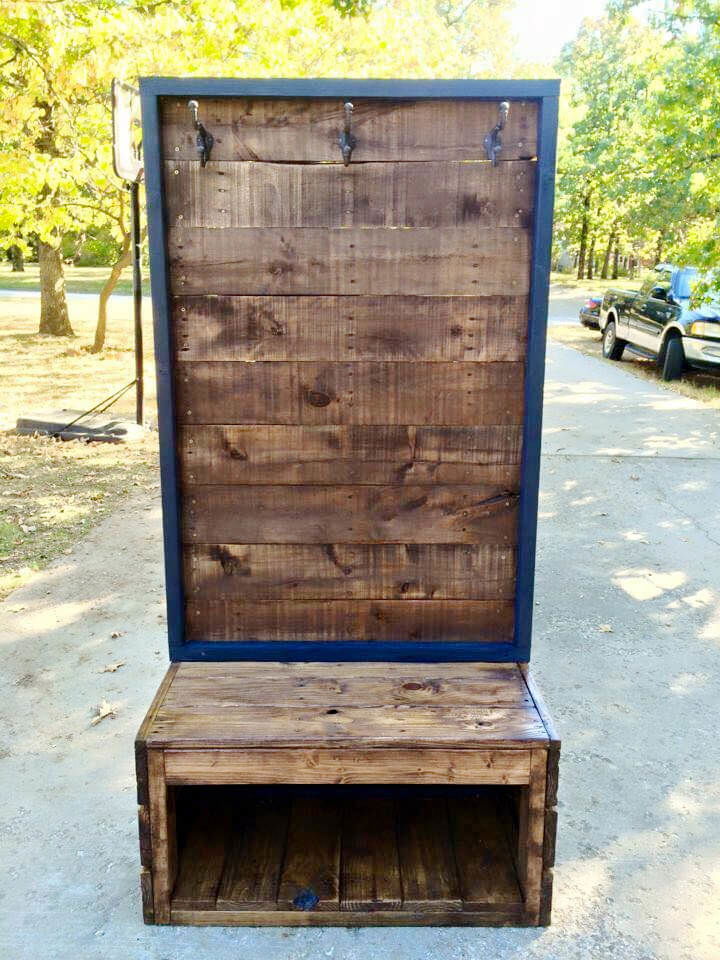 Pallet Media/Crockery Cabinet: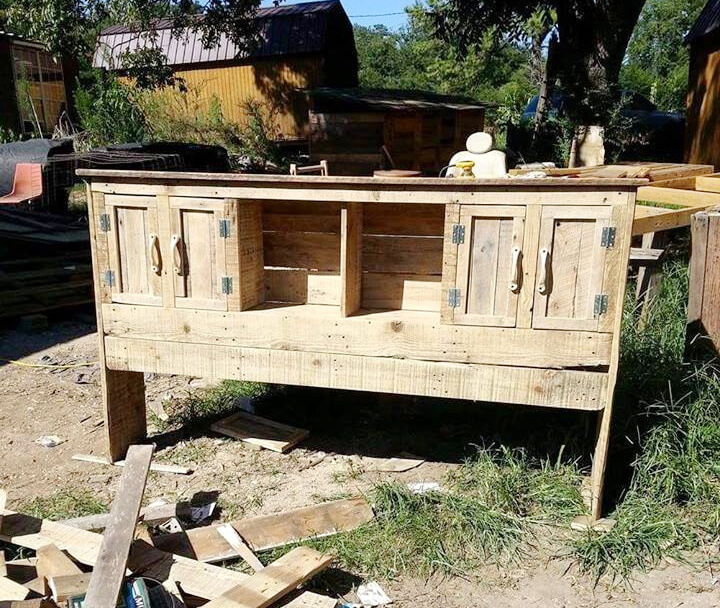 Unique Pallet Side Table: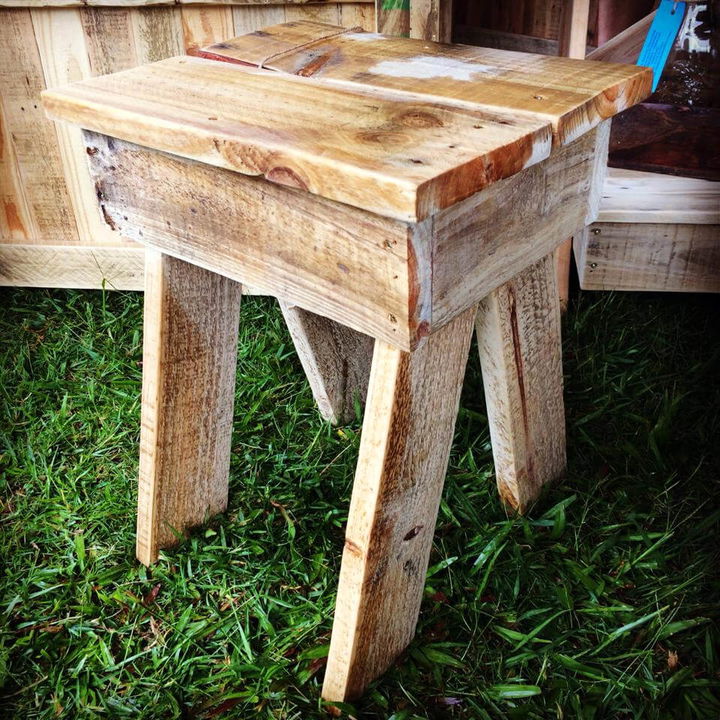 Pallet Toddler Bed: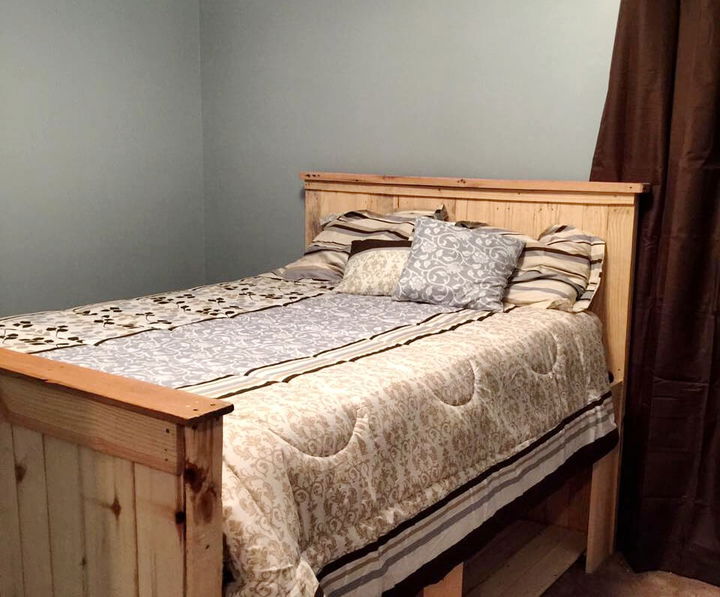 Choco Pallet Chevron Coffee Table: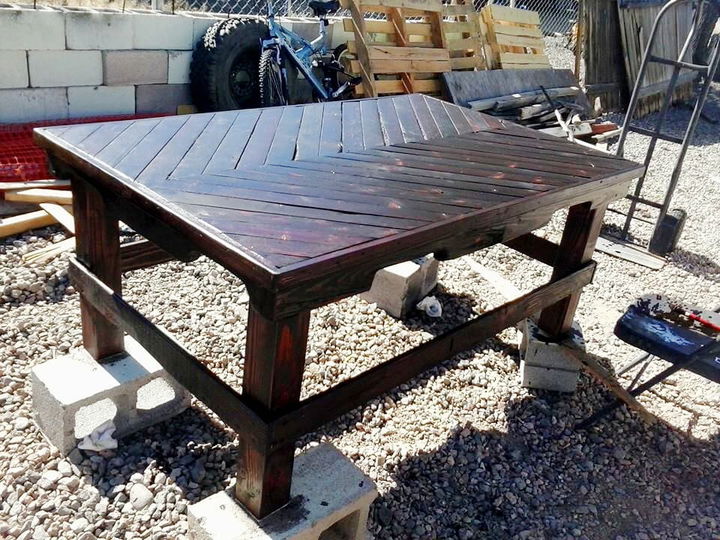 Pallet Cushioned Seat/Daybed for Kids: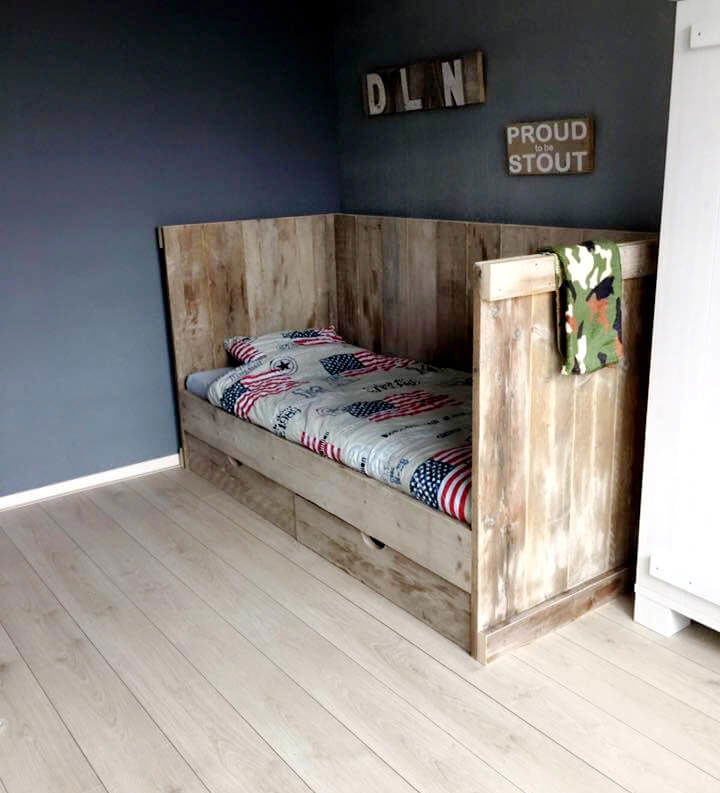 Handcrafting is a beautiful way to keep on improving your learned arts to be an expert! However, pallet wood handcrafting can give you unlimited lasting benefits! The very first think you can do with pallets, is to save a lot of your furniture costs as it really goes friendly to everyone to build all routine, occasional and custom furniture pieces with them just like shown in the given list of ideas!
DIY some pallet boards and get long-living beds for your custom bedroom interiors, build all different types of cages and pet residences to house your pets like the pallet-made pet house with fabric covered top and also bring the pallet slats to simple flat arrangements to create lasting wooden dining benches! Restructure whole pallet boards to install custom decorative console tables, use cut down sizes of pallets to build wall hanging beverage bottle racks and also use single pallet slats to fabric interesting wall organizers like wall mounted key organizer here! Go with pallet-made humanoid chair to please your kids and also build the sectional sofa sets and robust sectional bookshelves with pallets to get living room corners well-to-sit and decorative, visit the given list of ideas below to get the practical suggestions about all these!
Pallet King Bed with Underside Storage Crates: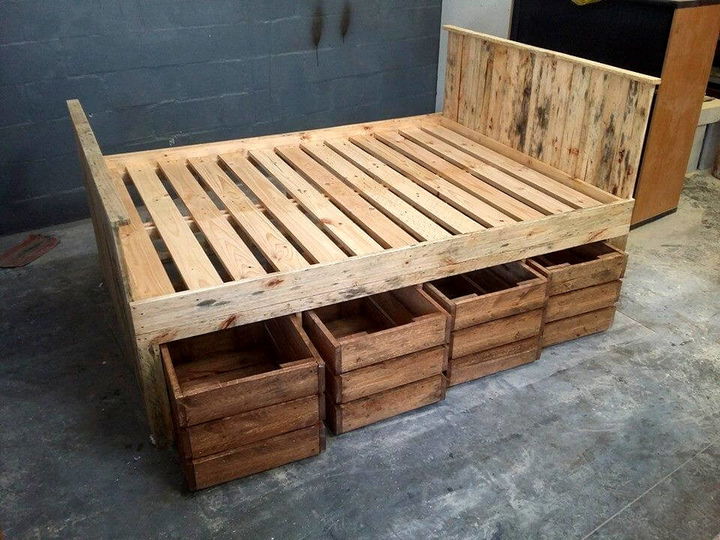 Pallet Pet House:
Pallet Dining Bench:
Pallet Humanoid Chair: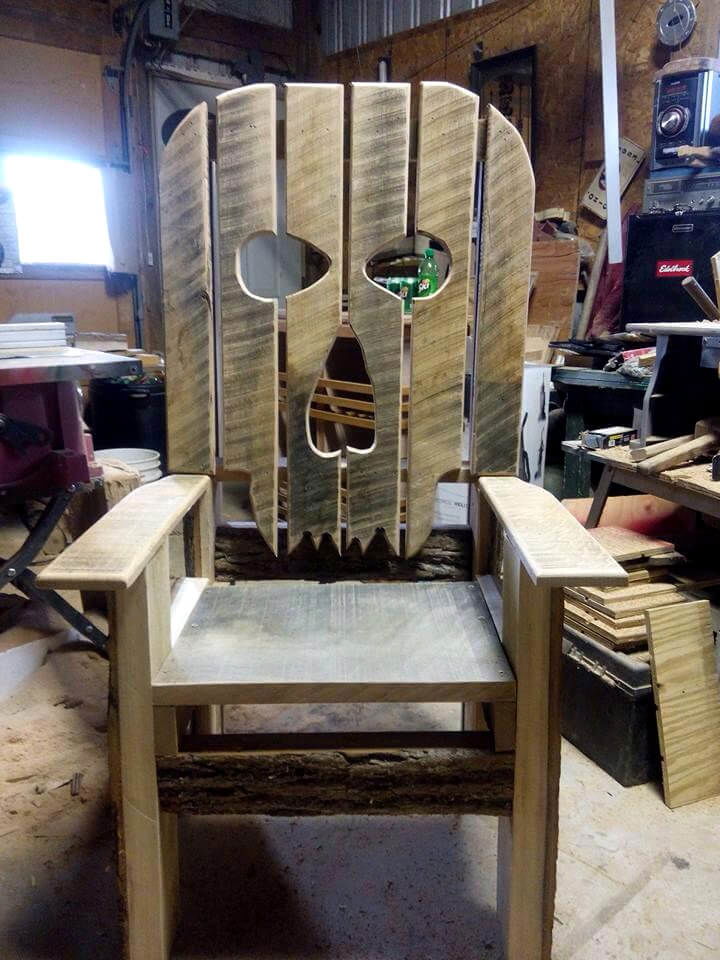 Pallet Bed Frame with Headboard: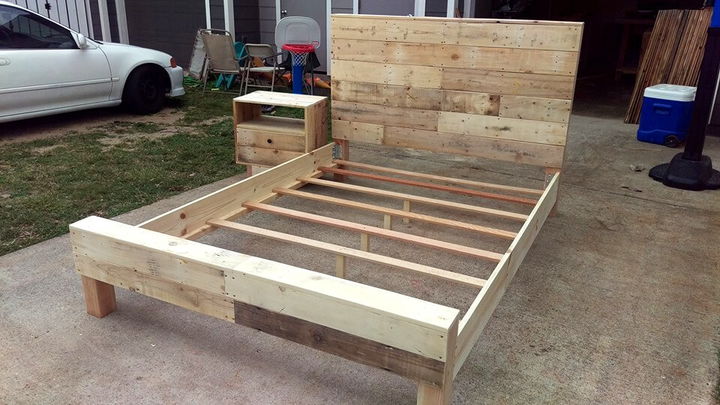 Pallet Sectional L-Shape Bookshelf: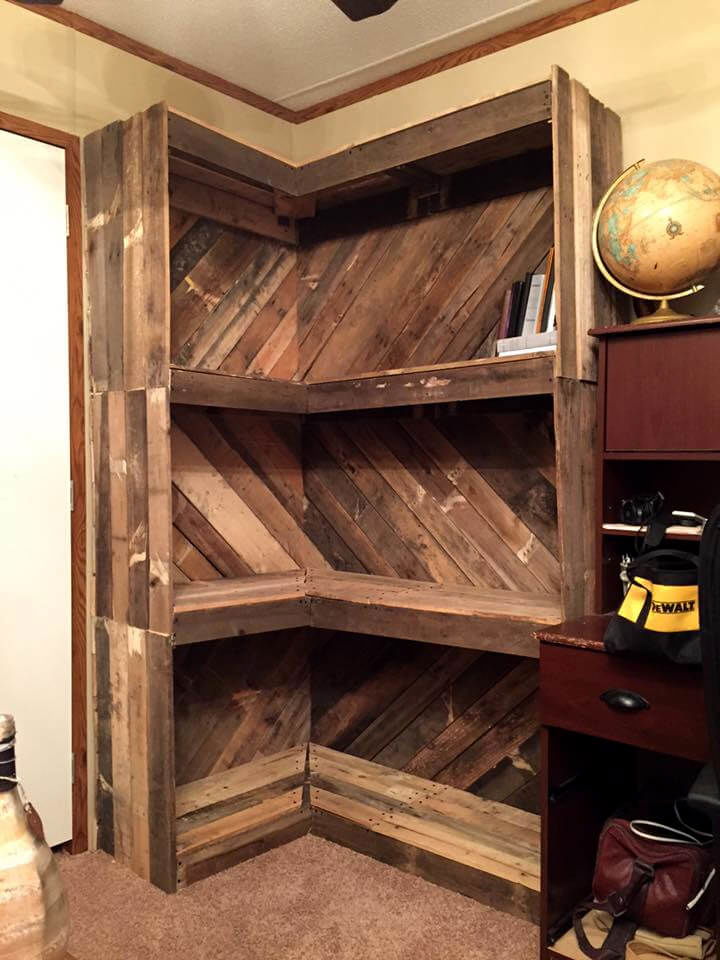 Pallet L-Shape Patio Sofa: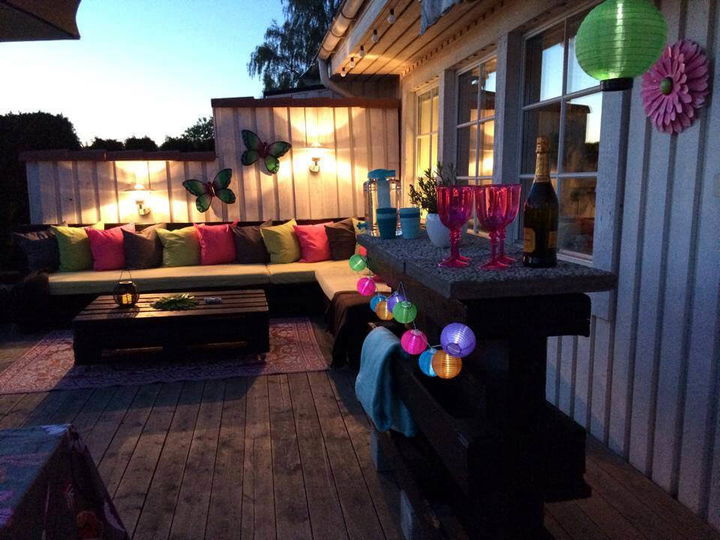 Pallet Wall Key Organizer: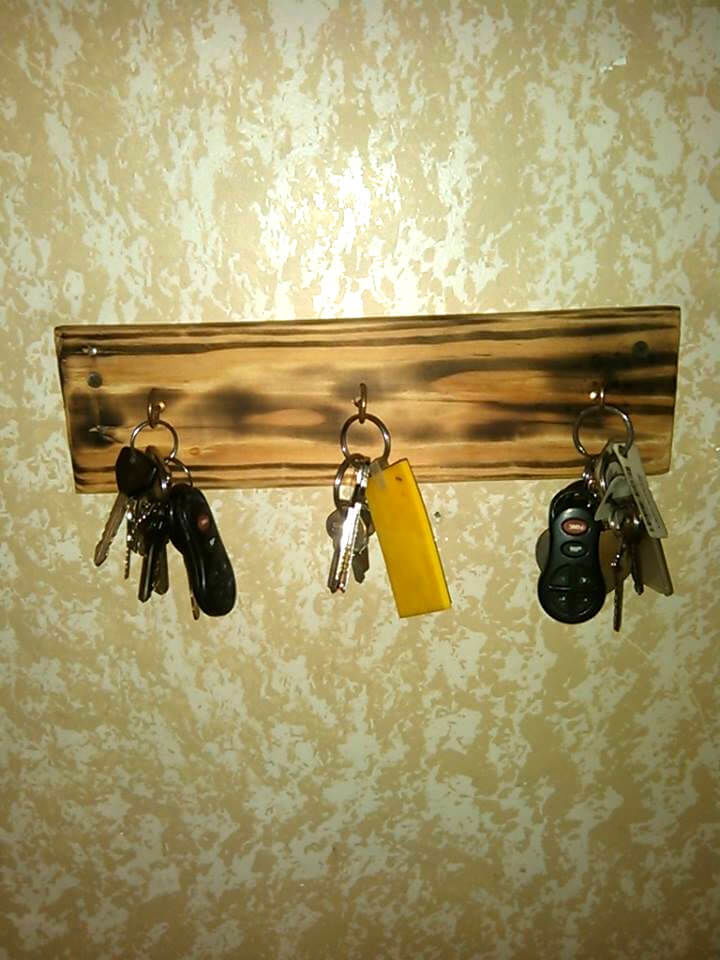 Decorative Pallet Hallway Console: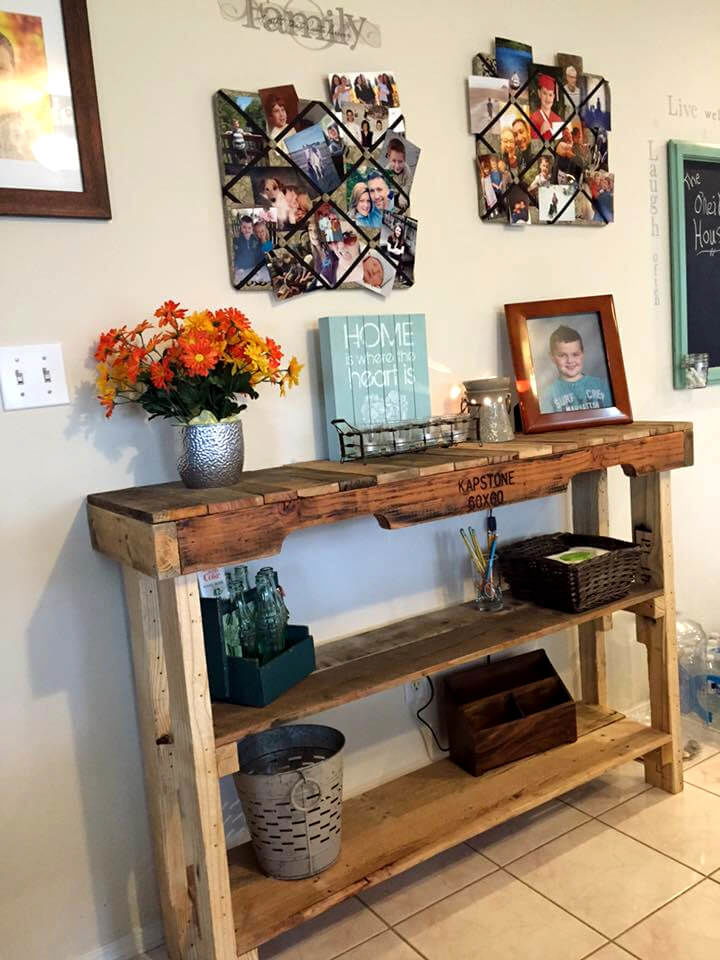 Pallet Beverage Bottle Rack: