You are undone with the home decor and embellishment if you have left your walls empty and blank. Walls have got vital place when it comes to beautify your house as they hang lots of things on them like picture frames, clocks, art pieces vases etc. as you are on DIY Pallet projects so we are going to show the ways you can decorate your walls with the wooden pallets. With this DIY pallet shelf designs and wall paneling project you can beauty and functionality to your walls at the same time. Shelves would fill up the walls, hold a bunch of your knick knack and bring some style statement with their design too. The wooden pallet made shelf designs are both for indoor and outdoor organizing purpose.
One of the shelves features geometric shape, other comes with a holding rack and hooks for coats and outdoor shelf is also simple with two layers of holding racks.

Other way to deal with the walls decorously is their pallet paneling using the pallet cut slats or planks all over it. It would bring a nice rustic vibe in your diy home decor awarding the walls a natural woody look and that too without costing much.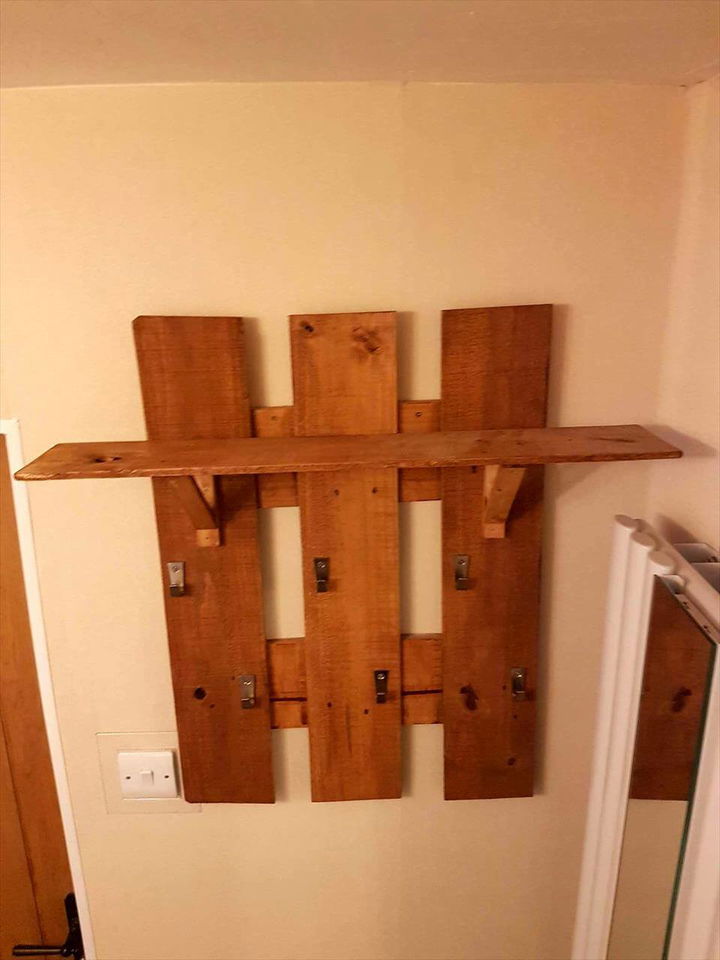 This pallet made shelf design is easy to build at home and prove to be immense functional especially for the entrance of the house.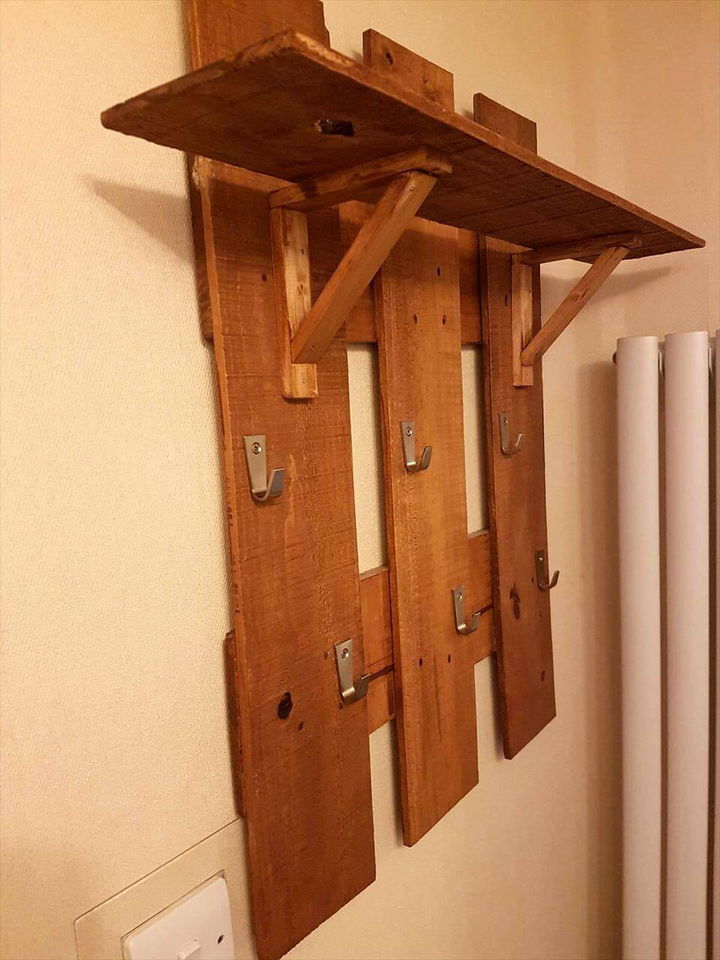 Its very easy to understand the structure pattern of the shelf all you need is just cut down the pallets into the thick slats and planks.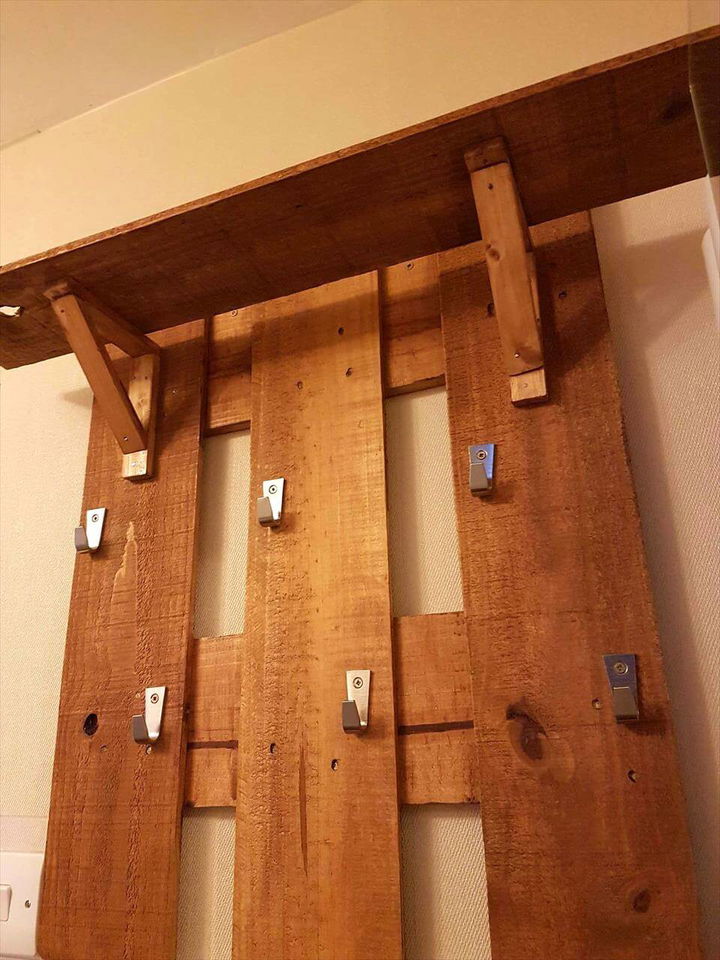 Pallet wide cut three slats vertically and two at their back has been nailed horizontally with a shelf rack with wooden pallet support at the top part.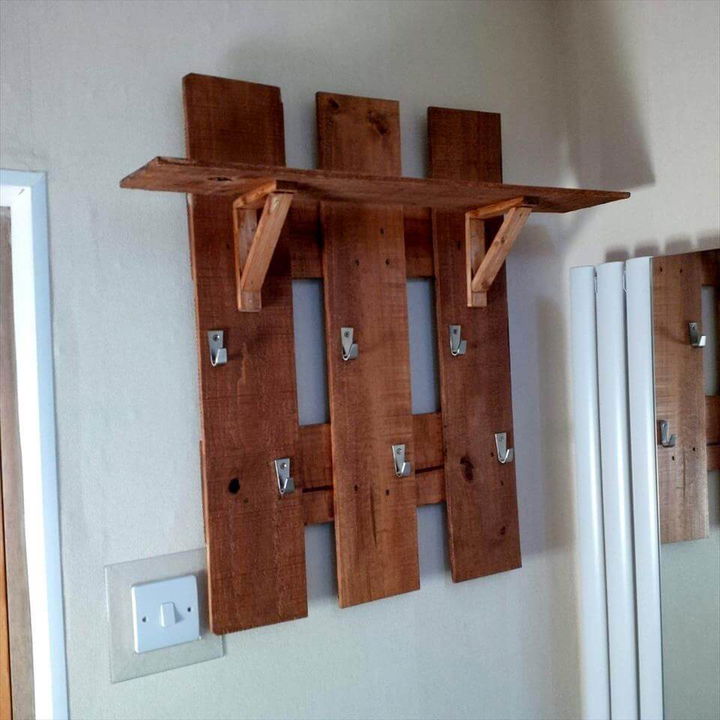 The base section of the shelf has been provided with a couple of hooks to hang your coats, scarves and bags on.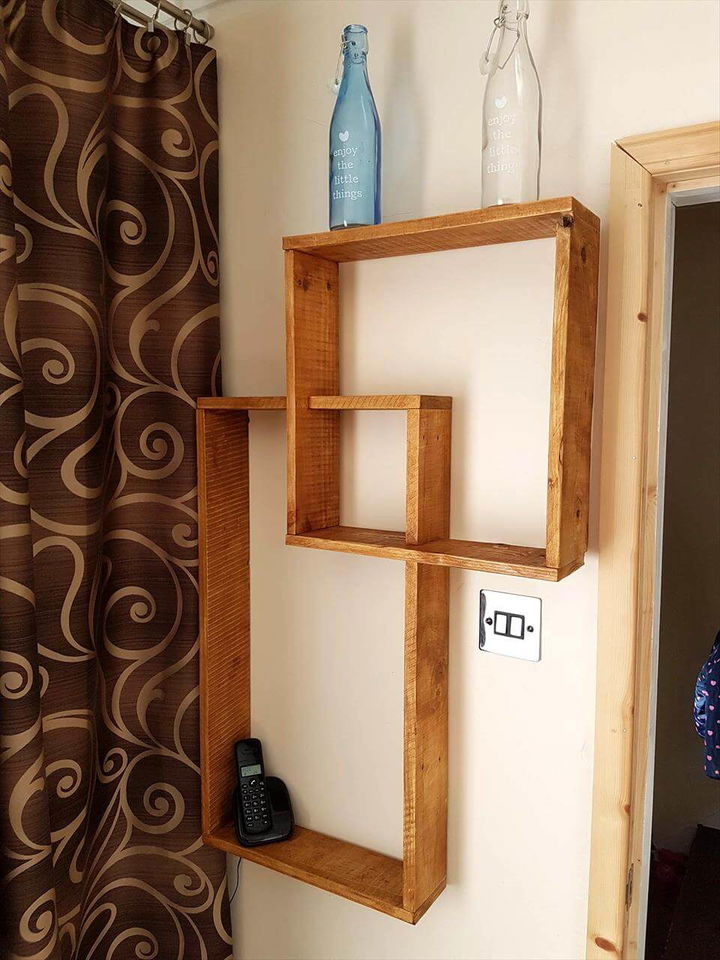 Using single separated pallet slat pieces one square and rectangular shelves have been built and then tangled into each other to form one nice unit.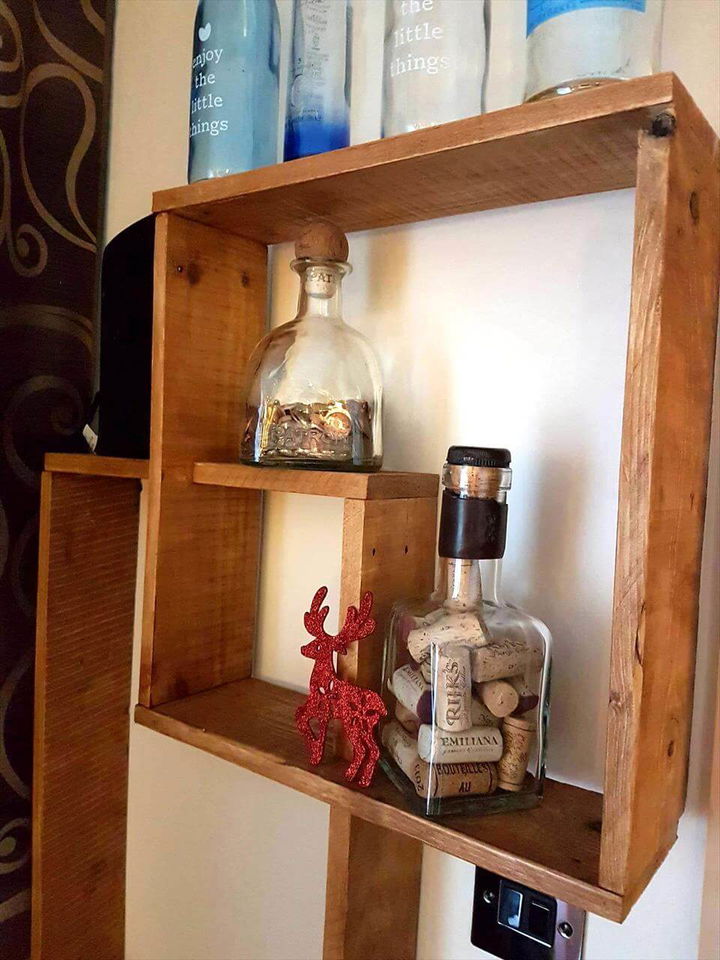 On this lovely shelf design you can hold your decor pieces to let them be displayed nicely and add much to the decor and beauty of your house.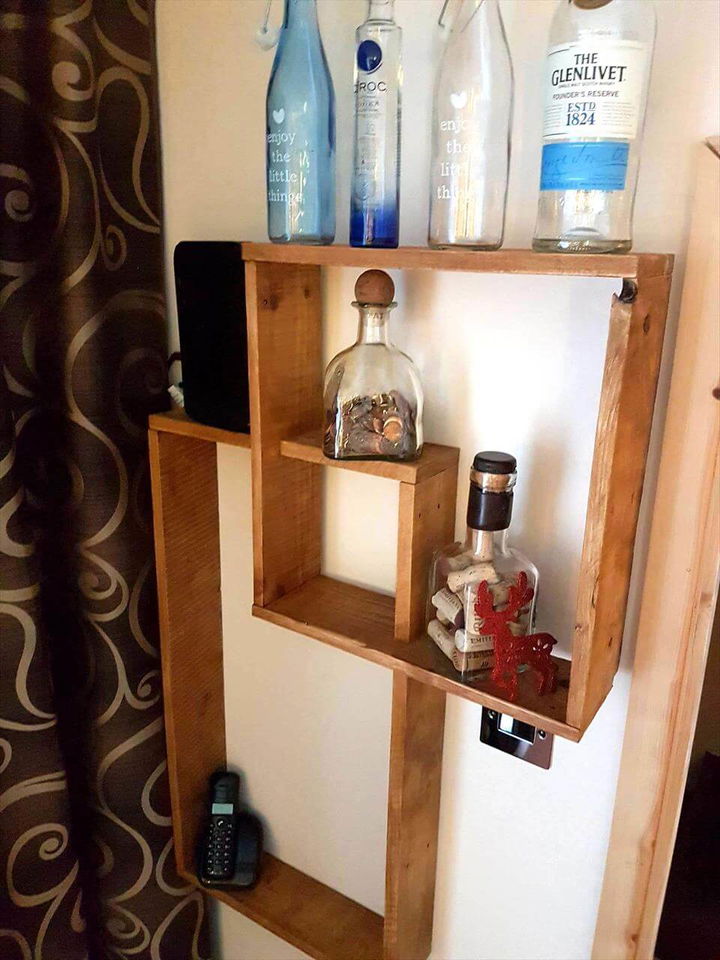 Living area, hall, bedroom or lounge room this stylish design of shelf would suit all of these sections and make them look organized.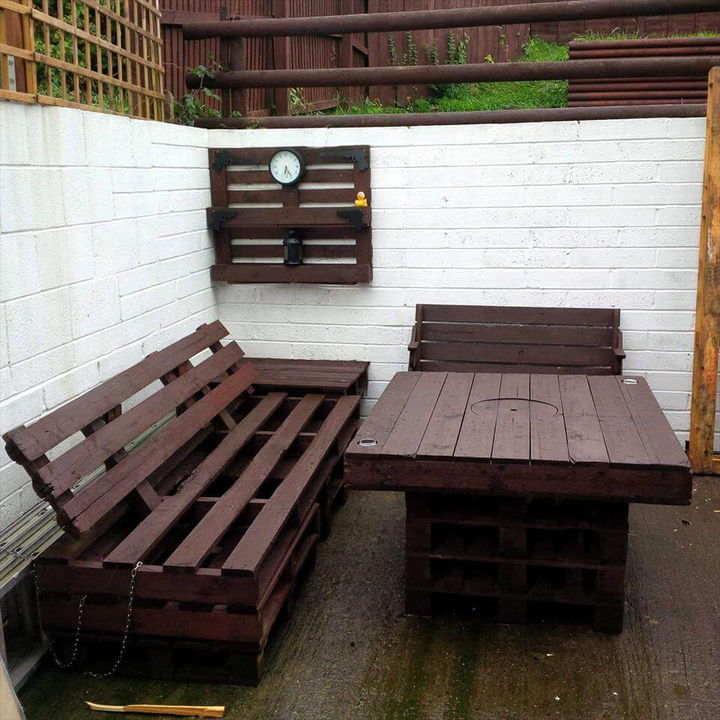 Even the outdoor beauty and decor level can be enhanced with this pallet made shelf having decor pieces being displayed on it.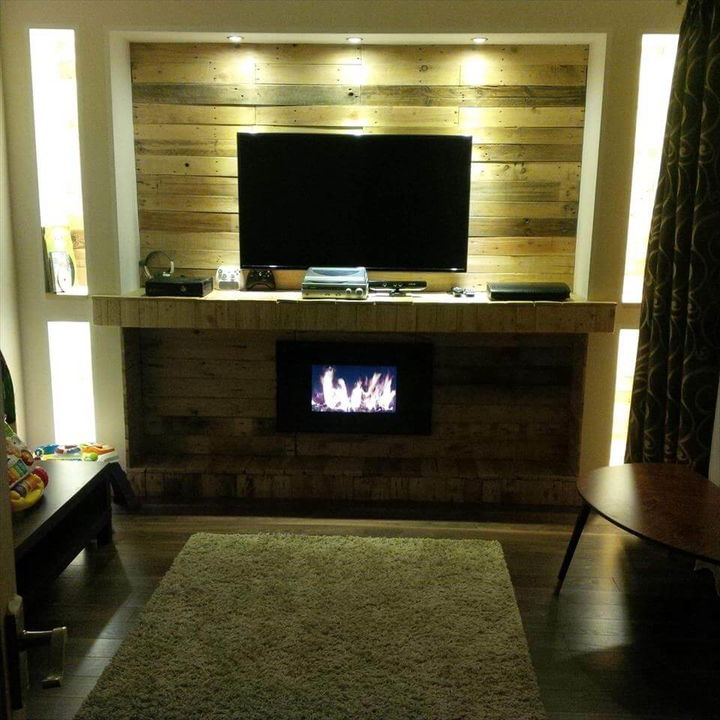 Pallet wall paneling is the right  thing to do with pallet slats these days  in order to make your walls look totally artistic.
This pallet wall paneling would look most enchanting on the walls where you want to mount up your large plasma screen.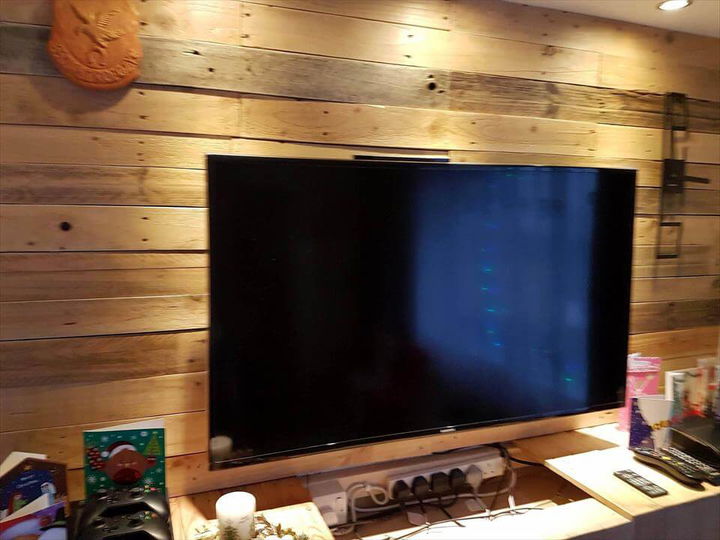 Here is how paneling behind your big Plasma screen would look and do keep it unstained to make it look natural and warm.
Made by Patryk Trojanowski